Ford F-150 Halo Sandcat is Master Chief's Daily Driver
f-150 | ford | halo | video games | June 15, 2015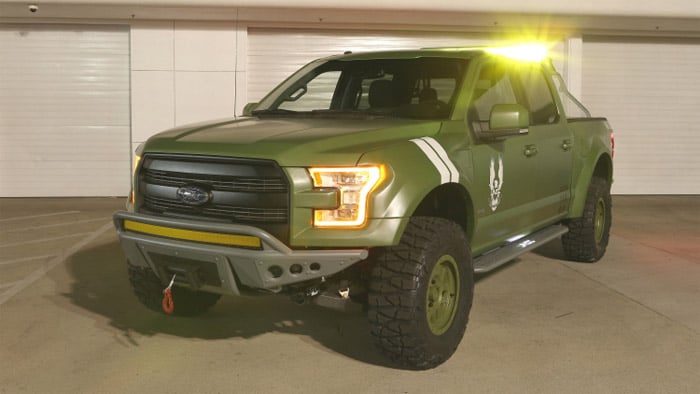 You gotta figure that Master Chief can't always be on duty, he has to have some off time from blowing away the Covenant. I don't think he would ride around in a taxi, he would need something awesome to drive around. The Ford F-150 Sandcat looks like it should do nicely.
The truck is designed to look like the Halo United Nations Space Command vehicle from the game Halo 5: Guardians. It's based on a 2015 F-150 and has a slew of upgrades thrown at it. An army green wrap hides whatever color the truck is from the factory.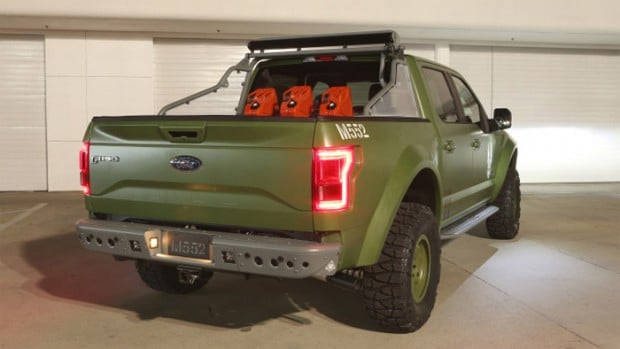 It has a 3.5L EcoBoost under the hood, Baja XTR package from Addictive Desert Designs, FOX racing shocks, Deaver Leaf Springs, and a Currie floating rear axle. The truck rides on custom 17-inch wheels and tires and has upgraded fenders, side steps and more.
Inside it has a custom interior and an even Xbox One for back seat gaming. The truck will be on display at E3 and other events leading up to the launch of Halo 5 this October. I wish this were a special edition package you could actually buy. I would totally drive this thing.