Bentley Bentayga SUVs Frolic in the Snow and Ice
bentley | bentley bentayga | July 1, 2015
A great marketing campaign whets people's appetites and builds incredible anticipation until the big reveal takes place. And that's just what Bentley has done with a new video of it's soon to be released Bentayga SUV.
Bentley took two Bentaygas, which will list for about $300,000 and feature a 500-horsepower, twin-turbo W12, up to a winter testing facility in Sweden to let them dash around in the ice and snow. While the shots are taken from fairly far away, and the vehicles are still camo covered, you can still get a sense of what these luxury beasts will be like.
The serene footage shows the SUVs racing along on a snowy road beside a pack of burly Moose, cuts to the inside of the cockpit to reveal lush red leather surroundings and then shows you how solidly they handle on what looks like a track made entirely of ice.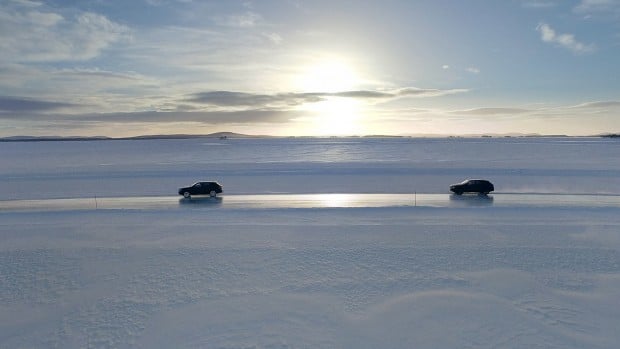 At the end of the video though, Bentley proclaims, "We don't see performance. We see potential." In my opinion, they should have left that marketing message out, because it makes me wonder whether they haven't finished even designing it yet, or if for some reason they are a bit unsure about the SUV's abilities. For me, the video was more than enough to get their essential point across.