2016 Mazda CX-9: A Step Above
hilton head | mazda | mazda cx-9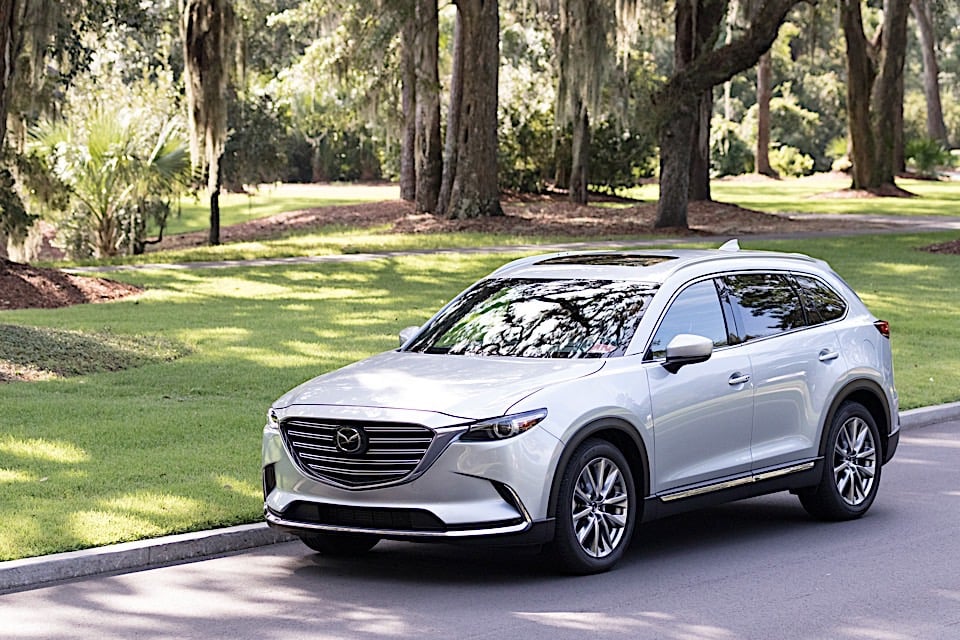 Hilton Head is the vacation destination of many of the country's well-to-dos. It's a paradise in South Carolina with endless opportunities, including fine dining, fine golf, and kayaking with dolphins. In a place like this, driving a luxury vehicle isn't only an option, it's expected. Mazda believes that their new CX-9 belongs here. But does it? We head to Hilton Head to find out.
The CX-9 is the first big SUV from the Japanese company. If you haven't followed sales numbers recently, you'll have missed how well crossover and SUVs are doing. With gas prices low, people are buying these vehicles in droves, while shunning midsize sedans. They're doing it for a variety of reasons, including a better view of the road and lots more space. The CX-9 delivers on those needs.
Three rows for passengers is a requirement in this segment, which is often purchased by parents of growing children. There's plenty of room for your kids to bring their friends along, or you can fold down the third row and have access to extra storage for those trips to Home Depot or Costco.
All-wheel drive versatility is also a requirement for this class, which the CX-9 again delivers on. We could argue that all-wheel drive really isn't needed if you have a good set of snow tires, but people look for that when they buy, and it increases the resale value when you trade the car in.
Basically, the CX-9 delivers on everything you'd expect from a large crossover in this segment. But Mazda isn't necessarily recognized as a luxury brand, so does it compete with something with a BMW or Mercedes-Benz badge on the hood?
Yes.
The exterior of the CX-9 follows the company's Kodo design philosophy. It's clearly a Mazda when you look at it, but it has a flatter front grille than the other crossovers. To be honest, though, other than its size, the CX-9 isn't too distinguishable from other Mazda crossovers at a distance. It helps with brand identity, but doesn't help model identity.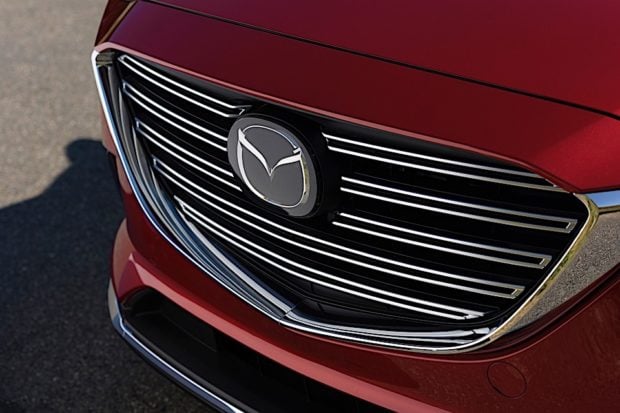 LED lights all around, including adaptive LED headlights, make the CX-9 look stylish day or night. Additional safety features include autonomous emergency braking with pedestrian detection, adaptive cruise control, and a lane keep system.
Inside, where you spend most of your time, is really a step up. The leather is supportive yet supple. The aluminum trim pieces look and feel expensive. It really feels hand-crafted and not assembled, which is an awesome trick from any volume automaker. You want to spend time in it, even if you have nowhere to go.
Rear seat passengers are also greeted with rear climate control. Unlike the systems in other volume makes, the rear has a separate temperature control and not just a warm or cold slider. On a hot South Carolina day, it's a welcome comfort.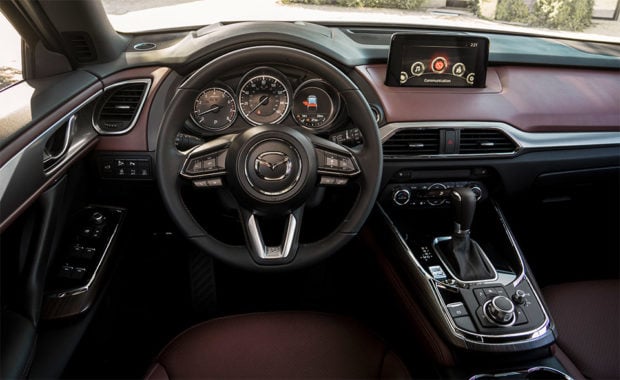 Mazda's standard infotainment is on tap in the CX-9, which is a good system that has a knob and a touch screen. It's great when a manufacturer gives you a choice of either type of input. The system supports all the different media types, but as of yet does not support Apple Car Play or Android Auto. We've been told it's coming.
A full-color heads-up display is a welcome addition. It's projected onto the windscreen, unlike other Mazda vehicles that project onto a piece of plastic, and is very high-resolution. The layout of the information is useful, including showing you blind spot notifications. It gives you the current speed limit, and actually reads the speed limit signs as you pass them with a camera so you always know what the current speed limit is.
Like all current Mazdas, the CX-9 is fun to drive. While it's not as sporty as the Miata, it's still a responsive crossover with good handling characteristics. Mazda also takes a driver-first approach to driver aids. For example, the lane keeping system will beep if you stray out of your lane. But if you are intentionally getting close to the line, based on steering wheel input sensors, the system won't beep at you. It assumes you know what you're doing and don't want to be bothered. That's smart.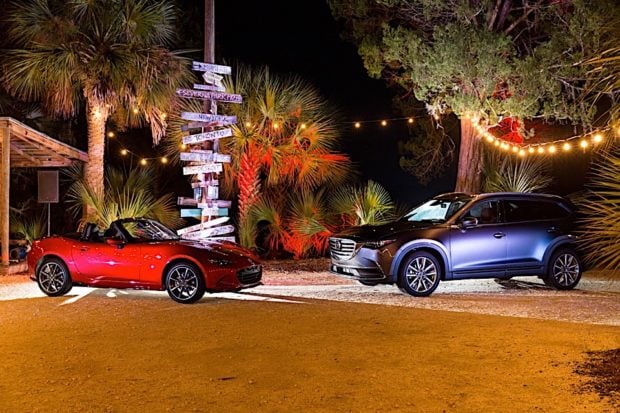 Everything isn't perfect. Luxury-minded crossovers often have large panoramic sunroofs to bathe driver and passengers in sunlight. The CX-9 just has a standard-sized sunroof. Also, cars in this class often have ventilated front seats. Again, that's not an option on this – or any – Mazda. On the really hot days, it's noticeably absent.
Overall, our short time behind the wheel was quite positive. We didn't feel out of place in a location swarming with luxury marques with German badges. The CX-9 is a smart crossover that is catered for people who like to drive. If only more automakers took that approach!