2017 Genesis G90 3.3T Premium Review
genesis | genesis g90 | June 28, 2017
2017 Genesis G90 3.3T Premium

Engine: 3.3-liter twin-turbo V6
Horsepower: 365
Torque (lb-ft.): 376
Transmission: 8-speed automatic
Drive Configuration: RWD or AWD
Top Speed (mph): 155
City/Hwy/Combined MPG: 17/24/20
Curb Weight (lb): 4,784
Wheelbase (in): 124.4
Total Length (in): 204.9
Width (in): 75.4
Base Price (USD): $71,500
Price as Tested (USD): $71,500
It's a familiar playbook that Hyundai has been following. It's quite similar to the approach that Honda followed when they launched in the U.S. market in the late '70s. Build a bare-bones car. Offer a killer warranty to back up the car. Sell it for an affordable price. Slowly increase the quality in your core products and expand your product line. Establish yourself as more than just an economy car company. Develop a loyal customer base, then spin off a luxury product line.
The Genesis brand is intended to rival Acura, Lexus, Infiniti, and other luxury car makers. But, unlike Honda/Acura, Hyundai seems to be struggling early on getting a footing in the luxury market. Sadly, many people still aren't taking them seriously. I actually heard someone say, "they can pull the Hyundai badge off that car and call it whatever, but it's still a Hyundai." That is wholly unfair. The 2017 Genesis G90 is much more than just a glorified Hyundai with a different badge.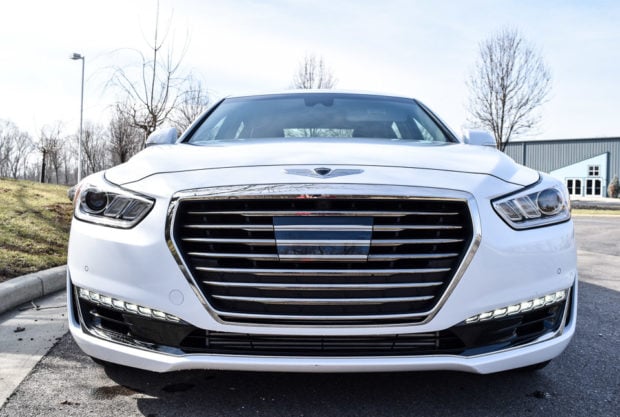 On looks, the Genesis G90 certainly looks the part of a luxury car and definitely doesn't bear any resemblance to Hyundai's current lineup. It's Jaguar-like with a long, lanky body. The grille is aggressive with a wide mouth and squinty headlights. LED running lights run horizontal below the mouth and help balance out the grille. The winged Genesis logo is centered above all of it, proudly making its presence known. Other than the chrome trim that runs along its bottom edge, and some dramatic wheels, the G90's side has little in the way of distinguishing features. Ditto the back, which has chrome-accented dual exhaust ports, and some details in the taillamps, but not much else.
While it's definitely not a Hyundai, you can argue that the G90 isn't stylized enough to rival other high-brow brands. Perhaps the next generation G90 will "go there" with something bolder and less conservative.
The G90 hits the luxury mark when it comes to the powertrain. There are two engines, a 3.3-liter twin turbo V6 and a 5.0-liter V8. The V6 has 365 horsepower and rear-wheel drive is standard. The powerful V8 makes 420 horsepower. My V6 tester had optional all-wheel drive which helped its handling. The turbocharged engine was spunky off the line, and offered exhilarating acceleration and power for something of this size. The eight-speed automatic transmission is outstanding, and there's no turbo lag whatsoever.
For a bigger car, the G90 handles remarkably well. Corners are smooth and the steering is responsive. As you'd want and expect from a luxury vehicle, the road and engine noise is minimal. The engine performance is refined. It's what you expect from conservative Japanese sedans and not as thrilling as European sedans. It compares well to the Cadillac CT6 in performance and handling, although the G90 drives a little smaller than Cadillac's big new luxury cruiser.
Large sedans aren't known for fuel economy. The G90 is middle of the pack when it comes to its use of fuel, and the V6 engine is the better choice when it comes to fuel economy. My tester had an EPA rating of 17 mpg/city and 24 mpg/highway. In a week's worth of mixed driving, and slightly heavy footed, I averaged 19.8 mpg.
Inside, you can argue that the G90 doesn't go far enough. For being a new luxury brand's flagship, there needs to be a little more of a wow factor. Although the materials are impressive, it's not quite comparable to other European flagship sedans or even the CT6. I'd say it's more in the same vein as Lexus or Acura. While the G90's interior is conservative, it's not without nice touch points. There's premium leather on the dashboard, steering wheel and doors as well as the seats. The stitching on the seats gives an impressive, quality look.
The shiny wood accents threw me though. On first glance it seems impressive and certainly un-Hyundai like. But the glossy look of it seems like Genesis may be trying too hard to fit in, and ends up missing the mark when it comes to the wow factor. Similar to the exterior, Hyundai does a good job, but has room improvement with the interior. It's a nice first effort.
The rear seats are spacious with ample legroom and headroom. The seats can slide up and back and also recline to add to the comfort level. The trunk only has 15.7 cubic feet of space, which is below other large sedans, but has enough room for golf clubs and groceries. There's a 60/40 split pass through that expands the cargo area.
The 7-inch touchscreen powers an average infotainment system. It's better than the Lexus system, but I still prefer Cadillac's CUE system. The rotary knob controls every aspect of the infotainment system, which appears to be trying to replicate Audi's system. However, it's somewhat cumbersome and takes some getting used to From a technology standpoint, the G90 has everything you'd want, without the over-engineering often found in the German brands, but could certainly be a lot more intuitive.
My tester came with a slew of standard features, including Nappa leather, heated and cooled seats (front and back), rear-zone climate control and power rear side shades. Safety and convenience tech includes lane keep assist, smart cruise control, smart blind spot detection, driver attention alert, automatic emergency braking with pedestrian detection, and a multi-view camera.
There are only two trims for the G90. The 3.3T and the 5.0 Ultimate. The starting price for the 3.3T with all-wheel drive is $71,550. The V8 Ultimate has a price in the mid $70s.Pricing in this segment is tough to compare. European competitors are more expensive but have a slew of options, trims and engine options. Hyundai simplifies that with the Genesis G90.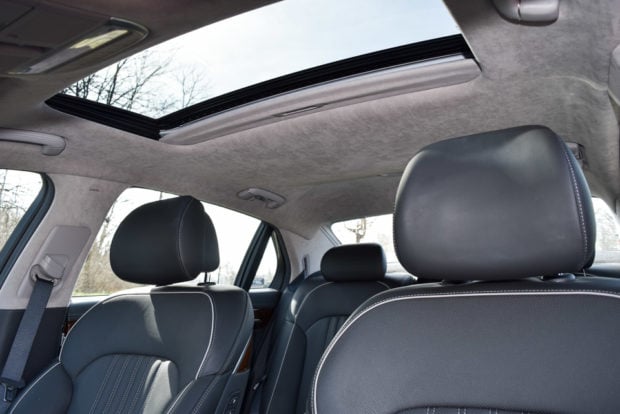 Welcome to the world of luxury, Hyundai, or should I say Genesis. This flagship makes its presence known with legitimate luxury offerings and a quality engine. Lexus, Acura and Infiniti, take note. The competitive price point will help win over some consumers. But whether it can truly have staying power remains to be seen. If given a fair shot, it can compete with other stalwarts in this segment. For a first-time entry, it's nice and I look forward to the next generation, which should be almost as important as this first one.