EV Drag Race: Tesla Model Y vs. Genesis GV60 vs. Mustang Mach-E GT
drag races | fird | Ford Mustang Mach-E GT | genesis | Genesis GV60 | tesla | tesla model y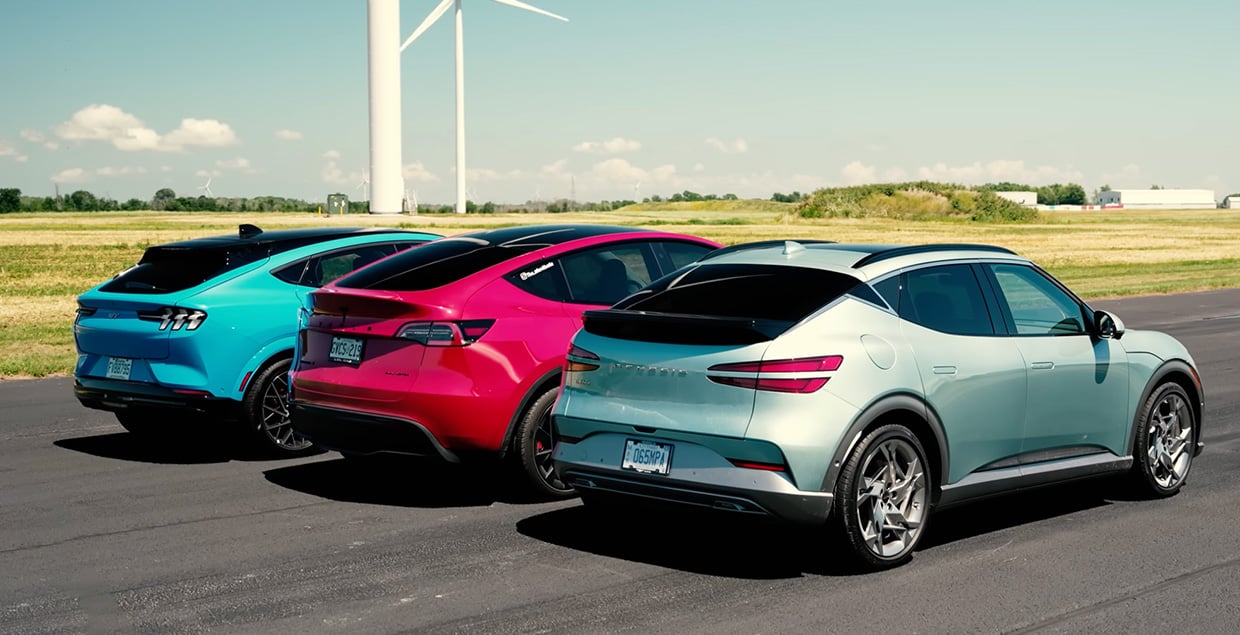 Mechanically, most electric vehicles are pretty similar. But the power output of the battery pack, vehicle weight, and motor efficiency can all affect vehicle speed. Three of the more powerful crossover EVs on the market are the Tesla Model Y, Genesis GV60, and Mustang Mach-E GT, and they're also likely to be cross-shopped by buyers. They all accelerate thanks to the instant-on torque magic of electric motors quickly, but which one of these three is the fastest in a straight line? The guys from the YouTube channel Sam CarLegion managed to round up the three vehicles for a side-by-side comparison.
All three crossovers have a dual-motor, all-wheel drive configuration, with the Genesis GV60 Performance model rated at 483 horsepower and 516 lb-ft. of torque in Boost mode, the Tesla Model Y Long Range has 384 horsepower and 376 lb-ft. of torque, and the Ford Mustang Mach-E GT cranks out 480 horsepower with an impressive 634 lb-ft. of torque. The Mach-E is the heaviest of the pack at 4920 pounds, with the GV60 at 4862 pounds, and the Model Y being the lightweight at 4402 pounds. Though the faster Model Y Performance weighs 4555 pounds. So which one will win in a drag race? Click play on the video below and find out.
I won't spoil it for you, but the results were surprising, with one of the three getting off to a nice quick lead in the first two races, but losing in a come-from-behind to the same car each time. We want to see this same race with the Model Y Performance, the Kia EV6 GT, and the upcoming Hyundai Ionic 6N.
[via CarScoops]