2017 Hyundai Tucson Limited and Night: A Tale of Two Crossovers
awd | crossover | CUV | hyundai | hyundai tucson | turbocharger | July 28, 2017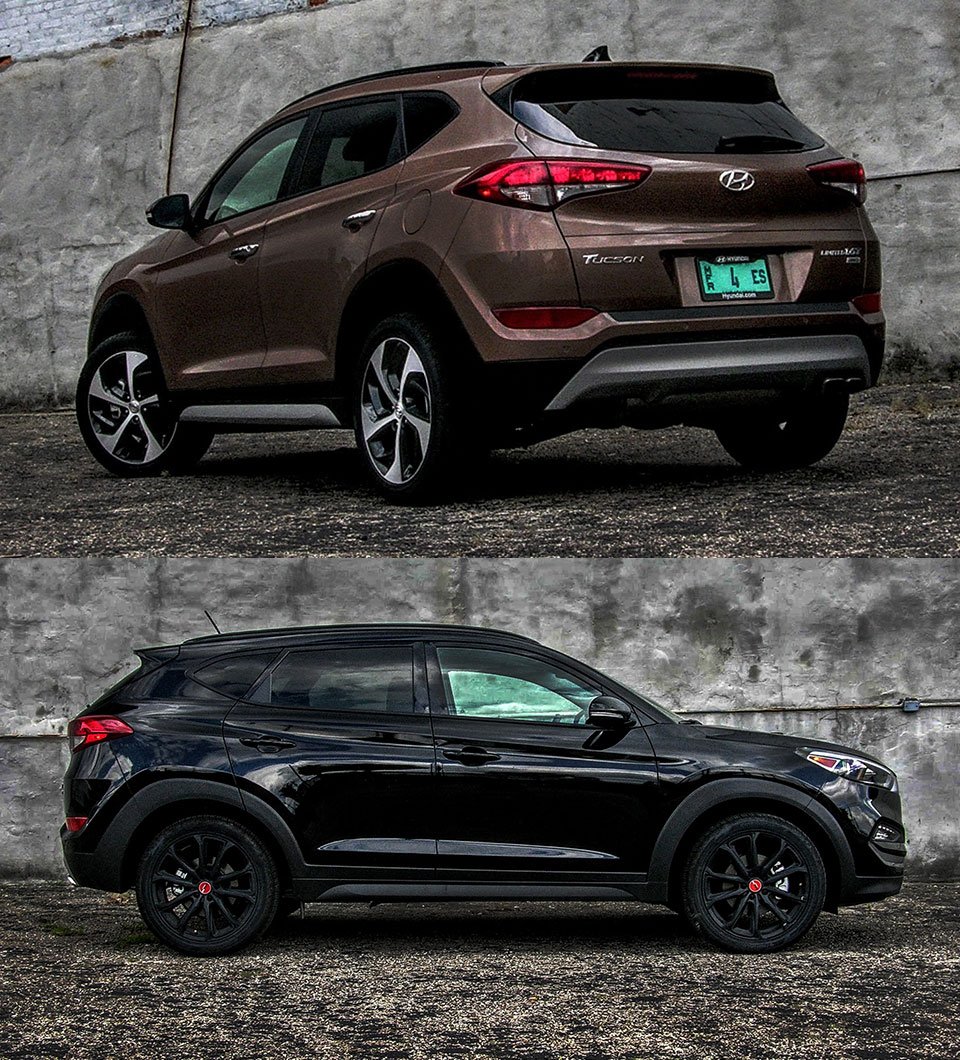 Specs at a Glance

Engine: 1.6-liter turbocharged 4-cylinder
Horsepower: 175
Torque (lb-ft.): 195
Transmission: 7-speed EcoShift dual clutch automatic
Drive Configuration: AWD
0-to-60 Time (secs): 7.6
1/4 Mile Time (secs): 15.9
Top Speed (mph): 129
City/Hwy/Combined MPG: 24/28/25
Curb Weight (lb): 3,705
Wheelbase (in): 105.1
Total Length (in): 176.2
Width (in): 72.8
Base Price (USD): $31,175 (Limited) $29,200 (Night Edition)
Price as Tested (USD): $35,210 (Limited) $30,220 (Night Edition)
Hyundai has gone from being labeled as the unreliable Korean alternative to world-class contender in record time. Like all success stories, there were some early year growing pains, as well as some awkward teenage moments (anyone else remember the Veracruz?), but eventually Hyundai found itself and we welcomed it with open arms.
Nowadays our roadways are awash in Korean cars, and for the most part they are all pretty damn good in one form or another. Inexpensive, well constructed, and boasting some of the best warranties in the biz, Americans have come to embrace Korean cars not just for their sensational value, but because they have brand loyalty.
Nowhere is this notion more prominent than within the raging sales tempest commonly called the crossover craze. Compact to the point where they can offer good gas mileage and effortless parallel parking, yet roomy enough to warrant weekend trips to IKEA, there isn't much a CUV can't do for the average buyer. Outside of being unable to tow large payloads, the small SUV has become the official automotive multitool of the modern American commuter, with Hyundai's time-honored Tucson standing right in the center of the gale.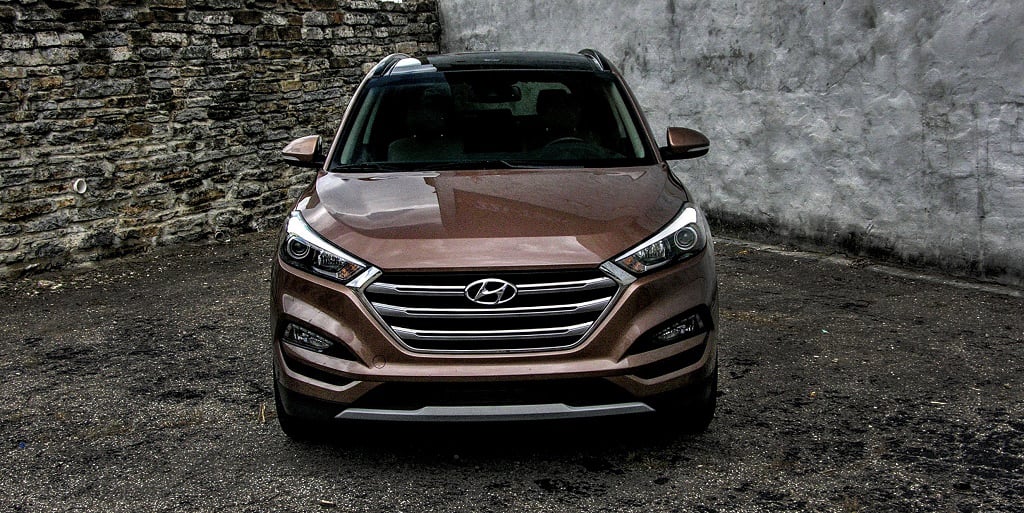 In order to get a grasp of what Hyundai's smallest SUV all-star is currently offering we got behind the wheel of a Limited and a Night Edition, both of which came with all-wheel drive and a 1.6-liter turbo four-cylinder. Currently in its third generation and mildly refreshed, the Tucson strikes a pose that is both appealing and memorable, while packing a healthy array of features within its cabin and sprightly performance fun when in turbo form.
A few key features encapsulated within both models that earn the Tucson high marks are its panoramic sunroof, LED approach lights, proximity key entry system, locking differential, downhill brake control, and a healthy array of standard safety tech. As for its cabin, space and top-notch fit-and-finish are the name of the game, with ample amounts of roominess awaiting you in every seat in the house, as well as an interior that appears to be both sturdy and sharply styled.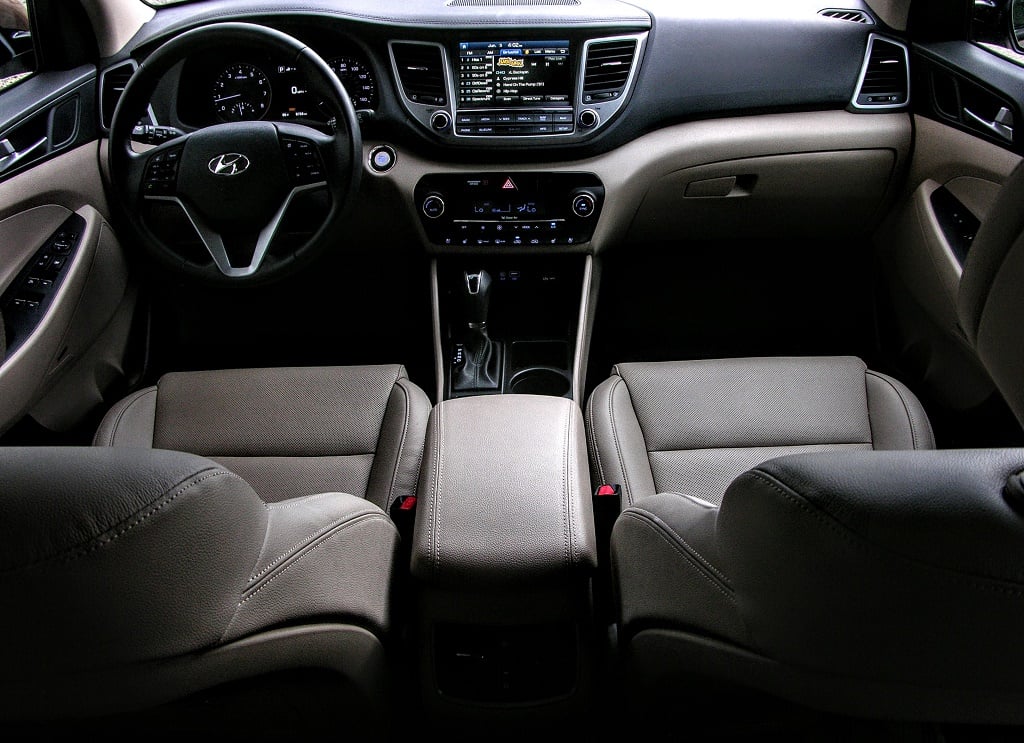 Drive-wise, the 1.6-liter turbo engine in both models provides a solid, 195-pound punch of torque from standstill, and when paired with a 7-speed dual-clutch transmission (DCT) makes for quite the sharp driving experience. Unfortunately, the Tucson's nearly two ton frame tends to make the engine to overwork itself a bit (especially on an incline), forcing fuel economy averages to hover around the 25 mpg mark at best. To put that in contrast, this is just three ticks better than what we observed in the powerful Infiniti Q50 Red Sport we reviewed recently, which packs 400 horsepower, a twin-turbo V6, and quite a few more portly pounds.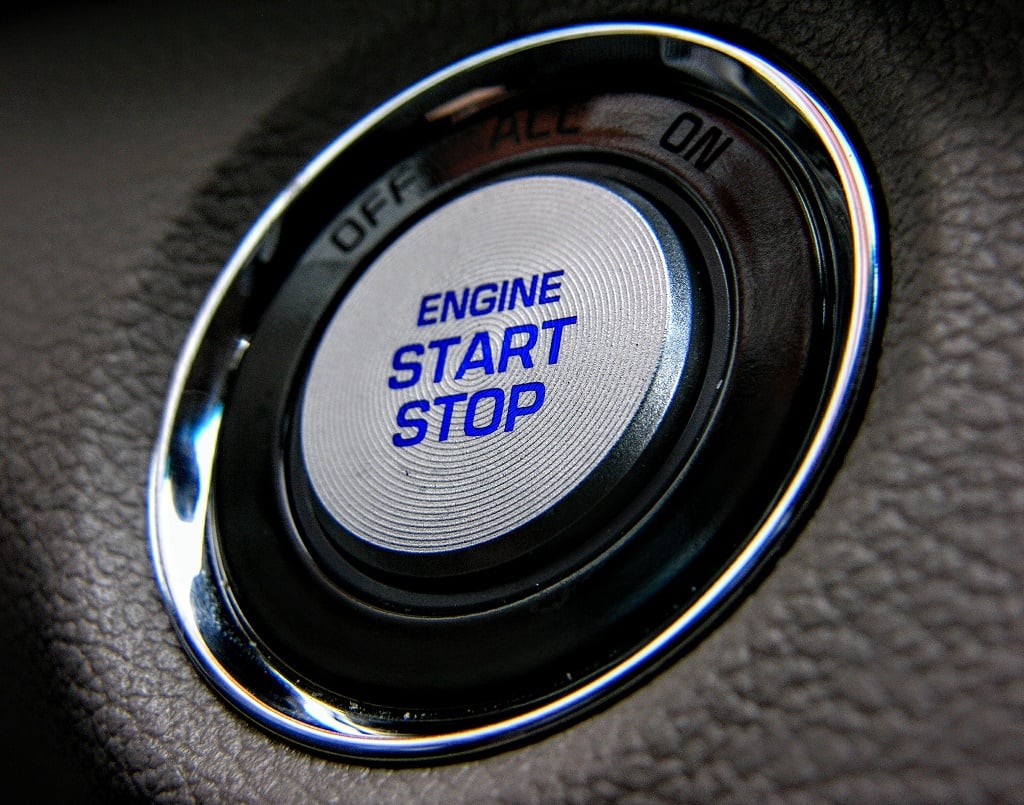 The powerband in the Tucson belts-out the boost, but in quite the uncouth manner at times, consistently forcing drivers to select lower gears and high revs in order to make safe passes along the interstate. Another powerplant problem encountered was the laggardly way in which reverse engaged, which felt almost like the vehicle was stalling for a moment, before suddenly flinging you backward. This issue consistently occurred in both models every time reverse was selected.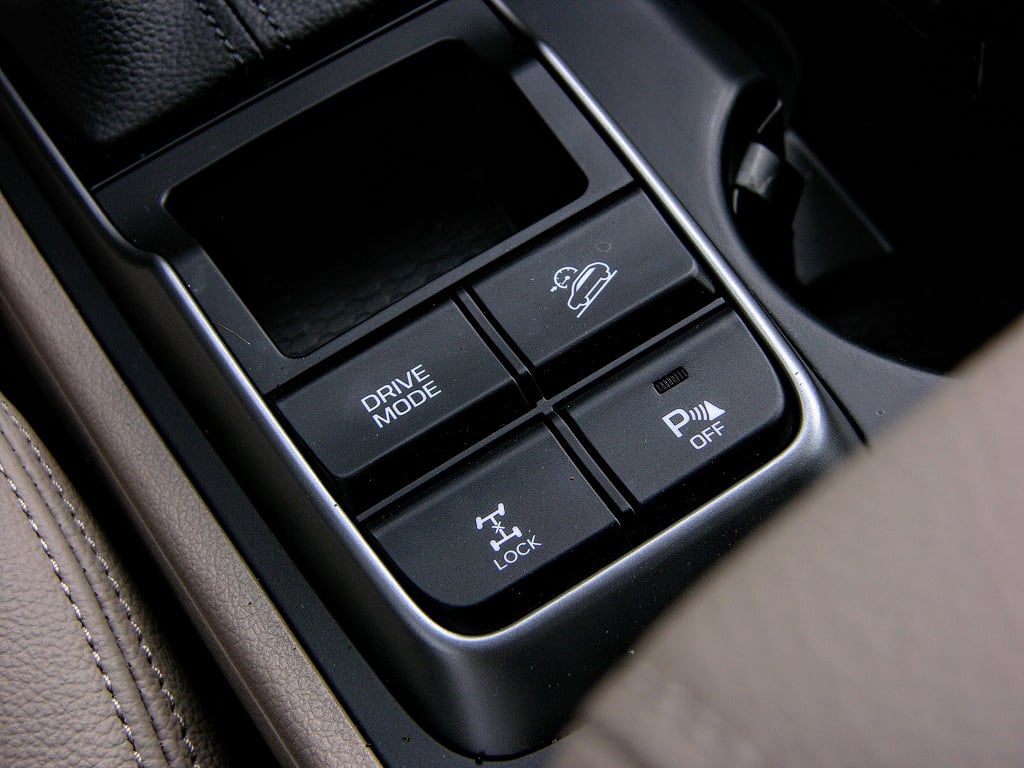 As for the Tucson's all-wheel drive setup and traction controls, we will reserve judgement for a time when there is snow on the ground or more mud to be had, instead focusing upon steering and suspension. For the average driver, this CUV's overly-assisted steering responses will feel right on the money, especially since the majority of commuters have grown accustomed to (or up with) vague electronic feedback. On a side note, both the suspension and chassis feel as tight as a drum, and although road harshness and noise were a constant factor, much of that likely has to do with the low-profile Hankook Kinergy tires that come standard on both models.
Perhaps the biggest disappointment to me was the way in which the Tucson's interior has been squandered. For all of its stylish lines and spacious cabin sizing, there are a lot of missed storage opportunities within this machine. Unlike the Honda CR-V, which makes the most out of almost every available spot, the Tucson features loads of wasted space.
A few key misses are as follows: The microscopic center console cannot hold even the smallest purse, storage bins and underfloor cubbies in the rear require ponying-up an additional $190, and although there is room aplenty for additional pockets and cupholders up front you get a hard plastic wasteland.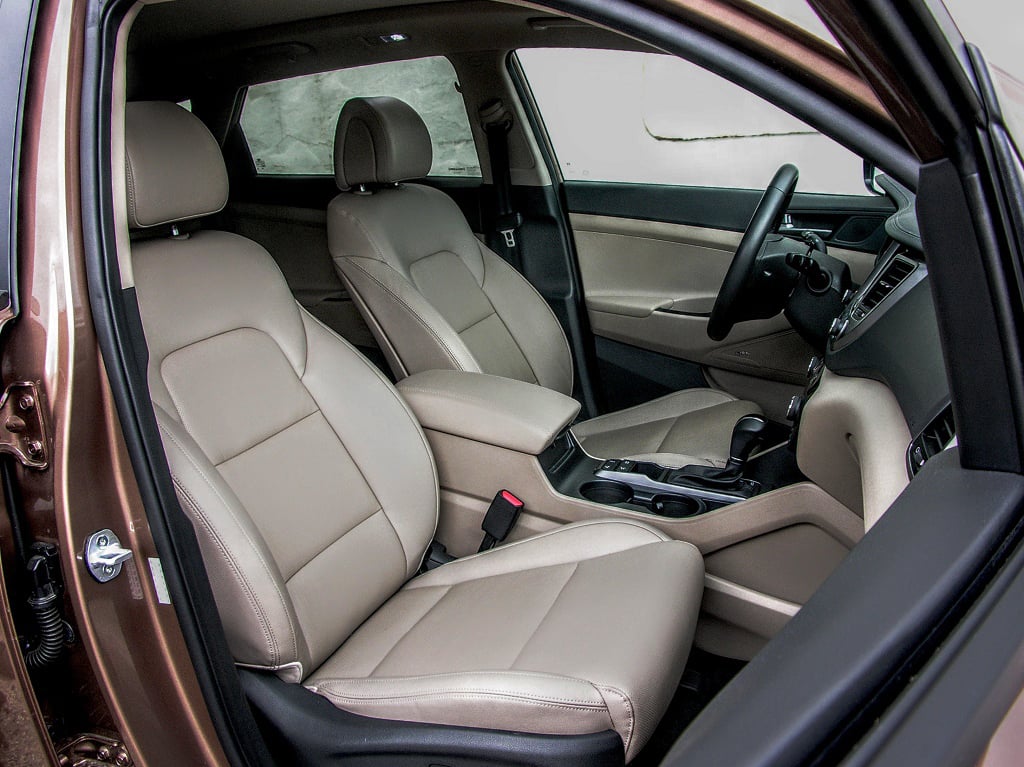 Another stumbling block for the Tucson is its overabundant use of inexpensive plastics, unexciting interior colors, and Hyundai's signature, but rapidly aging gauge layout, which is far from engaging to look upon when compared to other clusters. Annoyances with the absence of keyless entry on the rear doors, along with the sunroof's preference for opening entirely when only the sunshade's retraction is desired also added frustration to the fire, both of which are common complaints with other Hyundai models.
Yet despite all of this, there are a lot of features that come to the Tucson's aid, especially when you factor in all of the perks found within the Limited model. In standard trim buyers get things like automatic LED headlamps, a hands-free liftgate, blind-spot detection with rear cross-traffic alerts, a potent Infinity audio setup, and an 8-inch touchscreen with Navi and a sizable sweep of apps.
You also will find things like Android Auto and Apple CarPlay included at no additional charge alongside Hyundai's Blue Link connectivity suite. We also recommend forking over the extra $2,750 in order to secure the "Ultimate Package," which is well worth the money. This upgrade includes features like the panoramic sunroof, adaptive HID headlights, auto braking with pedestrian detection, vented front seats and a heated rear bench, as well as a larger, 4.2-inch LCD digital driver display.
On the dark side of the coin, the Night Edition is a mildly dressed-up Sport model. This means it packs many of the same standard features as the Limited, but adds forged 19-inch RAYS wheels, as well as a panoramic sunroof, black sill plates and mirrors, aluminum sport pedals, and a few small finish touches here and there. Unfortunately, selecting this model also downgrades you to a dinky 5-inch base-level touchscreen and cloth seats, and does little for the performance end of the equation.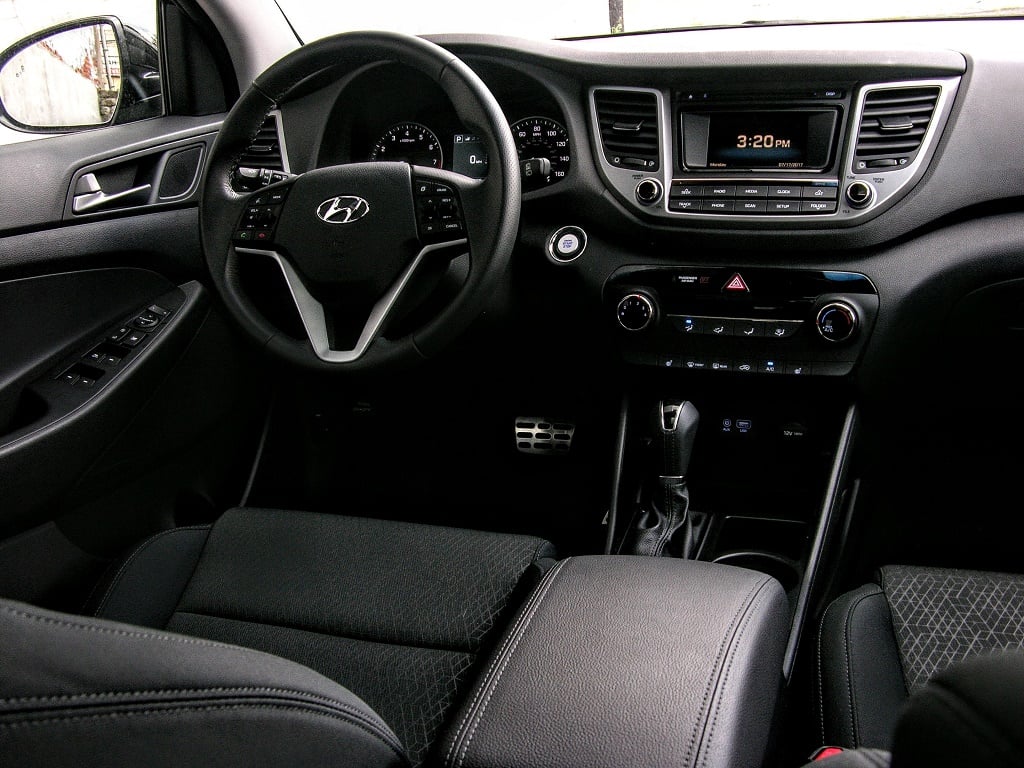 So the question now is which is the better vehicle: The Tucson Limited with its Ultimate Package attached, or the Night version, complete with its dark undertones and $5,000 lower price point? Since the price of those RAYS wheels alone is worth well more than two grand (sans tires, valve stems, etc), there is quite a bit of value associated with the Night model, but that's about it when it comes to benefits.
Despite rocking a massive sunroof, a leather steering wheel, some grippy race pedals, forged wheels, and all of those murdered-out finishing touches, the Night model is a pretty bare-bones vehicle, thus making the Limited the obvious winner.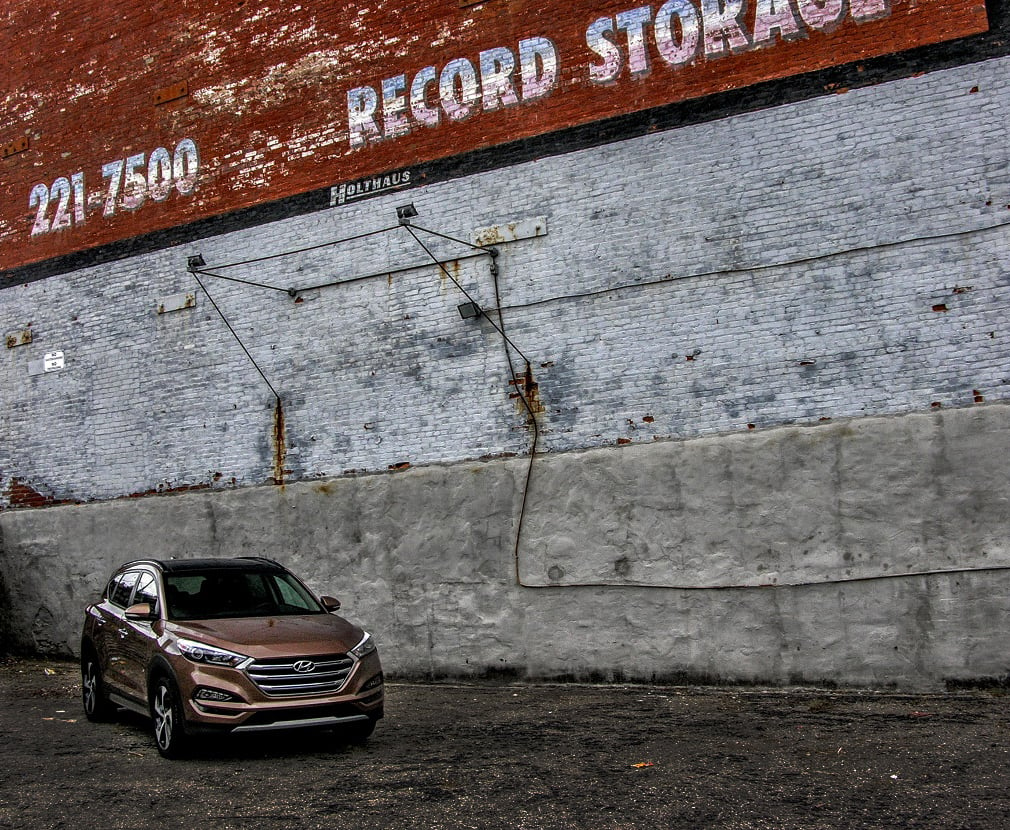 In-fighting aside, the Tucson's biggest issue is its inability to best the outstandingly redesigned Honda CR-V, and the drool-inducing Mazda CX-5, both of which offer better materials, practical storage space, and price points. There also is the Santa Fe Sport from Hyundai, which packs a more refined and powerful feeling 2.0-liter turbo motor, and even more cabin space for about the same amount of money, all facts that cannibalize Tucson sales.
The Hyundai Tucson in 1.6-liter turbo form may be good, but it isn't balanced or all-inclusive enough to be the ringleader, regardless of what additional perks this generation may offer the public. Our suggestion is wait for the next generation to emerge, because this Korean staple is only going to get better with time.