2017 Acura MDX Sport Hybrid Review: Luxury SUV Superhero
acura | Acura MDX | Adaptive suspension | hybrid | SH-AWD | Torque Vectoring | v6 | August 18, 2017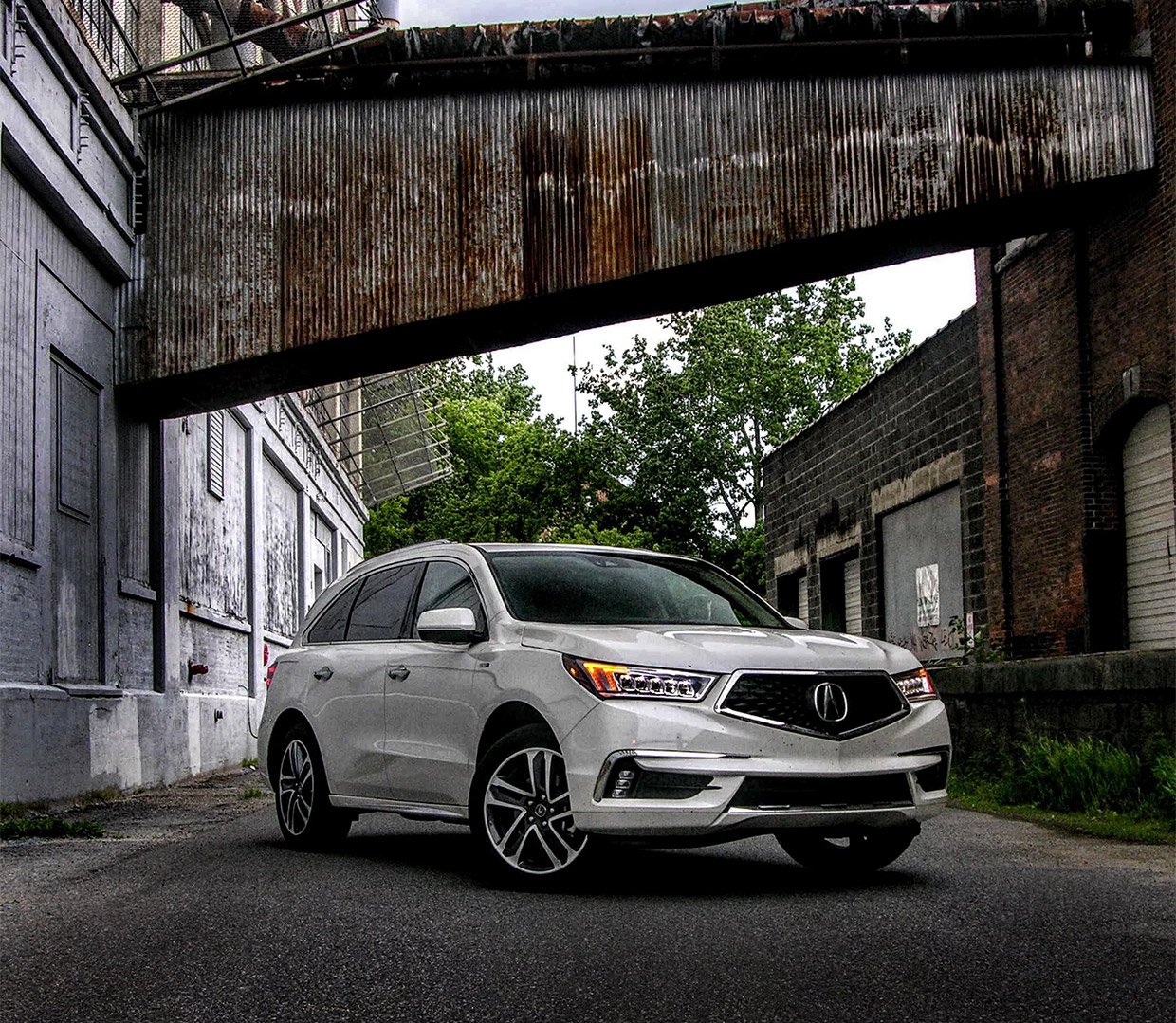 Specs at a Glance

Engine: 3.0-liter V6 with 3 permanent-magnet synchronous AC motors
Horsepower: 321
Torque (lb-ft.): 289
Transmission: 7-speed dual-clutch automatic with paddle shifters
Drive Configuration: Super-Handling All Wheel Drive (SH-AWD) with active torque vectoring
0-to-60 Time (secs): 5.7
1/4 Mile Time (secs): 14.5
Top Speed (mph): 133
City/Hwy/Combined MPG: 26/27/27
Curb Weight (lb): 4466
Wheelbase (in): 111.0
Total Length (in): 196.2
Width (in): 77.7
Price as Tested (USD): $58,975
When Acura resurrected its original mantra of "Precision Crafted Performance" some years back, most of us shrugged and didn't think much of it. Without a glimmer of the Integra/RSX anywhere to be seen, and turbocharged technology only being bestowed upon the unobtainable NSX, the final portion of this catch phrase felt fairly misaligned with the company's lineup. But to our disbelief Acura began re-instilling all three of these disciplines in a completely unprecedented coalescence, with the all-new MDX Sport Hybrid standing as the first of many vehicles to be gifted with NSX-levels of ingenuity.
It may appear to all the world like like a lumbering jewel-eyed mastodon, but there is far more to this triple-rowed SUV than meets first glance. After spending over 1,600 miles behind the wheel of the latest MDX during a road trip to Vermont, I can attest that this version is without a doubt one of the best family vehicles I have ever encountered, and deserves every ounce of praise thrown at it.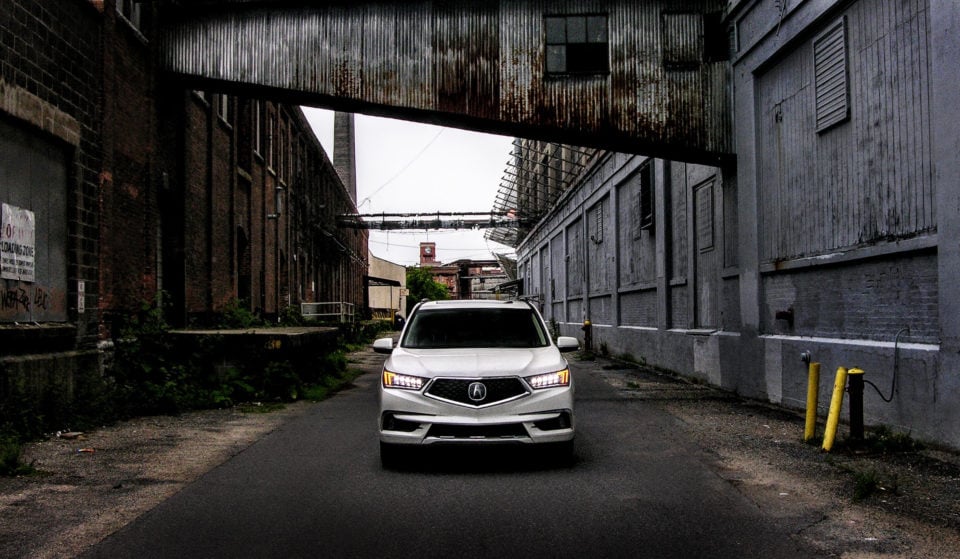 Featuring a 3.0-liter V6 that creates more power than its larger, non-hybrid brethren, the performance part of this tale is a surprisingly exciting chapter, punctuated by snappy twin-clutch gear shifts and engaging drive modes. Press the drive button twice and you will receive a bump in both power and engine octaves, as the vehicle jumps into Sport mode for overtakes and testosterone-fueled tomfoolery. But toggle through the integrated drive dynamic system until you get to the Sport+ setting and you'll soon discover that is where the "precision" portion of Acura's resurrected motto truly makes its presence known.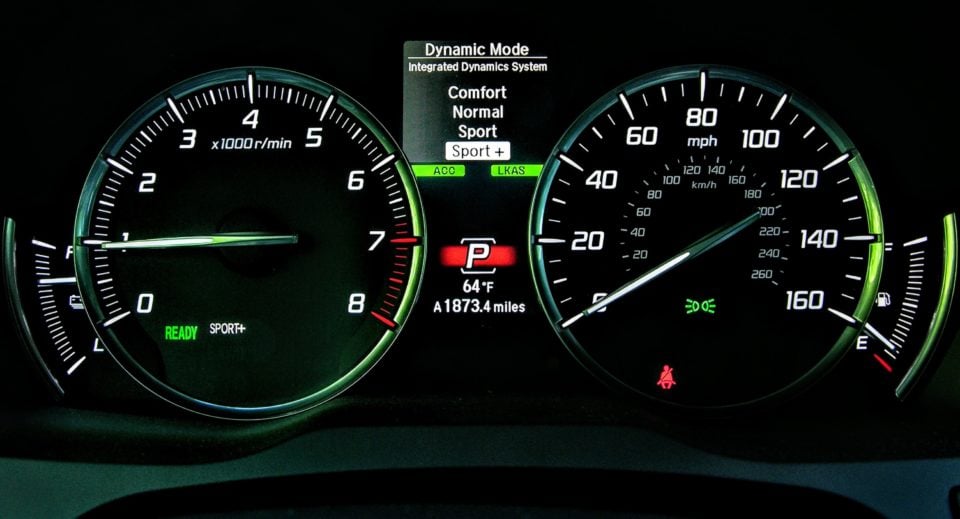 Almost every page in the performance playbook gets rewritten when in this setting, and with steering, suspension, and engine in hyper mode, you suddenly realize why Acura-grade agility has long been revered by critics and car buyers alike. Tight, but not overly stiff adaptive dampers and springs? Check. Transmutated engine and drivetrain calibrations for hastier acceleration? On deck. Beautifully controlled body roll and direct turn responses from a torque vectoring all-wheel drive system? Accounted for and ready to rumble.
Virile and surprisingly agile, this sumptuous spoonful of SUV craftsmanship offers a driving experience that borderlines on besting the latest generation of the Mazda CX-9, a machine that few vehicles in the family car segment can come close to trumping. Granted, I did find that steering remained too light even when in Sport+ mode, and there were a few times where I was left pining for stickier tires and more aggressive brake pads, but save for the steering both of those performance misses can be easily amended.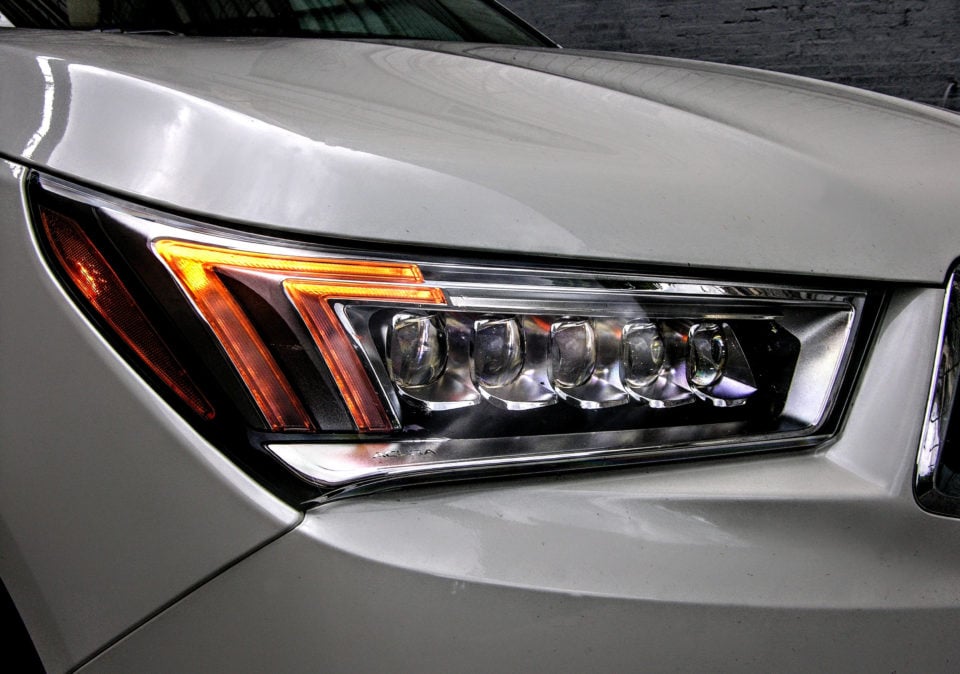 Lead-foot fun aside, the visual styling of the MDX Sport Hybrid is carved to mirror the precision packed beneath its nose and within its spacious cabin. Acura has been quick to aesthetically update its lineup in order to remain relevant and this SUV is an alluring illustration of this fact. LED cubes and fluidly piped lines, 20-inch split-spoke alloy wheels, Acura's new diamond pentagon "splash" grille, deep air dam ducts, integrated roof rails, and just enough chrome to keep it flashy all offer the eye something special.
Functionality-wise, flush-mounted exhaust tips within the rear bumper and power-folding mirrors with key-fob sensitive ground lighting are equally appealing and purposeful. Another outstanding surface component were the rain-sensing wipers, which no matter the level of precipitation, always managed to issue the ideal amount of windshield swipes.
Intelligence is not just bound to this vehicle's pristine polar exterior either. With the autonomous safety sentinel known as AcuraWatch on deck, and an avalanche of interior storage smarts that only a Honda-based brand can offer, family forays into the vast unknown are a lot more approachable in this massive contraption. Buyers will likely find that the MDX's split captain chairs, center storage compartments that are sizable and adjustable, a hulking, completely hidden rear cargo undertray, charging ports galore, and thundering premium audio system are all road trip rock stars.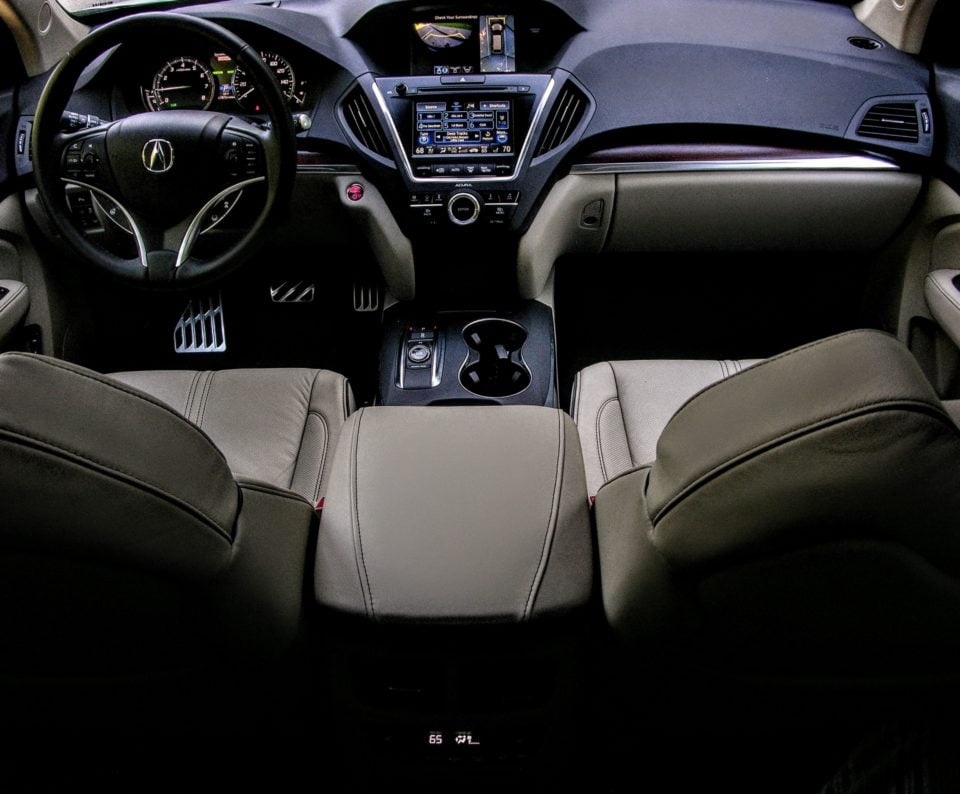 I was also delighted to discover that the rear seat heights were tall enough to allow little ones to look outside, and that because of the way in which the rear doorways are designed, easy entry and egress is possible for those of slight stature. There also are illuminated fold-flat seat buttons, an effortless child LATCH layout, and a cargo hold that is quite spacious due to clever hybrid battery storage solutions.
Waves of supple leather and soft seating materials also make for some of the most comfortable seats I have encountered in an SUV, and both the dash and headliner are swaddled in swanky materials to match this motif.  A few other intramural aspects worth noting are the use of real wood inserts, heated/ventilated front seats, a heated steering wheel, snazzy sport pedals, swanky mood lighting, and brilliant use of LED storage illumination.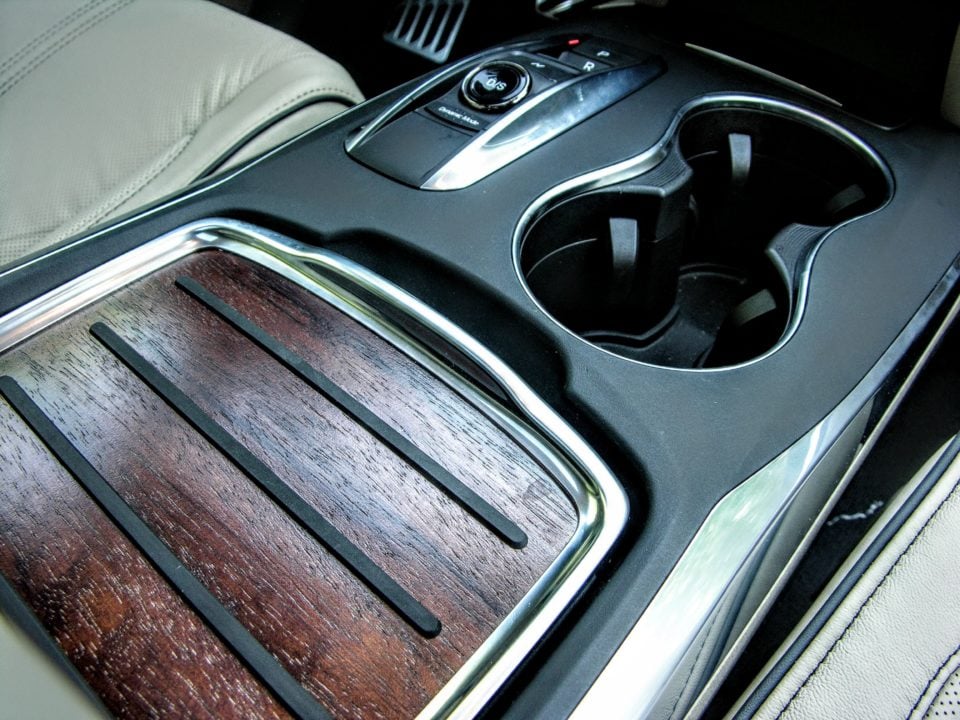 While some may find that AcuraWatch can act a little touchy at times, especially in tight turns or when someone in front of you abruptly merges, I found the MDX consistently offered class-matching levels of autonomous safety. Just engage every collision prevention feature, set your speed, and sit back and watch the vehicle drive itself for twenty seconds at a time. Receive a warning that it's time to take the helm, and a slight wiggle of the wheel puts you back on track for another stent, thus allowing you to smash on that juicy bison burger you just bought.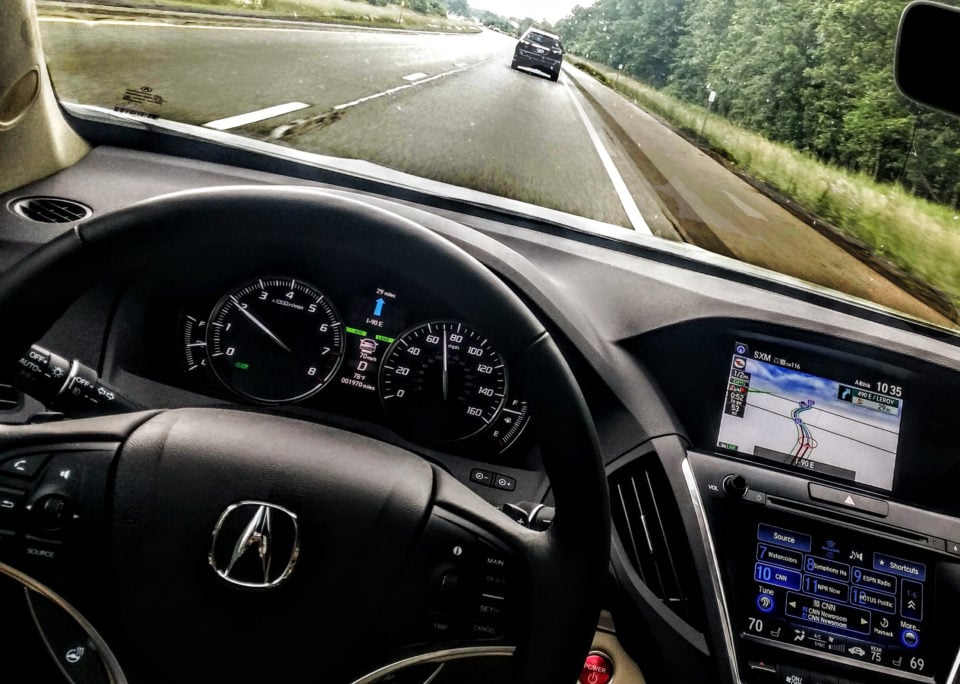 Another pleasant set of surprises was the MDX's ability to run on any grade of gas, the way in which it seamlessly deactivates and restarts the engine depending upon throttle inputs while moving, and the brilliantly layed-out center touchscreen. There also is a sweep of 360-degree camera views that can be toggled, drop-down menus and illustrated graphics that are striking and intuitively positioned, and both the driver's display and dual center stack screens are easy to read and utilize. Having programmable settings for up to six drivers was another winning tech touch, as it allows you to select one-off setups for places, phone, climate, audio, and more with the push of a digitized button.
Objectionable aspects of this vehicle were all forgivable and far between, but warrant consideration nevertheless. Unlike the Honda Pilot, the MDX does not have LaneWatch cameras, nor does it have many of the CabinWatch tools that make the Odyssey so outstanding. It also would be helpful to have a head-up display, traction settings for different terrains, more ergonomic center cup holders, better 3D maps, on-board Wi-Fi, and more powerful ventilated seat functions.
I also wasn't keen on missing the Pilot's double sunroof, the absence of a standard AC household plug, and how slow the nav system was to start up. On-board navigation also failed to detect traffic congestion quite a few times and not once did it offer any rerouting options, despite being set to show both.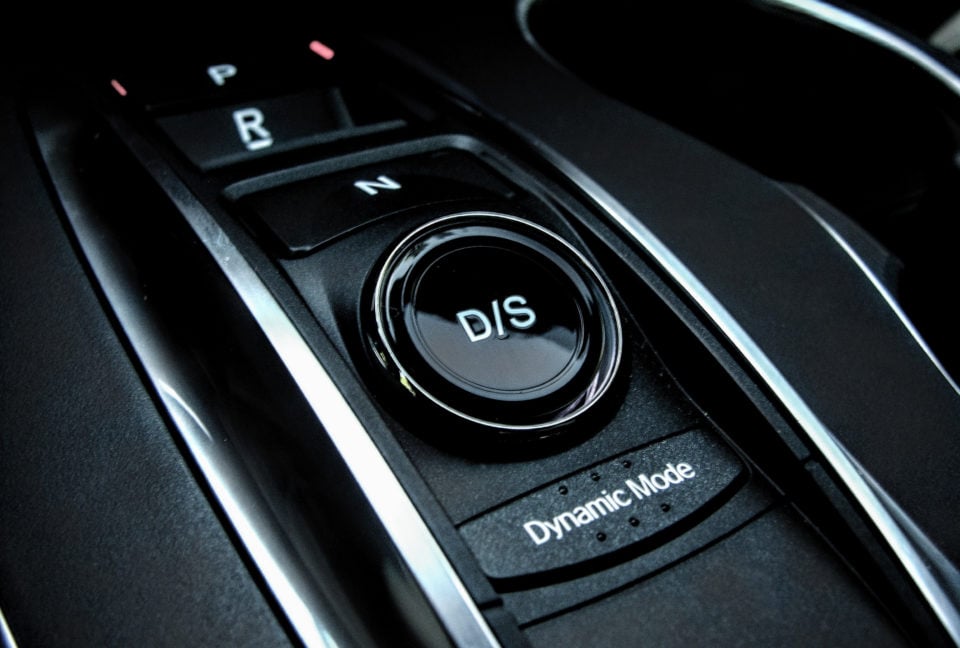 Although this hybrid model does get a respectable 7 additional miles per gallon in the city than its non-battery powered brother, buyers may find themselves shrugging over the unexceptional 27 mile-per gallon overall average they receive. There's also an issue with sticker value. Despite this all-inclusive "Advance" version costing only a mere $1,500 more than its loaded, non-hybrid alternative, it's tough to topple the Q7 from its perch at that price point, especially when you factor in Audi's sensational Digital Cockpit and turbocharged tenacity.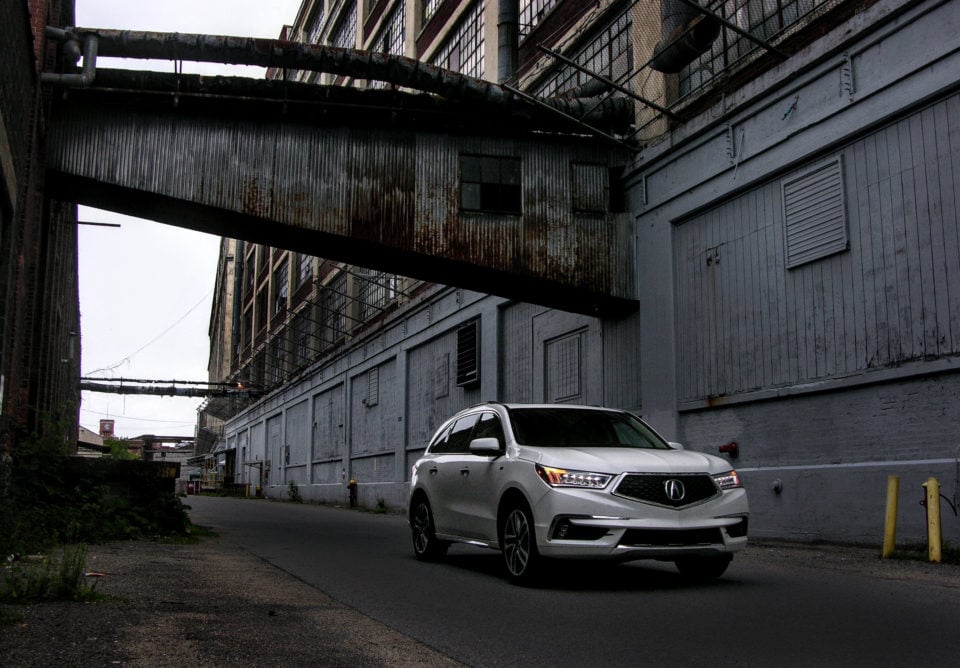 Undeterred by these stumbles, this variation of the MDX still stands strong as one of the best SUV options on the market today. The luxury SUV mothership has landed ladies and gents, and it's far more accommodating and dynamic than previously predicted. Leather indulgences, technological advancements, razor sharp performance, and all of the soccer practice-ready sensibility imaginable are officially yours for the taking in the Sport Hybrid version of Acura's iconic MDX. All you need to do now is go out and pit it against the competition and see for yourself why it exhibits every aspect of that classic Acura slogan.