Guy Turns Dodge Minivan into Batman's Tumbler
awesome | batman | dodge | minivans | August 20, 2017
The Tumbler from the Christopher Nolan Batman trilogy is arguably the coolest vehicle the Dark Knight has ever driven. Well, that and the batpod motorcycle that emerges from its front. While nothing will ever live up to the original, you could build your own with the help of a donor vehicle, some shop skills, and a little elbow grease.
Instructables contributor Kid Hero decided to build his own Bat Tumbler using an old 1994 Dodge Grand Caravan minivan as its base structure. The van cost him a total of $442.36, which makes him less Bruce Wayne, and more MacGyver.
He quickly got to chopping up the minivan, ripping off its doors, windows, hood, and other body parts to get to the underlying chassis structure and drivetrain.
After making some mods to it suspension and axles, and installing new wheels and tires, he built a wooden boxed frame to get the cockpit structure and shape right.
Later, he replaced it with steel beams and bolted them to the frame so it wouldn't fall apart (or get termites) when on the road. I have to say that front wheel setup looks particularly janky with those cantilevered half-axles. It doesn't look like there's any way to steer, but what do I know?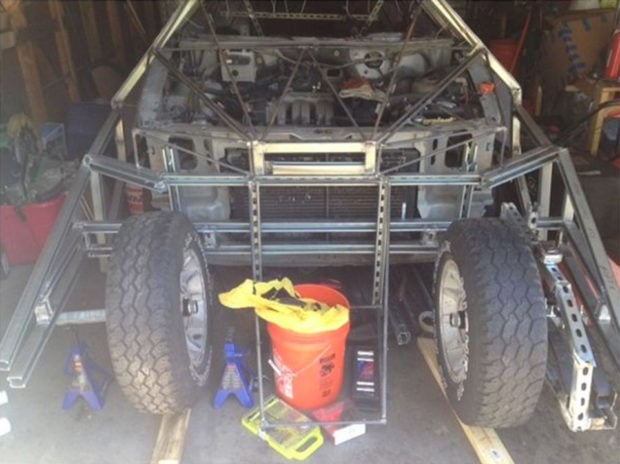 Finally, he moved on to wrapping the low-budget Tumbler with bodywork. He used sheets of fleece fabric, covered with fiberglass and then Bondo to finish it off before coating the whole thing with Herculiner, a cheap, easy to apply truck bed liner.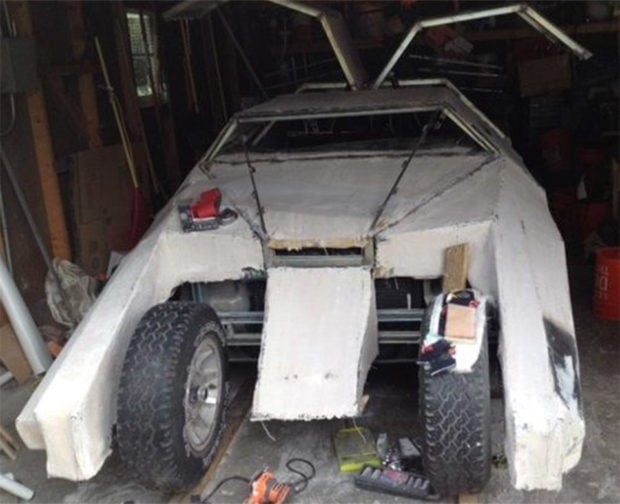 In the end, it cost Kid Hero about $3200 total for the project, including the steel, wood, fiberglass, Herculiner, wheel adapters and tires. The finished Tumbler isn't exactly slick like the one in the movie, but then again, I'm just happy to see another minivan put out of its misery.
Check out the full build log for the minivan to Bat Tumbler project over on Instructables.