2017 Mazda Miata MX-5 RF Review: Road Warrior Reaffirmed
2017 | 4 cylinder | convertible | manual transmission | mazda | mazda mx-5 | miata | September 3, 2017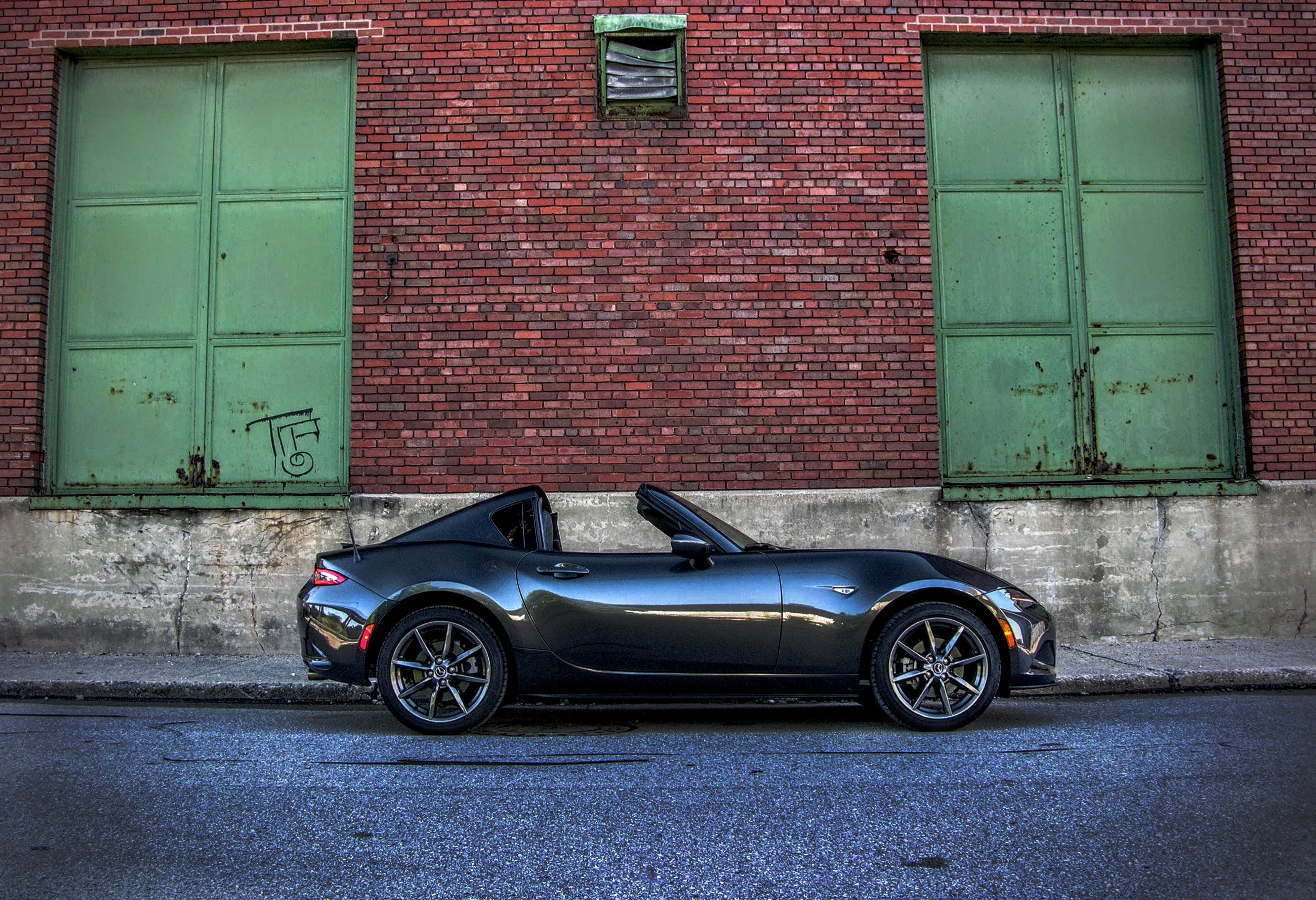 Specs at a Glance

Engine: 2.0-liter Skyactiv 4-cylinder
Horsepower: 155
Torque (lb-ft.): 148
Transmission: 6-speed manual (6-speed automatic optional)
Drive Configuration: RWD
0-to-60 Time (secs): 6.1
1/4 Mile Time (secs): 14.8
Top Speed (mph): 133
City/Hwy/Combined MPG: 26/33/29
Curb Weight (lb): 2,435
Wheelbase (in): 90.9
Total Length (in): 154.1
Width (in): 68.3
Base Price (USD): $32,620
Price as Tested (USD): $33,885
Has there ever been a time when a little Mazda sports car hasn't kicked ass? Sure, they may be a bit quirky, and lord knows rotary-powered platforms had their fair share of maintenance and performance faults, but dammit if they haven't all been cool in one regard or another.
Mazda's most recent road legal rocketship comes to you with a familiar MX-5 name, but in a previously unavailable retractable hardtop RF form, something that not just looks cool, but stiffens up the chassis as well. Belay your bellyaching about added curb weight and long term mechanical headaches, because if you haven't driven one then you truly are missing the point of this presentation.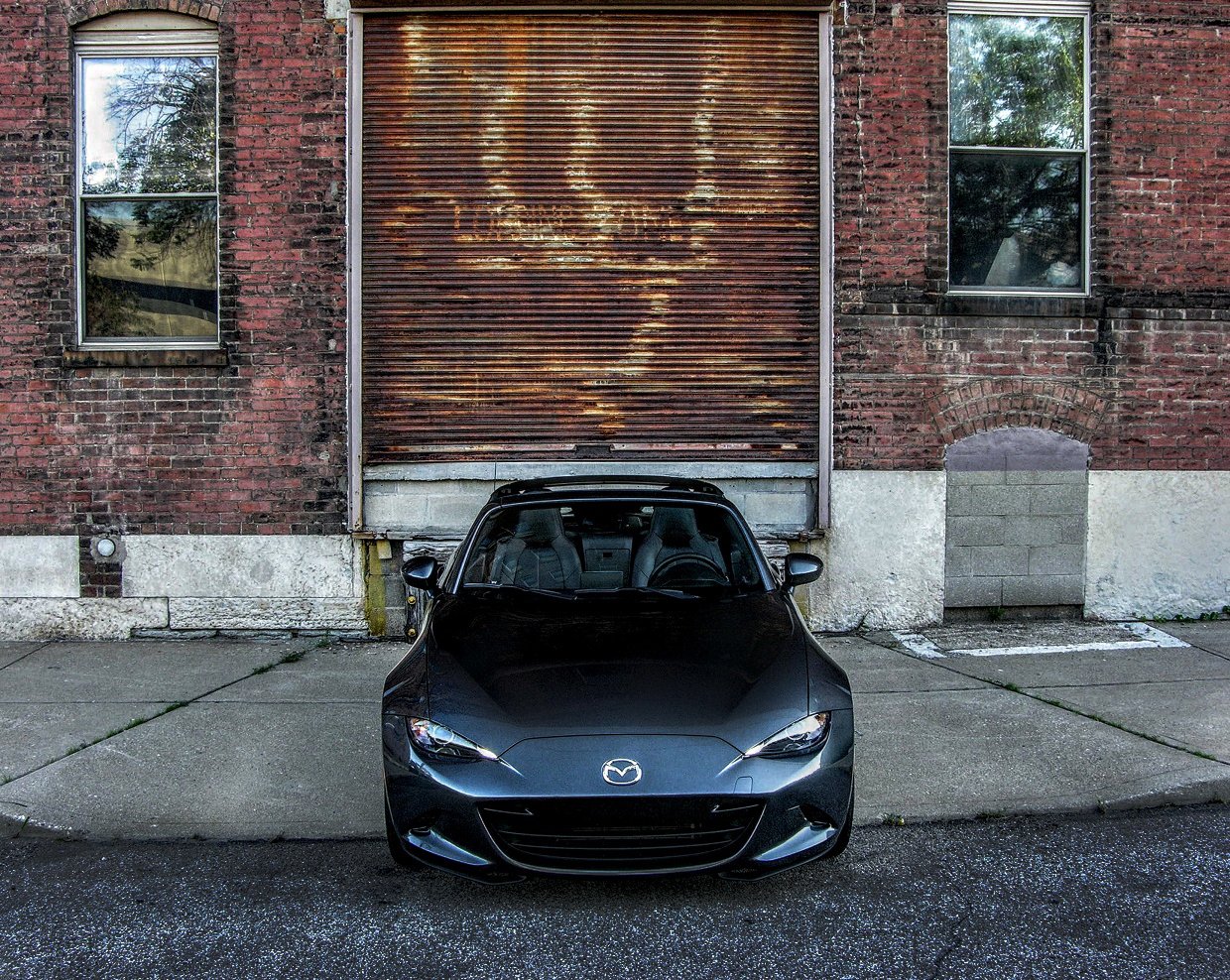 All of the familiar fun found in the soft top version is still present, including the rev-happy 2.0-liter Skyactiv four-banger, precise 6-speed manual (or automatic with paddles), and brilliantly balanced weight ratio. Speaking of which, according to Mazda, the additional 113 pounds associated with this setup actually helps more than hurts by bringing the balance to almost an idealistic 50/50 configuration.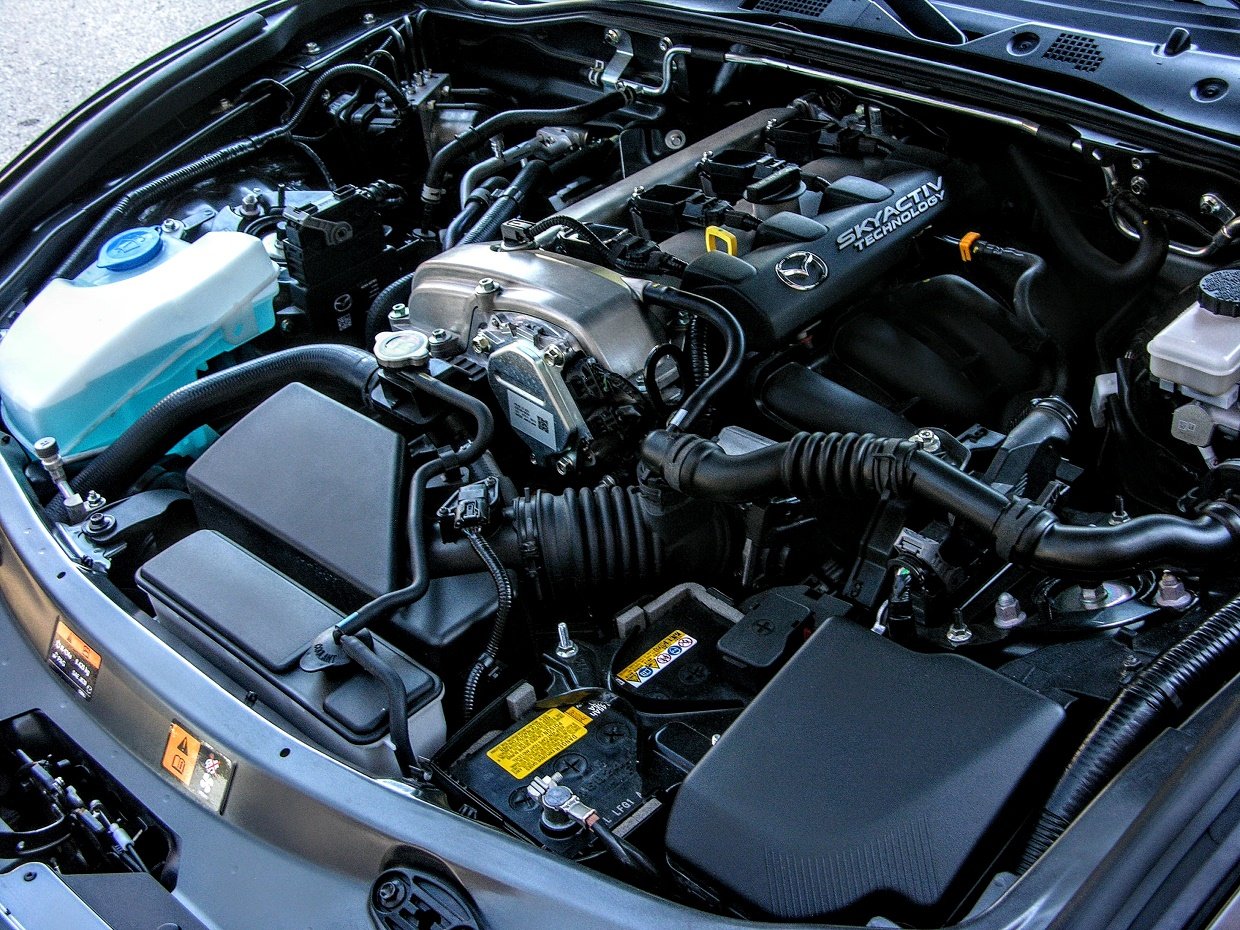 Factor in the vehicle's uncompromisingly crisp double-wishbone front suspension and tight multi-link rear geometry, as well as a double pinion steering rack that is more precise than Walt Disney's pencil mustache, and you've got one sensational starting point. In order to make sure this variant feel as precise as possible, Mazda's team also took the time to recalibrate the MX-5's suspension and steering in order to accommodate the additional weight, before machining out a few unnecessary pieces of metal bracing to shave some weight.
The mechanics of the hardtop's RF (Retractable Fastback) addition are controlled by a single switch, and are automatic from start to finish. They even come with a digital illustration of the procedure within a gauge pod to help you keep track and earn additional cool points. Once a brief electronic beep alerts you that the top is indeed all the way down, it's off to the races, with the clear rear wind blocker offering additional shielding from the turbulent elements.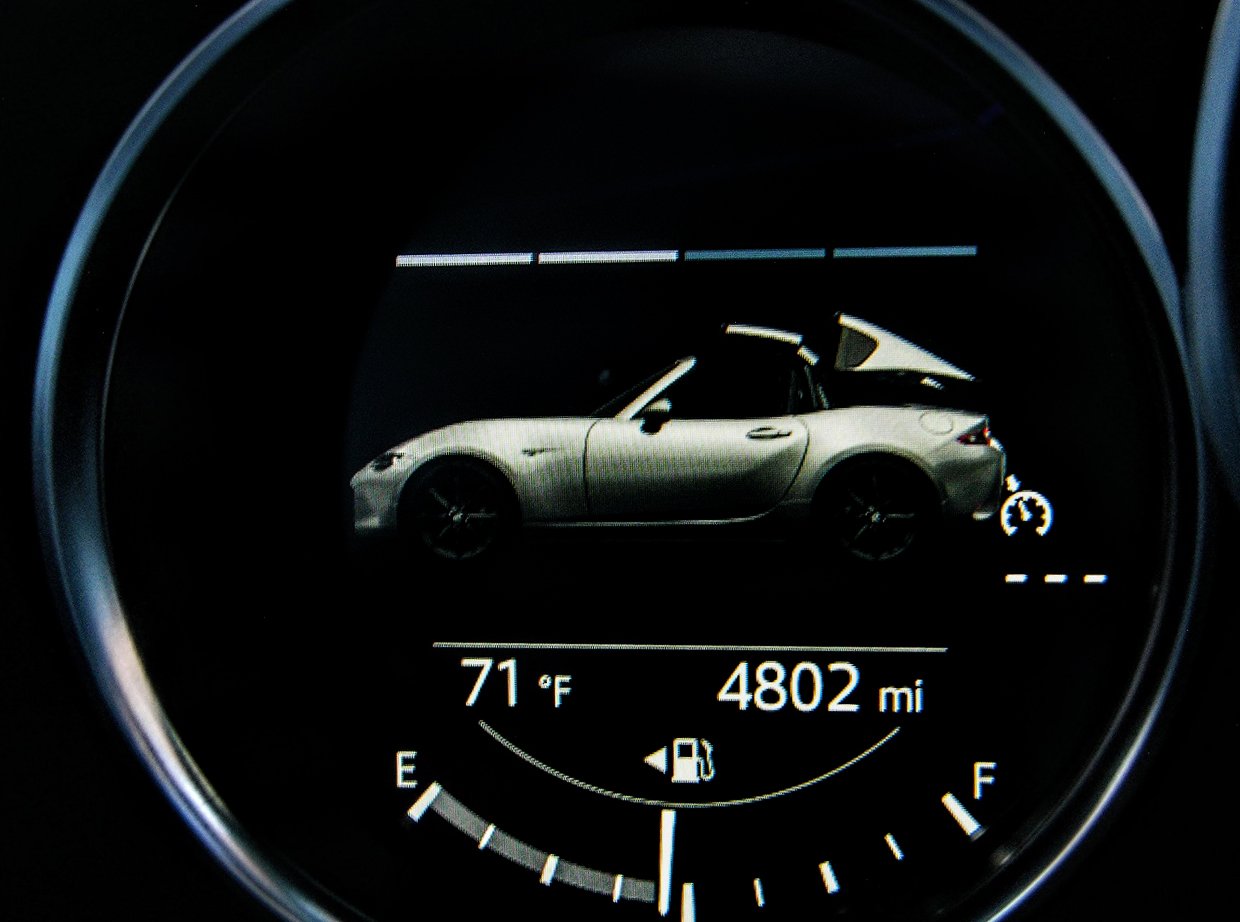 Who cares if the hardtop subtracts a little over half an inch from the overall headroom offered? If you are genuinely interested in owning an MX-5 you already know that no matter what model or generation you opt for, there are limitations to the type of person who can comfortably operate or even ride in one. It's a tiny sports car engineered for agility and Topless Tuesdays on the beach. I suggest scrutinizing the car's laughably small storage compartments and strange one-sided exhaust instead of griping over interior space, because that will more than likely never change.
Continuing upon the subject of space, that retractable roof surprisingly doesn't eat into the little roadster's trunk space very much, and while 4 cubic-feet of cargo room may not sound like much, it is still sizable enough that a couple of small suitcases will still fit. Unfortunately, glovebox storage and the little cubby between both seats toward the back remain microscopic at best, and while there are obviously plenty of open spots for additional pockets, Mazda has chosen to forego them all for the sake of streamlined looks.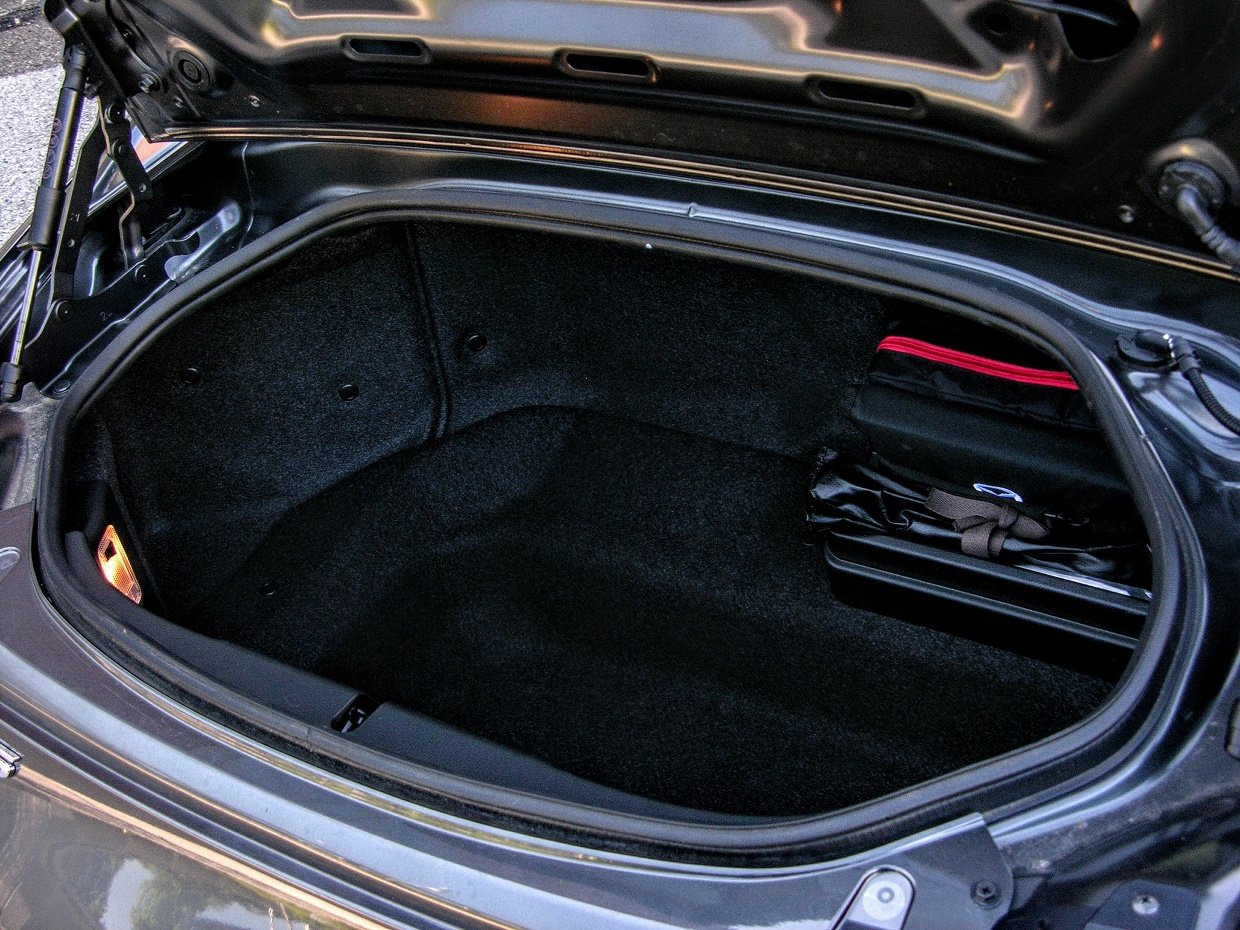 And streamlined to the max the little Miata is, both externally and within. Like the softop alternative, the RF features door panel plastics that mimic the pigment shade sprayed across the outside of the vehicle, and with all of the well-appointed leather pieces in place and sharp stitching attached, makes for one hell of a captivating interior.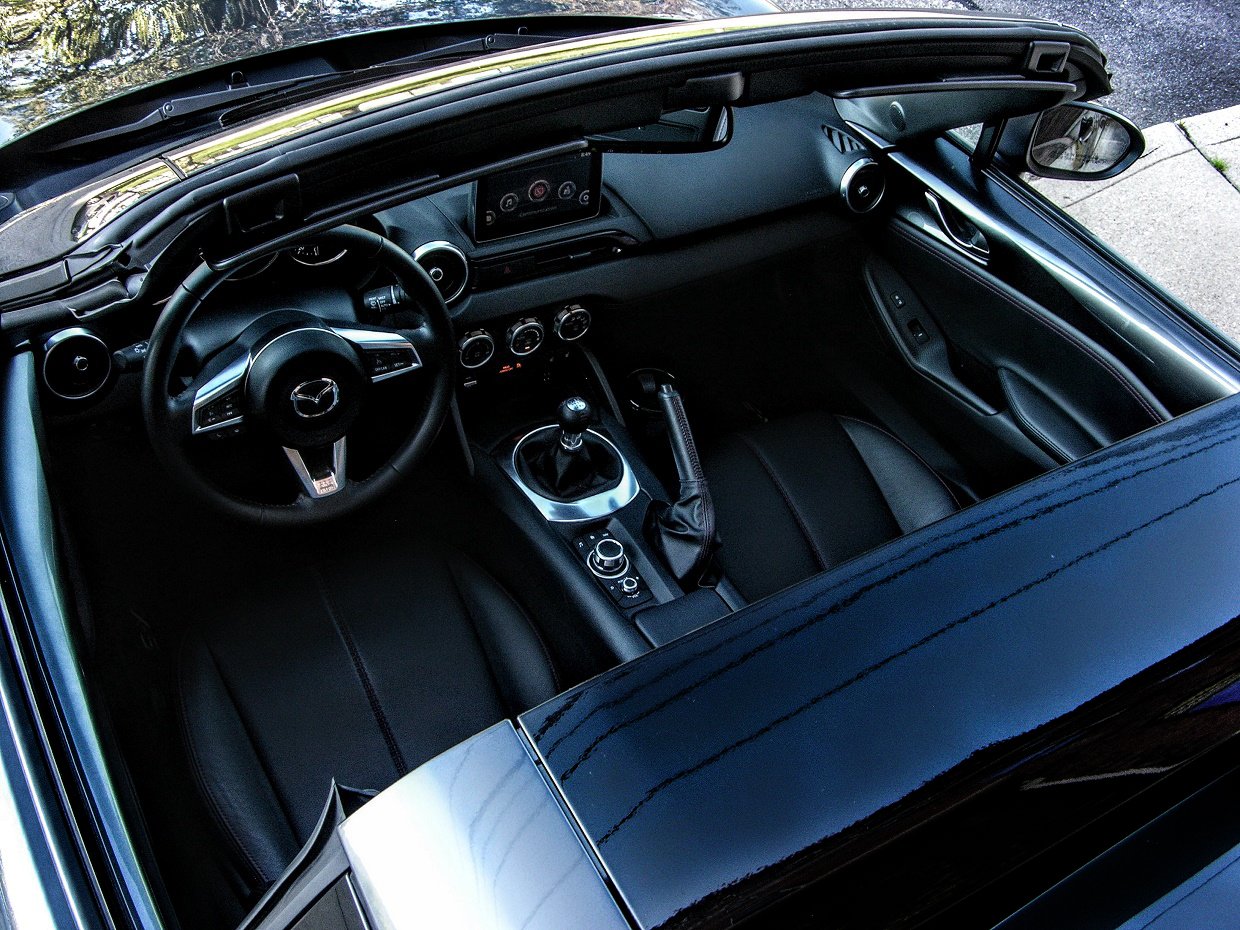 Outside, all of the same lines from the cloth-clad version remain, but with the top down and the hooped targa top in place, makes for a very compelling outline, regardless of whether moving or at a standstill. Top up, you get a roofline that looks somewhat reminiscent of the fun little Fiero, but with a far more classy "KODO"  spin on B-pillar triangulation and strength.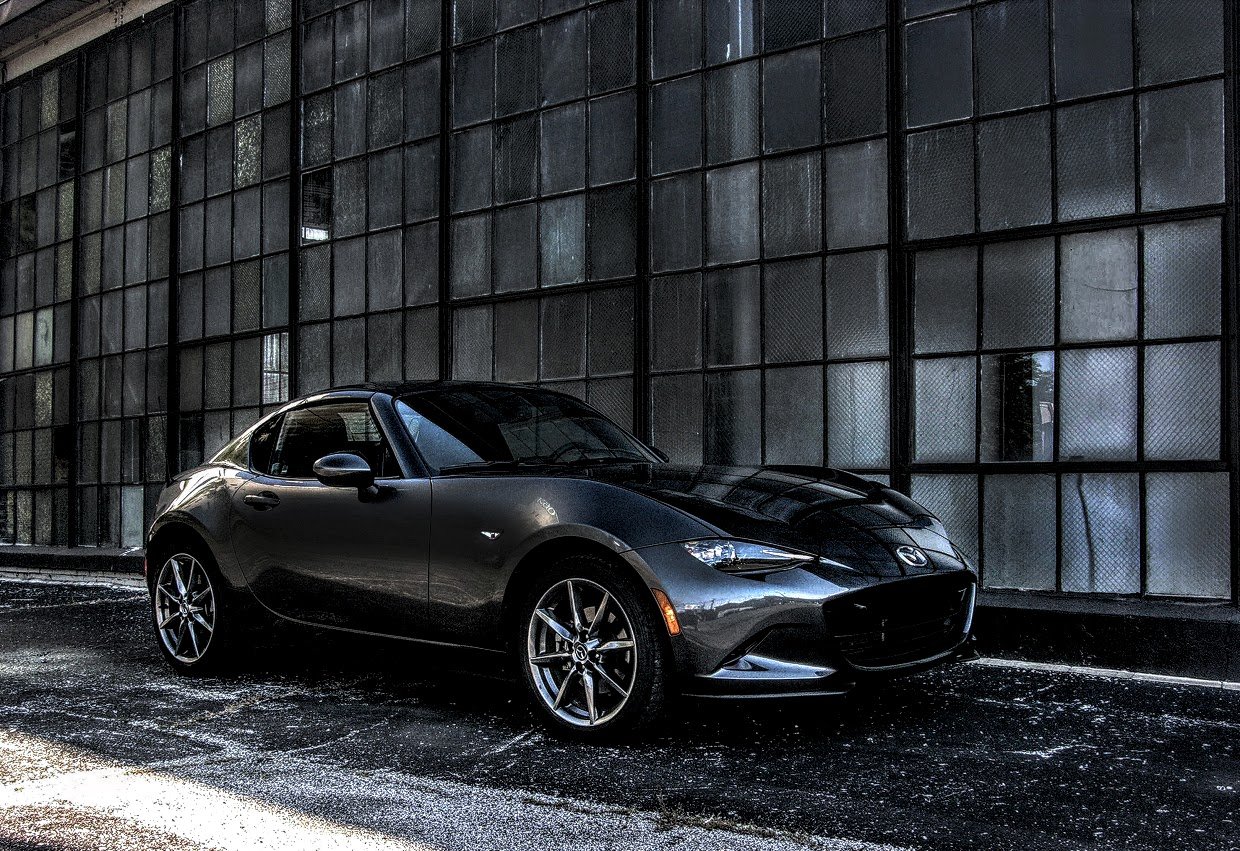 Regardless of how you prefer to roll, one thing remains consistent withing this machine: It is 100% an enthusiast's automobile. Nimble, rev-happy, and rocking one of the best re-tuned manual gearboxes on the market, the MX-5 continues its legacy as one of the most enjoyable affordable two-seaters to ever hit the market, and in RF form, is the best option ever.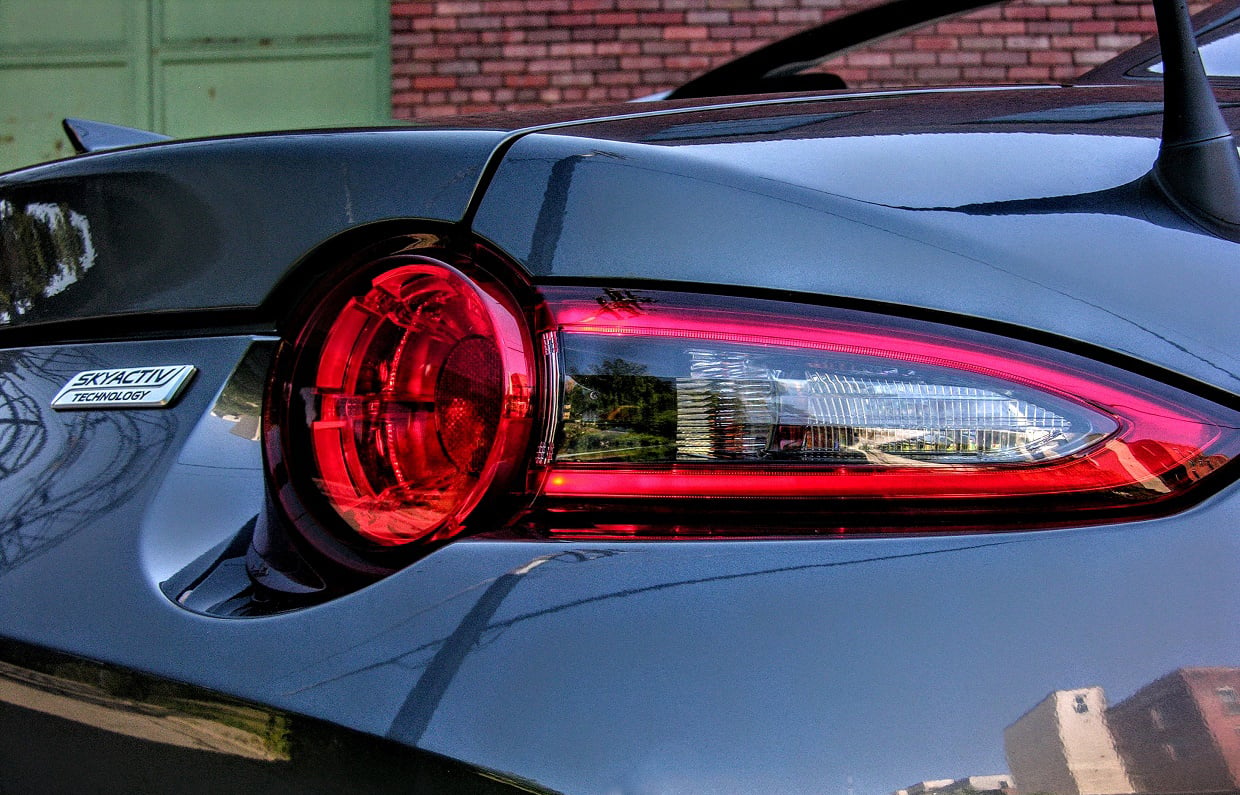 That said, there are still a few issues with this fun little romper that require addressing, starting with storage. I already mentioned how Mazda had the option of putting a passenger-side stow pocket along the gearbox tunnel but chose not too. Well the same skipped step was also applied to the trunk, where there is room aplenty for handy cubbies and hidden pockets, yet instead you get… nothing.
There also is not a backup camera (even in GT trim), digital speed readouts are nonexistent, forcing you to squint to see how fast you are going via analog needle, and windows roll down automatically but not up. Another owner annoyance is that all those rubberized mats inside are non-removable, so bring on the dust build-up and creative cleaning techniques. Also, my earlier statement about how much better this car looks with a centrally mounted, dual-port exhaust still stands, and if opened up a bit would likely improve posterior appeal while freeing up a few additional ponies.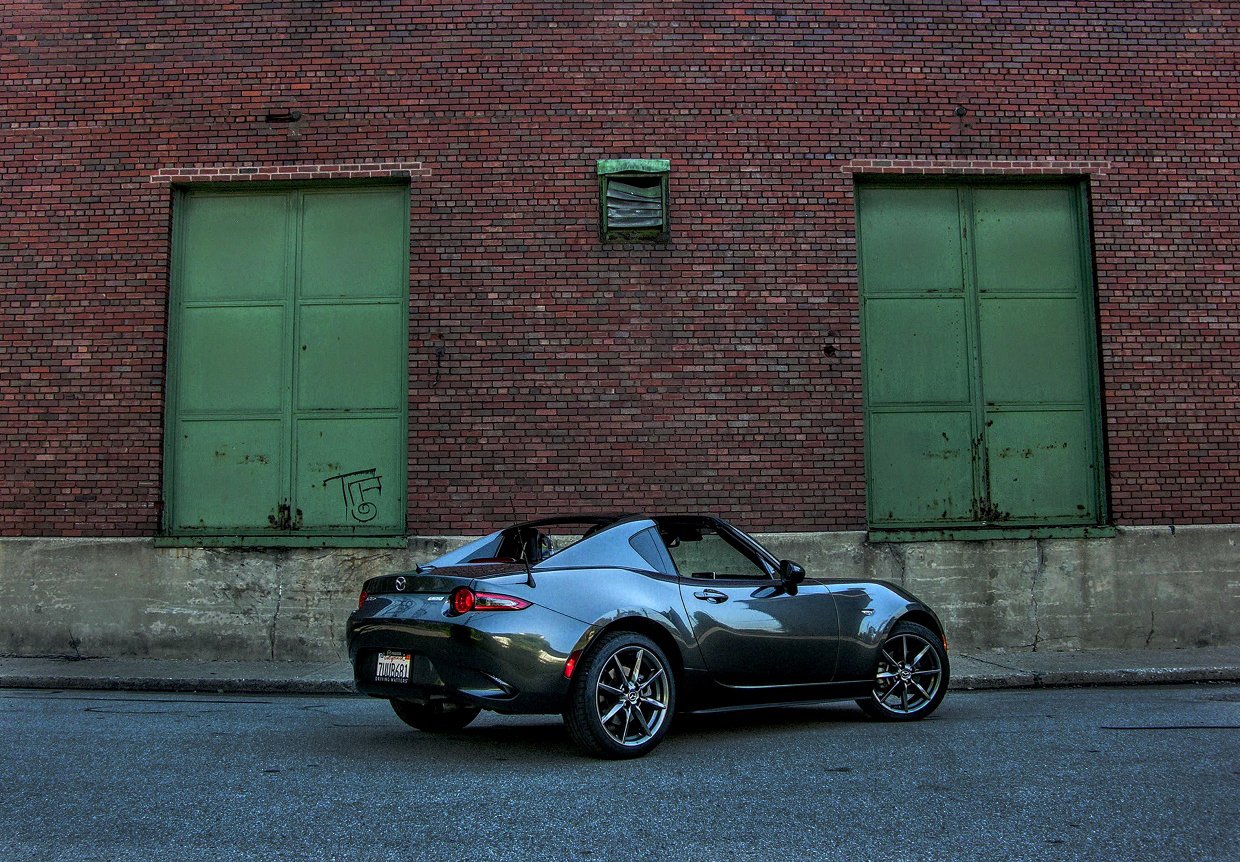 Open up the top and hit the highway though, and all of these complaints immediately fade from thought, like arrows flying from the tightly-bound bow of a rider on horseback. Ignore the turbo fanatics who bitch about this car not being boosted. They can buy a third-party kit, opt for the Abarth 124 Spyder, or kick rocks for all I care. The MX-5 Miata is perfect just the way it is, and the only way I can imagine myself enjoying it more is if the sportier Club version landed on my doorstep one afternoon.