2018 Genesis G80 3.8 AWD Review: European Sensibility, Korean Value
2018 | genesis | hyundai | leather | sedan | v6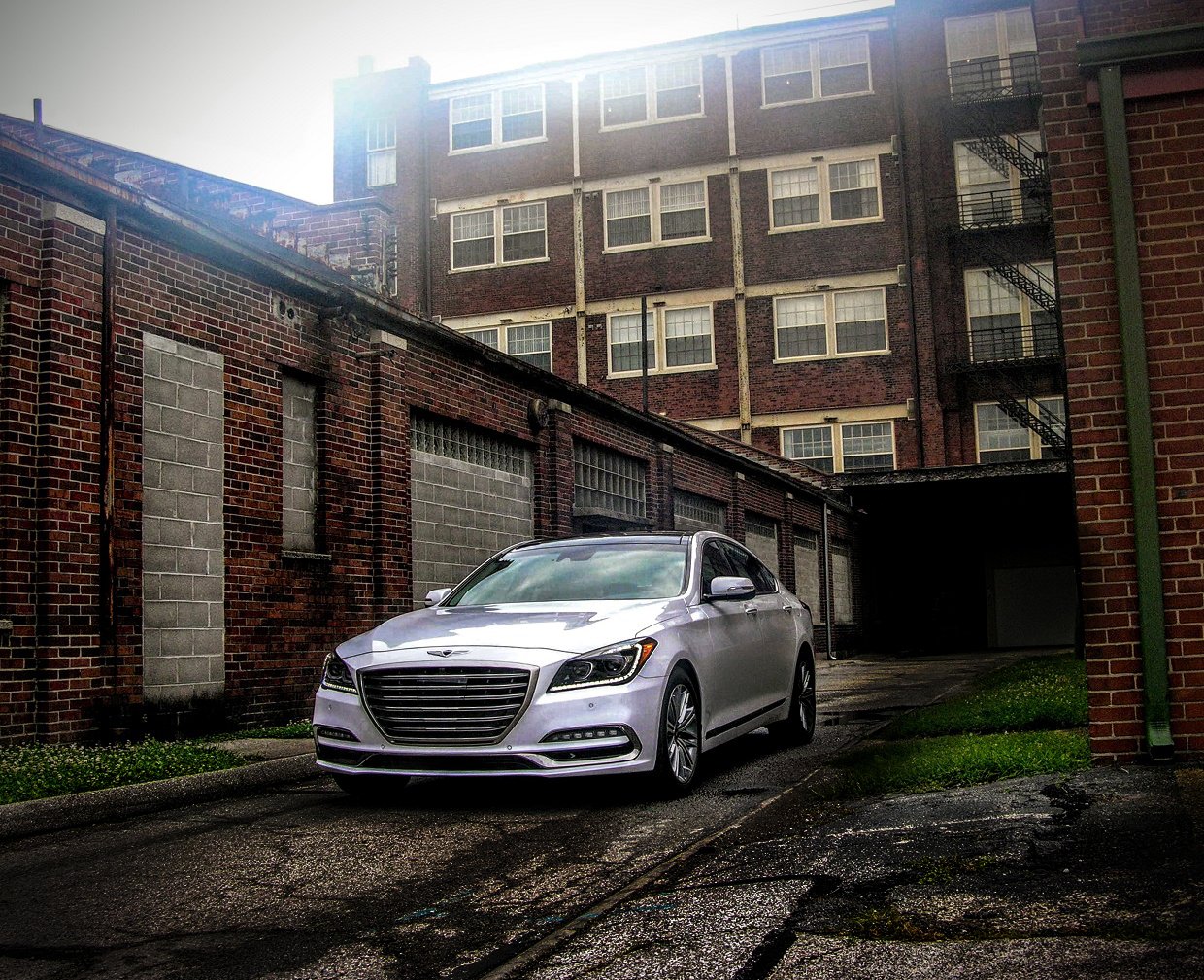 Specs at a Glance

Engine: 3.8-liter V6
Horsepower: 311
Torque (lb-ft.): 293
Transmission: 8-speed Shiftronic
Drive Configuration: AWD
0-to-60 Time (secs): 6.6
1/4 Mile Time (secs): 15.0
Top Speed (mph): 134
City/Hwy/Combined MPG: 18/25/20
Curb Weight (lb): 4,503
Wheelbase (in): 118.5
Total Length (in): 196.5
Width (in): 74.4
Base Price (USD): $44,250
Price as Tested (USD): 55,325
Oh Hyundai how you have changed, and dammit if I don't love ya for it. A strange void within the automotive landscape has been filled, and after years of adaptation and gradually becoming a legitimate alternative to American, European, and Japanese machines, you have finally decided to tackle the all-imposing luxury market with your own spin-off.
Not surprisingly, the same struggle that the Korean automaker faced when it first began marketing itself to Americans has resurfaced once more, as people question the notion of owning a Korean luxury car by weighing its inherent pros and cons. Everything from hesitations to straight up skepticism were present when Hyundai first landed in the 1980s, and have returned now that its Genesis line has begun making waves with the G80 and G90.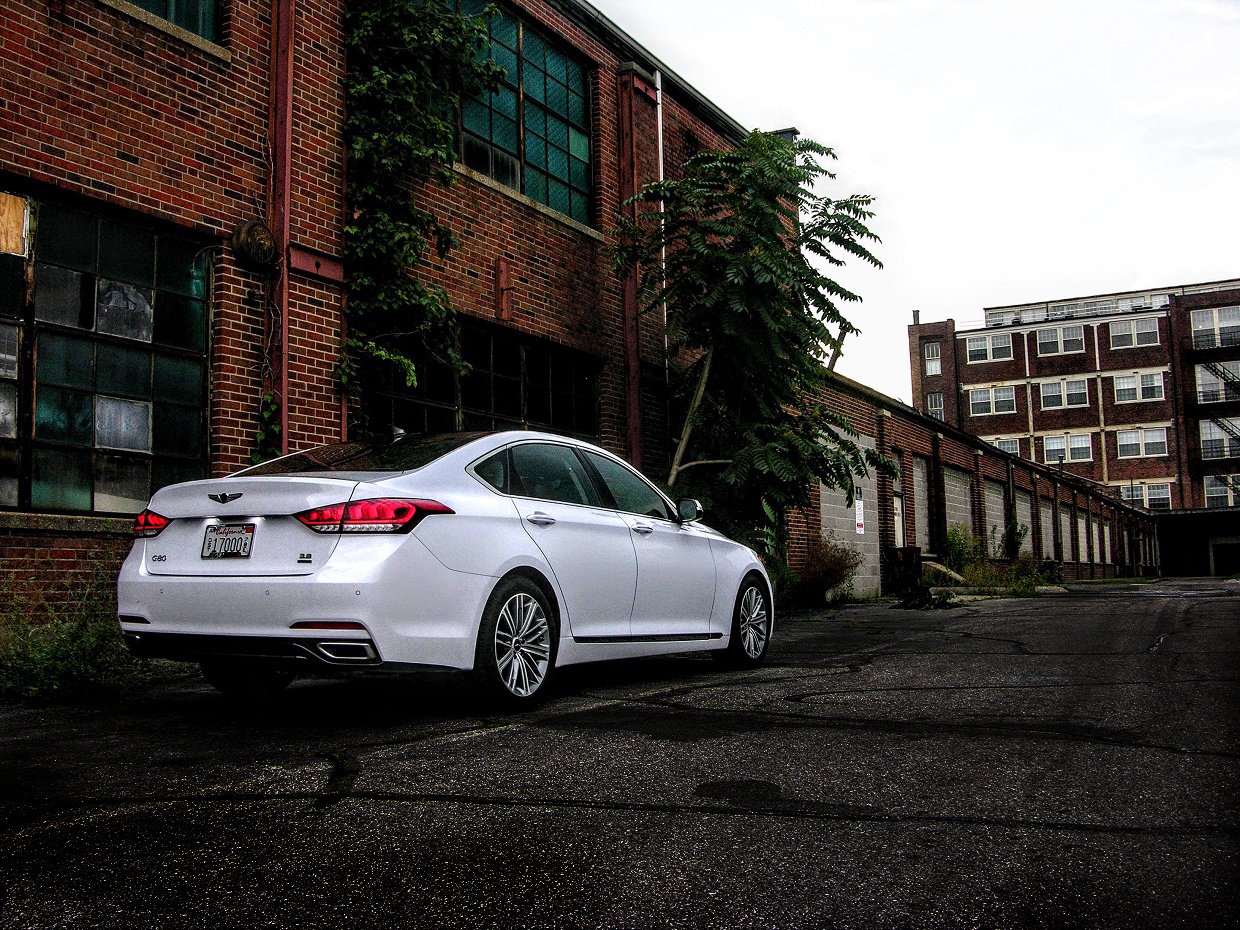 With a week of cruising around in the 3.8-liter AWD version of the G80 in my rearview mirror, I find myself torn over the chassis, and not because of its Korean heritage either. So much time, money, and energy has been dumped into this product line that it is impossible to imagine it being a dud. Hell, everything this automaker has learned and built from the ground up has led us to this point. So where's the holdup? Why worry?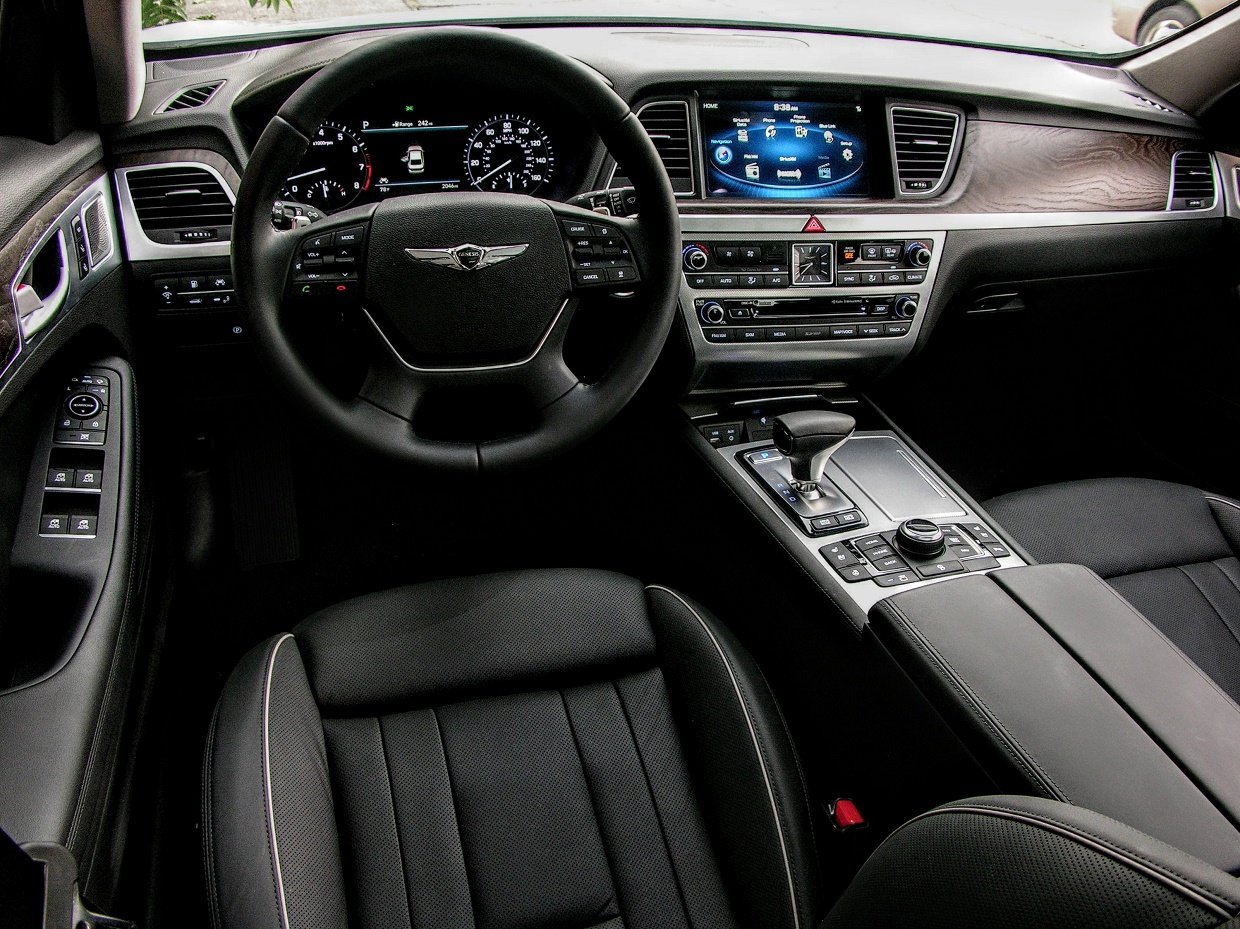 Hyundai has reason to worry primarily because it's going up against brands that have been fighting for our hard-earned upper-class currency a lot longer, and trust me when I say that they all have a hell of a lot more clout. Jaguar. BMW. Mercedes-Benz. Audi. Lexus. Acura. Infiniti. The list goes on, and so too does the level of prestige associated with these automakers. Genesis is a newborn in the heavily pampered upper end of the buying spectrum, and dammit if the hoops it has to jump through aren't prolific and in many ways, downright detailed.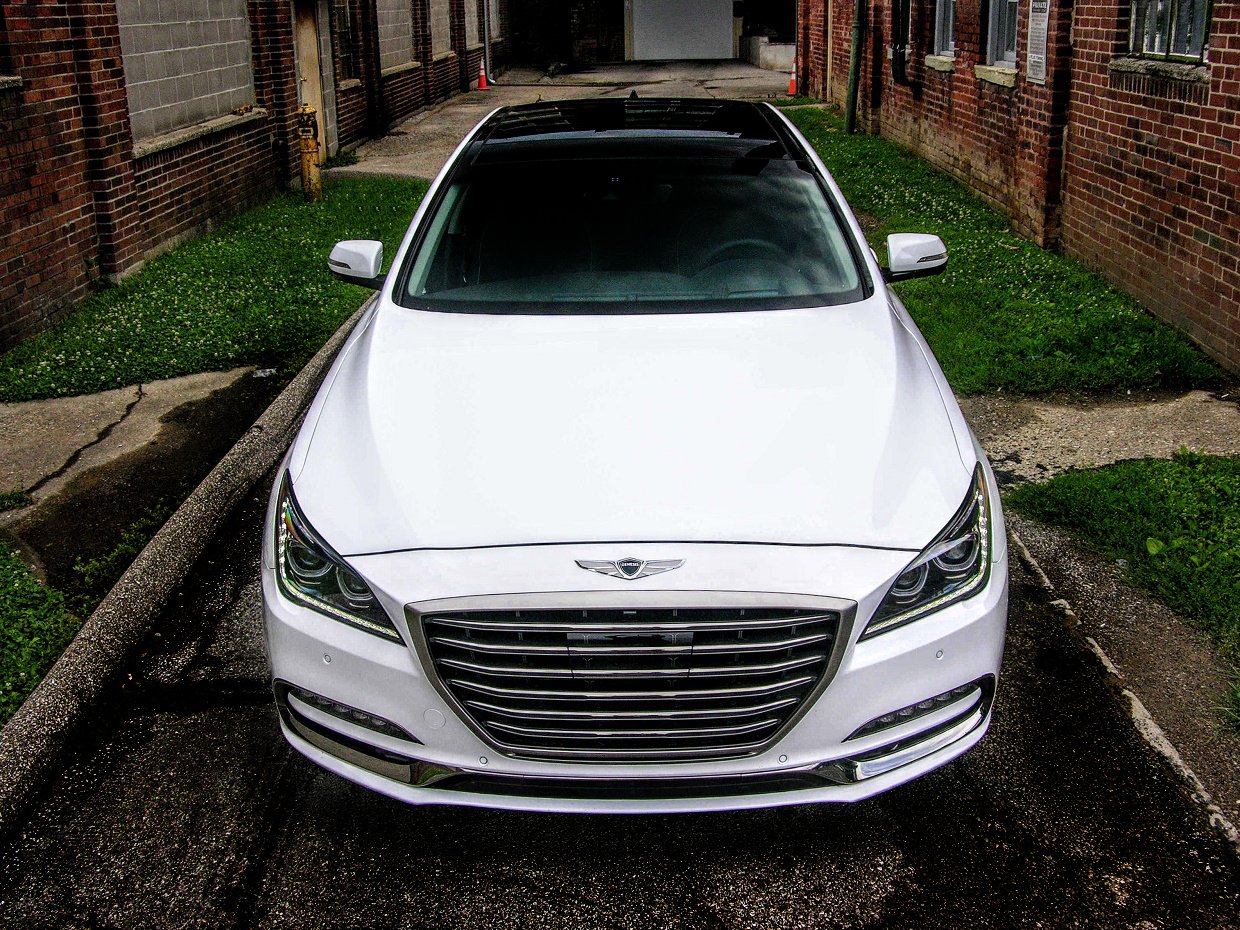 Take the styling for instance. Genesis had to create a product unique enough that it stood out from the crowd, yet it had to still blend in with all the Benz's at the driving range, the latter of which its designers apparently took to heart with great enthusiasm. Something as simple as badging was also a concern. So in the continuation of the Equus and a few other retired Hyundai products, the Genesis line retains the familiar winged badges and center caps car buffs recognize, something non-enthusiasts continue to confuse for a Chrysler. What was once old is now new again, with LED-powered puddle lamps emphasizing this asset with proximity-based power and fold-out flare, but devoid of lettering still only cast a set of winged shadows on the ground.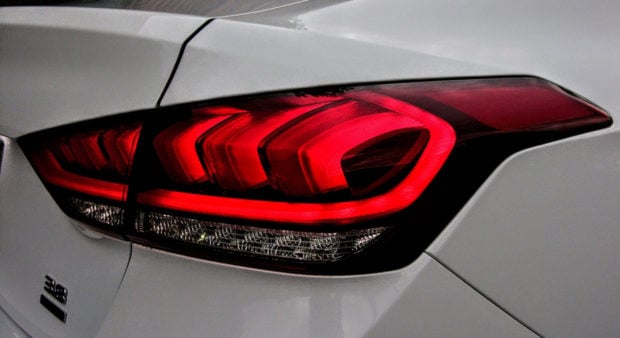 But pulling off the unexpected has always been one of Hyundai's fortes, and if there is one thing about the brand that continues to amaze, is its ability to adapt and improve upon what once was nothing more than an aspiration. To hell with all of the preconceived notions that luxury only must be from one country. The Germans, Japanese, Americans, Italians, British, and hell, even the Swedes have taught us that no matter where you are from, offering a high-grade product with personality can be done by anyone if approached properly. That said, the Genesis G80 makes, breaks, and reshapes many of these molds in true Korean car manufacturing fashion, creating one of the most value-packed luxury sedans ever assembled.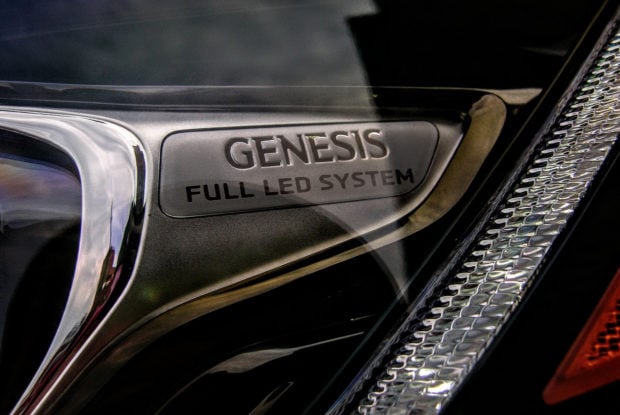 Apprehensions over how there is no bespoke automaking heritage here, or how the Koreans will never be able to garner the same respect German automakers have built for themselves are equal parts unfounded and disconcerting. Yes, the Genesis brand has only been around for a hot minute. No, it will likely never be able to pilfer enough luxury automobile buyers to make a dent in the number of opulent German car sales seen year after year, and being the new kid on the block, Hyundai understands this paradox better than anyone. In order to engage the competition and potentially woo brand-indifferent individuals, the Korean automaker had to play by its own rules, which meant offering a massive amount of amenities for an incredibly modest asking price. The result is a mixed bag that leaves you strangely satisfied, and yet undeniably hungry to see what else the offshoot has been cooking up.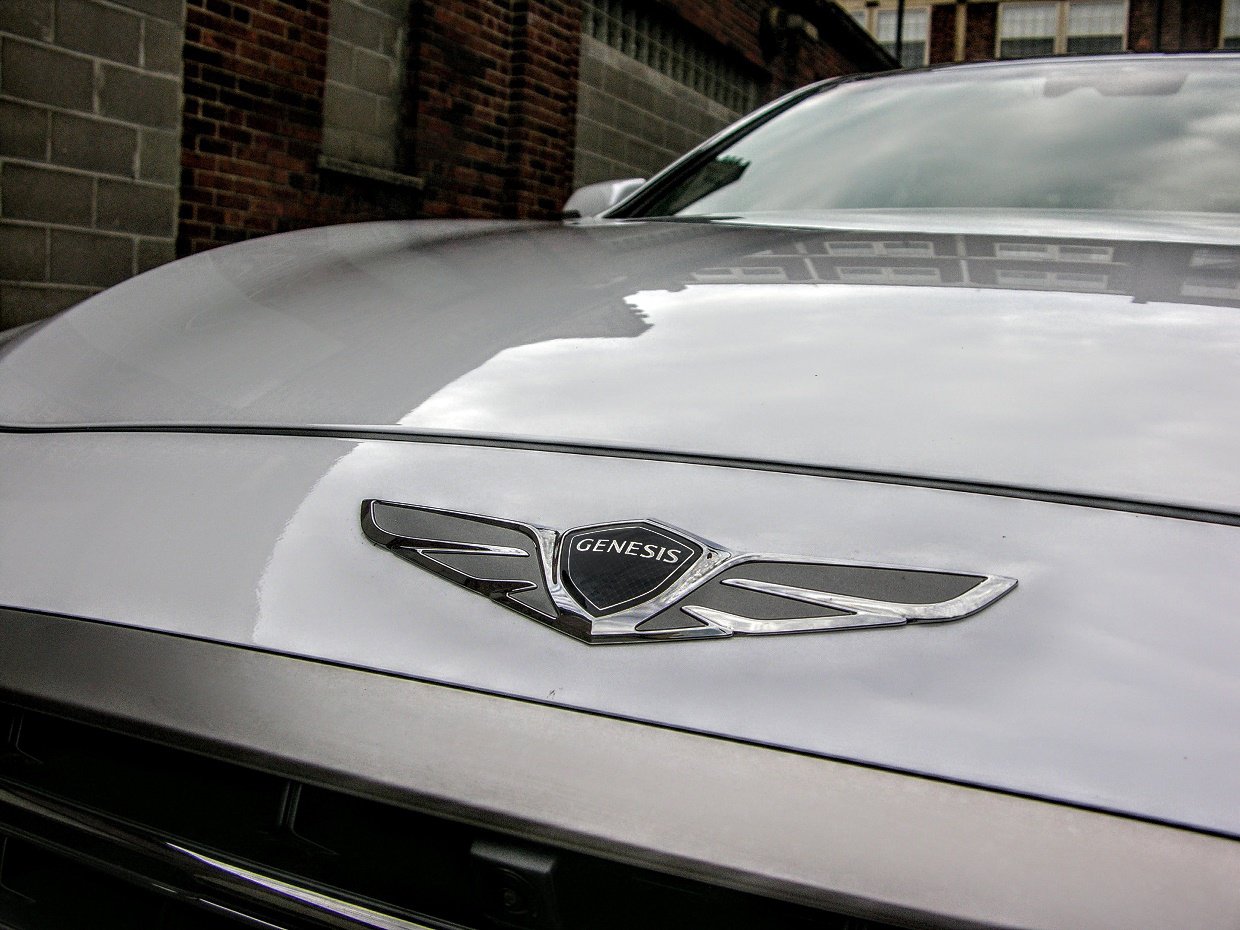 The G80 is a sensational road trip sedan, and out the door for $55,325 with both Premium and Ultimate packages aboard, you get a vehicle that costs just a hair above a Lexus IS350, but is worth its weight in gold. All of the Hyundai familiarity, usability, reliability, and warranty staples are here, and a sizable slew of features included even before package options are added. You just have to want a cruiser a lot more than a bruiser if you fancy the G80 in non-sport trim.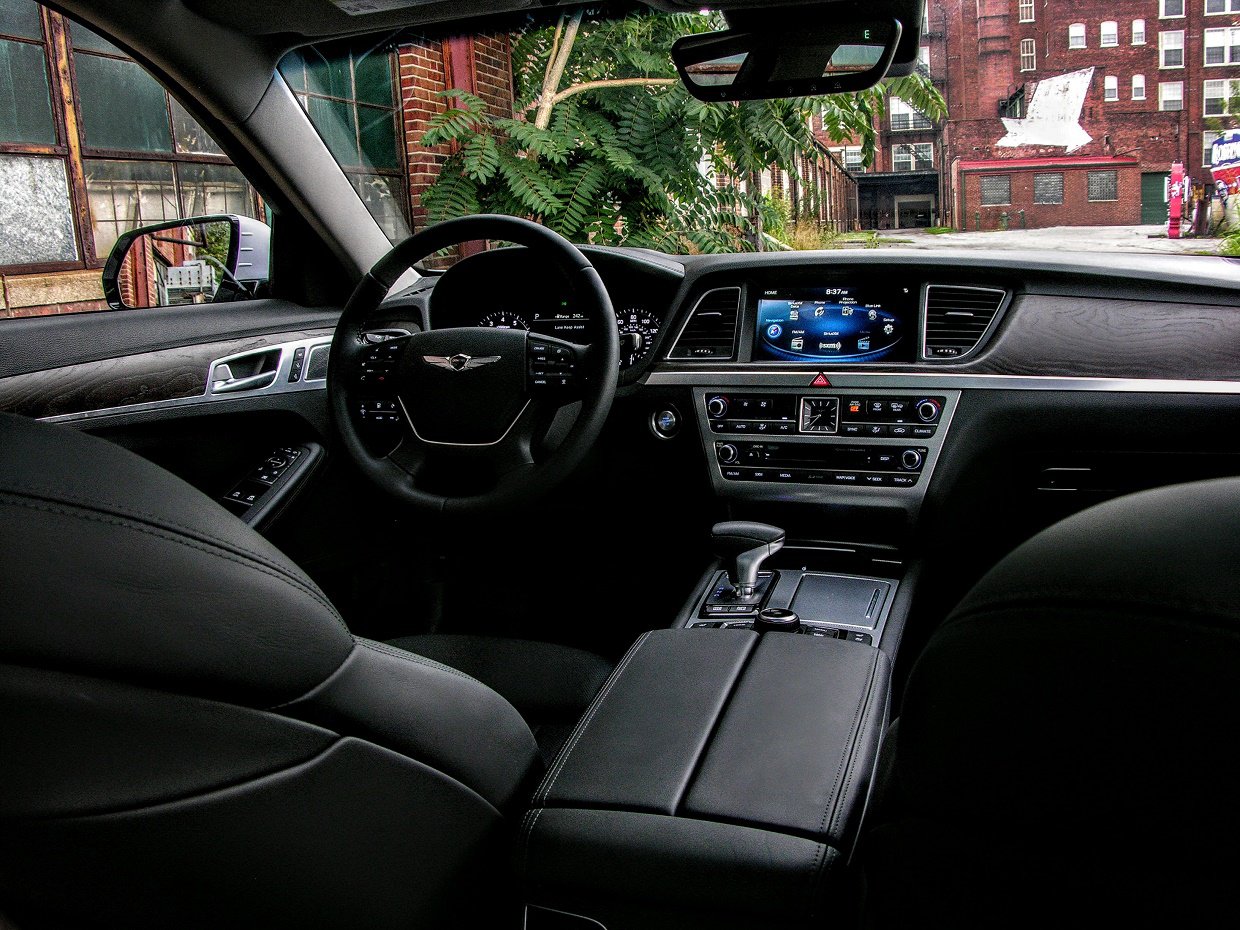 Distinct standouts I found to be particularly fetching on this leviathan were the roominess of its plush cabin, all those sleek wood accents, the pleasant accentuating lines that the external piano black trim pieces add to the equation, and the way in which the elegantly finished Lexicon speakers deliver the goods when it's time to turn it up a notch. LED lighting and the aforementioned power-folding, Genesis badge-shaped puddle lamps in the side mirrors add an extra level of class to the mix as well, and all of Hyundai's 360-degree cameras and embedded infotainment/driver display graphics are standard and reassuringly familiar.
G80 buyers will find that it is a finely oiled machine in regard to ride quality. Gliding down rough roads, absorbing bumps, shifting with silky authority, and boasting a cabin that is chapel quiet are all strengths that are impossible to ignore. Comfort and compliance in the driving department continue with lightly-tuned electric steering and cornering capabilities that favor flotation over flat handling. Simply put, for better or worse this sedan drives the way it looks.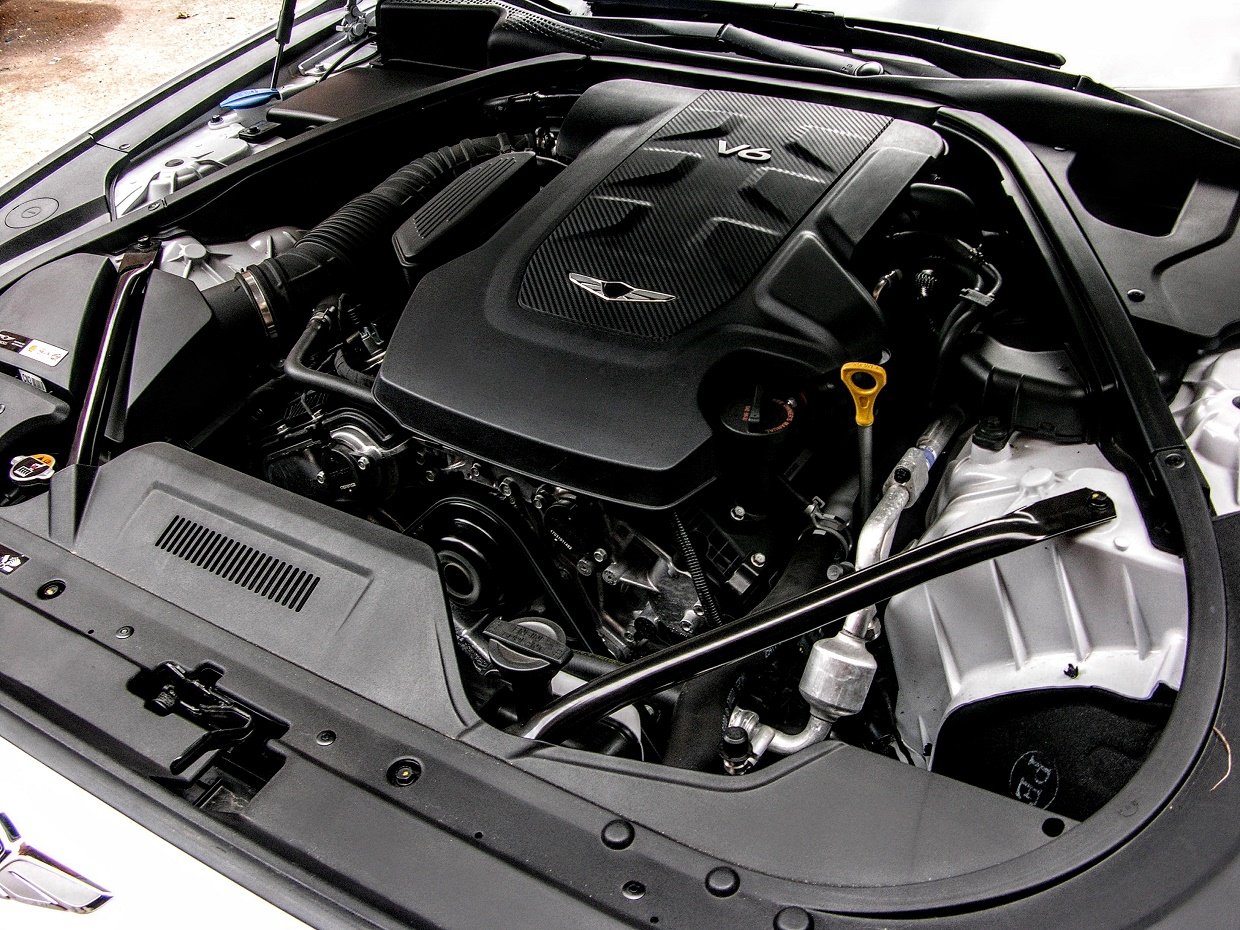 However, despite being flawlessly assembled, incredibly smooth in regard to things like the absorption of bumps and the way in which its transmission shifts, the G80 suffers from odd duckling disease. The V6 may be silky, but due to the vehicle's 4,500 pound curb weight, acceleration is sluggish and negates the efficiency perks associated with running a smaller motor. Speaking of size, the G80 has a sizable road presence and an elongated snout, both of which can make parking a pain in tight urban environments, and with all that weight behind it makes braking a prolonged engagement.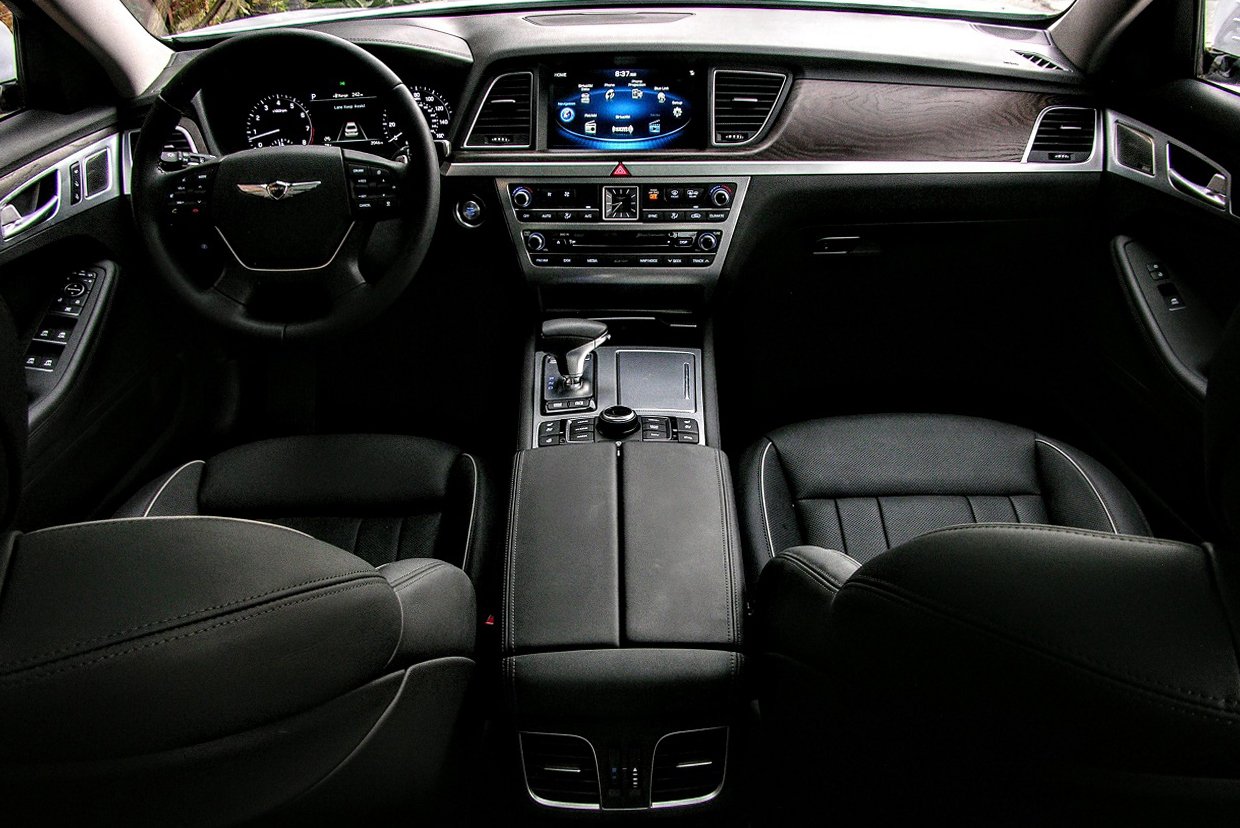 Minor bungles nevertheless remain the G80's biggest burden, not merely because they are present, but because there are so damn many of them. For instance, due to design the center air vents up front don't angle sharply enough toward the driver, forcing you to lean into the center of the cabin in order to get cool air on your face. There also are only two cup holders up front, plastics don't look or feel cheap but are overly abundant, the tweeters are the only speaker covers to get machined metal faceplates, and the trunk button on the key fob is not two-way, so you have to manually reach up and close it after getting your groceries out.
Also, for as crisp and easy as it is to use, the digital gauge cluster in the G80 is the same basic setup you get in a Hyundai Accent, which is informative but unexciting to gaze upon. I also was not keen on the maps Genesis uses, because while the infotainment touchscreen was responsive and easy to navigate, it omitted the largest skyscraper in Cincinnati, along with both stadiums and 3D renderings of our many bridges. This may seem like a trite complaint to some, but when navigating an unfamiliar area details like these can make or break an urban driving experience.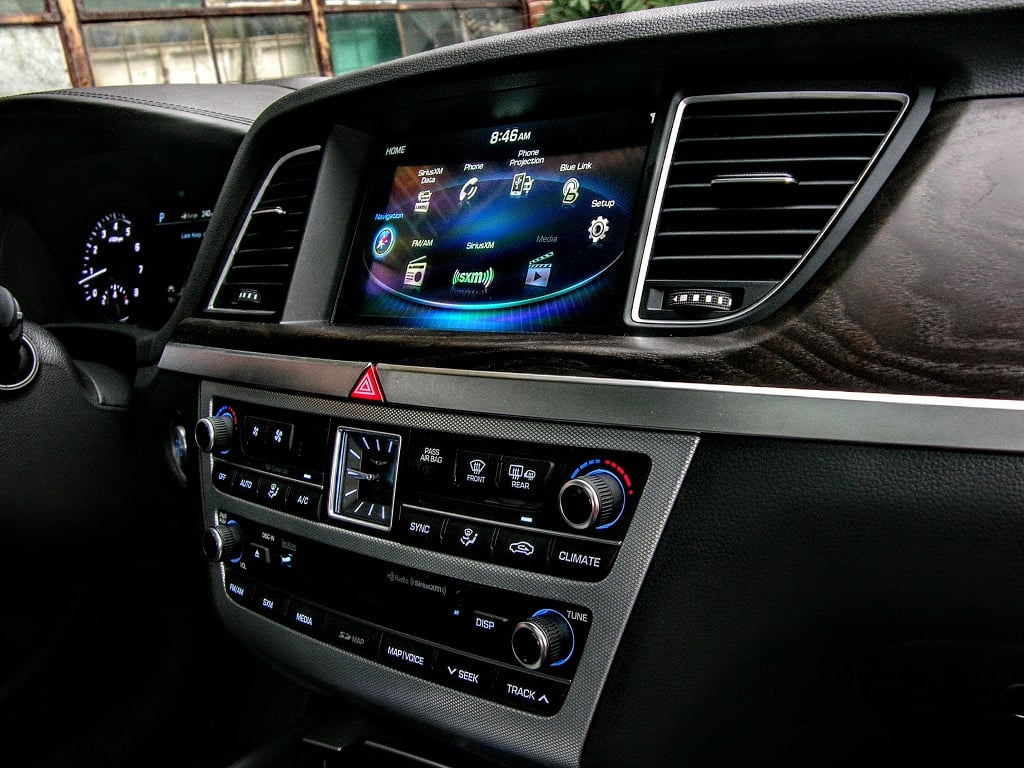 Pros and cons weighed, I still found the second inception of the Genesis namesake to be one filled with both solid aspirations and indomitable smarts. The brand has set itself up for success by obtaining some of the industry's brightest minds, establishing a remarkable American presence, and discovering a way in which it can tap into the lavish automotive manufacturing world.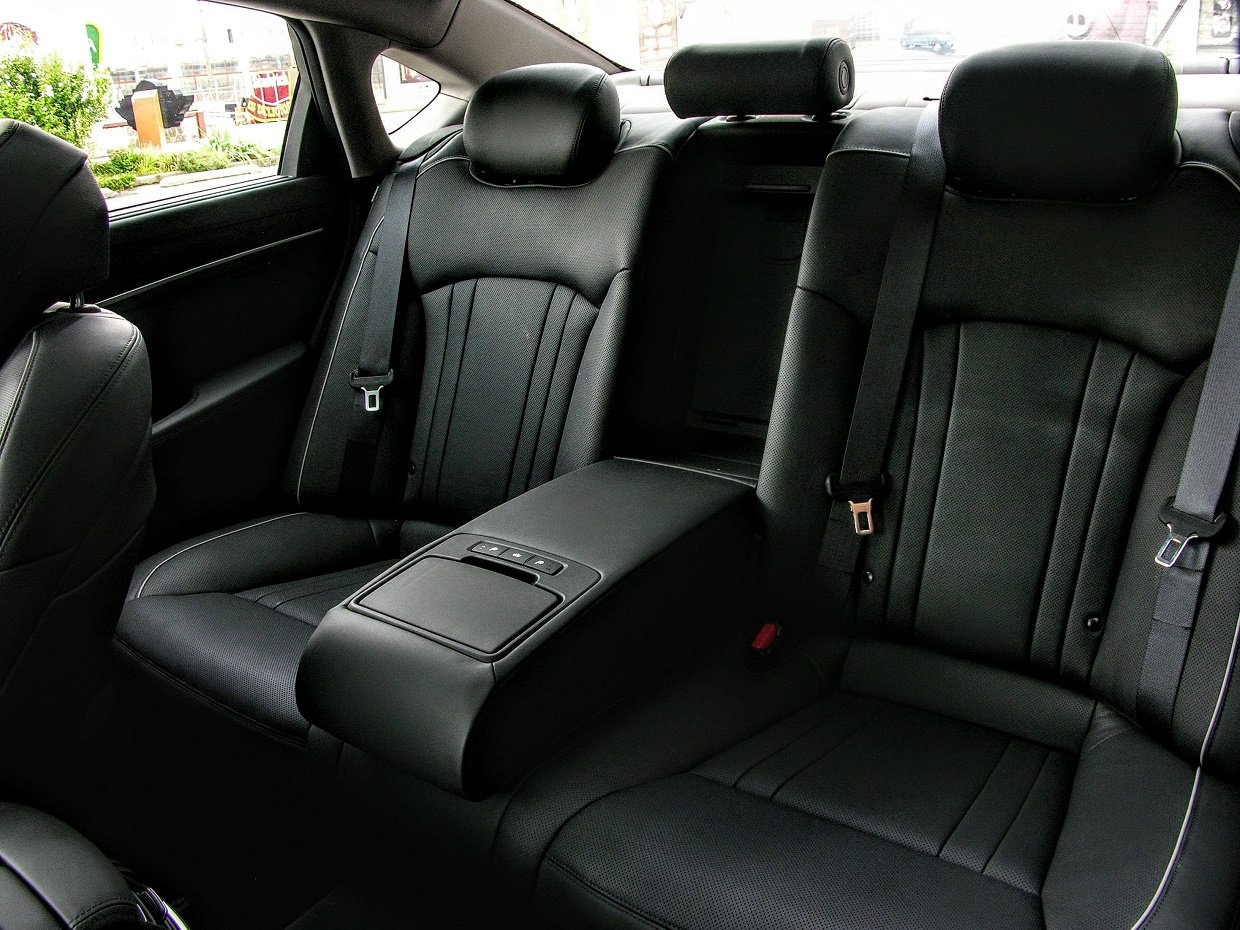 Now it just has to convince Mercedes-Benz buyers that there is no shame in going the Korean car route, because value, warranty, and reliability will only carry you so far in this segment. It took almost three decades for Hyundai to get where it is today, and it will likely take even longer for it to crack the entry code to the exclusive luxury car club. But when it does, you bet your ass that the G80 will have helped make it all possible.