2017 Chevy Colorado ZR2 Review: Impulsive Pickup Truck Tracks
2017 | 4x4 | chevrolet | chevrolet colorado zr2 | off-road | pickups | v6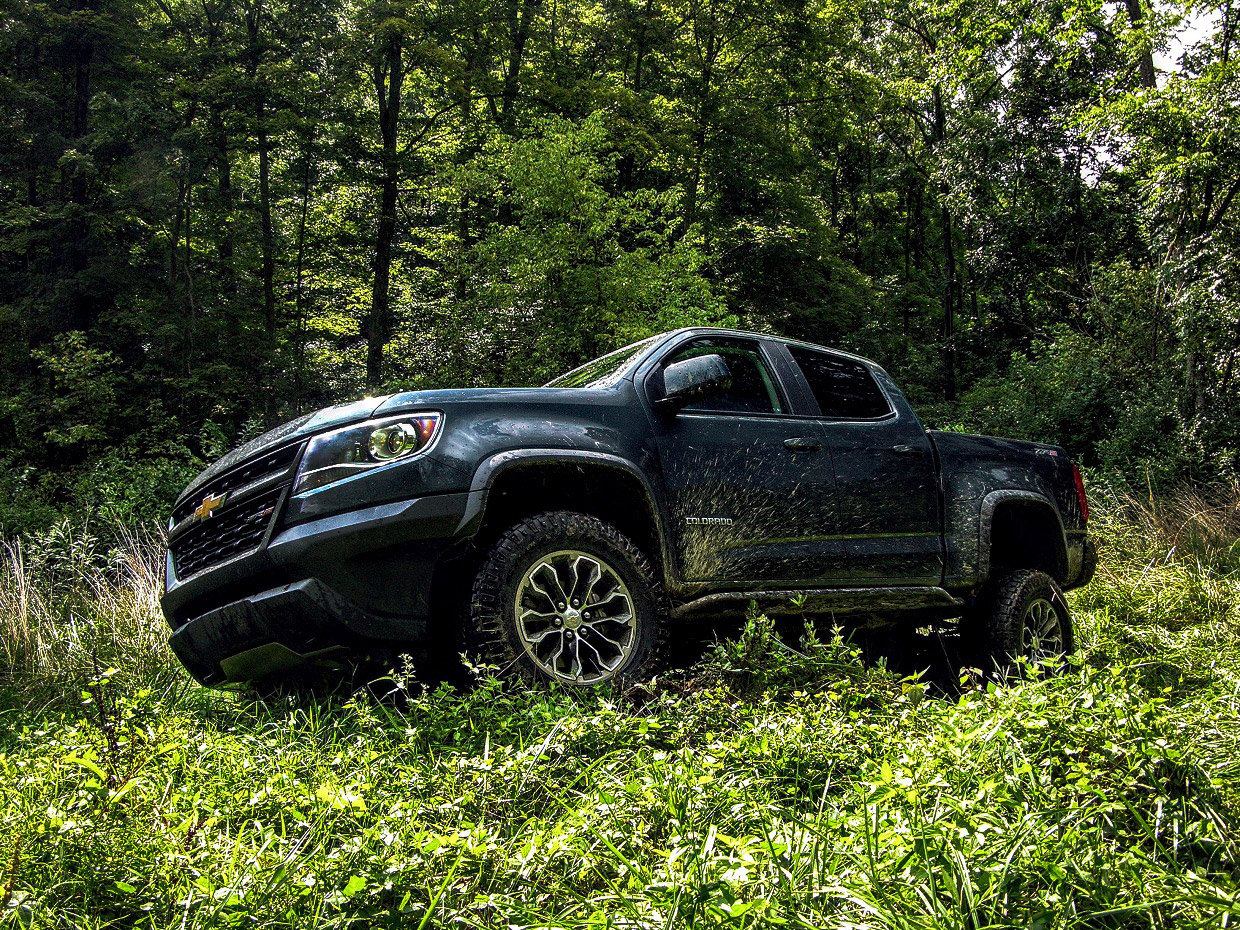 Specs at a Glance

Engine: 3.6-liter V6
Horsepower: 308
Torque (lb-ft.): 275
Transmission: 8-speed automatic
Drive Configuration: 4WD
0-to-60 Time (secs): 7.1
1/4 Mile Time (secs): 15.6
Top Speed (mph): 100
City/Hwy/Combined MPG: 16/18/17
Curb Weight (lb): 4,749
Wheelbase (in): 128.5
Total Length (in): 212.4
Width (in): 76.7
Ground Clearance (in): 8.9
Base Price (USD): $41,625
Price as Tested (USD): $43,560
Truck buying trends have kicked into high gear in recent years, and as automotive enthusiasts we couldn't be more pleased with the results. From TRD Pro Tacomas and the mighty Nissan Titan, to air-ride-equipped RAM 1500 Night Editions and the carnivorous Raptor, there is a lot to like on the market nowadays. Sure, some of us may miss the mini-truck days of 1990s, but there's something undeniably awesome about controlling a badass 4×4 pickup that gets one's blood pumping.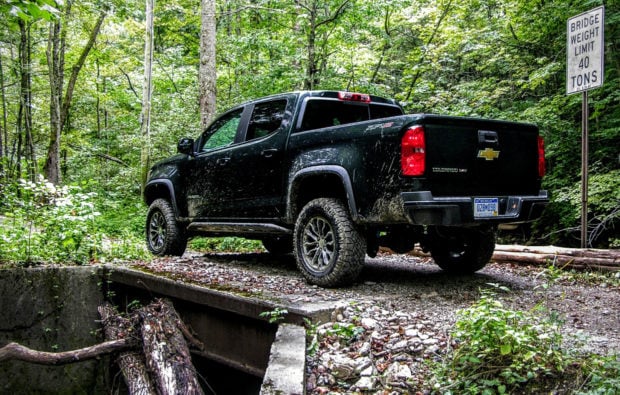 Slapping on my boots and snagging a bag of sunflower seeds, I head out to my local off-road proving grounds in the Chevrolet Colorado ZR2, looking to test the half-pint pickup's mettle and get some choice snaps in the process. Up until that point the lifted crew cab had done a remarkable job of behaving itself on the poorly paved roads of Cincinnati, absorbing bumps, and riding smoothly down the interstate without issue. It may not look like it's been bred for urban adventures, but due to its smaller proportions, re-tuned suspension and steering calibrations, it makes for a surprisingly easy truck to command in concrete-encrusted landscapes.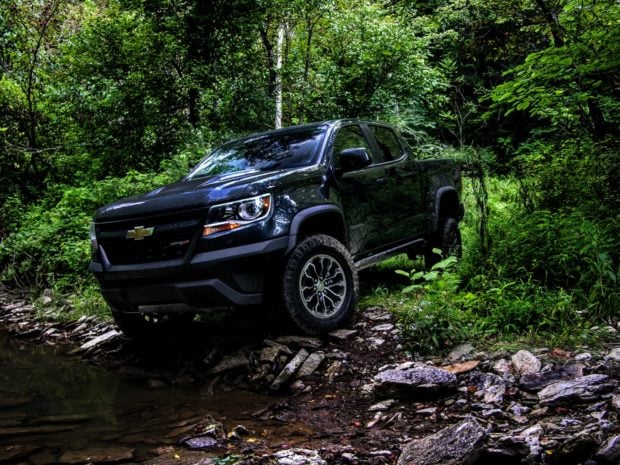 Packing the sort of ground clearance that allows one to clear tree stumps, as well as reinforced rubber that makes bulletproof vests look like papier-mâché, the Colorado ZR2 isn't afraid to tackle obstacles in any environment. So go ahead and park that puppy on the damn curb. It won't mind. Just know that before we start naming all of the commendable attributes of this small 4×4, there are a few unpleasantries that must first be addressed.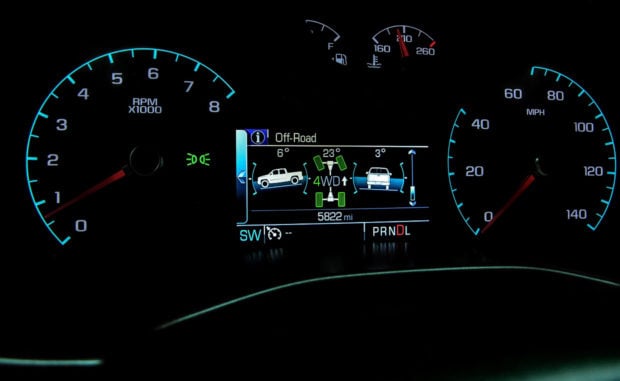 From a tech perspective, there are no 360-degree, undercarriage, or side cameras, so be prepared to rely upon backup surveillance and little else. There also are issues with GM's maps, which are beautifully detailed and truly 3D, but feature one-way arrows that are so small that one must take their eyes off the road for a hot minute if they want to check the direction they need to be going. I also noticed that the truck's HID headlamps were discerningly dull, a misstep that can be offset via the addition of brighter bulbs or upgrading to Midnight or Dusk editions.
Functionally, this pickup is packed with oddities that force it to under-perform, with the thirsty V6 being the most obvious of the lot, returning merely a 15 mpg average over the course of a week. Functionality is a bit of an issue as well, with the Baja-style mounting position of the spare tire eating substantially into bed space in exchange for additional ground clearance. Chevy's signature corner steps are absent as well in order to provide extra rear clearance, and since the stock exhaust is not integrated into the rear bumper, you run the risk of damaging it in extreme situations.
Not having power-folding mirrors means that when navigating a tight ravine or a heavily wooded trail one must either climb out and fold the passenger side mirror in or clamber over the center console to flip it inward. I also was underwhelmed by the bulging bonnet, which looks badass, but since it isn't vented, serves as more of a cosmetic addition than a functional one.
Internally, you will find that this pickup doesn't feature the time-honored "oh-shit bar" on the passenger side of the dash, or A-pillar handles for assisting entry. Folding down the rear armrest can also be an issue since it does not house a handle or pull-tab. The seats are also devoid of bolstering and aren't very comfortable, the backseat doesn't have vents, door pocket sizing is poor, and push-button start is nowhere to be seen. Throw in the numerous amounts of inexpensive plastics that have perturbed us before in Chevy products, and you have a cabin that is just as prone to causing complaints as it does compliments.
That said, there are plenty of ZR2 perks that deserve mentioning, starting with how it performs mechanically. Although I still remain partial to GM's Duramax 2.8-liter diesel powerplant, the 3.6-liter V6 and 8-speed automatic trans in this rascal are without question both stout and smooth enough to appease the masses.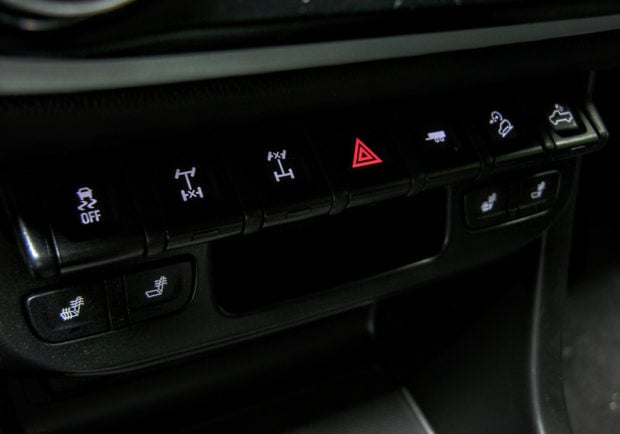 Featuring a 2-speed differential case with electronic locking options for both front and rear axles, a tow package with sway control, hill descent assistance, and the ability to hop between drive modes at higher speeds with the twist of a knob win major points for this pickup. Assured and user-friendly, the performance-focused powertrain/engine combo also provides plenty of power and traction off-road, while remaining refined enough that it doesn't annoy you to tears on the asphalt.
Strong-willed transmissions and engines will only get you so far in a 4×4 though, and GM has done the right thing by giving the ZR2 a hardcore suspension setup that is just at home at slow speeds atop rocky terrain as it is at 80 on the interstate.  This system includes one-off springs and a Multimatic spool-valve damper setup that yield some impressive results both on paper and in the wild, all while negating many of the shortcomings commonly associated with leaf springs.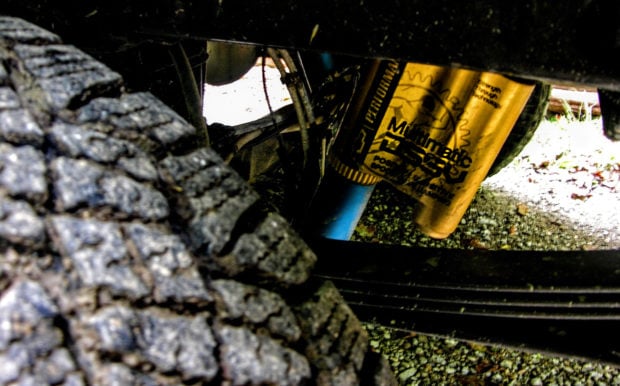 Lifted by about two inches atop 31-inch Goodyear Wrangler DuraTrac rubber, with 8.6-inches of front travel, and 10 out back, the Colorado ZR2 begs to be tested in extreme conditions. Boasting the ability to ford water as deep as 26-inches, and packing 8.9-inches of ground clearance, 4×4 confidence is a crucial part of what makes this pickup so appealing.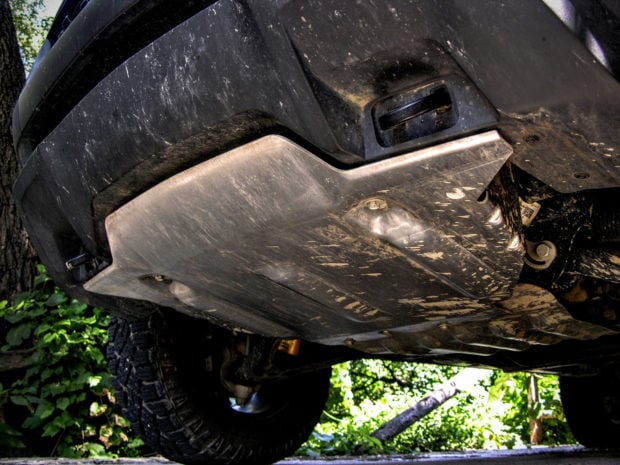 Body-wise, it also features a footprint that is 3.5-inches wider than regular models, with exposed lower fender faces toward the front allowing increased clearance and breakover angles of 23.5 degrees. You also get skid plates for damn near everything underneath the truck, as well as rocker panel rails along each side, useful additions for the adventuring mud-lover.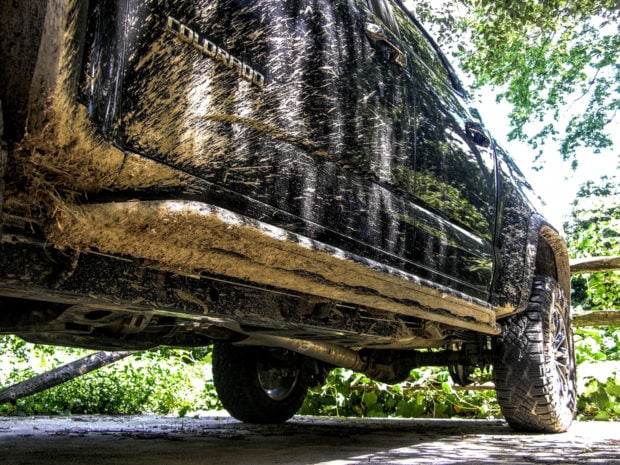 True to Chevy style, there are a lot of familiar tech facets here that win the ZR2 points, like on-board 4G LTE WiFi, an extensive SiriusXM infotainment suite, wireless charging, USB ports, and a $495 MyLink navi/radio combo. Buyers also get the option to upgrade to a $500 Bose audio system, and creature comforts like heated seats and automatic climate control are sure to earn praise from spouses. It's also worth noting that this truck looks stellar in "Graphite Metallic," a paint choice that almost exudes shades of green and blue when in the right light.
Concocting the perfect pickup is no easy task, and while the Colorado ZR2 Crew Cab offers impressive off-road agility, surprising in-town driving manners, and numerous creature comforts within its nicely sized cabin, it doesn't really fit into modern molds. This isn't a bad thing either though. The Honda Ridgeline may crush the Colorado in regard to road manners and interior materials, and the Ford Raptor certainly outpowers and outperforms the bowtie pickup in the wild, but Chevy is fine with these facts.
Here is a mid-size truck that straddles the fence between the two, a machine that is just nimble and slight enough of stature that it can carve circles around the big blue oval, all while upstaging the Ridgeline with its proven 4×4 capabilities and rugged appeal. The key question now is do you need all that off-road ZR2 avarice? And if so, are you comfortable with spending nearly $45,000 on one, when the carnivorous Ford Raptor starts around the same amount?