2018 Hyundai Elantra GT Review: Affordable Hatchback Done Right
2018 | 2018 hyundai elantra gt | All-New | Base Model | hatchback | hyundai | hyundai elantra gt | Korean Cars | Storage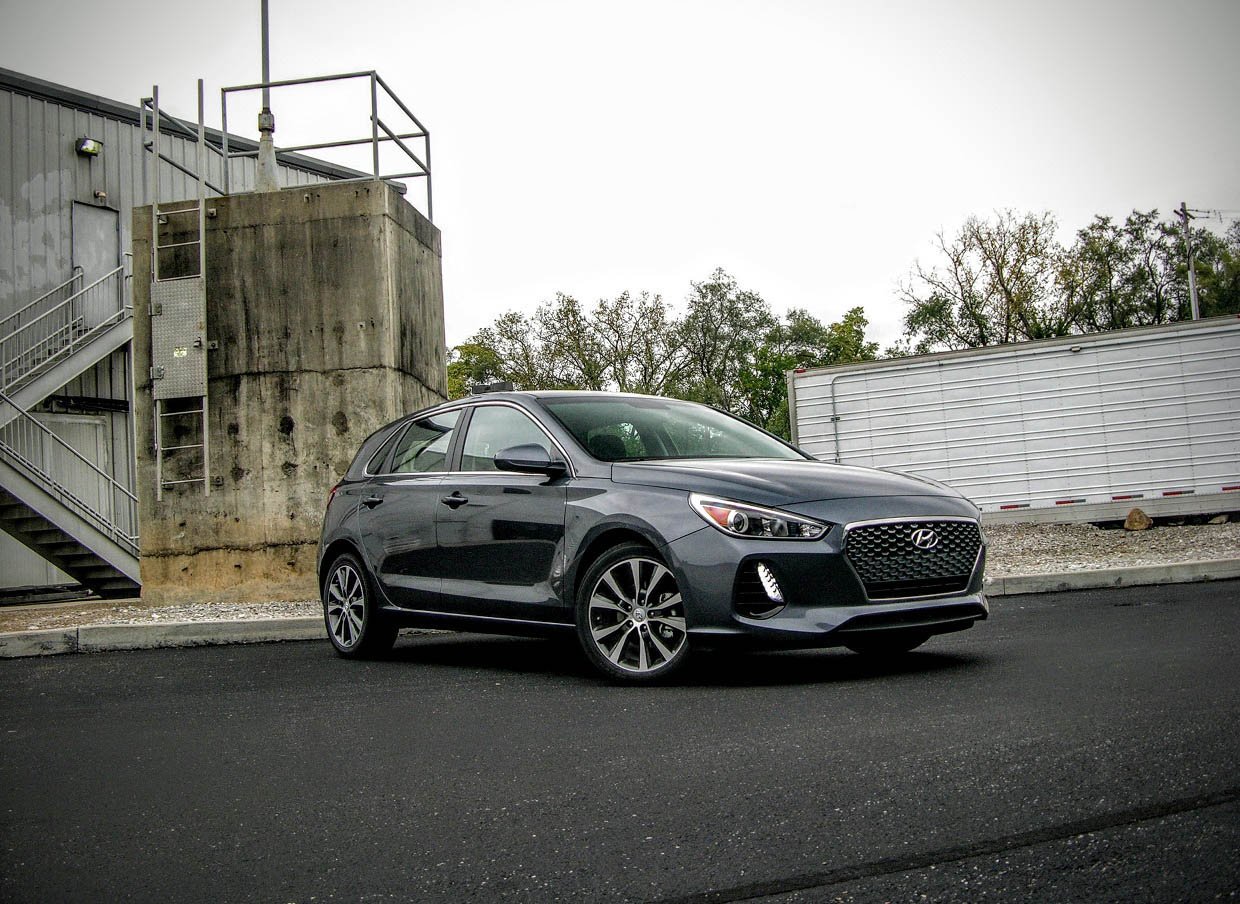 Specs at a Glance

Engine: 2.0-liter 4-cylinder
Horsepower: 161
Torque (lb-ft.): 150
Transmission: 6-speed automatic
Drive Configuration: FWD
0-to-60 Time (secs): 8.0
1/4 Mile Time (secs): 16.2
Top Speed (mph): 130
City/Hwy/Combined MPG: 24/32/27
Curb Weight (lb): 2,925
Wheelbase (in): 104.3
Total Length (in): 170.9
Width (in): 70.7
Base Price (USD): $20,350
Price as Tested (USD): $21,360
"There's no such thing as a bad car nowadays," the experts say, "Hell, just look at how good Korean cars have become over the years!" This may be true now, but back in 2005 I would have been far more prone to disagree. It was an era when Hyundai dwelled well below the industry average, and Kia ranked near dead last instead of toward the top of the chart for initial quality.
But those days are done, and nowadays I nod along, conceding in the fact that automobiles are indeed better than ever before, and mention in passing that it's hard to ignore what a decade can do for an automaker. Back in 2005, the Hyundai Elantra GT was this obtusely styled automobile, designed for fledgling drivers, big city residents who needed a weekend beater, and people on road trips in a rental. While the same sort of people may still opt for the Elantra GT, there are striking few similarities between the all-new 2018 edition and everything that came before it.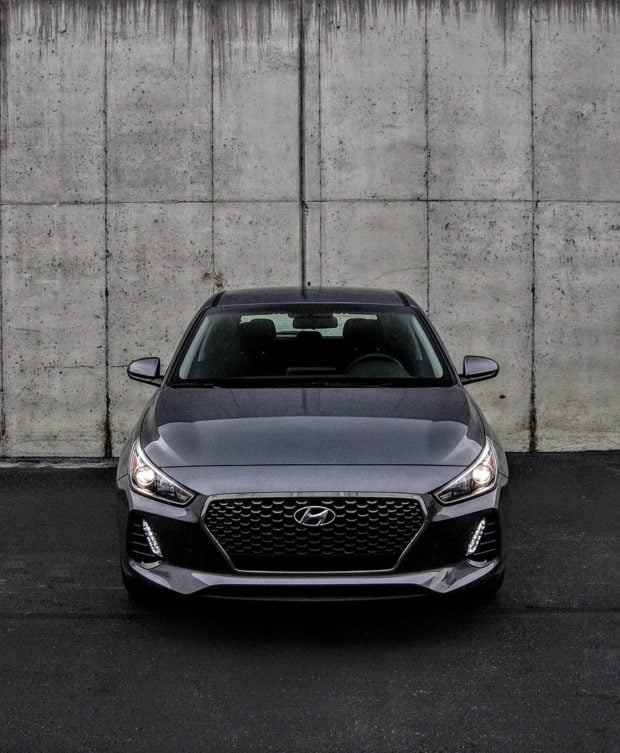 However, if you go back and read reviews from that period, you will find that many car critics gave the Elantra GT high marks. They were better looking than the previous two generations and came with more standard features than expected, but they also remained notoriously unreliable and still didn't ring any bells in the design department.
It was a time of great change for Korean car manufacturers. Building a parallel life here in America had already begun in earnest, and with United States headquarters and talk of manufacturing plants down South in the works, both Kia and Hyundai appeared to be playing for keeps. Thirteen years and three generations later, and both automakers have gone from the bottom to the top of the stack in regard to projected reliability, initial quality, and customer satisfaction.
The car pictured here is proof of how far brands like Hyundai have come, and what they are willing to do in order to keep pleasing the public and industry experts alike. In my eyes, their investment in the revision of the sixth-generation Elantra warrants just as much praise as the brand's brilliantly built line of twin-turbo V6 Genesis engines. Something so simple, inexpensive, and small may not stir one's heart at first glance, but for $20,000, the GT version of the Elantra is really quite good.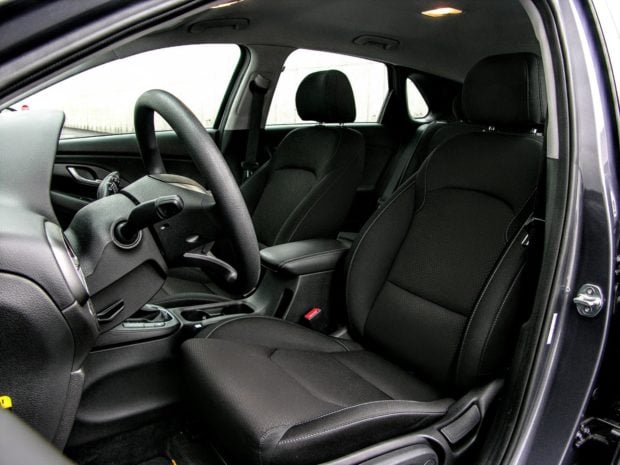 Right off the bat one must recognize the fact that this is an economical hatchback that has been engineered for road trips and around-town rides alike, with the interior exemplifying this fact. More purposeful and appealing than ever before, the entry-level hatchback exceeds expectations with ease. It may not have the Honda Civic hatch's gaping center console or an undertray storage box out back, nor the sensual styling of the Mazda3, but with seats this comfortable and that many cubbies in abundance, these things don't seem to matter so much.
Being a full 11 cubic-feet roomier than its sedan sister,  and almost an entire two cubes more spacious in the back than the previous generation means that packaging has improved significantly as well. The rear seat doesn't feel nearly as cramped as in the old model either, and although you do blow around a little bit on the interstate, cabin composure feels far greater than its predecessor, a concern most subcompact car buyers contemplate when cross-shopping.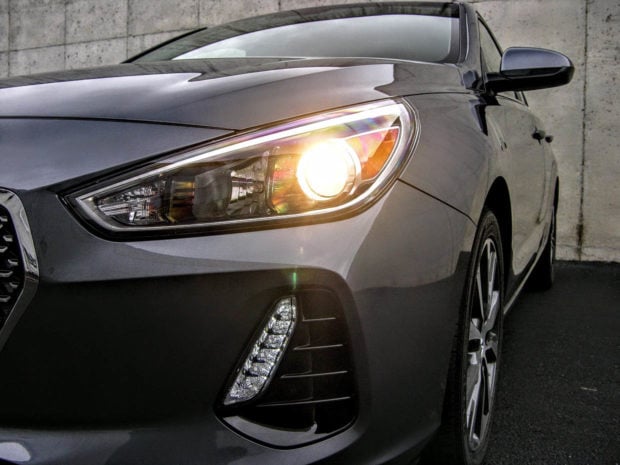 So is the Elantra finally living up to its GT nameplate? A birthright that in many eyes should have been claimed the moment the first generation emerged on the market? Um no, not really. This version isn't engineered to hound on the Civic Si's ass like its rascally Sport doppelganger. It's mission is to hit fuel efficiency and affordability first and foremost, help you get moved in one single trip, and maybe even turn a head or two in the parking garage.
Empowering the little hatchback is a 2.0-liter motor that generates 161-horsepower, and 150 pound-feet of torque, numbers that are a dozen ponies and four pounds down from the previous version. Even so, power still gets sent to the front wheels via the a silky Shiftronic six-speed automatic, and although highway mileage averages from the feds give the GT around 32 mpg, numbers nearing 40 have been widely reported.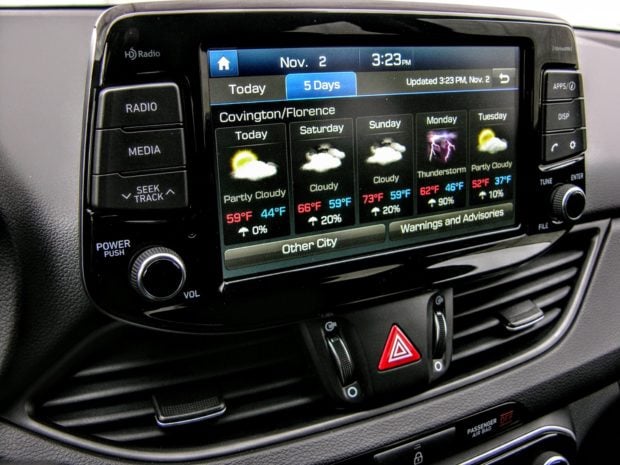 Stiffer and smarter, with balanced disc brakes all around, you get a small snippet of how good the Sport model is on a multitude of levels. But coming in a fuzz above $20K means that packaged options are limited on this model, which brings us back to 2005. Remember when things like power windows and AC were "options" on a brand-new automobile? Yeah, those days are done.
A brief rundown of standard features on a base 2018 Elantra GT include: 17-inch alloy wheels, LED running lamps, heated power mirrors, an 8-inch audio touchscreen, Android Auto/Apple CarPlay, Bluetooth with voice recognition, a digital driver display, as well as HD Radio and a SiriusXM trial within the latest Blue Link infotainment update. While things like rear cross-traffic alert, navigation, and blind-spot detection can be added for a reasonable fee, the array of stock features on the little Korean hatch are impressive, considering the segment.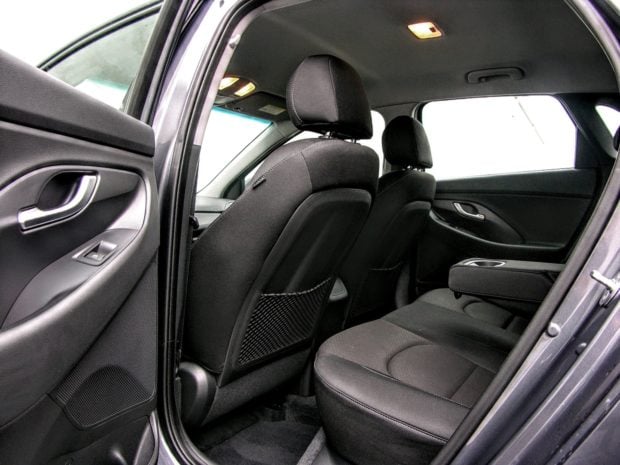 Finding functional issues with the latest Elantra proved to be a bit of a challenge, even when I knew deep down how much better the $3,000 Sport upgrade makes the vehicle. Tepid throttle and handling aspects shelved, complaints are primarily with the car's cheap-looking mesh seatback pockets, which won't contain skinny items, and how door locks are exclusively mounted up front on the center stack. The car's recessed buckle clips were another annoyance, as they sit surprisingly deep within the seat cushions, making clipping-in a chore. I also found myself reaching for paddle shifters that were not there, especially when in Sport Mode, and disliked that in order to get the same key safety features as equally priced competitors,  one had to pony-up almost $30,000.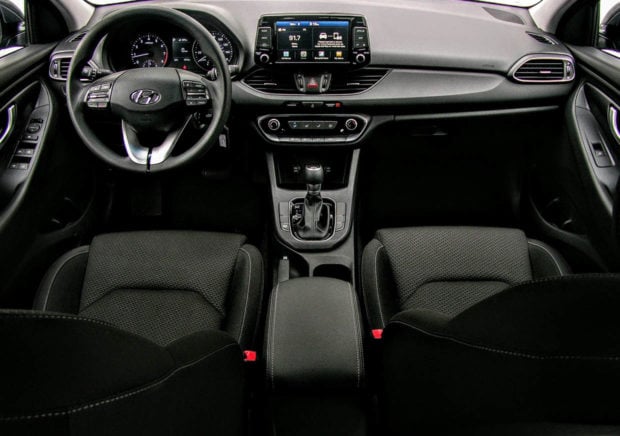 Despite these packaging and functionality flaws, along with the inevitable swath of hard plastics that typically come standard across the segment, this little hatchback won huge points for the Hyundai brand. It may not be as sporty-looking nor as swift as say the Honda Civic Sport hatch, but it's also not nearly as controversially styled and comes packed with the best warranty in business.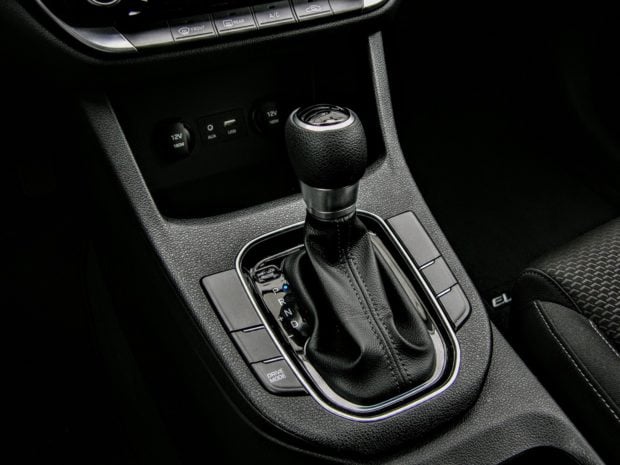 Thinking back to my previous experience with the Elantra GT, I must admit that I gave it unfavorable marks, when it was still rocking the last generation's genetics. Many of my previous complaints are now gone, for the latest version of the Euro-inspired hatch has amended many of its old mistakes. Compared to what the Elantra GT once was, this new model is an absolute gem, and regardless of whether you tend to favor the more affordable version pictured here, or the turbocharged Sport model, buyers are likely going to like what they find.