2019 Toyota Avalon First Drive Review: No More Boring Flagships
2019 | toyota | toyota avalon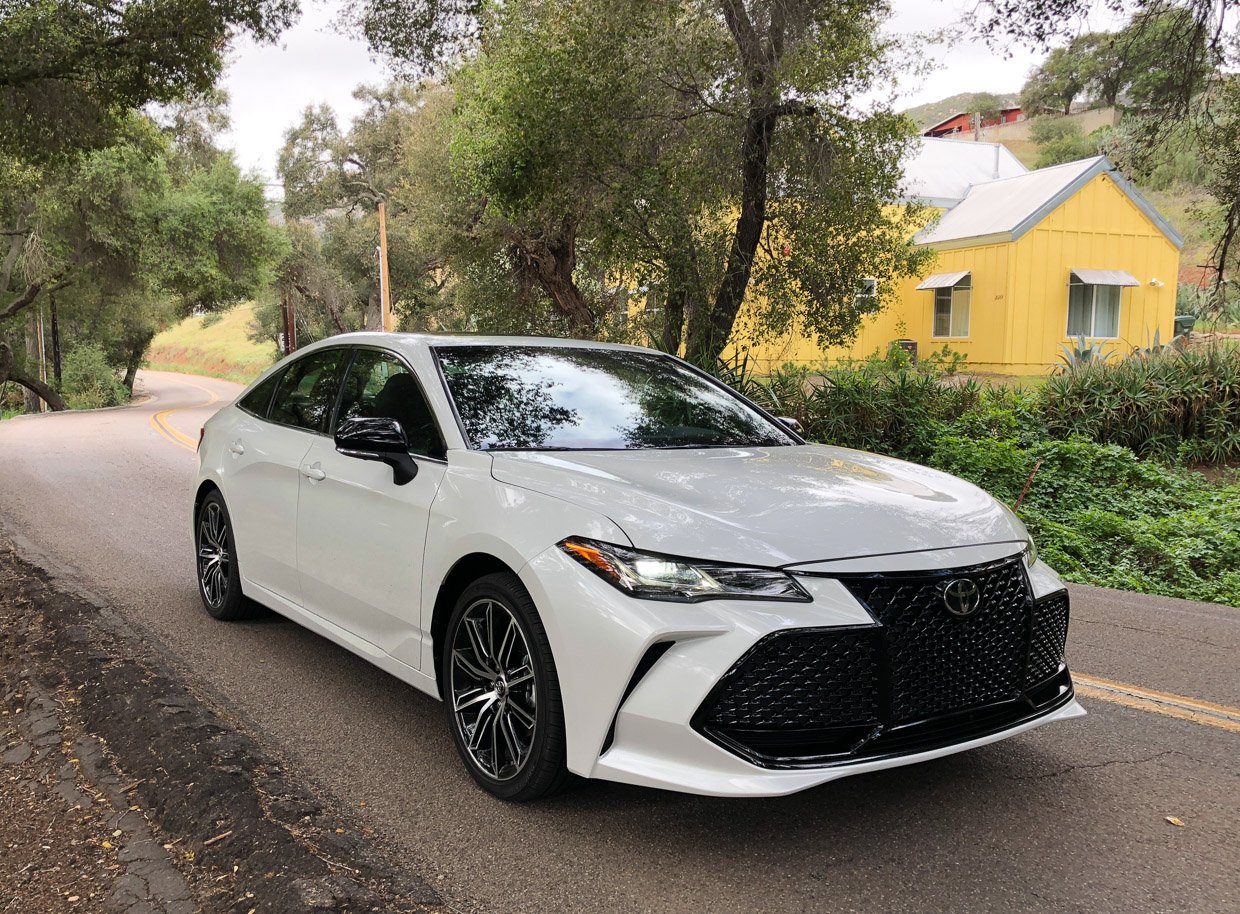 2019 Toyota Avalon

Engine: 3.5-liter V6, or 2.5-liter 4 cyl with electric drive unit
Horsepower: 301 (V6) 215 net system hp (Hybrid)
Transmission: 8-speed direct-shift automatic (V6) ECVT with sequential shift mode (Hybrid)
Drive Configuration: FWD
City/Hwy/Combined MPG: 22/32/26 (XLE V6) 22/31/25 (XSE, Limited, Touring V6) 43/44/44 (XLE Hybrid) 43/43/43 (XSE, Limited Hybrid)
Curb Weight (lb): 3560 to 3704 (V6) 3638 to 3715 (Hybrid)
Wheelbase (in): 113
Total Length (in): 195.9
Width (in): 72.8
Base Price (USD): $42,200 (Touring V6) $41,800 (Limited V6) $38,000 (XSE V6) $35,500 (XLE V6) $42,800 (Limited Hybrid) $39,000 (XSE Hybrid) $36,500 (XLE Hybrid)
While the current generation Toyota Avalon is a very nice car indeed, frankly it's a bit dull. Sure, it's smooth and quiet, but with its average buyer being in the mid-60s, it's never really been designed to thrill. However, under the leadership of Akio Toyoda, and his pledge to make "no more boring cars," Toyota set out to make an Avalon that's more compelling than ever before, and for the most part, the new 2019 model succeeds.
For starters, the new Avalon is far more stylish from the exterior, with bold and aggressive sculpting along its sides, a wider, lower, and longer stance than before, and sharp lines throughout. Its wheelbase is longer, which provides for a more planted and stable ride, and more sporty looks than before. Buyers can choose from 17″, 18″ or 19″ wheels, depending on how sporty they'd like to be.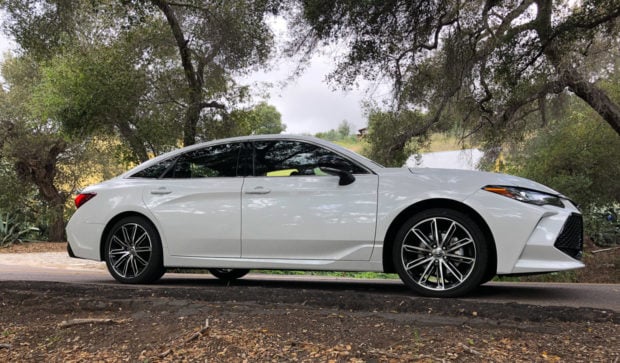 Of the two front-end designs available, the XSE and Touring's sportier look is the more divisive, with its "gaping maw" double-decker grille, while the XLE and Limited's horizontal-striped grille is a bit more likely to retain the Avalon's more conservative buyers. We saw the same strategy play out well with the new Camry, with a sportier look to lure in new buyers, and a more restrained design to placate the current customer base. However, in this case I greatly prefer the lines of the horizontal grille – it just seems better defined to me, and I like the chrome finishing bezels compared to the all-black look. I'm not sure at what point the industry decided that you have to go all with all black trim to be "sporty."
A couple of nice exterior touches are the angular LED lighting with triple lamp reflectors on the headlamps, adaptive LED cornering lamps, and slick progressive turn signals which indicate which direction you're turning with panache:
No matter which new Avalon trim you choose, you'll get an all new car from head to toe. Like its Camry cousin, it rides on the new Toyota New Global Architecture (TNGA), which the brand's engineers quickly point to as an architectural approach versus a platform. So even though the Avalon, Prius, and Corolla Hatch are all considered TNGA cars, they do not share the same underlying structure. In general, though TNGA cars offer a more rigid chassis, improved safety, and overall better handling dynamics than prior Toyotas.
In the Avalon, that is most definitely true. The ride is far more compelling than it was in the outgoing model, which I found to be both mushy and disconnected from the road. The 2019 model offers far greater driver engagement, and overall a more direct road feel. It's still soft and posh in the conservative trims, but it's surprisingly crisp in the sportier XSE and Touring models.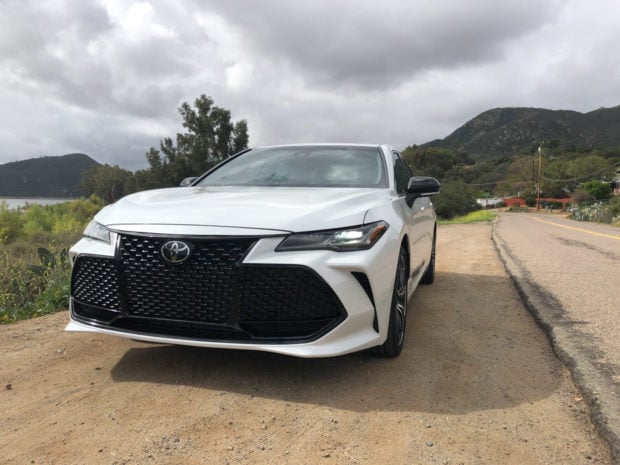 There are two drivetrains available on the Avalon, the same 301 horsepower, 267 lb-ft. V6 that can be had in the Camry XSE, and a hybrid drive unit that uses a 176 hp, 2.5-liter 4-banger and a 118 hp electric motor to produce 215 total system horsepower. Unlike some Toyotas where the hybrid model makes more power than the gas engine, in the Avalon, I suggest only considering the hybrid if you're concerned about fuel economy. The V6 offers much more satisfying acceleration, and can be downright aggressive sounding on the Touring model. That said, if you do go with the hybrid, you can expect an impressive 43 to 44 combined mpg, depending on the trim you choose. The V6 does 31 to 32 mpg combined, and a 10 mpg improvement for just $1000 will pay for itself pretty quickly at the gas pump.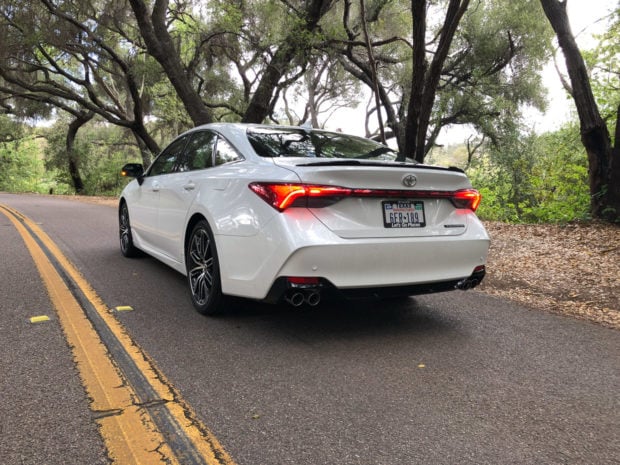 While the XLE and Limited V6 have dual exhaust ports, both the XSE and Touring get quad exhaust tips, but because of the way they split at the very rear of the system, the outer ones are almost entirely cosmetic, with most of the exhaust being ported through the inner two tips. Still, they look cool. All three Hybrids hide their exhaust tips entirely. Speaking of exhaust, when in Sport or Sport+ modes, the Touring model also belts out a nice baritone sound as the revs climb, through a combination of a sports exhaust and augmentation to enhance the sound levels through the car's stereo system. Sure, there are some digital shenanigans going on here, but it still sounds good, and helps the car feel more performance oriented with greater driver feedback.
Of particular note is the improved suspension setup which offers MacPherson struts up front, a multilink rear, and an available adaptive variable suspension, which can dynamically adjust ride firmness to one of 650 different levels in as little as 20 milliseconds. That system comes standard on the Touring model, another reason to strongly consider that model when making a buying decision. While the XLE and Limited offer up a softer ride overall, the XSE and Touring have been tuned to be a little stiffer and sharper. Like Avalons before it, the interior is dead quiet (except in the aforementioned Sport modes), which makes it an awfully nice place to be.
Whether in front or in the back row, all the seats offer great comfort, and look especially nice in the cognac leather, which sadly is only available on the Limited trim level. This two-tone look carries across very nicely on the leather-wrapped steering wheel as well. The Limited also gets real wood trim, while the XSE and Touring get bits of real aluminum. XLE, XSE, and Touring buyers only get SofTex trimmed seats, thought the sportier models do get ultrasuede inserts.
The Limited also gets premium details like sweet asymmetrical leather stitching on the door trim and seats. Still, I much prefer the look of the Limited's interior. In fact, I like everything about the Limited's styling better than the Touring, but I prefer the performance and handling of the Touring, so I wish there was a way to combine the two. Oh well.
In terms of technology, here's a 9″ touchscreen display that's nicely integrated into the center stack, an available 7″ information display in the gauge cluster, as well as an available 10″ heads-up display. Toyota was thoughtful enough to include 5 USB ports, one for each passenger in the car, and also offers a wireless Qi charging tray for those who prefer not to carry cables. While Toyota's Entune infotainment system still feels a bit behind the times compared to others on the market, it's nice to see that Apple CarPlay is finally available, and the Avalon and Corolla Hatchback are the first two cars I've seen come from an OEM with built in Alexa integration, which allows you to do things like control appliances at home as you approach your garage, or ask Alexa to perform various tasks like read you the news or weather.
Overall, I'm pleased with the restraint that Toyota's interior designers showed when laying out the dashboard, which is a clean, fairly minimal design with a focus on driving, and doesn't trying to be overly slick with its technology. There still are a few little bits of cheap plastic in the center console to remind you that you're not a true luxury sedan, and I wish there were more convenient storage space for smartphones besides the cupholders and the smallish charging tray.
The Avalon packs a full suite of safety tech, including blind-spot monitoring, rear cross-traffic alert, collision assist, a back-up camera, an optional 360º  bird's-eye view camera. However, I was surprised to learn that the system's dynamic radar cruise control and lane departure systems are behind a generation compared to the ones coming in the much less expensive, Corolla Hatchback – which I'll be reviewing next week. This is a bit puzzling when the Avalon is supposed to be the luxury flagship of the line, but I guess it just came down to production timing.
If you're an audio buff, I highly recommend upgrading to the Avalon's new 14-speaker JBL sound system, which offers excellent audio quality, with a pure and crisp overall sound, an expansive soundstage, and bells and whistles like Clarifi, which recovers lost details in digital recordings, and Quantum Logic, which helps to place individual instruments its surround sound space.

Cargo space is good overall, with both the V6 and hybrid offering 16.09 cubic feet of trunk space, in part thanks to Toyota moving the battery pack under the rear seat. A 60/40 split fold allows for extra versatility in cargo handling.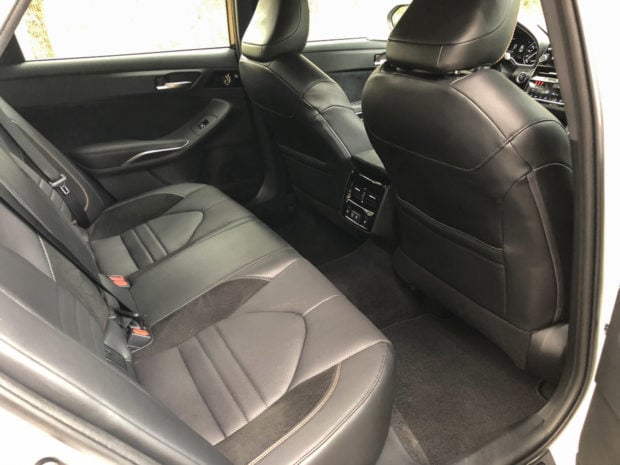 So what's the verdict here? Is the Avalon a worthy upgrade for 2019? In comparison to the outgoing model, it's a huge step forward in terms of driving dynamics, and overall styling. I'm not sure it's going to break any huge barriers in terms of its market appeal though – maybe they'll trim a couple of years off their average buyer age. Still, the 2019 is a very solid car overall, especially in its Touring trim, which offers enough performance and handling bells and whistles to make it a decidedly different car than every Avalon before it, while the XLE and Limited are sure to satisfy existing buyers looking to upgrade to the latest model.