Nissan Armada Mountain Patrol Ready to Conquer Anything
nissan | nissan armada | off-road | trucks | May 16, 2018
---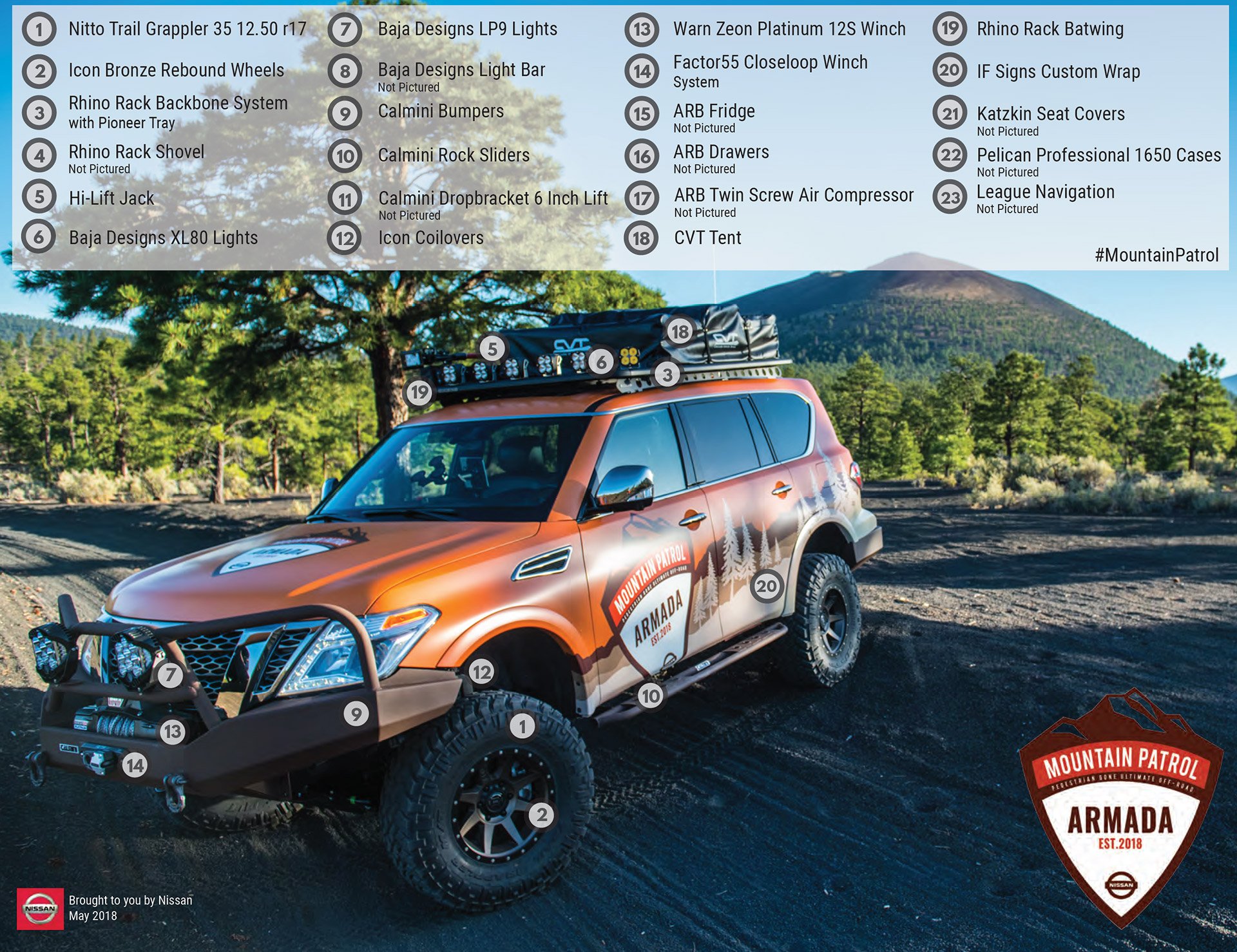 In preparation for this year's Overland Expo WEST, Nissan is showing off an exceptionally well kitted-out custom of its already hefty Armada full-size SUV, which we recently reviewed. This very special vehicle was designed based on the wishes of Nissan Trucks' social media followers, who provided input on what the design should include, and how it should be wrapped.
The finished Mountain Patrol Armada looks amazing, and is designed to handle truly rugged off-road conditions. Under its hood, it's still got the same 390 hp, 5.6-liter V8 found in the stock Armada, but that's about where the factory standard stuff ends. For starters, it's got a Magnaflow cat-back exhaust system to help improve airflow in thin mountain air. While it's not clear how much the suspension has been lifted, it's definitely gained some height over the Armada you can run down to your local Nissan dealership and buy off the lot.
This over-the-top machine has everything its occupants need to navigate off the beaten path, including the kinds of equipment you might find in a off-road Baja racer. For example, it packs a Lowrance navigation system, and a Rugged Radios off-road radio system for keeping in touch with the rest of your caravan. Plus it's got a roof-mounted tent so you've got a place to safely rest when day turns to night, and the ground is covered with snakes and scorpions.
The Armada's body has been upgraded with rock sliders, heavy-duty front and rear bumpers, a swing-out spare tire, and everything needed to escape from tricky spots, including a 12,000 lb. Warn Platinum winch, MaxTrax recovery boards, a Hi-Lift vehicle jack, an ARB air compressor, and Rhino Rack shovels. It also packs an ARB refrigerator and drawers to keep your bellies full while overlanding.
The body-on-frame beast rides on 17″ Icon Rebound wheels, wrapped in Nitto Ridge Grappler 35″ tires. Topping this monster off is an LED light bar, bumper-mounted fog lights, and lighting in the wheelwells from Baja Designs. The whole thing is wrapped up in a sunset orange and brown Mountain Patrol themed wrap.
We've got feet on the ground in Arizona to check out this impressive build up close and personal, and you can see it at the Overland Expo WEST in Flagstaff, Arizona this weekend.