2018 Kia Rio Review: A Peppy Subcompact Packs Great Value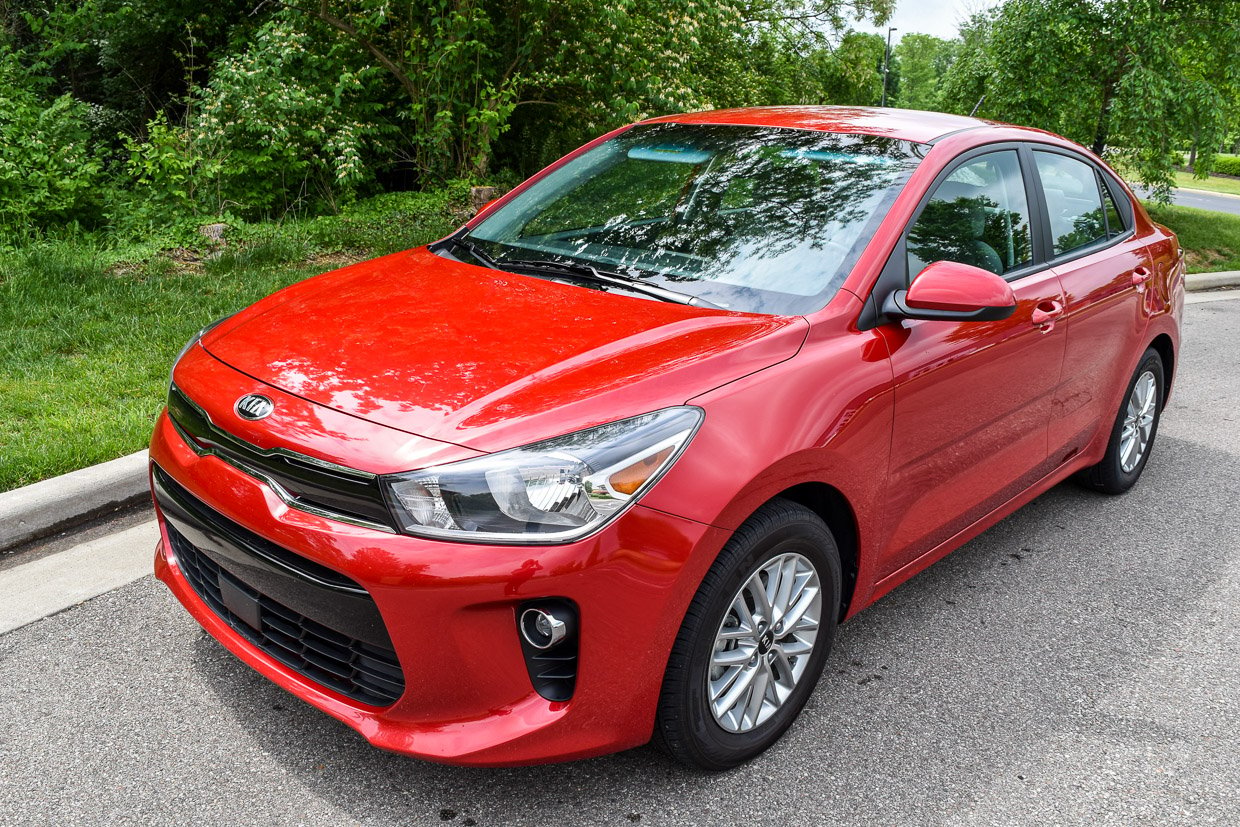 2018 Kia Rio EX

Engine: 1.6-liter 4-cylinder
Horsepower: 130
Torque (lb-ft.): 119
Transmission: 6-speed manual or 6-speed automatic
Drive Configuration: FWD
Top Speed (mph): 118
City/Hwy/Combined MPG: 28/37
Curb Weight (lb): 2714
Wheelbase (in): 101.6
Total Length (in): 172.6
Width (in): 67.9
Base Price (USD): $18,400
Price as Tested (USD): $19,425
95Octane's tagline is "Cars that don't suck." So, then how can I review a subcompact car with a price tag under $20k and a little four banger with a puny amount of horsepower? Simple, the 2018 Kia Rio belongs here at 95Octane because despite its entry-level nature, it doesn't suck. A small price tag doesn't always mean a car is slow or lousy or crappy, but sometimes they are. So, it's refreshing to get behind the wheel of a car like the Rio that checks off a lot of the boxes but also is wallet friendly. Let's take a more in-depth glance at the Rio to see why it has merit.
It's important to note that I reviewed the EX sedan, but I much prefer the redesigned Rio as a hatchback. I love hatchback styling in general, but the Rio's new look is especially conducive to a hatchback form. That's not to say the sedan is unattractive. Quite the contrary. In the often bland subcompact segment, the Rio stands out. The split-design grille has chrome outlined, narrow, horizontal features that connect the multi-reflector headlights. Those headlights are stylish and are well proportioned on the front end without being too gaudy. Circular fog lights flank the lower part of the grille which is blacked out. The plastic background on this part of the grille is also present behind the fog lights, giving the front end a balanced, well thought-out look.
The back end of the Rio sedan loses some of its visual appeal. Sadly, the Rio, like other small cars has a rather ordinary backside. This may help the overall long-term value of the Rio, as it's likely not to look too dated, but it also detracts from the bolder look of the rest of the Rio.
Buyers might quickly grow to appreciate the new engine in the Rio. The 1.6-liter, gasoline direct injected 4-cylinder engine makes just 130 horsepower. That number has a ho-hum feel to it, but this Rio feels peppy and enthusiastic. This is one spry little car. In fact, it's one of the peppiest sub-200 hp cars I've driven. This reason alone warrants why it's being reviewed here at 95Octane. The performance is surprising and definitely doesn't suck.
The Rio is also a fuel-efficient little car. It has an EPA rating of 28 mpg/city and 37 mpg/highway. In a week's worth of driving, I averaged 33 mpg. This mostly involved suburban, and off-highway driving. So, that number was better than I hoped for.
Within the subcompact segment there are a great deal of pokey cars that are utilitarian but boring. That's not the case with the Rio. Enthusiasts will enjoy that the base trim comes standard with a six-speed manual transmission. The six-speed automatic is $1,000 extra. The EX trim, which is what I reviewed, has the automatic transmission standard. I was hoping to see a seven- or eight-speed transmission with the redesign, but I was also pleasantly surprised at how good the six-speed was. There was no hesitation in the upshifting and no stuttering in the downshifting either.
For an economy car, the Rio's interior is impressive. I also found it refreshing to have a car with cloth seats. The majority of my review vehicles have leather seats, which of course are nice. But on a hot summer day, cloth seats are underrated. The front seats are cushiony and supportive. The back seat is adequate for two adults, although is rated for three passengers. However, the limited shoulder room would make for a tight fit for three adults or even two adults and a kid.
On the technology front, my top-of-the-line EX tester had an upgraded infotainment and sound system. A seven-inch touchscreen replaces the smallish five-inch touchscreen found on the other trims. Smartphones can connect through Apple CarPlay and Android Auto, and there are two USB ports for connecting and charging devices. The UVO infotainment system is easy to use and the knob to touch command balance is good (I still love knobs!). There is no built-in navigation system, which is fine these days since you can use your smartphone.
Cargo space for the Rio sedan is only 13.7 cubic feet. As a hatch, the Rio gets 17.4 cubic feet behind the rear seats, and 32.8 cubic feet total if you fold the rear seats, which have a 60/40 split configuration.
The Rio offers an affordable pricing structure for all three trims, but the base trim LX with the manual transmission starts under $14,000, which is practically unheard of today. Now, the stripped-down model doesn't even have power windows (crank windows!!) or cruise control, but hey for a first-time car owner, it's fine. But those millennials will have to learn how to a drive a stick shift unless they want to plunk down an extra $1000. The EX trim reviewed here starts at $18,400 and comes with a plethora of upgrades that might make those extra thousands worth it, especially when financed. The EX comes with the aforementioned advanced infotainment system and also forward collision warning. It has a leather-wrapped steering wheel and gear shift and a premium cloth upholstery interior. Apple CarPlay and Android Auto are only compatible on the EX trim, so take note, as the lack of a navigation could be problematic without them. My tester had a final MSRP of $19,425 with just a few options added to it.
Subcompact cars don't offer much excitement. But the Kia Rio garnered enough to warrant coverage and a positive review here. It also helped show friends of mine and regular readers who say I never review anything affordable. I'd say under $20,000 is affordable and when you consider all the Rio EX offers, with a nice interior and a surprisingly high-performing engine.