10 Things I Love About the Lexus GS F
I spent some time driving the Lexus GS F a couple of years back when it was first came out, and thought it offered a really great balance between performance and luxury. Back then, I only got a day behind the wheel. Since then, I've taken it on a few more laps around a race circuit as well, where it proved its sports car chops yet again. This time out, I had the chance to live with this powerful and sophisticated sedan for a full week, cementing my love for this car.
1. Bucketloads of Power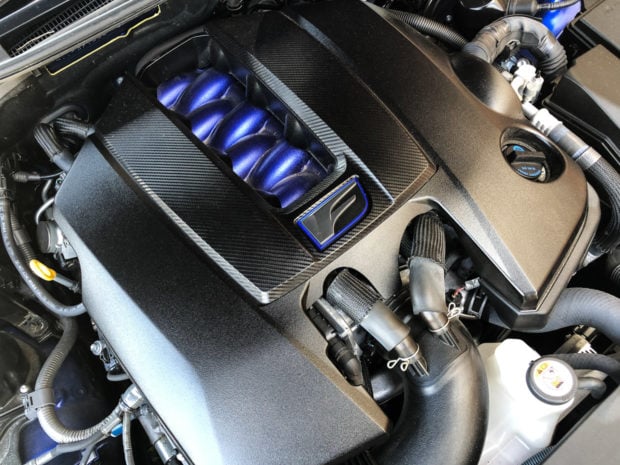 Burbling beneath the elongated hood of this big blue beauty is a 5.0-liter V8 engine that makes 467 horsepower and 389 lb-ft. of torque. The naturally-aspirated power plant offers up breakneck acceleration with none of the lag that smaller turbocharged engines have, and a buttery-smooth 8-speed automatic transmission helps ensure all that power comes on smoothly. It may look like a luxury sedan outside, but this engine is straight out of muscle car territory, launching the car to 60 mph in just 4.5 seconds. A quad exhaust system out back offers up great sound effects to those outside the car, along with maximizing engine performance.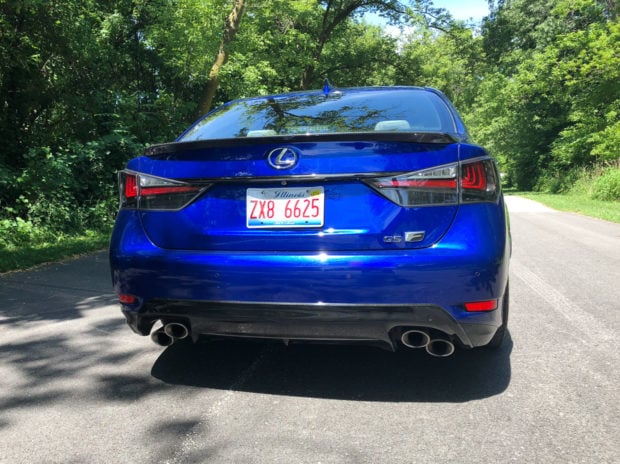 2. Sleeper Good Looks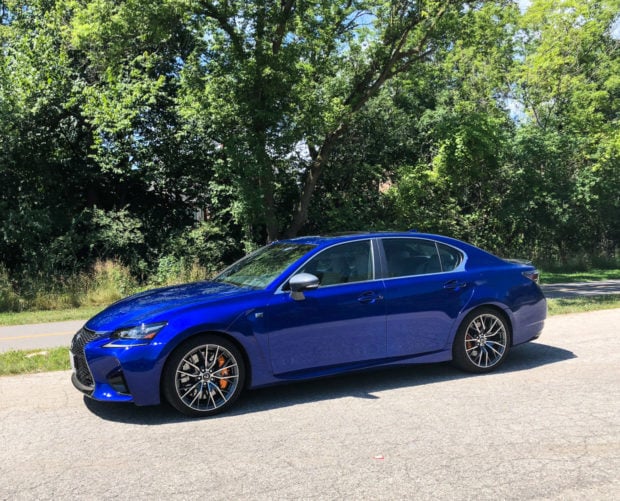 Unlike other cars that can zoom from 0 to 60 in under 5 seconds, the GS F doesn't flaunt it on the outside. Sure, it sports an aggressive mesh grille, carbon fiber trim bits, and a splash of orange from its F-branded Brembo brake pads, but other than that, it looks like an upscale executive sedan more so than a powerful sports car. That makes the GS F perfect for those who love performance, but don't feel the need to attract unwanted attention from cops as they zoom down the highway.
3. The Wonderful Sounds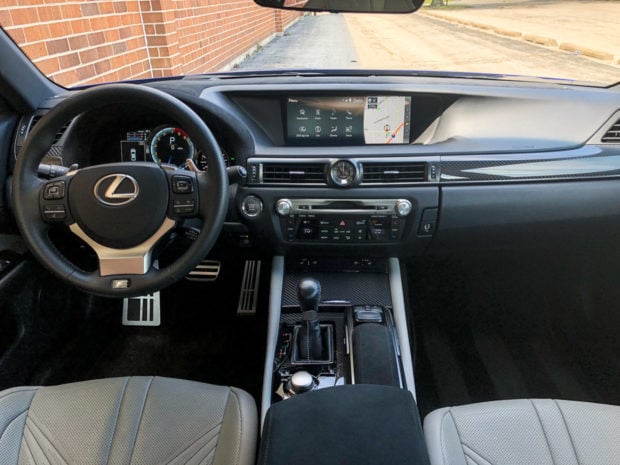 The Lexus GS F can be equipped with one of two great sound systems. The standard Pioneer audio system is no slouch, offering up very sound through a dozen speakers, with plenty of volume, crisp highs, clear mids, and punchy lows. The upgraded Mark Levinson system cranks things up to 11 with 17 speakers and 835-watts of amplification, offering sharp definition and dimensionality that'll make you think you're right there in the recording studio. On top of its musical prowess, the GS F has another trick up its sleeve, an Active Sound Control system which pumps the car's growly exhaust note in through the audio system for added enjoyment as you mash the pedal down. And when you want the whisper quiet environment that Lexus is best known for, you can switch it off.
4. It's a Proper Daily Driver
While the similarly powerful Lexus RC F and LC 500 might be more visually striking than the GS F, this car has a significant leg up in the practicality department. It's a proper sedan, with enough room for actual adults – with actual legs in the back seat. While its trunk isn't massive by sedan standards, it's still bigger than most sports cars at 14 cubic feet.
5. It Handles Like a Dream, Not a Boat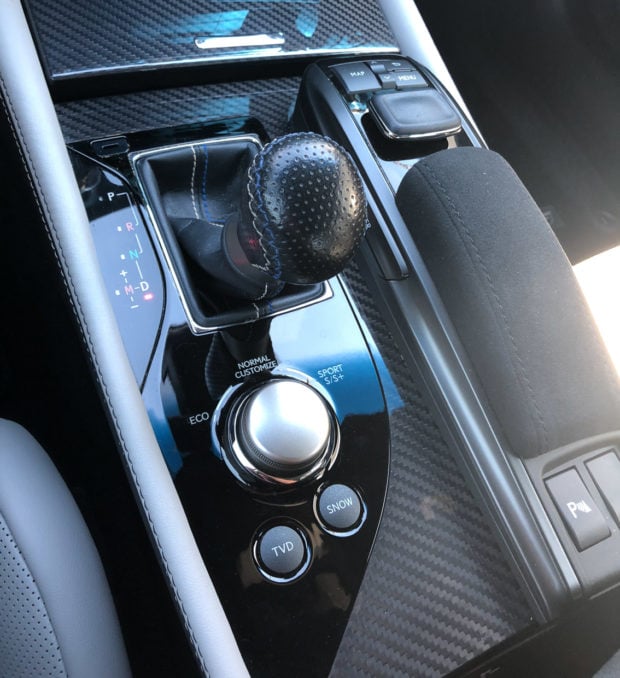 Thanks to its long 112.2″ wheelbase and short overhangs, the GS F stays nicely planted and well controlled whether on the highway or on the track. It rocks an adaptive variable suspension which does equally well soaking up potholes and maneuvering at speed, instantly adjusting between 30 different levels of damping. It's also one of the few cars out there with a standard torque vectoring differential. This system can independently distribute torque to the rear wheels, helping it pivot through corners like a go kart. Unlike cheaper torque vectoring systems which simply apply braking to the inside wheel, this one can actually control power distribution.
6. Beauty Abounds in the Cabin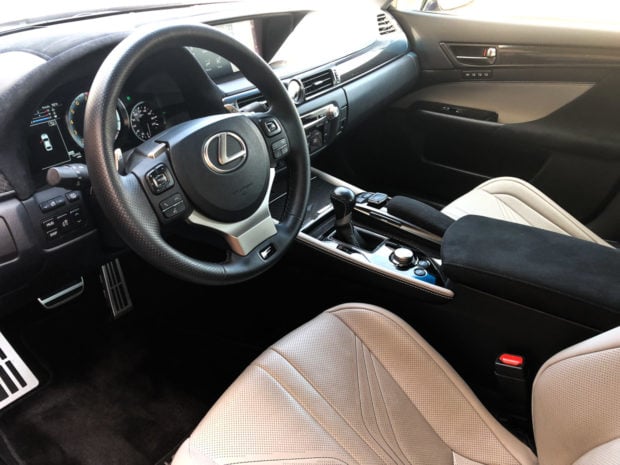 Blending richness and technical materials, the interior of the GS F is a mighty nice place to spend a day. Luxurious leather wraps the seats, shifter, and steering wheel. There are carbon fiber trim throughout the center console, aluminum bits and baubles throughout, including sporty metal pedals with enhanced grip surfaces, as well as rich suede trim on the dash, headliner, center armrest.
7. That Slick Instrument Cluster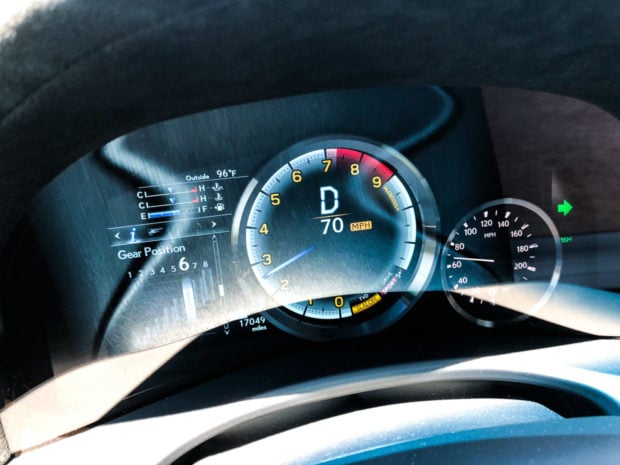 The hybrid digital/analog gauge cluster puts an emphasis on performance, with a high visibility center tachometer that morphs its look depending on driving mode, offering up easy access to information like current gear position, G-forces, TVD mode, Drive mode, engine and oil temperature, and more. Key bits of driving information can also be mirrored onto the optional full-color heads-up display.
8. LED All the Things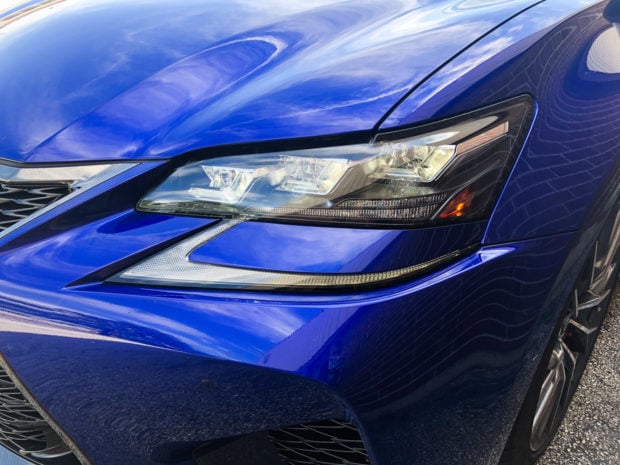 Embracing modern technology and design throughout, the triple-beam LED headlights make quite the statement whether on or off. Each projector beam has a visible "L" shape (backwards "L" on the left side) beneath, in tribute to the car's brand name, and the sculptural LED accent lights below give the GS F a distinctive and contemporary look. While not quite as dramatic, the LED tail lamps are distinctive, and provide added visual interest. There's also an interior ambient lighting system which adjusts brightness level depending on whether you're driving or parked.
9. Lexus Comfort and Quiet
Those superbly comfortable seats also offer heat and cooling, while cradling your back with plentiful side bolstering for tossing the GS F through a turn without fear of leaving your seat as you push and pull lateral Gs. Other than the aforementioned exhaust note and sound system, the interior of the GS F is a sanctuary from the outside world, with outstanding insulation from road and wind noise, and unwanted vibrations.
10. The Whole Package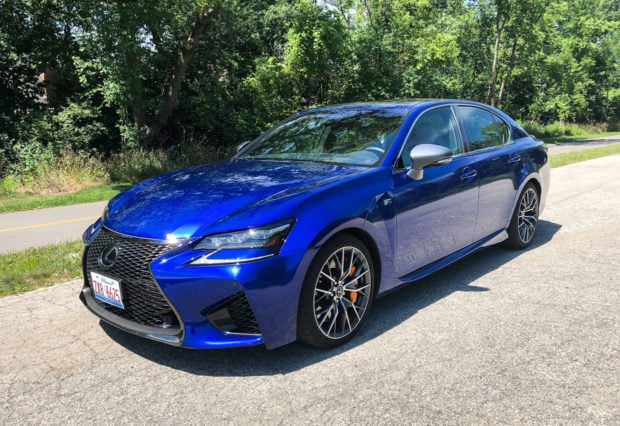 What truly makes the GS F one of the best cars Lexus has ever made is how it brings power, handling, practicality, comfort, and luxury together so seamlessly. This car is at home equally well transporting clients to a meeting, picking up the kids from school, and going 160 mph down the front straight at Road America. The Lexus GS F is a truly special car, deserving of consideration by anyone looking for the thrills of a performance car in vehicle they can drive every day.