2018 Mazda CX-5 Review: a Confident Compact Crossover
2018 | crossovers | mazda | mazda cx-5 | August 24, 2018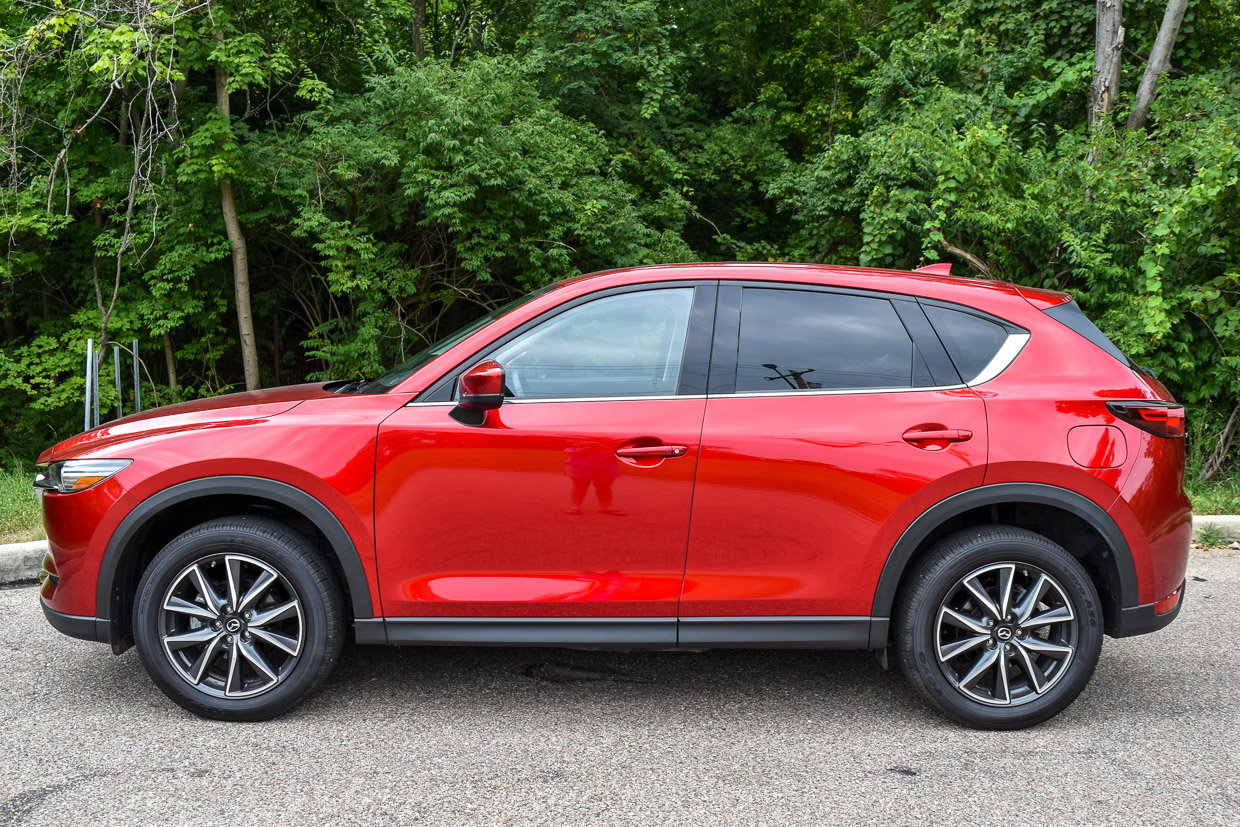 2018 Mazda CX-5 Grand Touring

Engine: 2.5-liter 4-cylinder
Horsepower: 187
Torque (lb-ft.): 186
Transmission: 6-speed automatic
Top Speed (mph): 115
City/Hwy/Combined MPG: 24/30
Curb Weight (lb): 3665
Wheelbase (in): 106.3
Total Length (in): 179.1
Width (in): 72.5
Base Price (USD): $30,945
Price as Tested (USD): $34,685
It's time to face the facts. Compact crossovers aren't just a flash-in-the-pan trend, they're a juggernaut within the auto industry. They're not going anywhere any time soon. So even though I find many of them boring, or with looks like they were drawn by a seven-year-old, I have to come to grips with reality. Compact crossovers are here to stay, and there are some compact crossovers that I actually like. Case in point, my tester this week – the 2018 Mazda CX-5.
I've driven almost every vehicle in the Mazda line this year, and each one has the similar driving characteristics and styling. That's not a bad thing. Each one boasts enough performance and handsome, athletic styling. That's again the case for the CX-5.
The CX-5's exterior is well designed and offers distinction, but also an excellent family resemblance to the other vehicles in the Mazda product line. I like consistency within a brand, and Mazda leads the way in that regard. A bold, chiseled hood dominates the front end, and an attractive chrome-framed grille is also quite the eye catcher. Squinty LED headlights balance out the front end. One nice thing about the CX-5, which can't be said for every other vehicle in this segment is that it has a modern, yet timeless design, rather than quirky, bizarre styling that will age quickly.
The back end is less exciting and more reserved than the front end, but a rear roof spoiler adds a morsel of aggressive styling. If there are to be any future updates to the exterior of the CX-5, I hope it will come to the back side, which has a ho-hum quality and could use a refreshed look that matches the solid overall aesthetics of the crossover's front end.
Believe it or not, a vehicle can be fun to drive without massive horsepower. Such is the case for the CX-5. For a vehicle that weighs more than 3,600 pounds, the CX-5 is spry and agile. The 2.5-liter, naturally-aspirated 4-cylinder engine doesn't blow you away with raw output, but, like many other Mazdas, it overperforms the numbers. The CX-5 has just 187 horsepower, but drives more like a vehicle that makes north of 200 horses. It won't blaze off the line, and despite the somewhat dated six-speed transmission, it performs well in all gears. Switching to sport mode cranks up the RPMs and changes the driving dynamics of this SUV.
It would be interesting to see what this vehicle would do if it had a turbo engine and a more modern seven- or eight-speed transmission, like many of its competitors do. That could be a game changer for an already strong performer and fun-to-drive SUV. The AWD CX-5 gets an EPA rating of 24 mpg/city and 30 mpg/highway. Hitting that 30 mpg mark is big for the segment and even with AWD, shows that fuel economy is impressive and another reason why the CX-5 has a lot of consumer value.
Front-wheel drive is standard on the CX-5, but my tester came with all-wheel drive adding even more confidence to the vehicle's handling. Responsive steering and agility are two of the biggest pluses for the CX-5. There are very few crossovers of this size and price that can offer such fantastic, confident handling.
As I've mentioned, the Mazda product line rarely disappoints and is almost always consistent. In recent years they've made leaps and bounds in improving their interiors. The latest CX-5 has a spacious cabin – passengers can fit comfortably with good shoulder, head and leg room. Two adults would be an ideal and comfortable set up in the back seat but two adults and a small child would be comfortable too. For a vehicle that's 72 inches wide, the cabin feels bigger than it is. And, there are outstanding touch points found throughout.
For cargo, the CX-5 is average to slightly above average for its segment. There is 30.9 cubic feet of cargo room behind the second row. Fold the rear seats flat and the overall cargo room increases to 59.6 cubic feet.
Up front, the leather seats are plush but supportive. It's easy to find a comfortable seating position. There is good distance between the seat and the just-right-sized steering column, as well as decent space in the pedal area for your feet. This makes entering and exiting the CX-5 easy, especially compared some other more cumbersome vehicles on the road. It's just the right height from the ground so there's no big step up, but it also feels slightly higher than a car.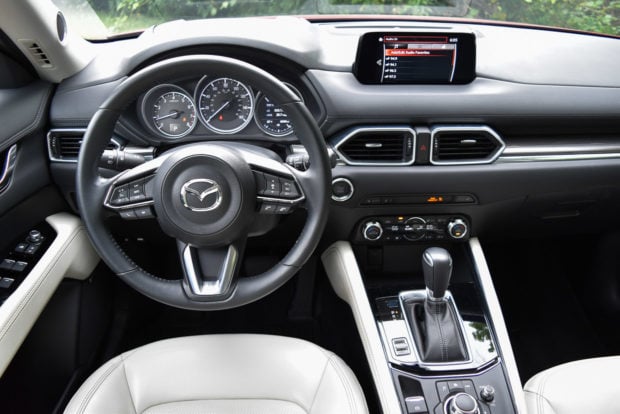 Following the consistency theme, Mazda's infotainment system continues to infuriate me. It lacks intuition and doesn't have enough of a modern look to it. The 7-inch touchscreen has a slow reaction time, often to infuriating levels of waiting. Setting presets takes unnecessary extra steps. This year, the screen gets moved slightly higher on the dash which seems much better for the driver, but needs to be more knobs and a quicker reaction for any and all touch commands to improve this system. Plus, note to Mazda and all car makers: we want Apple CarPlay and Android Auto above all else. Sadly, the 2018 CX-5 lacks this connectivity, but the with the new Mazda6 getting these features, there is hope for next year's CX-5.
The overall organization of the center stack is well planned. It's attractive and the sound quality on the 10-speaker Bose sound system is outstanding. Additionally, the CX-5 is one of the quietest compact crossovers I've driven. The road noise is minimal, and that makes for an even better experience inside the CX-5.
The CX-5 is offered in three trims: Sport, Touring and Grand Touring. The FWD Sport trim has a starting price of just over $24,000. My tester was the top-of-the-line all-wheel drive Grand Touring with a base MSRP of $30,945. With extra options like illuminated door sills, retractable cargo cover and heated front and rear seats, my tester had a final MSRP of $34,685 making it competitively priced for all that you get with this crossover.
As far as compact crossovers go, the Mazda CX-5 is a good one and shows that not every vehicle in this ultra-competitive segment has to look funky, or have a small cabin. The 2018 Mazda CX-5 has great deal of appeal, with great looks, an overachieving powerplant, spacious cabin, and good fuel economy.