The Panther 6 Was a Crazy 6-Wheeled UK Sports Car
1970s | 1977 | convertibles | panther | weird | December 10, 2018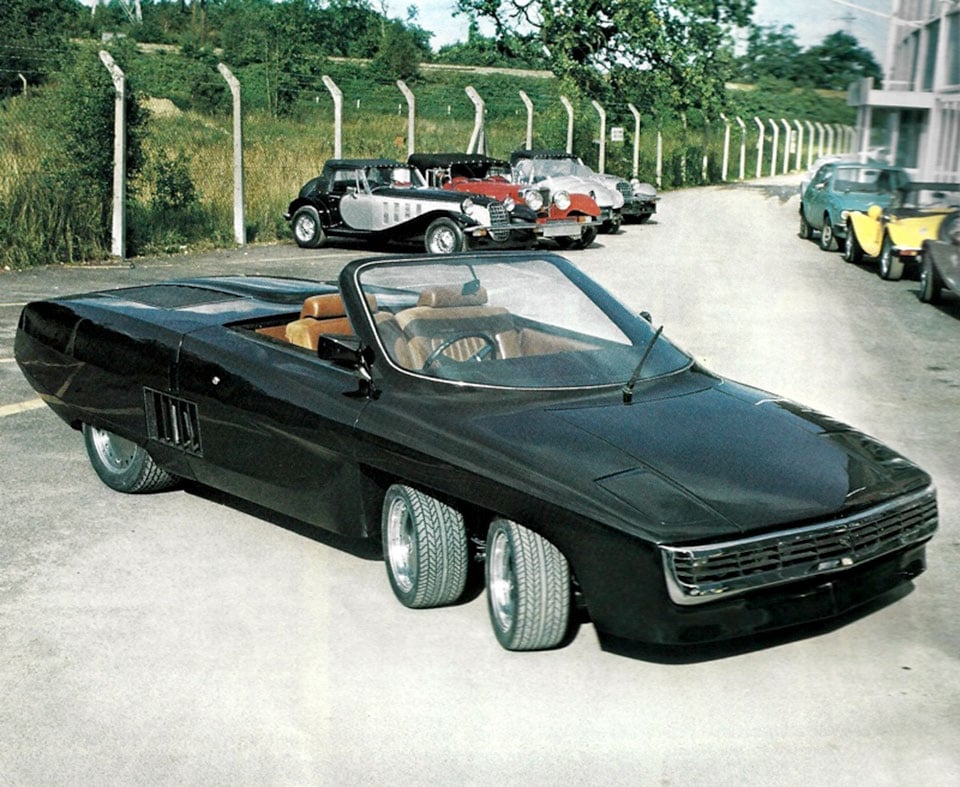 Despite spending the majority of my 50 years on this planet as a gearhead, I'm still amazed how on a regular basis, I come across a vehicle that I never knew existed. Today's revelation? An unusual 1970s British sports car that had two extra wheels up front.
The convertible Panther 6 had six wheels, and a claimed top speed of 200 mph, thanks in part to a twin-turbocharged 8.2-liter Cadillac V8 engine mounted behind the passenger compartment. According to this wonderful 1977 report from Thames Television, the car had approximately 600 bhp, and was expected to do 0 to 100 in under 7 seconds – a feat that's still difficult to achieve today.
Supposedly, the small, steerable dual wheels would help pick up rain from the road to improve grip for the rear of the car. I'm not sure I'm buying that, and think they were more of a gimmick than anything else, inspired by the 6-wheel Tyrell P34 race car. Speaking of gimmicks, the car had an early digital dashboard, a tiny tube TV, an old school car phone, and glove boxes with combination locks like the ones found on a briefcase.
The original car that was shown with the fancy high-tech interior seems to have vanished, but a left-hand drive model painted in white is still making the rounds at auto shows today:
The Panther 6 was originally set to sell for £39,950, or about $52,000 (USD). Adjusted for inflation, that would be about $210,000 in 2017 dollars. Despite its maker Robert Jankel's proclamation that it would definitely go into production, the Panther 6 never did, and never made it past the prototype stage.