2019 Ford F-150 Lariat FX4 Review: Everything You'd Want in a Pickup
2019 | ford | ford f-150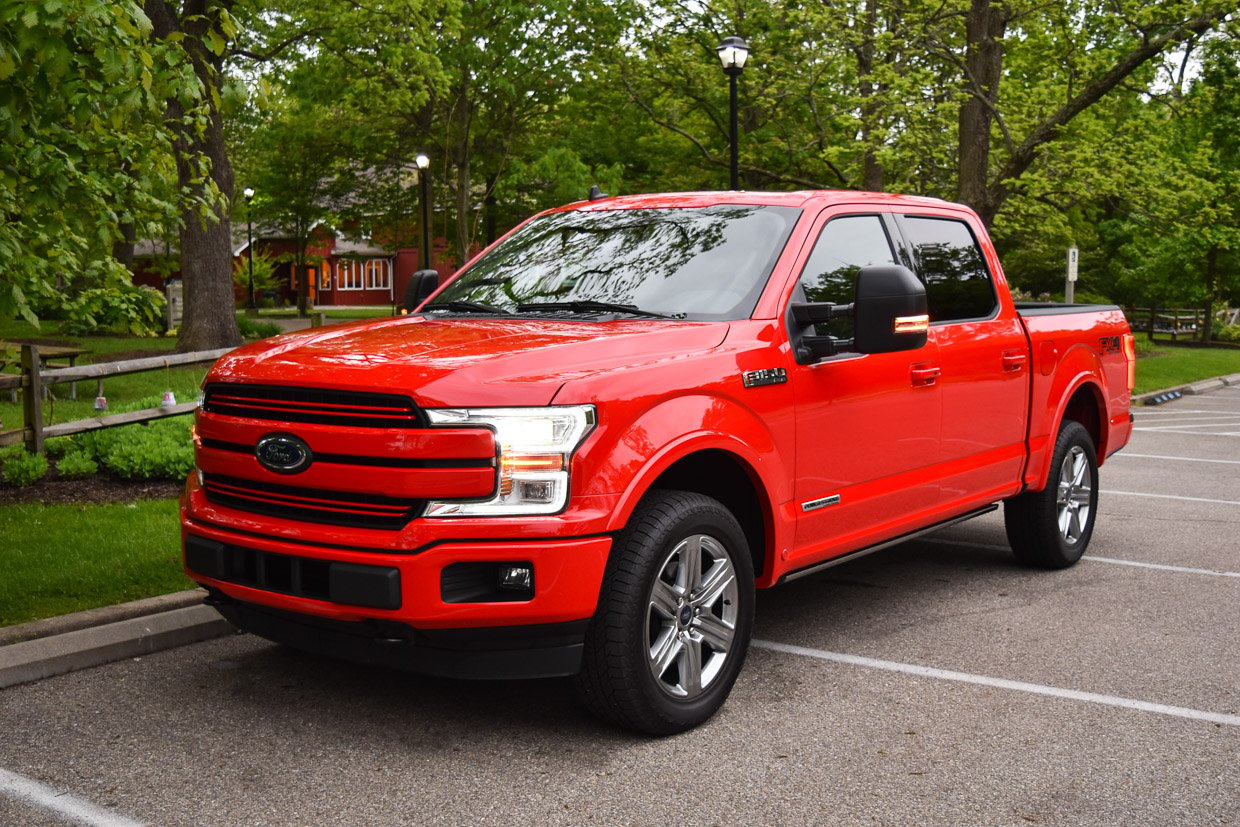 2019 Ford F-150 Lariat FX4 SuperCrew

Engine: 3.0-liter V6 diesel
Horsepower: 250
Torque (lb-ft.): 440
Transmission: 10-speed automatic
Drive Configuration: 4WD
City/Hwy/Combined MPG: 20/25
Curb Weight (lb): 4859
Wheelbase (in): 145
Total Length (in): 231.9
Width (in): 79.9
Base Price (USD): $47,985
Price as Tested (USD): $68,505
Before we get too far into this review, a little transparency first. For the last year, I've been writing my second book – about the history of the Ford F-Series pickup. So when I got the 2019 version of America's best-selling vehicle to drive, I was excited. I can now tell you everything you need to know about this pickup truck, past, present or future. But for now, since my book isn't out until February 2020, so let's talk about the present.
The 2019 F-150 is everything you would want or need from a 1/2-ton pickup truck. But beyond that, today's truck is just as good as a daily driver, or heading out camping, as I used the truck during my week with it.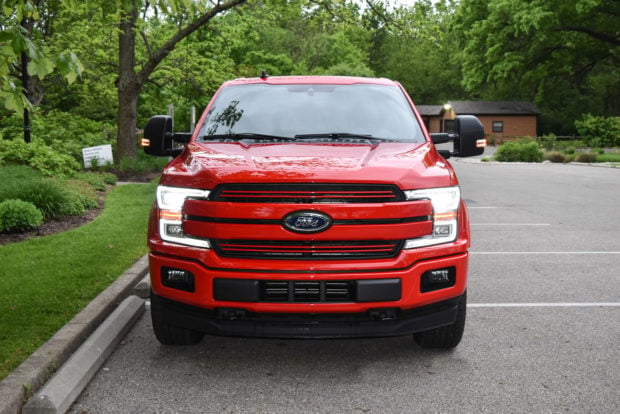 The SuperCrew pickup with the 5.5-foot bed was right at home in the campground. I intended to tow my camper with it, but had a hitch issue, unrelated to the truck. The hitch I use on my Yukon would not work on the F-150, so the towing plan was scrapped. But, the F-150 still got to drive through some winding country roads, and some major slopes of the Ohio hillside. Road noise was minimal and it was a smooth ride (for a truck). It was more comfortable than most pickup trucks, but not quite as comfortable as a similar-sized SUV. Perhaps if my tester wasn't FX4 trim it might've been an even smoother ride.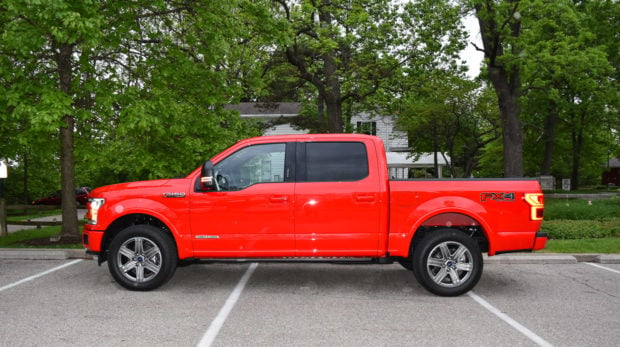 The F-150 was quite comfortable making its way through the countryside. And for sure, this truck would've been able to tow my camper comfortably. Look past the 3.0-liter turbo diesel's 250 horsepower rating, and pay close attention to the torque output of 440 lb-ft. That's impressive for such a "small" engine. It shows that size doesn't always matter when it comes to today's pickup trucks and their engines. It has amazing fuel economy (for a full-size truck) to the tune of 20 mpg/city and 25 mpg/highway.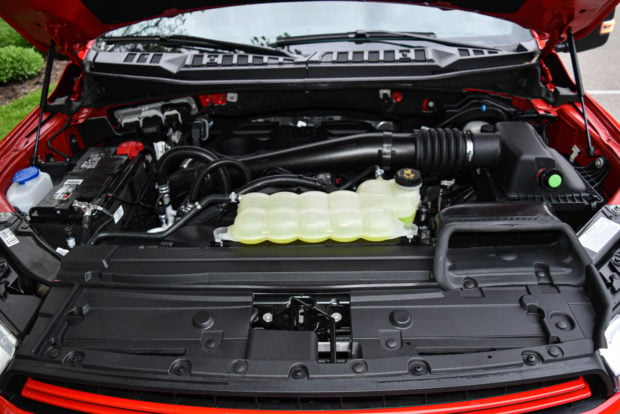 I didn't even use a half a tank of fuel in our 300-mile round trip to the woods. I drove the truck heavy-footed, and thanks to the stop-start technology, the few stop-and-go moments I encountered, we were able to conserve a little fuel. In the end, I averaged just over 22 mpg.
My tester was quick off the line and felt much more powerful than the its spec sheet might indicate. It also felt confident on the twists and turns. It drove smaller than it was, and I appreciated that. So many of today's trucks are hulks on the road, but that wasn't the case with this F-150. Plus, the 10-speed automatic transmission was just incredible. The shifts were quick and seamless. There was no turbo lag and this was an outstanding transmission. I do wish I could've seen how it responded with some tow weight behind it. My tester had a 7,050 pound gross vehicle weight rating, and came equipped with Ford's trailer tow package.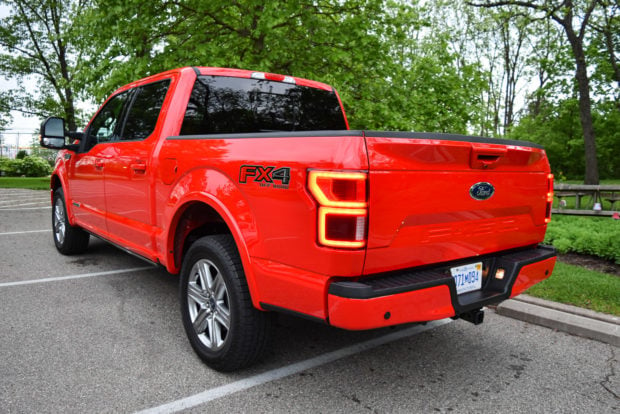 Every year it seems trucks get more and more attractive. My tester was quite handsome. The Race Red exterior paint color, with matching color on the grille was quite the head turner at the campground. The Lariat Sport Appearance really added visual appeal to an already good-looking truck. The FX4 off-road package gave it a rugged appearance complete with 20-inch six-spoke painted aluminum wheels and skid plates. My tester represented what today's modern truck can be: capable, rugged, and commuter-friendly.
The interior was nice, although I've seen more luxurious trucks on the road. Being that this was the FX4 Lariat, it was meant to be a little more rugged and a little less high end. But, still there were leather-trimmed seats that were both heated and cooled (in the front). The new Ford Sync 3 infotainment system is vastly improved. The integration with my iPhone was flawless. Texts were read to me and I could respond via voice to text, and play songs straight from my phone. The navigation system was outstanding too!
The back seat had vast leg room. On our way to the campsite, I had two teenagers and two dogs, along with a lot of camping equipment. Nobody wanted or needed more space. Plus, the rear seats lift up to allow for extra storage – a clever and resourceful use of otherwise dead space.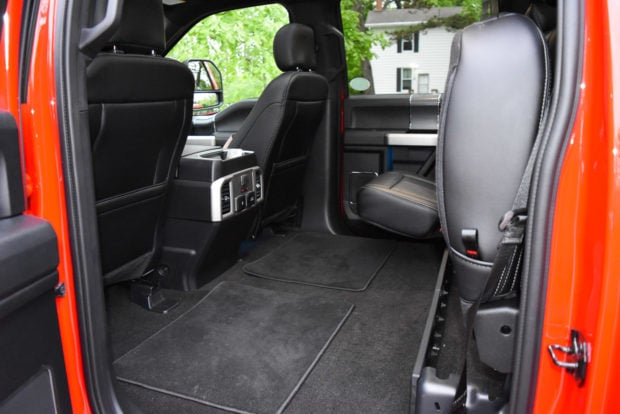 Base price for my tester was $47,985. But this truck had more than $20,000 in options and took the final sticker price to a staggering $68,505. That also sums up today's trucks as the price tags continue to go up and up. Despite that, consumers continue to buy.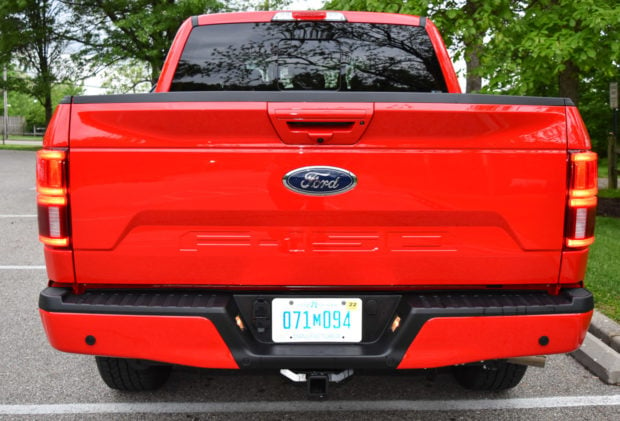 As such, now that I'm a truck author, and I suppose a Ford truck historian, I can say this 2019 Ford F-150 did everything you could want a truck to do. It's author-approved, but more importantly, it's family trip approved. All-in-all it did not disappoint on our long weekend away. Both dogs and teenagers had no complaints.