2019 Genesis G70 AWD 3.3T Review: Smooth Operator
2019 | genesis | genesis g70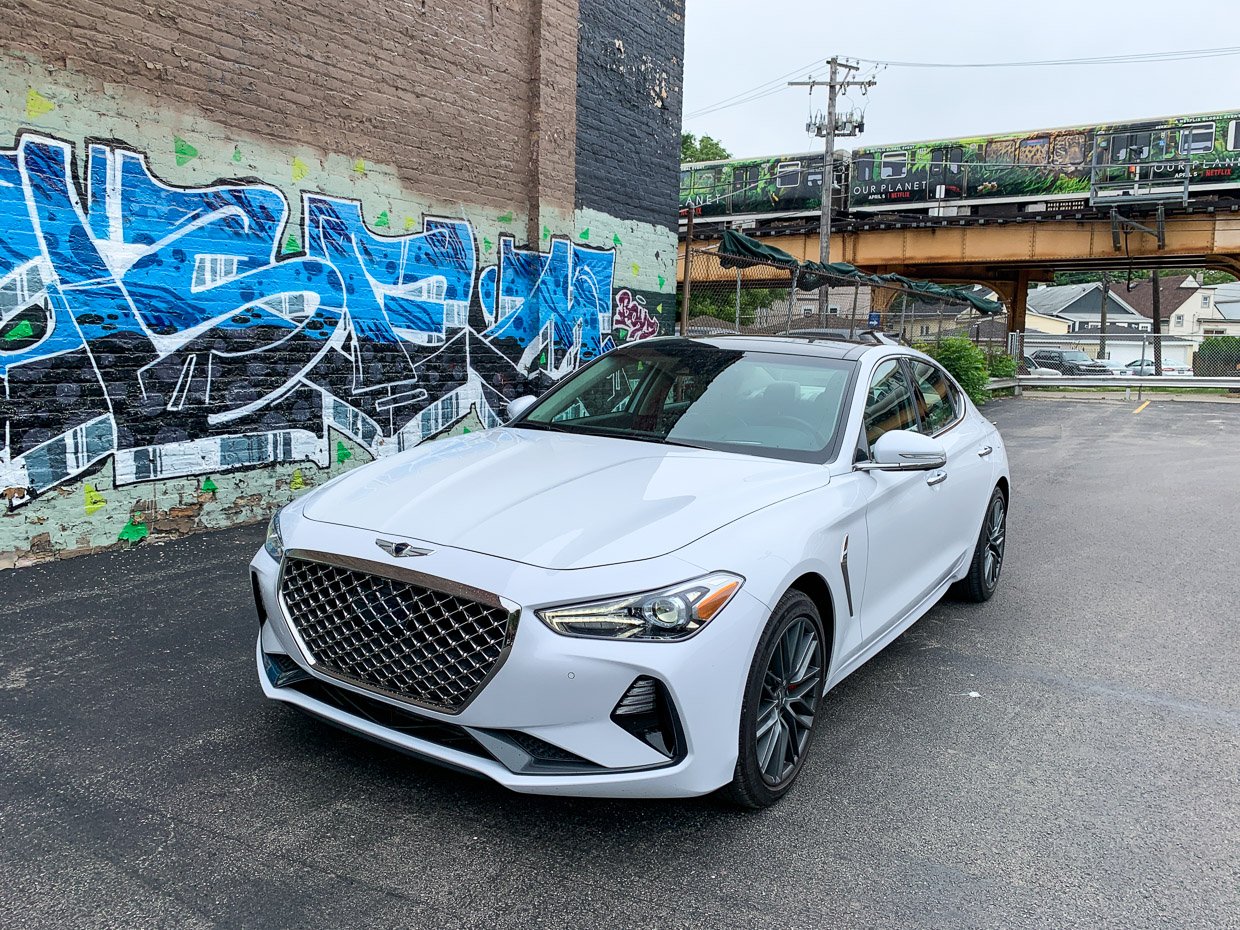 2019 Genesis G70 AWD 3.3T

Engine: 3.3L twin-turbo V6
Horsepower: 365
Torque (lb-ft.): 376
Transmission: 8-speed automatic w/paddle shifters
Drive Configuration: AWD
0-to-60 Time (secs): 4.5
Top Speed (mph): 167
City/Hwy/Combined MPG: 18/25/20
Curb Weight (lb): 3864
Wheelbase (in): 111.6
Total Length (in): 184.5
Width (in): 72.8
Base Price (USD): $45,750
Price as Tested (USD): $50,995
Over the years, many automakers have taken aim at sport luxury brands BMW and Mercedes-Benz to see if they could knock one of these long-reigning champs off of their pedestal. Just as many have failed to do so. But with the recent introduction of the Genesis G70, the Europeans really may have met their match. Sure, Genesis faces an uphill battle for brand recognition, but damn they know how how to make a good car. It's no wonder that the Genesis G70 won the prestigious North American Car of the Year award for 2019.
The G70 is a very good looking car, with sophisticated, yet sporty styling both outside and in. Up front, it's got one of the most opulent and distinctive grilles on the market, surrounded by sharp looking full LED headlamps, and set atop nicely integrated ground aerodynamics. Like other Genesis models, the front radar sensor is the only thing that takes away from the grille design – I wish they could figure out a more subtle way to integrate it.
The G70 comes in a few different flavors here in the U.S., including models with a 2.0-liter turbo 4 that makes 252 hp and 262 lb-ft. of torque, and a 3.3-liter turbo 6 that punches out 365 horses and 376 lb-ft. of torque. Both engines can be connected to either a rear-wheel or all-wheel drivetrain. While most models come with a quick-shifting 8-speed automatic transmission, the 2.0T RWD can even be had with a 6-speed manual. That said, the car I tested was the 3.3T AWD in Prestige package, which only comes with the auto.
The turbo 6 is a powerhouse, and launches the G70 very fast indeed. Launches and on-ramps are at once smooth and rocket-like, offering an extremely linear throttle curve with virtually no lag when the pedal drops. I found myself quickly at the speed limit when entering the highway, and the chassis is extremely well behaved at higher speeds. The suspension offers great road feel, and isn't particularly harsh despite its sport tuning. There's an adaptive variable suspension available as an option on Sport and Dynamic models, but this car didn't have that feature.
A nice low center of gravity and limited-slip diff offer great handling and cornering performance. The variable-ratio electric power steering system is light and easy to control, but responsive, and it can stiffen up and offer more feedback when the car is in Sport mode. Riding on 20-spoke 19″ dark alloy rims with Michelin all-season performance tires, the G70 grips well, and road noise is nicely controlled too. The Brembo disc brakes never let me down either, and offer sharp and are nice and grabby for quick stops.
Inside, the hits keep coming. Tricked out with the Prestige package, the G70's cabin is exquisite, offering upscale materials like Nappa leather, with diamond quilted seating surfaces and door inserts. There's brushed aluminum trim on the dashm, doors, and center console, a microsuede headliner, and both heat and ventilation for the front seats. The seats offer very good side bolstering to keep you in your seat while cornering, but are comfortable for everyday driving and long road trips too. Fit and finish throughout the cabin is exceptional, without a rattle or squeak to be heard anywhere.
Like its Korean cousins at Hyundai and Kia, Genesis offers one of the better infotainment systems on the market. It's quick, intuitive, has a proper touchscreen, and supports Sirius XM, Apple CarPlay, and Android Auto. The display could be better integrated into the dash, but I don't think the trend of protruding screens is going away any time soon. There's also a Qi wireless charging tray in the front of the center console. The premium 15-speaker Lexicon audio system offers up crisp and clear sounds, and looks extra fancy thanks to its perforated aluminum speaker grilles.
I neglected to mention up until this point that the G70 shares key architectural and drivetrain components with the also very good Kia Stinger GT. But for as much fun as the Stinger is to drive, the G70 just feels more substantial and sophisticated – not just in terms of interior finishes, but also in its overall ride quality. That said, the Stinger has one big advantage in my book – the 5-door fastback hatch design versus the G70's more traditional 4-door sedan plus trunk setup. But if you don't absolutely need the extra space, the G70 is a better car overall.
If I've got any criticisms of the G70, they're both ergonomic in nature. First off, if you've got long legs and have the front seats pushed back a bit like I do, you'll find that the B-pillar's forward position makes it a little awkward to get in and out of the car. Secondly, the rear seat isn't practical for anyone but kids or smaller adults – at least if front seat riders are taller. With the front seat in my normal driving position, I was unable to sit in the back row of the G70 – my knees just wouldn't fit. I had to crank the driver's seat forward quite a bit to make that feasible, sacrificing driving comfort.
The Genesis Prestige is packed with value when it comes to technological goodies. It's got a great full-speed adaptive cruise control, blind spot monitors with rear cross-traffic alert, forward collision avoidance assist with pedestrian detection, lane-keep assist, hill start assist, a heads-up display, and surround view camera system, among other features.
On top of all of that, the G70 comes with an outstanding warranty – 10 years / 100,000 miles on the powertrain, 5 years / 60,000 miles bumper-to-bumper, complimentary regular maintenance for 3 years / 36,000 miles, and roadside assistance with flatbed towing. Full kitted out, the G70 is a whole lot of car for just about $50,000, though you can get into a base 2.0T model for as little as $34,900.
There's a whole lot to like about the 2019 Genesis G70. In its most potent trim, it's fast and sporty, while offering up a smooth ride and an exquisite interior that takes it right to the head of its class. BMW and Mercedes, you officially have serious competition for best sport sedan.