2018 Kia Stinger GT Review: A 5-Door Fastback Revelation
2018 | kia | kia stinger gt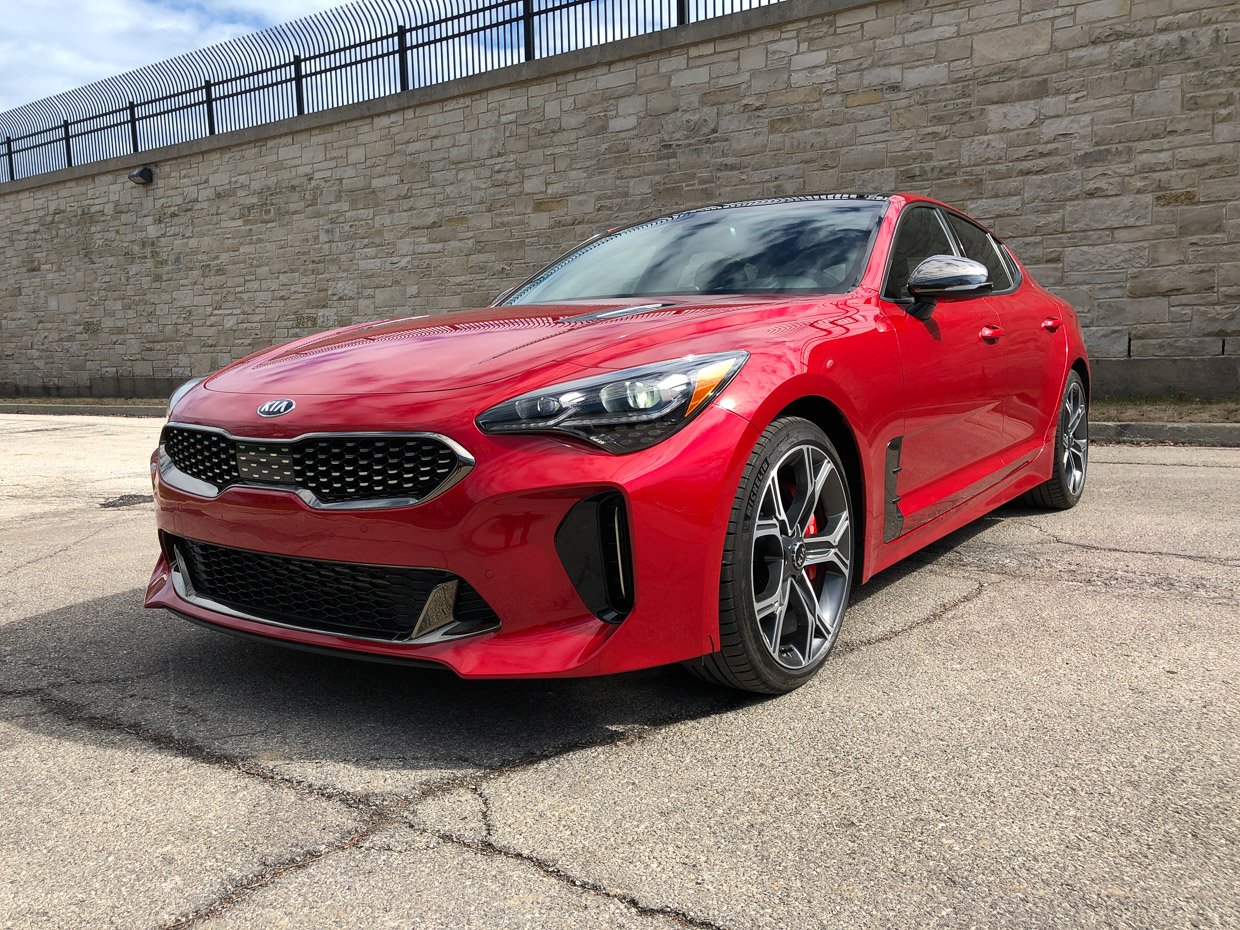 2018 Kia Stinger GT2

Engine: 3.3-liter twin-turbo V6
Horsepower: 365
Torque (lb-ft.): 376
Transmission: 8-speed automatic
Drive Configuration: RWD or AWD
0-to-60 Time (secs): 4.7
Top Speed (mph): 167
City/Hwy/Combined MPG: 19/25/21
Curb Weight (lb): 3829 (RWD/min) - 4023 (AWD/optioned)
Wheelbase (in): 114.4
Total Length (in): 190.2
Width (in): 73.6
Base Price (USD): $51,400
Price as Tested (USD): $52,300 (incl. freight/handling)
While plenty of car manufacturers like to slap the "GT" moniker on cars that are anything but Grand Tourers, Kia actually got it right with the Stinger GT. This is the very definition of a GT car, offering performance, comfort, handling, and enough room to bring all the luggage you need to take a cross-country road trip through the twistiest and most scenic routes you can find.
A few months back, I spent a couple of days testing out the Stinger GT, and thought it was a very impressive car overall. More recently, I've had the opportunity to spend a more extensive period of time with a duo of Stingers – and I've really fallen in love with this car.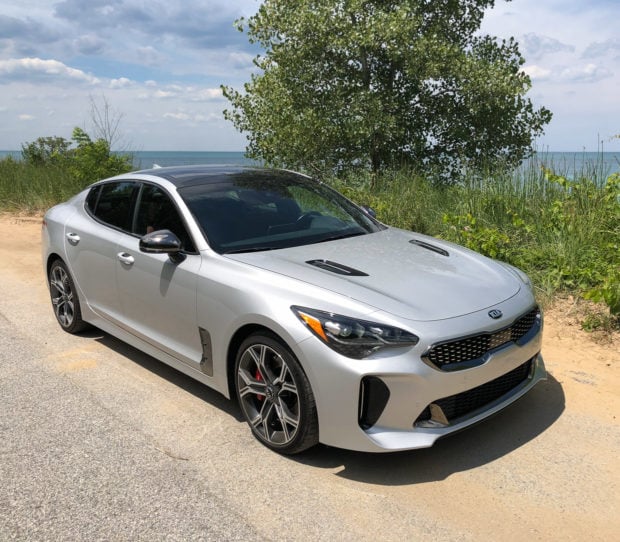 On looks alone, the Stinger GT is a highly desirable car, with bold and muscular body sculpting, a wide track, and long wheelbase that echoes the performance under the hood without being too flashy. The car looks great from every angle, but I especially like the fastback looks when viewed in profile.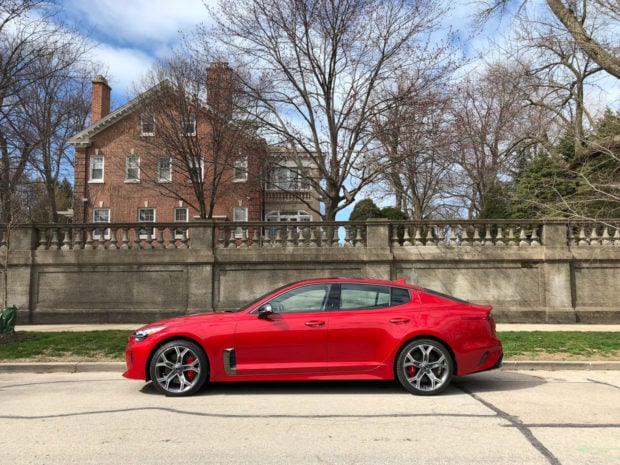 While some cars are pretty uneventful around back, the Stinger GT looks fantastic from its rear, with rounded triangle taillamps that wrap onto its hatchback, an integrated decklid spoiler, and grounded by a set of quad oval exhaust tips. Even the sharp and angular design of the Stinger logo badge tells you there's something special about to happen when you step inside.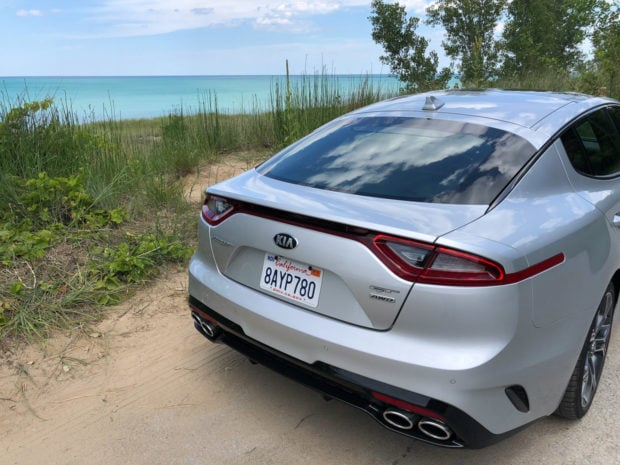 Under the hood is where a big part of the Stinger GT's magic happens. The 3.3-liter twin-turbo V6 is a delight, offering fantastic power on demand, and some of the least lag I've ever encountered in a turbocharged engine. With 365 horses, 376 lb-ft. of torque, and a smooth-shifting 8-speed automatic transmission, it launches like a flash of light, and is especially quick off the line in the AWD variant I test drove this time out.
And the hits keep on coming as your speed increases, offering plenty of headway for quick passing at highway speeds or on the track. The sound of the turbochargers as they spool into higher revs is rewarding, but I'd love to hear a little more oomph from the exhaust. That's something I'm sure you could fix with aftermarket components, but Kia should offer a performance exhaust option if you ask me.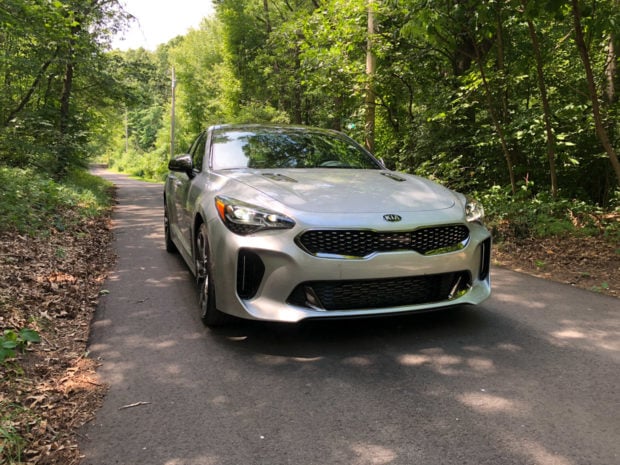 Combined with an especially stiff chassis and excellent suspension, the torque-vectoring AWD system helps the Stinger GT corner at speeds that would send RWD sports sedans into a literal tailspin. And while you can get adaptive damping as an option, I found the stock gas shocks to be more than up to the task of both daily driving and hooning through the bends.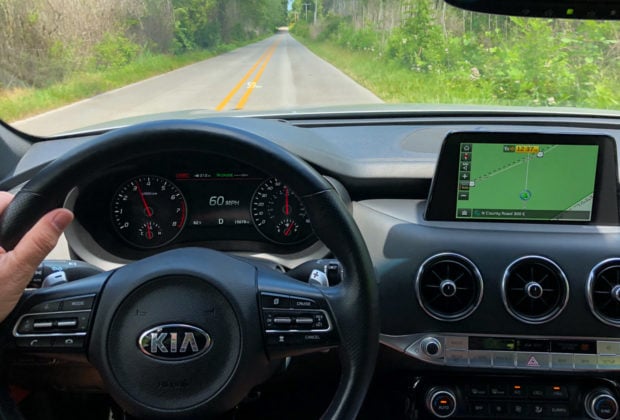 The Stinger GT's variable gear-ratio electric power steering is also spot-on, with good weight and directness when you want it, while still being easy to maneuver into a parallel parking spot. Beyond its awesome driving characteristics, the Stinger has another Ace up its sleeve – practicality.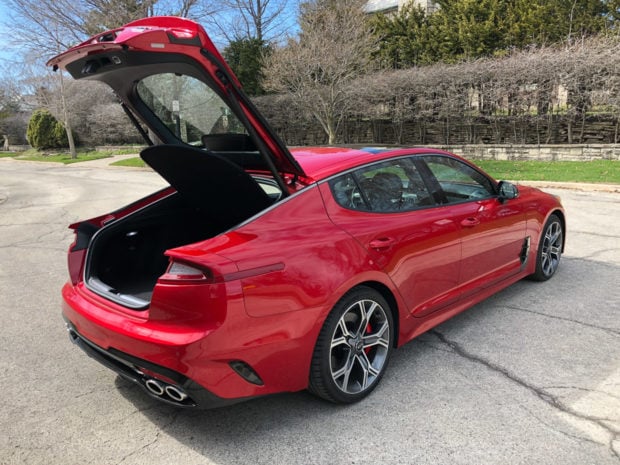 Yes, not only can you carry five actual adults in this car, but it has a cavernous storage space in the back, so you have enough space to carry luggage, golf clubs, groceries, giant bags of dog food, or any of the other kind of stuff you'd normally need a crossover for. Plus, the rear seats offer 60/40 split folding capability, upping cargo capacity to more than 40 cubic feet if you need it.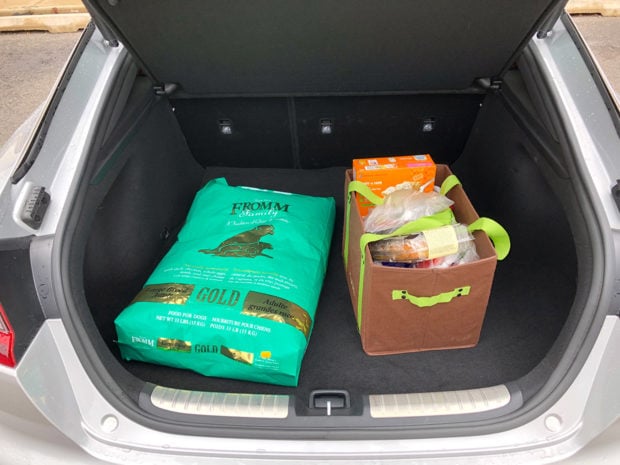 Kia being Kia, they didn't just stop there, no. They packed the Stinger GT with loads of safety and convenience technology. It's got a great adaptive cruise control system that works all the way down to a full stop, making drives in the stop-start afternoon traffic of Chicago's highways far more pleasant than usual. There's also a very good lane centering tech which borders on something you'd find in an autonomous car, as well as blind-spot indicators, a heads-up display, automatic high beams, driver attention warning, a backup camera with rear cross-traffic alert, and more.
Kia and sister company Hyundai were two of the first to include Android Auto and Apple CarPlay support in their vehicles, and that's here too, along with a very clean and easy to use infotainment system that integrates nicely between the instrument cluster and an 8-inch touchscreen display. The 15-speaker Harman Kardon audio system packs a punch, and has those schmancy metal perforated grilles normally reserved for more expensive European luxury cars.
Other luxe touches in the cabin include heated and ventilated Nappa leather front seats, aluminum trim, dual-zone automatic climate control, memory for both the driver's seat and power tilt steering wheel, and multi-color LED ambient lighting in the cabin. While some of the dashboard materials could be fancier, the interior of the Stinger GT is still a very nice place to be.
Kia also has a few other things going for it with the Stinger GT, not the least of which is its overall value. The fully tricked-out GT2 AWD cars I drove were priced at $52,300 – all-in, including destination charges. A very similarly equipped, and far more pedestrian looking Audi S5 Sportback will set you back more than $61,000, has less cargo capacity, and doesn't come with Kia's 10 year, 100,000 powertrain and 5-year, 60,000 mile basic warranty. The same story holds true with most other comparable premium sports sedans and wagons.
Plus, if you love the looks and practicality of the GT, but don't need quite as much performance, you can get into a base RWD Stinger with a 255 hp 2.0-liter turbo version for as little as $32,800.
While Kia's marketing of the Stinger GT has tended focused primarily on its performance chops, I think they should expand their messaging to embrace its practicality. This is truly one of those cars that could be the only vehicle in your garage. It's comfortable enough for daily driving, has plenty of space for hauling people and cargo, and is loaded with the latest technology. The icing on the cake is that it can zoom from 0-to-60 in 4.7 seconds, and handles like a proper sports car.