You Don't Need a Big Pickup Truck to Enjoy a Vacation on Wheels
armada | murano | nissan | nv | patrol | rogue | sae j2807 | Towing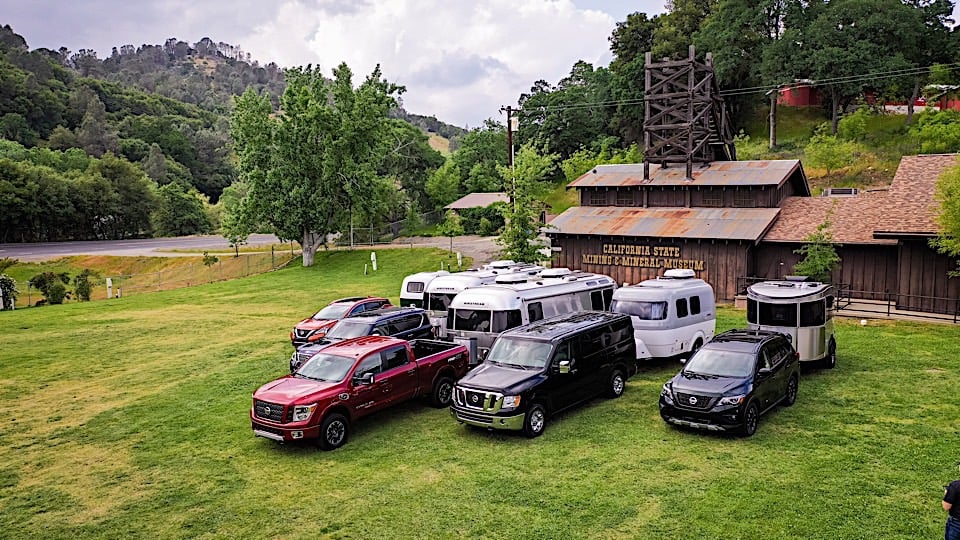 Large, heavy-duty pickup trucks are tools that can be used to tow the heaviest of things. The new Silverado, for example, can tow up to 35,500 pounds when properly equipped in HD form. Does that mean that you need one of these heavy-duty tech wonders to tow your boat or camper? No! In fact, you'd probably be surprised what your current family rig is capable of hauling.
In Europe, many people tow big, heavy campers with small cars. You don't see a lot of that here, partially due to laws and partially do to the standard measure we use to measure towing. The SAE J2807 standard for towing is a gruelling test that involves high heat, heavy braking, and steep grades while retaining a certain speed and cabin comfort. If you see a towing number listed in the United States for a vehicle sold here, it's likely been subjected to the SAE J2807 testing cycle.
Recently, I had a chance to head to Yosemite and tow some campers with some less-thought-of tow rigs. Nearly all of the SUVs and crossovers in Nissan's lineup is capable of towing a camper of some kind. As you prepare to take your summer family trips, you might have a more capable vehicle in your driveway than you expect.
One vehicle that you likely have in your garage is the Nissan Rogue. It's Nissan's best selling vehicle, and in some years has rivaled the Toyota RAV4 as the best selling non-truck in the United States. Statistically speaking, if you have a SUV, you have a Rogue. But what you might not know about that Rogue is that it's capable of towing a bit over 1,000 pounds. That's not much for a camper, but it is plenty of extra oomph to put a roof-mounted tent on your ride, while still carrying mountain bikes with you.
If you have a Murano, you can tow a small camper, good for a single person or a couple, like this Happy Camper shown here. That's because the Murano is capable of towing 1,500 pounds.
As you go up in SUV size, the more you are capable of towing. The Armada, Nissan's biggest SUV, based on the global Patrol, has a huge amount of towing capability at 8,500 pounds. That's more than the 2020 Ford Explorer. That's more than every single midsize pickup truck on sale. That's nearly the same as the SRT 392 Dodge Durango. Attached to an Airstream Flying Cloud, it's really all you or anyone needs for a weekend of camping fun.
However the real surprise is the NV passenger van. It's powered by a V8, of course, but it is designed to haul large groups of people, so you wouldn't expect it to be able to tow. But tow it can, pulling along up to 8,700 pounds.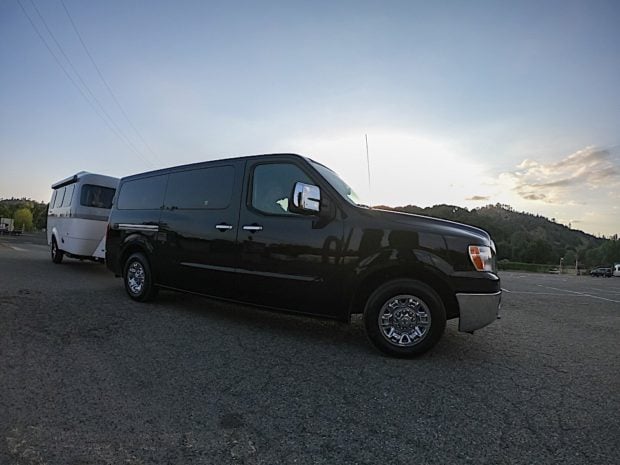 You should always consult your local laws regarding the use of trailer brakes, but most everything you'll buy these days has brakes built into the trailer. A wise investment is an electronic trailer brake controller if the vehicle you have doesn't have one (and it probably doesn't unless it's a towing-specific truck). Beyond that, a load-distributing trailer hitch is worth the money to ensure a more stable and safe towing experience. But really, that's all you'll need and your SUV is now capable of towing.
Are you unsure what your SUV can tow? A simple Google search of your vehicle and "towing" should provide you with the results you seek.
The main takeaway here is don't let your lack of truck ownership get in the way of having fun. There's a good chance what is sitting in your driveway right now can handle the camper or toys you were thinking about purchasing. Plus these days, with advanced safety technology, it's even easier and safer to hit the road with a trailer.