2019 BMW i8 Roadster Review: Hybrid Power, Wind in Your Hair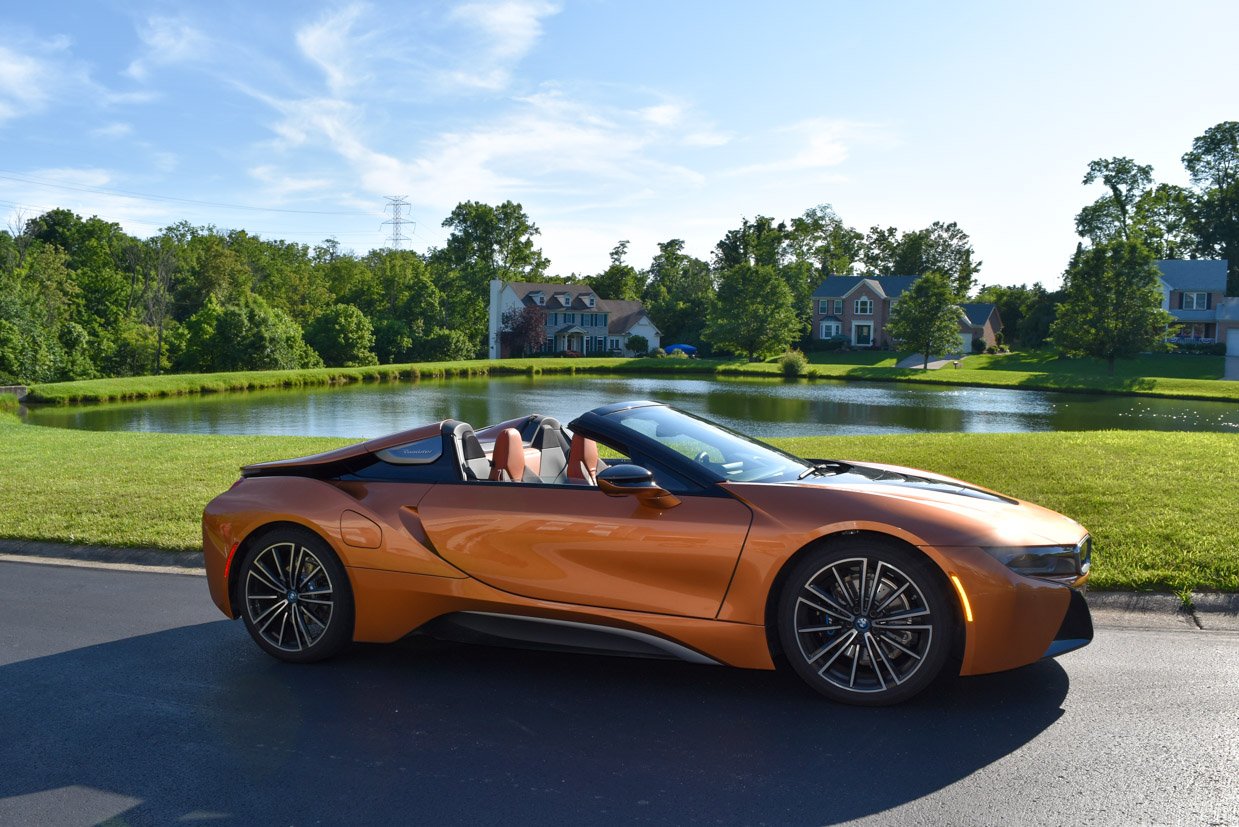 2019 BMW i8 Roadster

Engine: 3-cylinder turbocharged, with hybrid electric motor
Horsepower: 369
Torque (lb-ft.): 420
Transmission: 8-speed automatic
0-to-60 Time (secs): 4.4
Top Speed (mph): 155
City/Hwy/Combined MPG: 27 (gas avg) / 69 (hybrid avg)
Curb Weight (lb): 3501
Wheelbase (in): 110.2
Total Length (in): 184.9
Width (in): 76.5
Base Price (USD): $163,300
Price as Tested (USD): $166,795
Looks are everything to so many people. When looking at cars, the aesthetics are what draw people in. I remember the first time I saw the BMW i8 Roadster. As journalists, we aren't supposed to be so smitten and biased based simply on looks. But I am not ashamed to admit to I was immediately taken with the BMW i8. To me, this is what a Roadster should look like! This had so much styling that it grabbed hold of your eye and immediately put those hearts in the pupils, like an emoji. But for years, I never got to actually get behind the wheel of this supercar-looking car – until now.
My neighbors are used to seeing a plethora of vehicles parked in my driveway. Rarely does it garner much attention. But seeing this copper-colored convertible with gull-wing flip-up doors parked in my driveway got me a lot of attention. I can't tell you how many people stopped to stare, take photos of it, or screamed "nice car" when they drove by. Not since I drove the Audi R8 have I been this popular.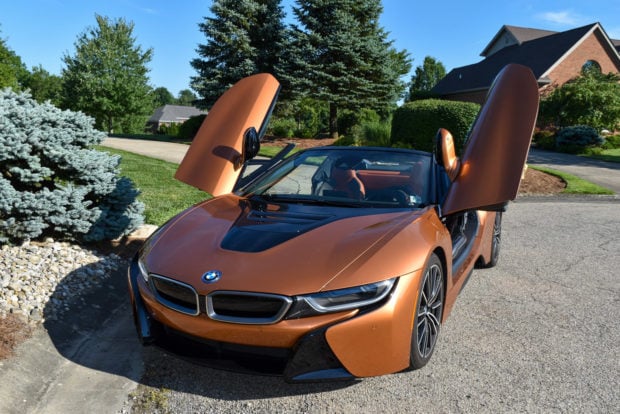 Neighbors wanted rides and I was happy to oblige. This car made many peoples' Snapchat, Instagram, and Facebook feeds. But, does this hybrid back up the sexy, powerful look with equally supercar performance?
In a word – no, but that doesn't mean it's not fun to drive. The i8 has a 3-cylinder turbocharged gasoline engine mated with an electric motor. Combined, the powertrain makes just 369 horsepower, which is far below supercar level. But, as is the case with most electric-powered cars, the torque is impressive, and the overall performance outperforms the output numbers. The R8 I had would destroy the i8 in a drag race or on a track. But that shouldn't take away from the overall performance of the i8, which had plenty of off-the-line speed, thanks to the electric motor. There was even a nice tuning of the engine to make it sound more intimidating than it actually was.
This squatty, low-profile convertible handles nicely. I was impressed with how it walked a fine line between feeling the road, and having ample comfort. This is thanks, in part, to the Dynamic Stability Control (DSC) and all-wheel drive systems. You can drive this car in Eco, Comfort and Sport modes, each having its own personality and characteristics. For supercar enthusiasts who want to feel every bump on the road, the i8 might disappoint a little, even in the sport mode. But for the average buyer, this car will be quite a show-off. Certainly the neighbors who I gave rides too had plenty of glee around corners and on the straightaways. When I revealed it was a hybrid, many were impressed. The i8 certainly shakes any false stigma affiliated with hybrids that they are pokey.
In gasoline only mode, the i8 averages 27 mpg. That's better than almost any other supercar out there. Combined with the two electric motors, BMW claims it can average almost 70 mpg. I certainly drove it fast and heavy-footed, and never had to refuel during my week with it.
The overall design of this car is a work of art too. It is the best-looking vehicle I've ever reviewed (and yes that includes the Audi R8 and the Bentley I've driven).  The short, kidney grille doesn't look like a typical BMW. The squinty headlights are nice, but the front end is more downplayed than the sides and rear. The gull-wing style doors add to its aggressive persona, while the back side is the most dramatic angle of the i8 Roadster. The curly-Q u-shaped brake tail lights are absolutely stunning.
Its 20-inch wheels dominate the car's profile, but it still sits very low to the ground. As such, this low-slung convertible is tough to get in and out of. And if you're over six-feet tall, it's even more difficult. Plus there's only 38.7 inches of headroom with the top up.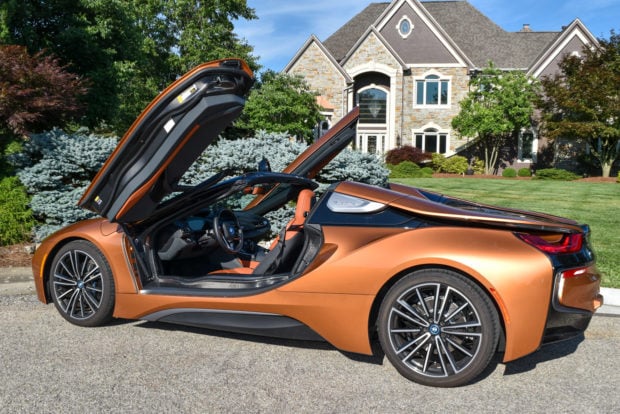 Once inside, the design elements continue to impress. The color scheme continues inside, with copper-colored leather seats, leather stitching, and carbon fiber trim making this work-of-art car even more of a masterpiece. The seats were comfortable with an ideal angle for driving. However, the two-seater has a downright dangerous blind spot with the roof up. And there were not blind spot monitors available, which was quite disappointing. Thankfully, the week I had this car, the weather was ideal, and it made for fun top-down driving.
BMW's infotainment, like many German-manufactured vehicles, feels slightly over-engineered. There was a learning curve to figure out all the nuances of the system with iDrive system and touch pad. The 8.8-inch touchscreen sits proudly in the middle of the dash, and doesn't interfere with driving or visibility. There's also a heads-up display that beams information to the driver. The three-spoke, leather-wrapped steering wheel felt great in my hands. The ambient lighting makes it feel futuristic at night, which is good since this car is light years ahead in styling. There are heated seats and Apple CarPlay compatibility to add to the perks. The Harman-Kardon premium sound system was nice as well.
Now how much does all this style and tech cost? The MSRP for the BMW i8 Roadster is $163,300. My tester had some added features, including the unique and eye-catching copper coloring, as well as the Travel Package. As such, my tester had a final sticker price of $166,795.
A bucket-list car is now scratched off my "dream" list. It was such a fun week and a memorable one. I'm not one who goes gaga for horsepower or raw performance. So, for me, the BMW i8 Roadster was everything I could want from a car. Now, who has a $167,000 I could have?