Dodge Challenger GT AWD Review: A Muscle Car for All Seasons
2019 | awd | dodge challenger | dodge challenger gt | April 1, 2020
---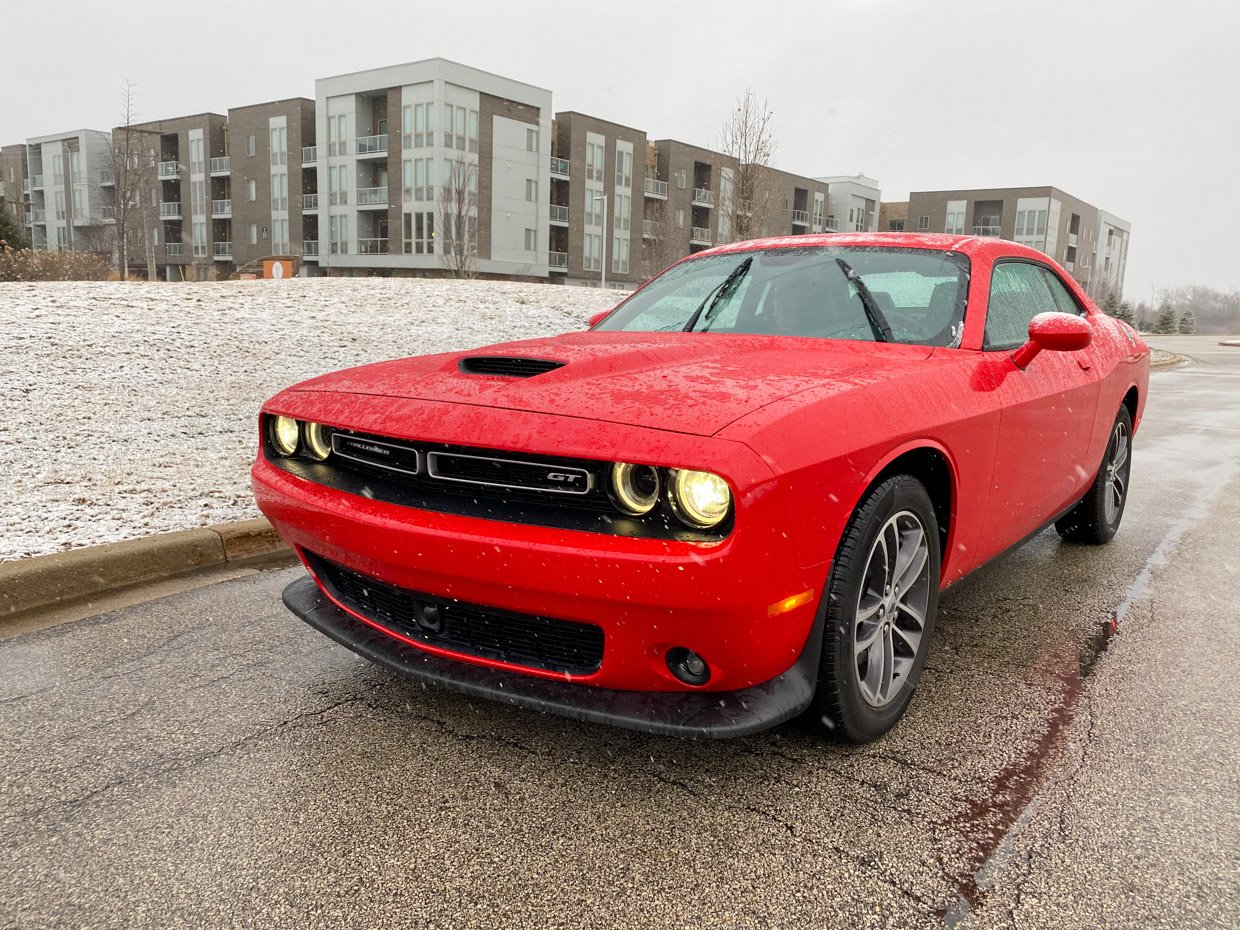 2019 Dodge Challenger GT AWD

Engine: 3.6L V6
Torque (lb-ft.): 268
Transmission: 8-speed automatic
Drive Configuration: AWD
0-to-60 Time (secs): 6.1
City/Hwy/Combined MPG: 18/27/21
Curb Weight (lb): 4078
Wheelbase (in): 116
Total Length (in): 198
Width (in): 76
Base Price (USD): $33,695
Price as Tested (USD): $43,760
Over the years, I've driven a number of vehicles based on FCA's full-size car platform, which underpins the Dodge Challenger, Charger, and Chrysler 300. Most of the models I've been in have been muscular rear-wheel drive cars with giant HEMI V8s, and crazy amounts of horsepower. That's what you want in a muscle car, right? But unless you love to fishtail, those kind of drivetrains are anything but friendly when the ground gets wet or snow is falling.
So what's a muscle car lover to do if they want a year-round daily driver? The Dodge Challenger GT AWD is definitely an option, thanks to its all-wheel drivetrain.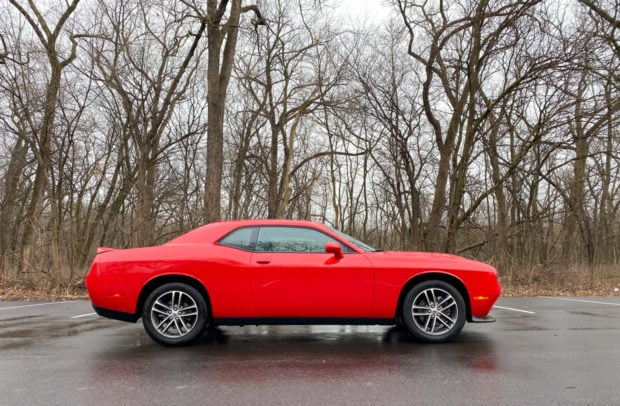 Now, the Challenger GT won't set any drag strip records, laying down 0-to-60 times around 6 seconds, but its 305 horsepower, 3.6-liter V6 engine still offers up a satisfying amount of grunt. Besides, when it comes to driving in the slippery stuff, more horsepower and torque is often your worst enemy.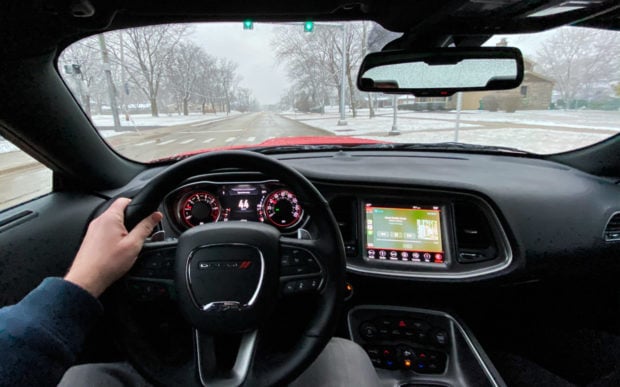 In a world where naturally-aspirated V6's are being replaced every day by turbo fours, it's a pleasure to drive a car with absolutely no disconnect between the pedal and acceleration. Coupled with an excellent ZF-sourced 8-speed automatic, I had no problem putting down power cleanly and in a nice straight line when the roads were covered with slush and sleet here in Chicago.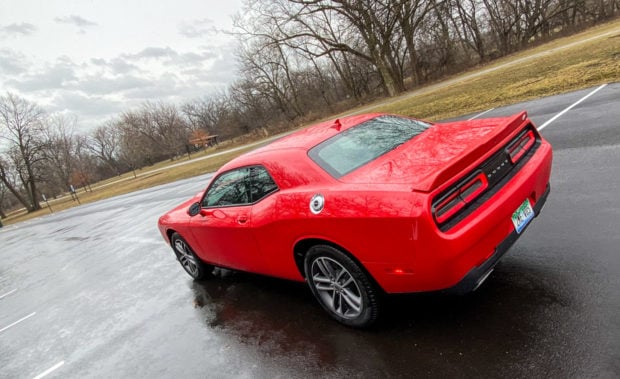 One thing that makes the GT model so appealing is that it gets many of the performance trim elements of higher-end Challengers, including an imposing hood scoop and a large front splitter. It's also got performance-tuned steering and suspension. It's still a heavy car, and has a bit of body roll when cornering or changing lanes at highway speeds, but the suspension does an admirable job keeping things reasonably well-sorted, while still offering good shock absorption for everyday driving.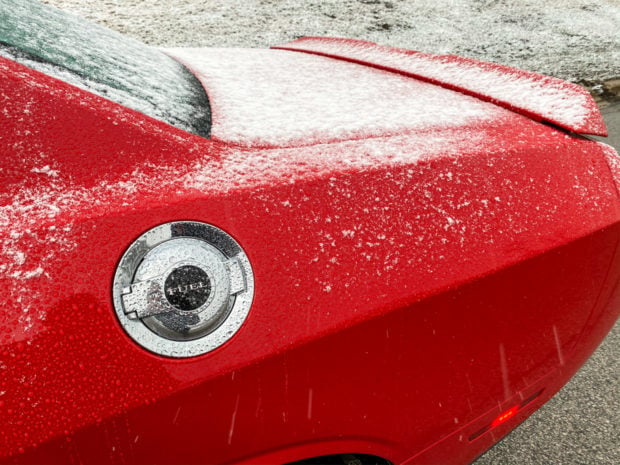 There are lots of slick tech features for gearheads here, with the ability to select from sport and normal modes for throttle mapping and traction control, along with sport, normal, and comfort modes for steering. The Super Track Pak displays all kinds of interesting telematics data, including horsepower and torque delivery, G-forces, and launch times. There's also a launch control mode, though I found didn't make as much of a difference in an all-wheel drive car as it does in a rear-wheel drive, shaving off just 1 to 2 tenths off of my 0-to-60 times.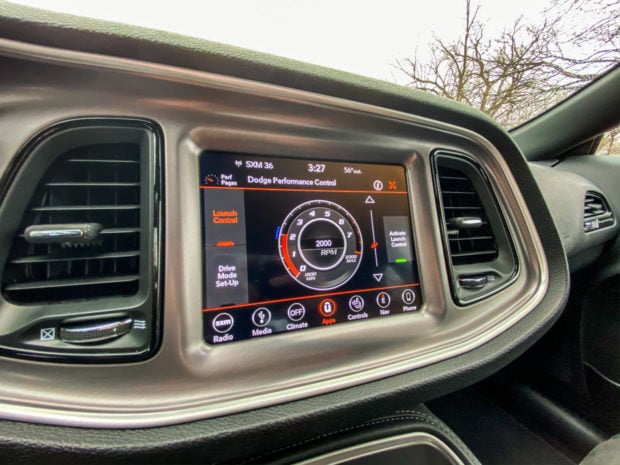 Fully loaded, the Challenger GT gets premium seats with Alcantara and leather seating surfaces, along with both heat and ventilation. These seats are extremely comfortable, while offering good support and bolstering. Combined with a cavernous trunk, Challengers make great road trip cars – for two people. The rear seat isn't particularly practical for anyone but kids, so if you regularly carry more passengers, the Charger GT AWD is a better choice.
The rest of the interior is similar to other Charger and Challenger models, offering a good sense of substance and sportiness, though I'd love to see some higher end materials on the dash and center console, given my tester's $43,000+ price tag.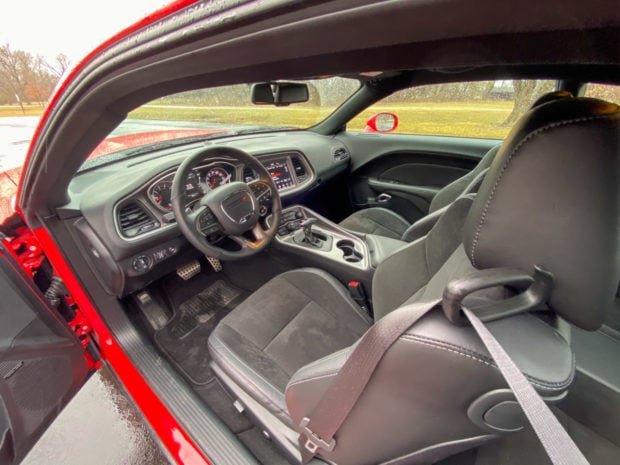 It's no secret that both the Challenger and Charger are all riding on an aging platform, but Dodge has done an admirable job extending the appeal of these vehicles. In the case of the Challenger GT, they've taken the muscular, performance-oriented styling of their most potent models, and bestowed it with year-round driveability in colder climates. With the Ford Mustang and Chevy Camaro being the only direct competitors with the Challenger, Dodge differentiates itself by offering an all-wheel drive model.