Ferrari Portofino M Packs a New V8 that Makes 612 Horsepower
2021 | convertibles | ferrari | Ferrari Portofino M
Ferrari has unveiled the latest version of its Portofino convertible grand tourer, the Ferrari Portofino M. The 2+2 has a new twin-turbo V8 engine that displaces 3.9-liters. The new engine uses turbos that can spin much faster than in past models, allowing it to produce 612 horsepower an increase of 21 hp. Torque output remains the same at 560 lb-ft.
The updated engine is paired with a new eight-speed dual-clutch automatic transmission replacing the old seven-speed unit. Ferrari promises that the new eight-speed delivers smoother gear changes at low speed and improved response. The Portofino M also gets a new exhaust system offering less back pressure and improved sound.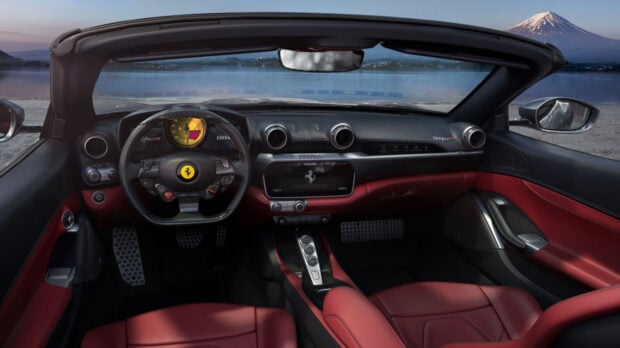 The updated car also adds a new Race setting to the Manettino Drive-mode selector joining the previous Wet, Comfort, Support, and ESC OFF modes. Ferrari also added new driver assistance technology including:
Adaptive Cruise Control with Stop&Go function for driving in traffic
Predictive Emergency Brake System that can alert the driver to potential collision risks readying the car to lessen the consequences of a frontal impact
Blind Spot Monitoring to alert drivers to vehicles in the blind spot
Lane Departure Warning with acoustic and/or visual alert that the car has strayed out of its lane
Automatic High Beam, which automatically turns on and off high beams when driving at night
Traffic Sign Recognition, which constantly displays the speed limits on the particular road/street vehicle
Surround View with 3D display
Rear Cross-Traffic Alert, which warns drivers of moving obstacles hidden in the car's rear blind spot, when reversing
Ferrari hasn't announced pricing on the new Portofino M, but the current Portofino is nearly $215,000. The car is likely to see a price increase with all of the vehicle's new safety technology.