2022 Ford GT LM Special Edition Is The Last GT of This Generation
2022 | carbon fiber | ford | ford gt | special editions | October 9, 2022
---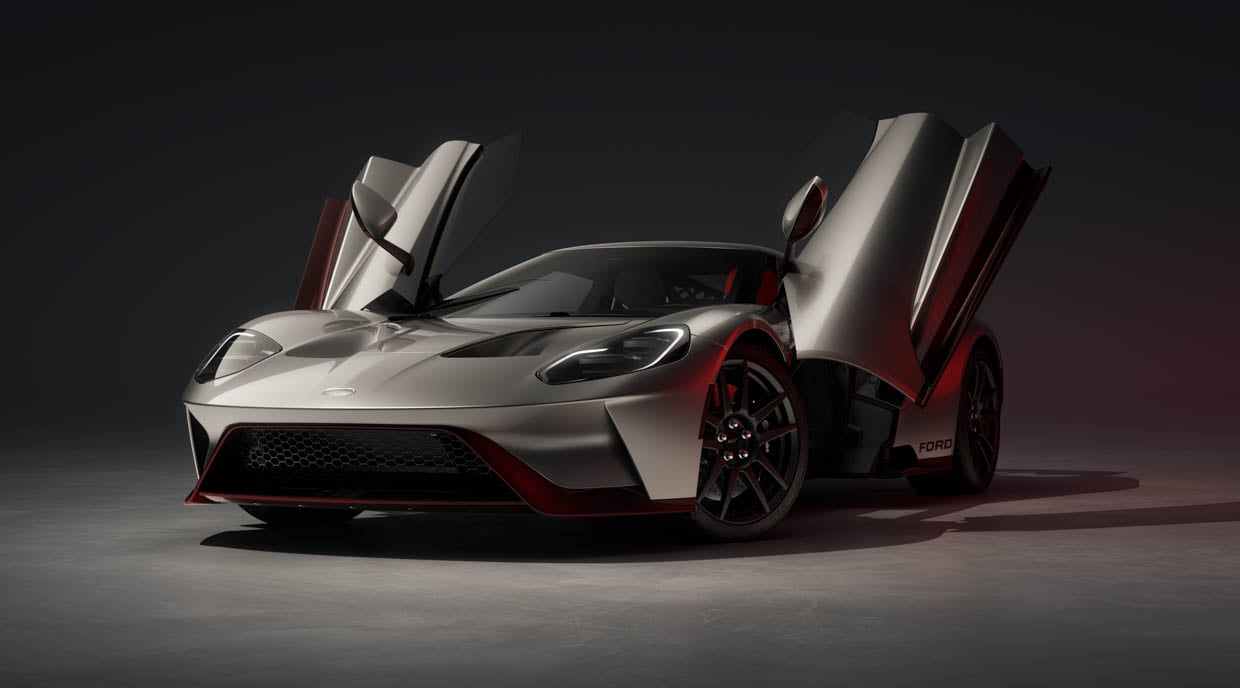 It seems like only yesterday that I attended the reveal of the drop-dead gorgeous Ford GT. In fact, it's been more than seven years since the car debuted at NAIAS in Detroit. Wow, does time fly or what? Ford Performance has announced that production of the street-legal GT is coming to an end this year and is sending off the car with a very special edition, dubbed the Ford GT LM.
Just 20 of these special edition cars will be made and feature unique design elements not found on any other Ford GT. In addition to a stunning Liquid Silver exterior paint, you'll find touches of red and blue, an homage to the prize-winning No. 68 Ford GT from the 2016 24 Hours of Le Mans. Most notable from the outside are the tinted red or blue carbon fiber accents on the front splitter, side sills, and door sills, along with the car's engine bay louvers, mirror stalks, and rear diffuser.
The 660 horsepower sports car rides on exposed carbon fiber 20-inch wheels which also have red or blue accents. Instead of brightly-colored brake caliper covers, the GT LM gets a more subtle black lacquer treatment.
Inside, you'll find Alcantara-wrapped carbon fiber seats with either a red or blue driver's seat. In an unconventional move, the passenger seat remains black, making the driver feel even more special as they squeeze their knees beneath the tight-fitting D-shaped steering wheel. The car's instrument panel is wrapped in Ebony leather and Alcantara, with carbon fiber accents on the console, vent registers, and A-Pillars
As a final special feature, the numbered metal instrument panel badge was made by grinding down the crankshaft from the Ford GT that took third place in the 2016 Le Mans race. These final cars will be produced between now and the end of 2022 and have all undoubtedly been snatched up by wealthy buyers on the GT reservation list.