The 2024 Hyundai Santa Fe Is a Boxy SUV for Adventurous Living
2024 | 2025 | hyundai | hyundai santa fe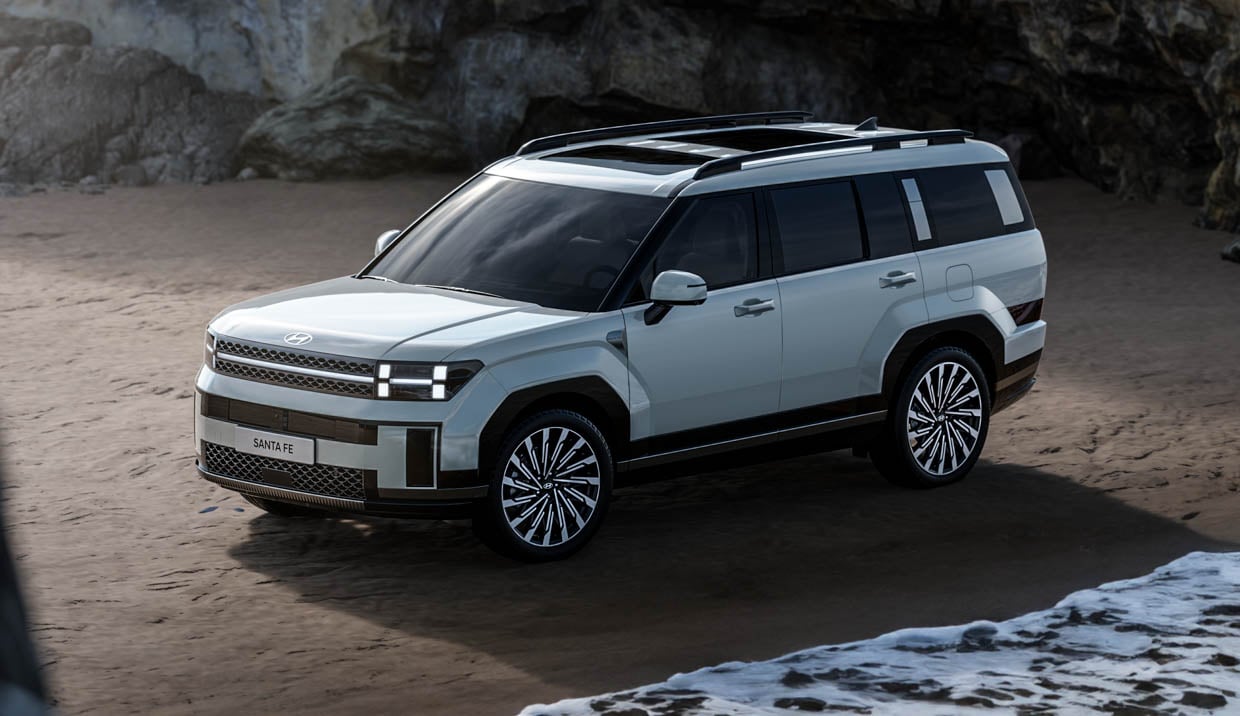 Between the Land Rover Defender, Ford Bronco, and Lexus GX550, boxy SUV styling is back in full force. The latest to join the squared-off squad is the new Hyundai Santa Fe. Marking a significant departure from its curvy current-gen model, the new 2024 Santa Fe is an entirely new vehicle, sharing nothing but a name and an SUV designation with its predecessors. Hyundai makes no bones about saying the new Santa Fe is designed for adventure and outdoor lifestyles, though we'll have to wait to see how capable it is off-road.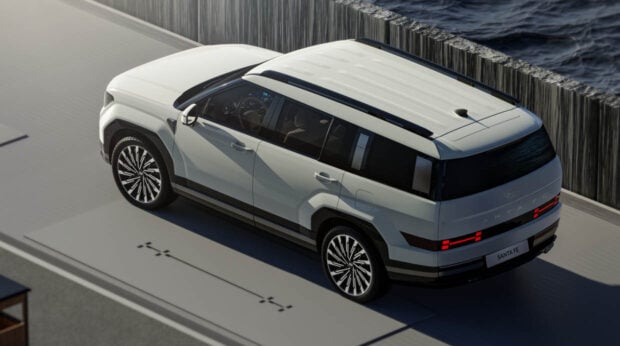 More than a few people have said the new Santa Fe looks like a Ford Flex too, and that's not a bad thing. I always liked the quirky design of that vehicle. However, the Santa Fe looks decidedly taller than the Flex. Hyundai hasn't revealed technical specs for the new Santa Fe yet, but it's definitely got a longer wheelbase than before and will be available with a third row of seats. Only time will tell if it's longer than the 196.7″ long Palisade.
The massive 21″ wheels shown on the renderings look like they came straight from a Lincoln Continental or Nautilus Black Label, further borrowing from other vehicles in the market. I really love the front-end design of the Santa Fe, with its horizontal bar light flanked by "H" accent lights on each side. There's no word yet on the drivetrain, but I did notice that the rear end of one of the renderings indicates a 2.5-liter turbocharged engine with H-TRAC all-wheel drive. One of the interior images also shows a Drive/Terrain mode switch.
The one angle that I'm not quite sold on is the Santa Fe's rear end. It's weird to see the H-shaped taillights positioned that low. They remind me of the lights on the old Toyota Previa/Estima minivan. I think it would have looked better if Hyundai's exterior designers flipped them with the Santa Fe badging. I suppose I'll have to wait to see it in person.
Inside, the new Santa Fe looks great. It has a streamlined, minimalist dashboard with 12.3″ widescreen digital displays integrated into a single curved panel. We're not sure what trim levels Hyundai will offer for the Santa Fe, but this one shows fancy Nappa leather on the seats, so I'd guess that comes with the top-of-the-line Calligraphy model or whatever they end up calling it.
A floating center console provides lots of room for storage and helps with the cabin's sense of openness. From the looks of things, it has dual Qi wireless charging trays, which is a nice convenience I've not seen in other vehicles to date. Hyundai also moved the shift lever to the steering column, providing even more room in the center console.
It's hard to tell from the picture below, but the second and third rows of seats appear to fold completely flat. Combined with a tall and wide liftgate, this should create a nice, sheltered spot for relaxing while overlanding, and lots of space for carrying camping gear.
I'm excited to see such a bold move from an automaker – especially on a vehicle that has sold so well for so long. But the Santa Fe was due for a redesign, and Hyundai needed to differentiate it from the Palisade as its size increased. If Hyundai can keep the Santa Fe priced well and improve its off-road capabilities even modestly, they're going to sell a ton of these.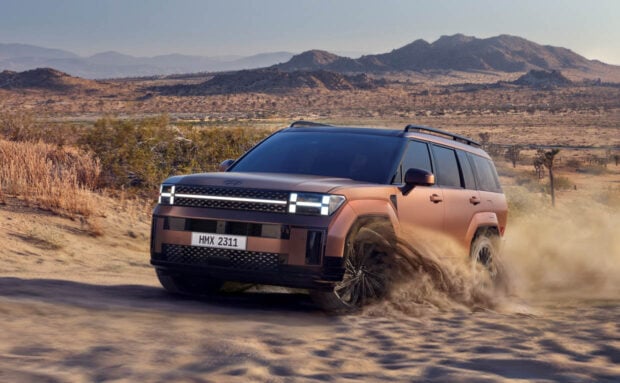 Hyundai plans on revealing more details about the 2024 Santa Fe this August on its YouTube channel, and the SUV will make its North American debut at the Los Angeles Auto Show this November.