2024 Kia Seltos SX Turbo AWD Review: Zesty, Zippy, and Spacious
2024 | compact | crossovers | kia | kia seltos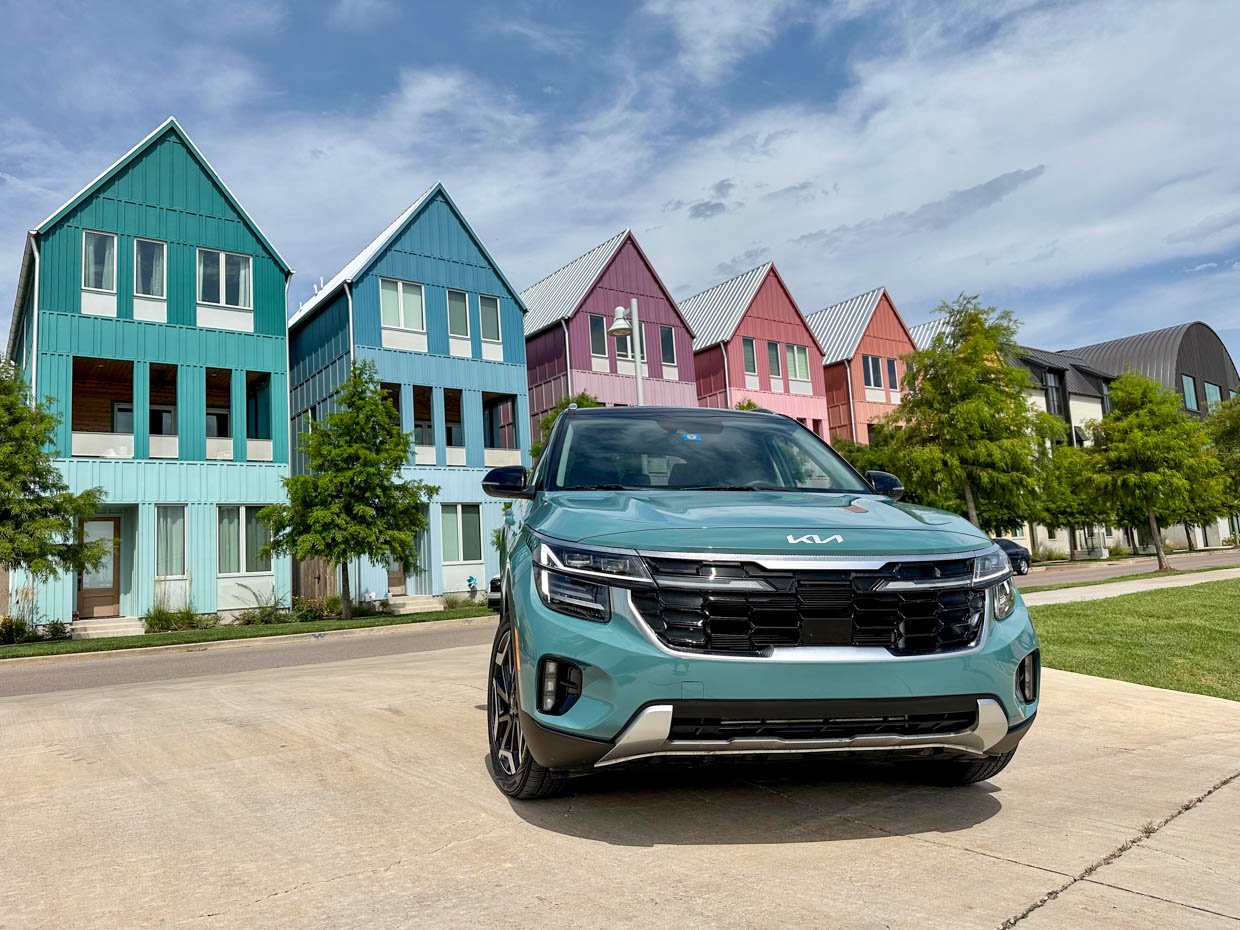 Like most major automakers, Kia sells a variety of SUVs and crossovers to suit different lifestyles and space needs. The 2024 Kia Seltos is about a foot shorter than the Sportage but still seats five comfortably. Standing at the top of the Seltos line is the SX Turbo AWD, which sets a high bar for a $30,000 vehicle – incorporating lots of appealing features, great interior space, and a spirited little turbocharged engine.
(Main photo by Gigi Leonard)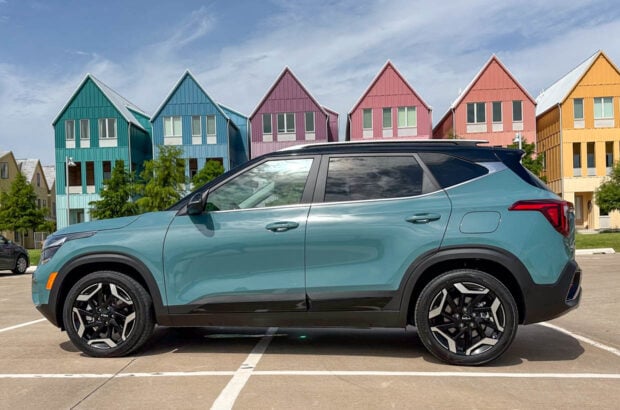 The Kia Seltos measures a manageable 172.6″ long and 70.9″ wide, making it easy to fit into tight parking spaces. It has an appealing modern design and a few lovely two-tone paint options, including this eye-catching Pluton Blue with a black roof. I especially like how Kia's design team incorporated non-traditional textures like the knurled-looking textured chrome surrounding the grille.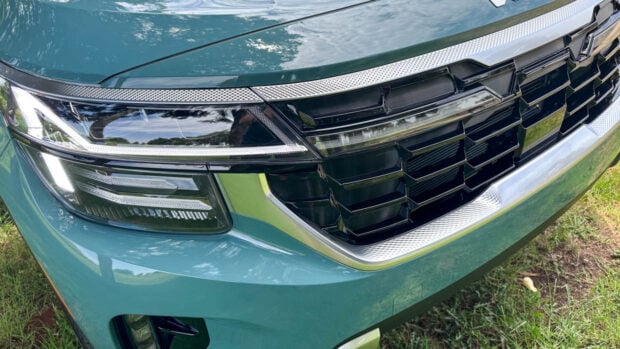 Both the Seltos SX and X-Line models are powered by a 1.6-liter turbo-4 engine that produces 195 horsepower and 195 lb-ft. of torque. That represents a meaningful bump in power from the 146 horsepower naturally-aspirated 2.0-liter that comes with less expensive grades. It also has an 8-speed automatic transmission rather than a CVT. Combined, these produce plentiful acceleration with minimal turbo lag and a 0-to-60 time of about 7 seconds. One trade-off with the more powerful engine and traditional transmission is that fuel economy is lower, offering 25 MPG in the city, 27 MPG on the highway, and 26 MPG combined. For comparison, the base 2.0-liter FWD model gets up to 34 MPG on the highway. The front-biased all-wheel drive system has torque vectoring to help the Seltos handle sharply around corners, and there's also a center-locking differential that lets you manually force front-to-rear torque split to 50:50. This can be helpful in low-traction situations or in the unlikely case that you take the Seltos off-road.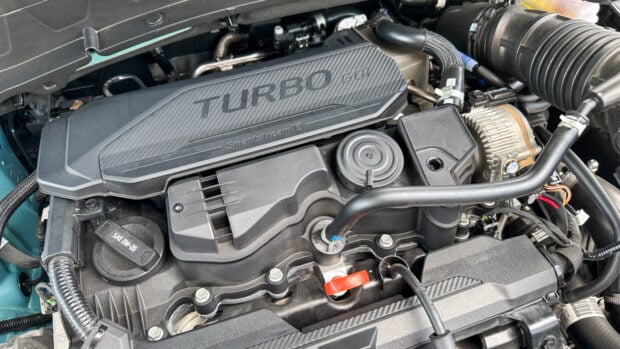 While the most engaging part of driving the Seltos is its powertrain, its steering and suspension are perfectly pleasant for a daily driver, if not particularly sporty. There are some nice driver's assistance features here, including intelligent cruise control, which uses GPS data to automatically adjust its speed when approaching curves. That system works with lane-keeping to provide a full Highway Drive Assist capability. It's not a fully hands-off system, but it really helps reduce fatigue on long road trips. Safety systems are well equipped, including forward-collision avoidance, automatic emergency braking with cyclist detection, lane departure warning, safe exit warning, blind-spot warning, and rear cross-traffic alert with collision avoidance tech. Brake auto hold comes standard and is a nice feature to have in stop-start traffic or when in line at a drive-through, letting you take your foot off the brake pedal after coming to a full stop.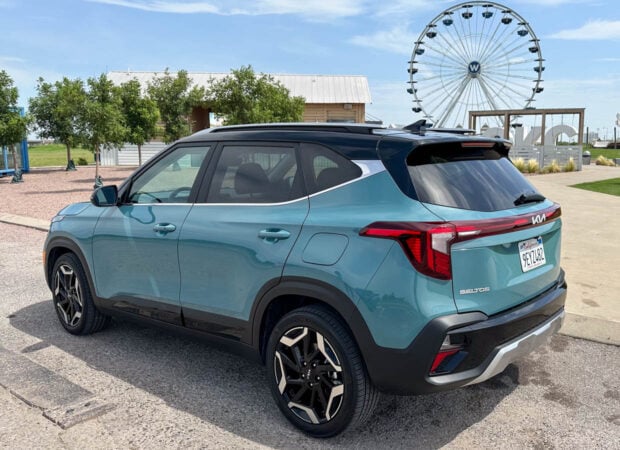 The cabin is nicely designed and offers excellent insulation from road noise, partly thanks to sound-absorbing windshield glass. The seats are covered in a convincing synthetic leather called SynTex which is durable and easy to clean, while most of the other interior materials are hard plastics. There's a bit more SynTex on the door armrests, but that's about it. I like the sporty D-shaped steering wheel and traditional console-mounted automatic shift lever. I did have a little trouble getting the angle of the steering wheel to my liking, but I think it's because it's got more of an upright driving position than I'm used to.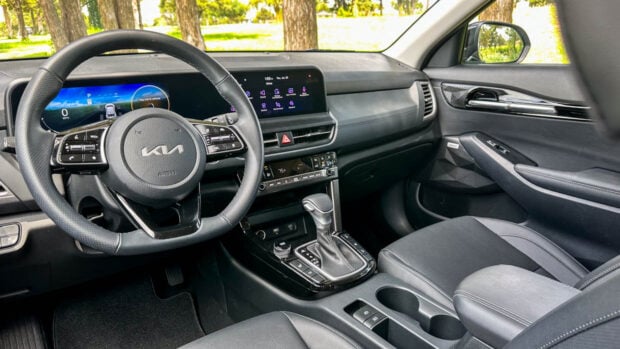 There's a sleek, dual-screen display unit that spans the left two-thirds of the dashboard. Both screens measure 10.25″ wide, with the left display functioning as a digital instrument panel and the right one providing access to Kia's smooth and responsive multimedia controls. That system has Apple CarPlay and Android Auto support, but they both require a wired connection. There's a wireless charging dock in the center stack positioned below the climate controls. Other convenience features include pushbutton start and heated front seats (with optional cooling). One unexpected feature is the sound-activated mood lighting, which does a nice job of illuminating the polygonal texture on the Bose speaker grilles.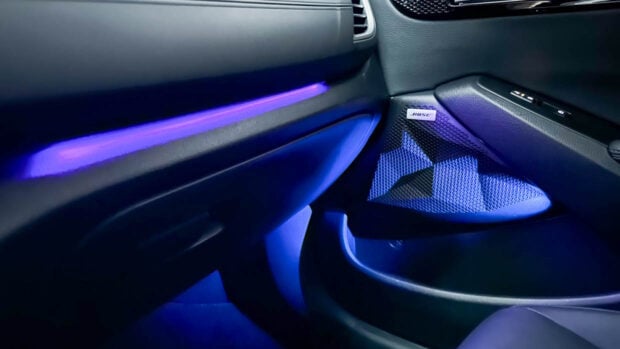 I always expect front seats to have good legroom, but a compact crossover rarely offers great space for second-row passengers. For a vehicle of its size, the Seltos excels in this area. Three adults can sit comfortably in the back seat, even if the front seat occupants are tall. The test I always do is to set the front seat to the proper driving position for my height (6 feet), then see if I can sit in the back seat without my knees hitting the driver's seat. I had no problem fitting in the back and had plenty of room for my knees and above my head as well. Second-row passengers get their own HVAC vents and a pair of USB-C ports for charging phones. The Seltos will also alert you if you leave something or someone (like a child) in the back seat.
Cargo space in the Seltos is significantly better than competitors like the Honda HR-V, Nissan Kicks, and Mazda CX-30, with up to 62.8 cubic feet with the back row folded. That drops to 26.6 cubic feet when occupied, but it's still plenty for carrying suitcases, groceries, and even golf clubs. The cargo floor can also slide into a lower track, increasing available cargo height by a few inches.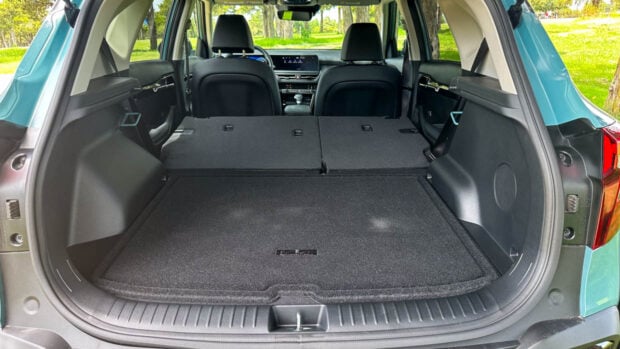 To sum things up, the Kia Seltos is a splendid little crossover. It offers excellent interior and cargo space, playful modern styling, and is nice and quick when equipped with the turbocharged engine. It's also reasonably priced. The 2024 Seltos SX starts at $29,990, including all of the features mentioned in this review except the optional ventilated seats. If you like the looks of the Seltos but don't care about power, the base Seltos LX starts at $24,390.