Is the Volvo EX30 the Best Small EV? Check the Price, Specs, and Horsepower
2024 | crossovers | swedish | volvo | volvo ex30
When it comes to getting around crowded city streets, parallel parking, and moving through traffic jams, a smaller vehicle is usually better. The new Volvo EX30 is the smallest crossover they're making, and it runs on pure electric power, making it more environmentally friendly and cheaper to operate than conventionally-fueled cars. Not only is the EX30 compact and efficient, but it will also come in a speedy variant that's faster off the line than most muscle cars.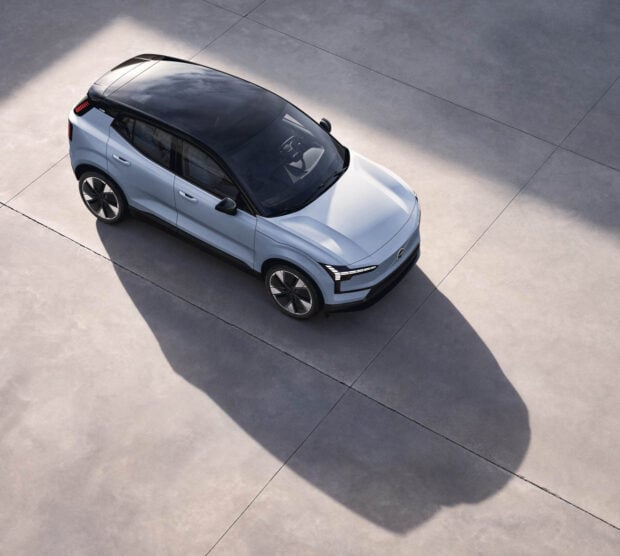 The sleek and modern EX30 measures just 166.65″ long, which makes it even smaller than a Nissan Kicks, and roughly the size of a Kia Soul. Its electric powertrain comes in three versions here in the U.S. The Single Motor Extended Range sends power to the rear wheels and produces a respectable 268 horsepower. That sends the cheapest EX30 from 0-to-60 mph in a respectable 5.1 seconds. Upgrade to the Twin Motor Performance model, and you'll get all-wheel drive, an impressive 422 horsepower, and a 0-to-60 time of just 3.4 seconds. That's 0.4 seconds quicker than a 2024 Ford Mustang Dark Horse. However, the EX30 has a top speed of just 112 mph, while the Mustang tops out at 168 mph. Regardless that launch time makes it the quickest production Volvo to date.
The single-motor Extended Range version offers 275 miles of driving range, and the dual-motor drops only slightly to 265 miles. Not bad for the power gain. Both will charge from 10% to 80% in as little as 26.5 minutes if you can find a 250 kW DC fast charger. All U.S.-bound models have a 64 kWh battery pack, while the Europe-bound Single Motor version has a smaller 49 kWh pack.
Inside, there's space for five passengers and a typically minimal Swedish design aesthetic. Volvo is offering four interior color schemes, to begin with, each inspired by nature and incorporating renewable and recycled materials. My favorite is the Indigo, which combines dark grey and deep blue denim textiles on the seats and door panels. An ambient illumination system slowly shifts colors at night, helping to set a serene mood.
The flat top and bottom of the steering wheel give it a sporty look, and the dashboard design is incredibly clean and spartan. The main feature is a 12.3″ vertical touchscreen at the center and an integrated Harman Kardon soundbar for the EX30's premium audio system. It's got a 1040-watt amplifier and nine speakers for immersive surround sound. And while I'm fully capable of parking a car myself, Volvo does the EX30 with Park Pilot Assist, which can help manage steering, acceleration, and braking in a wide variety of parking situations.
There's plenty of storage space for a vehicle of this size, with 14.1 cubic feet of cargo space behind the second-row seats. Those seats drop in a 60/40 split configuration for versatility and fold flat to provide a total of 31.9 cubic feet. There's also sub-floor storage and a small frunk storage space up front, which offers enough room for a charging cable and emergency tools.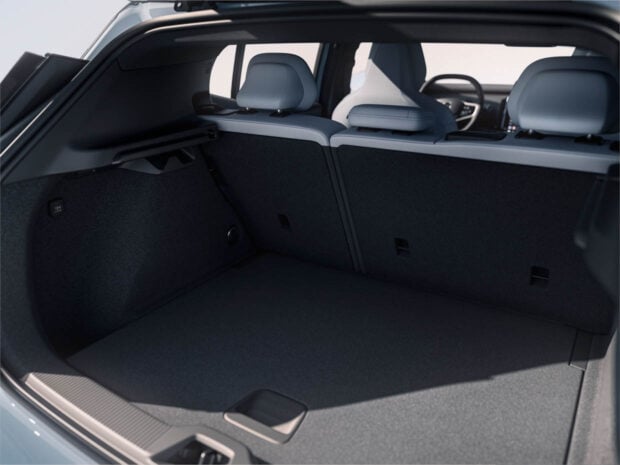 Pricing for the Volvo EX30 starts at just $34,950 for the Single Motor model, with the cost for Extended Range and Twin Motor Performance models yet to be announced. Volvo is taking pre-orders for the EX30 now. You can reserve one by visiting the Volvo website, selecting a local dealership, and placing a $500 refundable deposit. Buyers can customize their cars starting this fall, and deliveries will begin in the Summer of 2024. The way things are looking, the EX30 could be the best small EV you can buy, thanks to its compact footprint, fast charging times, elegantly-minimal design, price, and performance.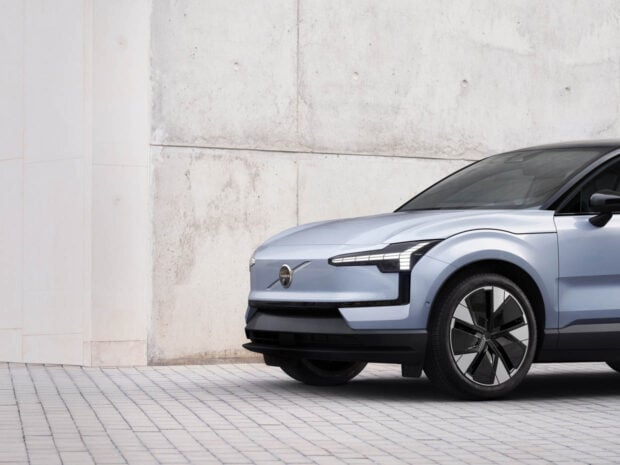 Be sure to watch Volvo's introductory film for the EX30, The Unboxing, for a closer look at its design and many features, as presented by Volvo Cars CEO Jim Rowan.