2024 Mercedes-AMG GT Coupe Increases Space and Goes AWD
2+2 | 2024 | mercedes-amg | mercedes-amg gt coupe | sports cars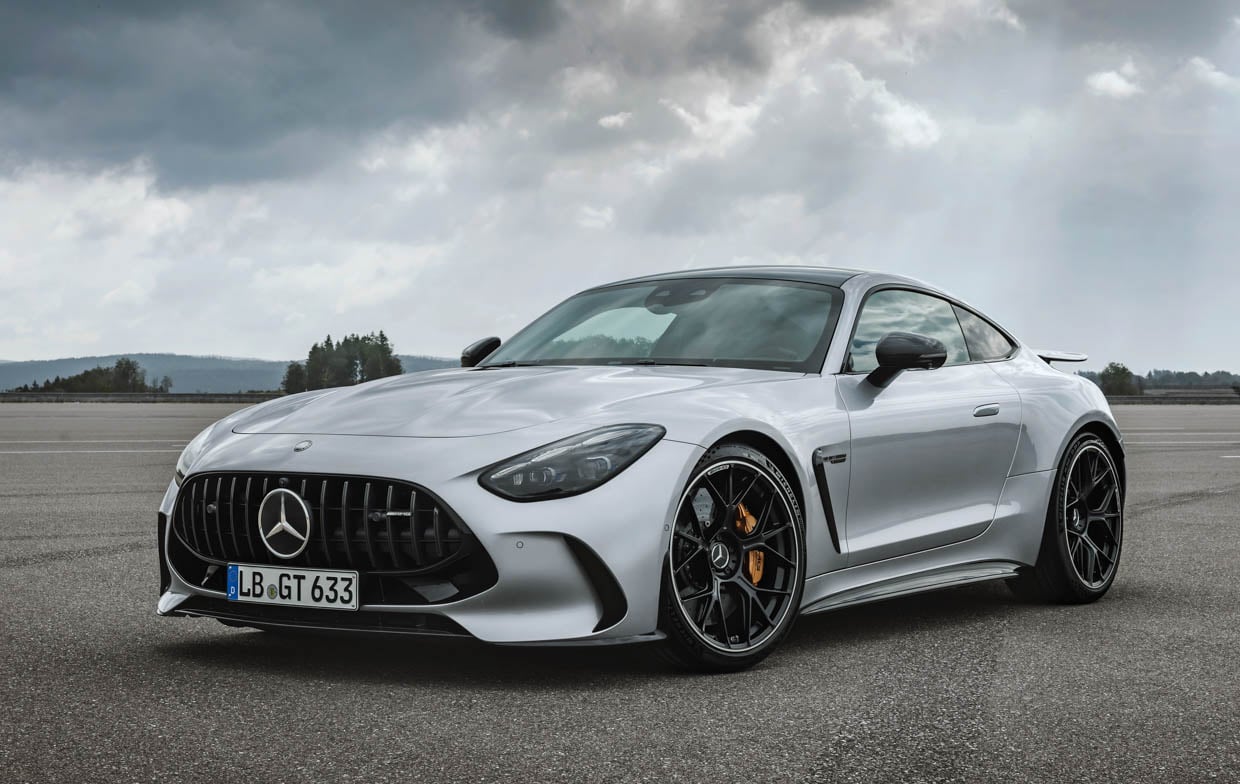 The 2-door Mercedes-AMG GT has been one of my favorite sports cars since it first hit the scene in 2014. Now, a decade after its original release, Mercedes has revealed a major redesign for the coupe, with the goal of making it more comfortable on longer road trips while preserving its performance. At first glance, the 2024 Mercedes-AMG GT Coupe looks similar to its predecessor, but it's substantially larger.
At 186.1″ long, the new AMG GT Coupe is 7″ longer than the prior model, with three of those inches added to its wheelbase. That added length means more cargo capacity and an available 2+2 configuration that lets a couple of kids sit in the back seat. The cabin has been redesigned for improved visibility as well.
Like the previous generation, the car has a front-mounted 4.0-liter twin-turbocharged V8 engine. The AMG GT 63 Coupe has been tuned to produce 577 horsepower and 590 lb-ft. of torque, while the AMG GT 55 Coupe has 469 horses and 516 lb-ft. of torque. You're looking at a 0-to-60 time of 3.1 seconds and a 196 mph top speed in the 63 and 3.8 seconds/183 mph in the 55 model.
Since the new model now rides on the same platform as the SL Roadster, it now benefits from a 4MATIC+ all-wheel drivetrain. That system can split torque evenly between the front and rear wheels when traction is needed but can also send up to 100% of power to the rear for sportier handling.
The dual-clutch transaxle has been replaced with a performance-tuned 9-speed automatic transmission with a multi-disc wet clutch for fast shifting. AMG Active Ride Control suspension comes standard, and the multi-link front and rear axles have forged aluminum parts to reduce weight. There's an electronically-controlled rear limited-slip differential, along with rear-wheel steering to help the car corner on a dime. An active rear spoiler deploys from the trunk lid to improve downforce at high speeds.
Inside, you'll find Mercedes-AMG's typically-refined balance of luxury and technology. Body-hugging sport seats come standard, while the upgraded AMG Performance seats have back ventilation and automatically-adjusting side bolsters which conform more tightly in Sport, Sport+, and Race modes. At the center of the console, you'll find an 11.8″ multimedia touchscreen. The Performance screens display information on engine output, lateral acceleration, all-wheel drive power distribution, and monitoring of tire pressure and fluid temperatures. The Track Pace telemetry system captures and displays everything from speed and acceleration to steering angle and brake pedal actuation.
While the prior model had only 10.1 cubic feet of storage space, the 2024 model has 11.3 cubic feet with the rear seat in use and up to 23.8 cubic feet of space with the seat folded down.
Pricing for the 2024 Mercedes-AMG GT Coupe has yet to be announced, but we do know that the car will start arriving in U.S. dealerships in the first half of 2024.