2023 Hyundai Tucson PHEV Review: A Pleasant Plug-in with Plenty of Passenger Space
2023 | hybrid | hyundai tucson | phev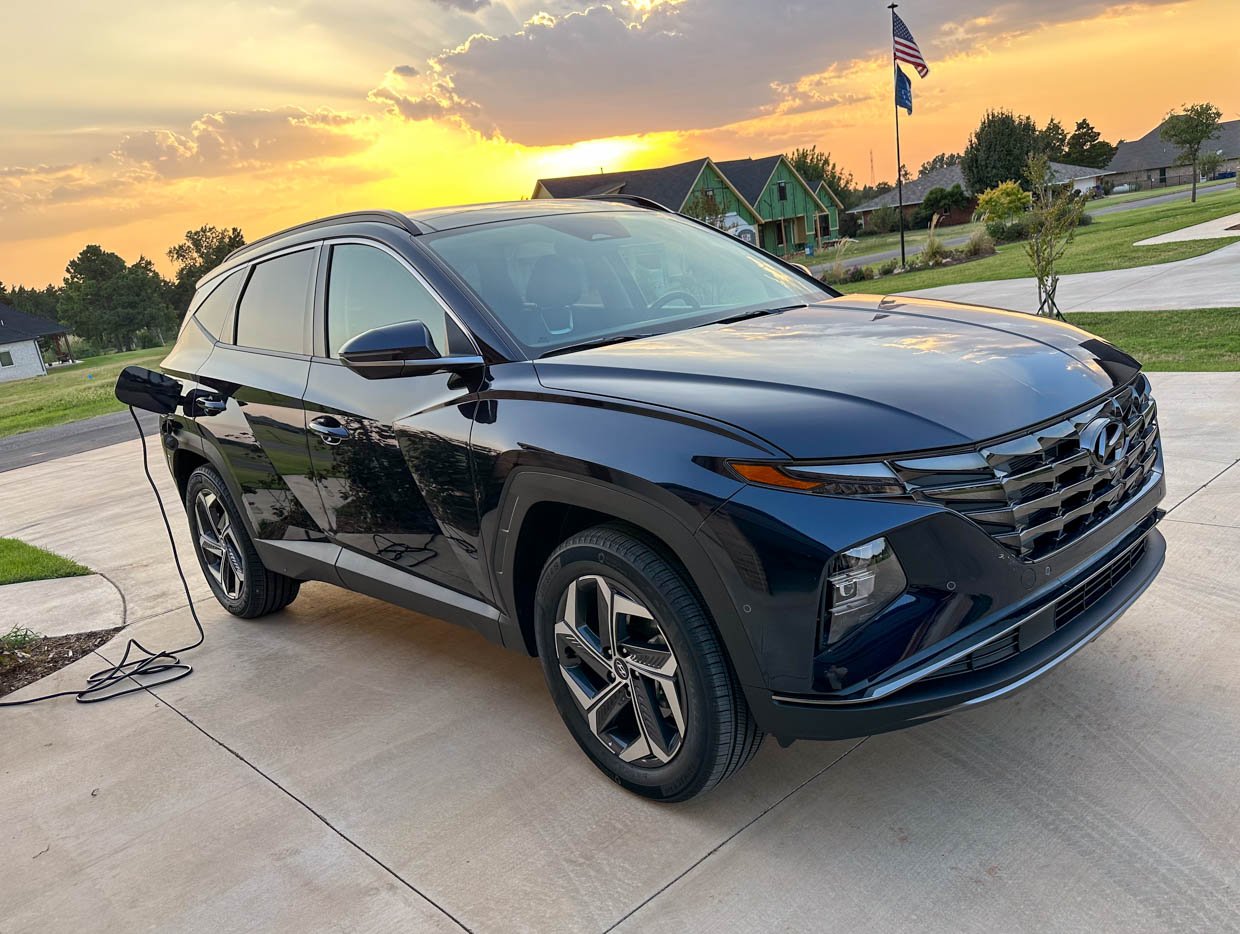 When it comes to compact crossovers, the current generation Hyundai Tucson is one of the best-looking of the bunch. Its got distinctive, modern styling, a pleasingly styled interior, and great cabin space for its size. I've driven the Tucson Hybrid before and really enjoyed it. Now, I've spent a week living with the even more energy-efficient Tucson plug-in hybrid, which can drive up to 33 miles on pure electric power. As with most PHEVs, this makes it an excellent choice for anyone with relatively short commutes, as it lets you do daily driving on electric power while still offering the road trip ability of a hybrid.
I like the faceted design elements that appear throughout the exterior of the Tucson. While it has a relatively curvy profile, it's been set apart from other crossovers with origami-like creases in the body panels. Combined with black lower body trim and pinwheel-inspired 19″ alloy wheels, it's one sharp-looking vehicle.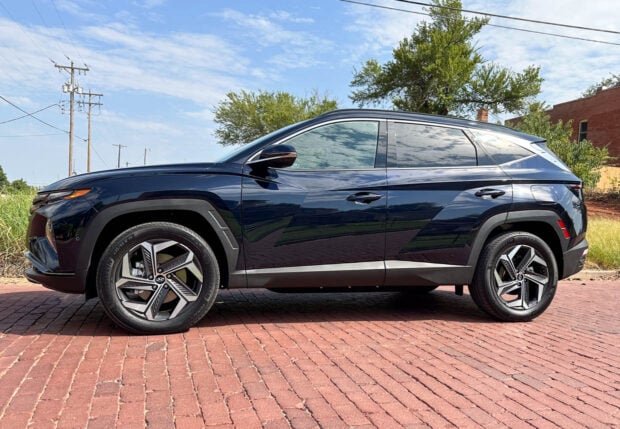 The Tucson PHEV is powered by a 1.6-liter, inline-turbo 4-cylinder engine that makes 180 horsepower and 195 lb-ft. of torque. That works in concert with a 90 horsepower electric motor that produces an impressive 224 lb-ft. of torque. Because you can't just add those numbers together, you end up with 261 horsepower and 258 lb-ft combined. of torque. A 13.8 kWh battery provides up to 33 miles of pure-electric driving range. In real-world driving conditions with temperatures hovering around 100ºF, I managed an average of 26 miles in electric mode. Remember that most of my electric driving was at highway speeds, so you'll likely do better with stop-and-start traffic regenerating some energy. Once you run out of electric power, the Tucson behaves like a regular hybrid and turns in a respectable 35 MPG combined. Charging up is nice and quick – 1.7 hours with a 240-volt Level 2 charger. I plugged into a standard 110-volt outlet and fully recharged overnight with the charger set to draw up to 12 amps.
The PHEV model is reasonably quick, with a 0-to-60 time of just over 7 seconds. That makes it the fastest variant available. On-demand all-wheel drive comes standard, with power heading to the rear wheels not through a direct-drive motor but via a conventional transmission and driveline. To help with traction in slippery situations, an AWD lock button ensures power is distributed evenly between the front and rear axles. I wouldn't call its handling particularly dynamic or engaging, but it is a pleasant car to drive, and the Tucson's suspension absorbed shocks well on bumpy roads.
The 2023 Tucson PHEV comes in two grades in the U.S. – SEL and Limited. The SEL has cloth seats, while the Limited has leather seats, a power passenger seat, ventilated front seats, ambient lighting, and an upgraded Bose audio system. Both grades get heated front seats, an 8-way power driver's seat, and a 10.25″ touchscreen with navigation. The interior isn't as dramatically styled as the exterior but is upscale and loaded with nice soft-touch surfaces. The SEL has a 4.2-inch screen between analog gauges, while the Limited gets a widescreen, a digital instrument cluster. The seats offer good support, and visibility is excellent. The center console features pushbutton shifting for the transmission and buttons for drive mode, auto brake hold, AWD lock, park sensors and camera, and seat and steering wheel temperature controls.
Safety and convenience technology is here in abundance. Standard features include intelligent cruise control, front collision avoidance, driver attention warning, blind-spot collision avoidance, lane-keeping and following assist, rear cross-traffic alert, safe exit warning, and rear occupant alert. The Limited steps things up by adding highway drive assist, nav-based cruise control that slows down in  curves, parking collision avoidance, park distance warning, rear intelligent parking assist, and a surround-view monitor. Out of all of those features, the highway drive assist is the one I relied on most, combining lane centering and adaptive cruise control features to reduce fatigue on long road trips.
The Limited model's cabin gets lots of light thanks to a large, two-section panoramic moonroof. The front part of this can slide or tilt open to provide ventilation, while the rear section is stationary. Back-seat passengers will enjoy phenomenal headroom and legroom for a compact crossover. There's plenty of room for tall passengers in all five seats. The Limited also gets heated seats in the second row. For those of you with little kiddos, the back row has LATCH lower anchors and upper tether anchors for safely installing child seats. There are USB ports in the front and rear and a Qi-compatible wireless charging dock in the front console. Android Auto and Apple CarPlay come standard, but they're wired only.
Luggage and grocery hauling space is good, too. The second-row seats have a 60/40 split for flexibility. Tucson buyers will enjoy up to 66.3 cubic feet of cargo space with the seats folded down and 31.9 cubic feet with the seats in use. The seats can be folded remotely from the cargo area with the flip of a lever, and there's a hands-free power rear liftgate that can open automatically when you approach the rear of the vehicle with the key fob in your pocket.
Because of the battery and other EV components, the 2023 Tucson PHEV is nearly $6,000 more expensive than the Tucson Hybrid, with the SEL grade starting at $37,500 and the Limited shown here starting at $44,560. For the 2024 model year, those prices increased to $38,475 and $45,200, respectively. If you frequently drive short distances, the PHEV is worth the extra money, but if you want all the same features and fuel efficiency is your main concern, the Tucson Hybrid will serve you equally well and for less money.