Kia GT4 Stinger Concept Unveiled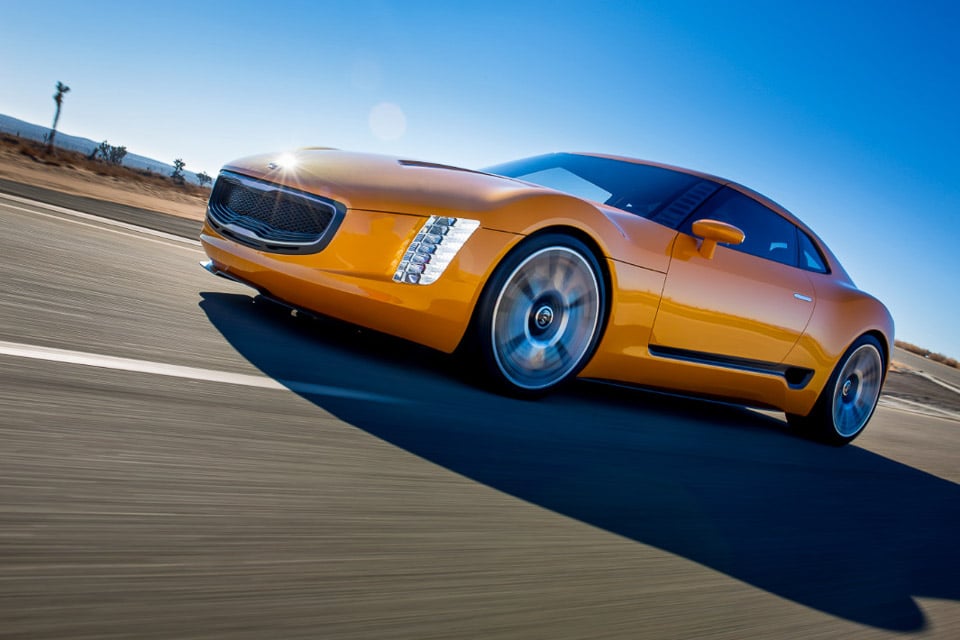 Kia officially took wraps off the Kia GT4 Stinger Concept that they hinted at recently and the two door, 315 horsepower, rear-wheel drive looks like nothing we've seen before from the Korean car maker. The GT4 Stinger's stunning looks begin with vertical LED headlamps that frame a multi-layered deep black grille surrounded by a glowing white border. Moving back, hood has two chrome accent pieces that hint of vents and the car's A-pillars are transparent, providing the driver a 270 degree view of his surroundings.
At the back, the Kia has a hatch that opens to unveil a storage compartment and the rear is finished with distinctive taillights that wrap around the corners. The most eye-catching feature at the back has got to be the illuminated GT4 Stinger badge in the center.
Inside, the GT4 Stinger is outfitted with molded leather race-inspired bucket seats and red-stitched pull-strap door handles. With no carpeting and billet-aluminum pedals, it's easy to see the car's simplistic, race-inspired styling become apparent. The instrument panel is lit with brilliant red LEDs and contains a large tachometer and gear indicator. In keeping with the track theme, the GT4 Stinger even passes on an audio system, with the chief designer at Kia Design Center America, Tom Kearns, stating "The audio system starts under the hood and the speakers are the exhaust pipes."
Speaking of exhaust notes, Kia powers the GT4 Stinger with a tuned version of Kia's 2.0-liter turbocharged gasoline direct injected (T-GDI) four-cylinder engine that Kia runs in its Optima race cars, in this case putting out 315 horsepower versus the Optima's 400. Its engine is hooked to a six-speed manual transmission driving the rear wheels. The car's custom 20-inch aluminum center-lock wheels feature carbon fiber inserts for strength and weight reduction and behind its wheels are Brembo Gran Turismo brakes.
The Kia GT4 Stinger Concept is just 169.7 inches long and weighs in at 2,874 pounds with weight distribution is spread nearly perfectly at 52 percent up front and 48 percent at the rear.
Kia has said they have no plans to produce a production version of the vehicle, but the car serves to provide a possible and highly provocative glimpse into Kia's future. And you never know; so when can we take on for a spin?