1970 Ford Torino King Cobra Prototype for Sale
auctions | ford | nascar | June 18, 2014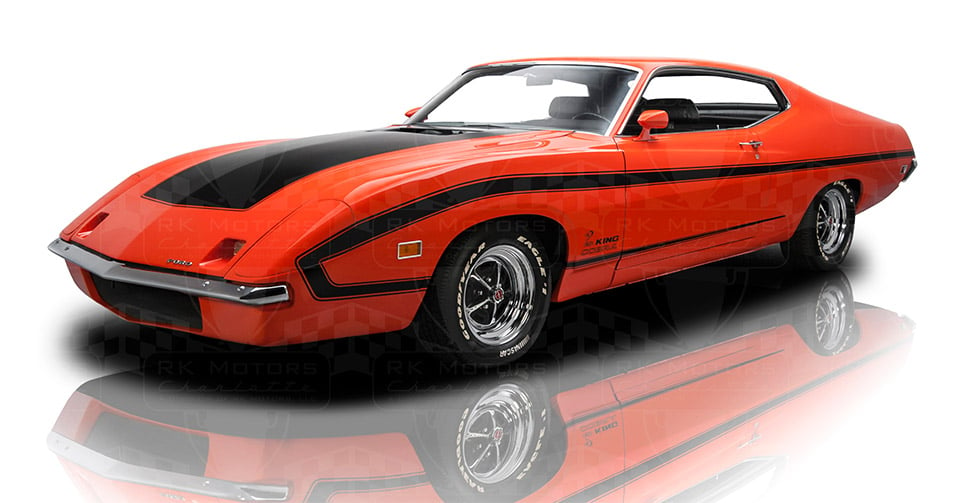 This very special 1970 Ford Torino King Cobra prototype vehicle is just one of two ever made. Designed as a test mule for Ford's NASCAR performance racing tech, the car is powered by a 700hp Boss 429 Hemi Head V8 engine with a Toploader 4-speed manual gearbox. Based on the Ford Torino, the most obvious changes are the aerodynamic wedge front end with removable headlight covers and its convex rear window. The front actually looks like an oversized Datsun Fairlady Z with its headlights exposed, though from its side, it's 17.5-foot length couldn't be mistaken for anything else.
The cars were built during a period when NASCAR was dominated by Ford and Chrysler, and both companies were on the hunt for the extra race advantage through improved aerodynamics. And while the car had a serious chance at dominating the Dodge Charger Daytona on the track, the car met its demise when Ford's new Chief Lee Iacocca slashed their racing budget.
Fortunately for us, both prototypes were saved by NASCAR car owner Bud Moore – who managed to pick them up for just $1200 for the pair back in 1971.The cars were eventually put out to pasture, but some enterprising car fanatics came across this one in a South Carolina field, and worked diligently to restore it to its original glory.
While the interior of the King Cobra is unspectacular, it's the aero work, what's under the hood, and the overall history that make this car truly exotic. If you've got deep pockets, it's for sale from RK Motors Charlotte for $549,900(USD).