2015 Saleen S302 Mustang Specs Revealed
ford | mustang | saleen | September 24, 2014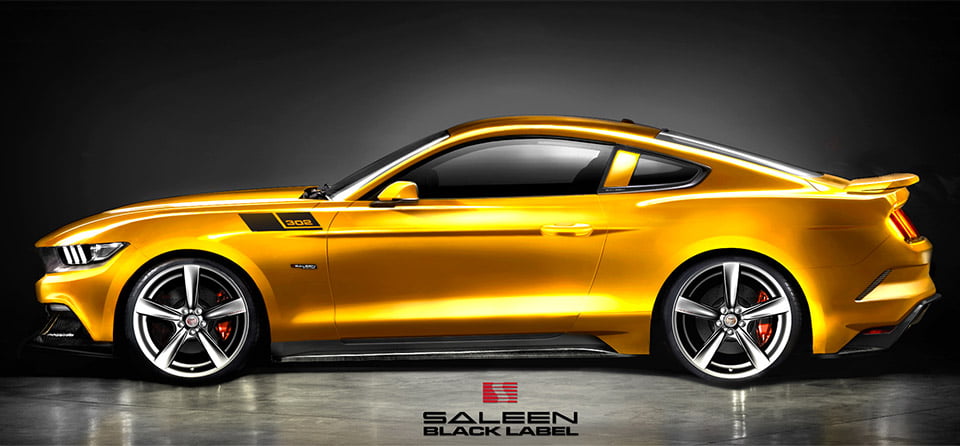 With their latest teaser image, Saleen reminds us that they're not just working on electric cars these days, but they're still doing what made them great, tuning and modding Mustangs. The 2015 Saleen S302 Mustang still hasn't been shown in detail, but here's what we now know about this amped-up pony car…
You'll be able to choose from three main variants: White Label, with 450hp and 410 lb.-ft. of torque, Yellow Label, with a supercharger-driven 640hp and 565 lb.-ft. of torque, or the Black Label, which has the same power as Yellow, but a number of styling and aero upgrades.
In the fastback version, you'll get a scenic panoramic glass roof, while the convertible version gets a windscreen, style bar, and other upgrades from the base Ford model. All three models get a high performance exhaust system, upgraded springs, swaybar pivot bushings, 20″ 5-spoke alloy wheels, a high-downforce rear wing, and ZR-rated tires. Go for the Black Label, and you'll get a cooling-enhanced front fascia, with radiator and brake intakes, LED marker lamps, Saleen's "Red Butterfly" induction hood, side skirts with brake air intakes, and an upgraded rear fascia with integrated exhaust and LED race lamps. You'll also have the option of numerous custom metallic and pearl paints for the Black Label model.
Inside, you'll get Saleen's signature white-face gauges, a leather-wrapped steering wheel, Saleen-badged floor mats, headrests, and stainless sillplates. Upgrade to the Black Label, and you'll get leather and Alcantara performance seats, illuminated sill plates, and a Saleen signed dash plaque.
Saleen is likely to show a completed car at this November's SEMA show in Las Vegas. In the mean time, you can reserve a car with a deposit of at least $2,015(USD) here. Final pricing for the completed cars has yet to be announced.