Review: 2016 Audi TT Roadster 2.0T quattro
audi | audi tt | convertibles | roadsters | April 18, 2016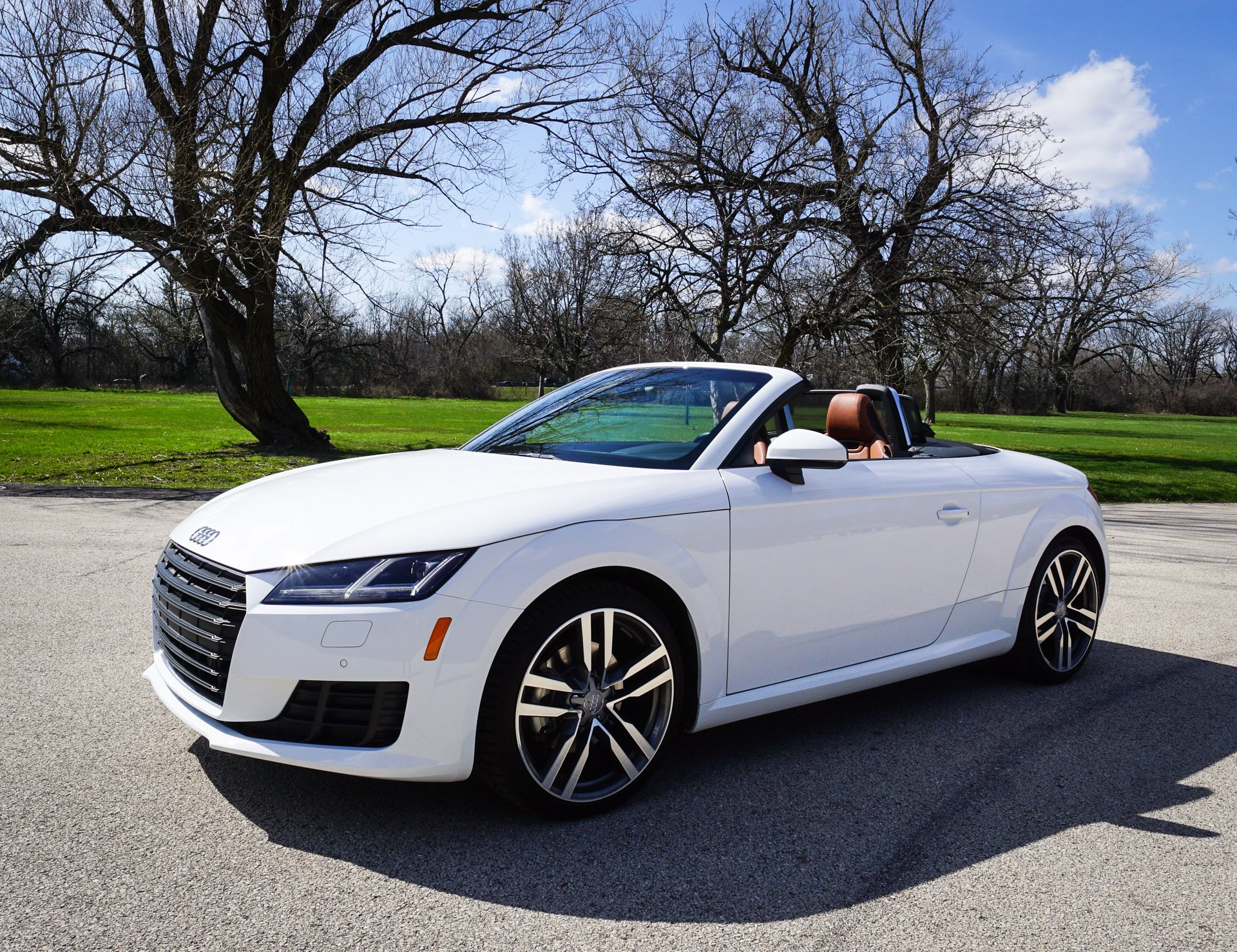 Specs at a Glance

Engine: 2.0L turbocharged TFSI 4 cylinder
Horsepower: 220
Transmission: 6-speed S tronic dual-clutch
Drive Configuration: AWD
0-to-60 Time (secs): 5.6
Top Speed (mph): 130
City/Hwy/Combined MPG: 23/30/26
Curb Weight (lb): 3384
Wheelbase (in): 98.6
Total Length (in): 164.7
Base Price (USD): $46,400
Price as Tested (USD): $54,125
Audi has been making its TT Roadster since 1999, and it's always been a fun, and visually appealing little 2-seater. While previous generations might have been enjoyable, it never handled as well as I'd want a sports car to. With the latest models, that is but a distant memory, and the TT is now as great to drive as it looks.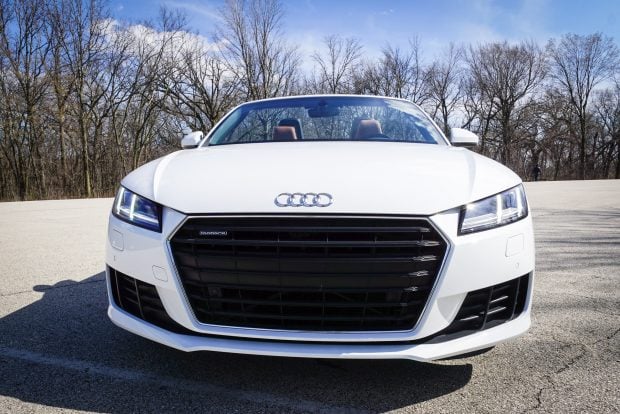 While the proportions of the TT have been largely unchanged over the years, it's definitely seen some big styling updates over the last two model years – most notably, the big singleframe grille up front, flanked by modern LED headlights and slick, angular daytime running lights.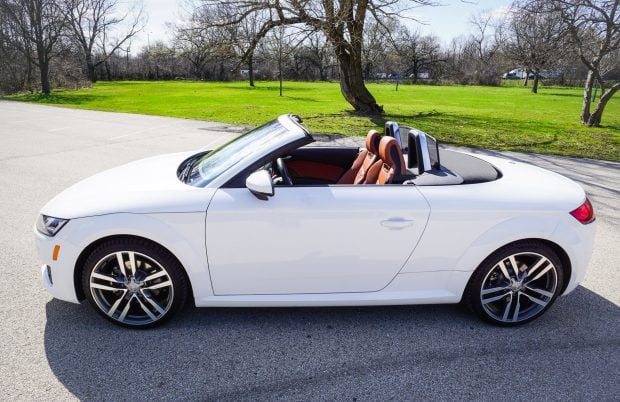 The TT saw a big platform update for the 2015 model year, and this is the first time I've driven one since that redesign. Compared to prior generations, the new TT offers great structural rigidity, and it handles like a dream. Cornering and grip is crazy good, thanks to a combination of the car's low center of gravity, front-to-rear balance, Audi's excellent quattro all-wheel drive system, and torque vectoring which helps it turn on a dime by applying a small amount of braking to the inside wheel when turning. I found the electronic steering rack to be very responsive, if a bit light for my personal tastes.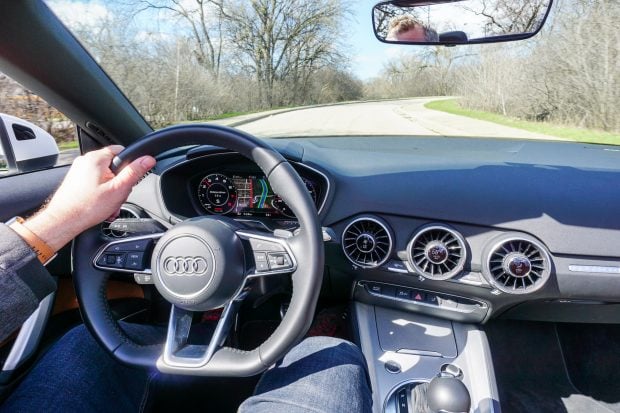 The TT packs a 2.0-liter turbocharged TFSI 4-banger under the hood, but don't let its size or relatively low-sounding 220 horsepower output fool you. This car is quite zippy off the line, offering a 0-to-60 time of just 5.6 seconds (the Coupe version does it in 5.3, and the tricked out TTS Coupe can do it in 4.6).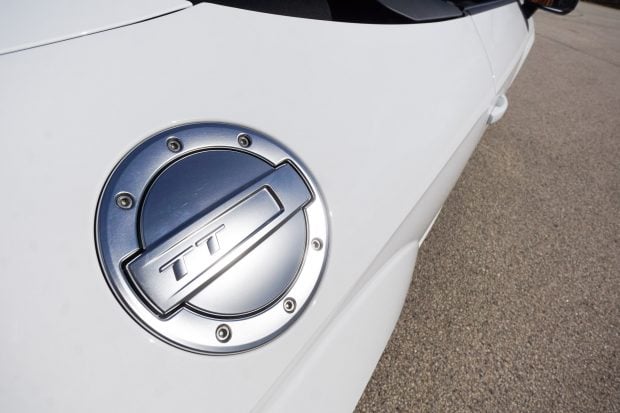 Audi's 6-speed S tronic dual-clutch automatic gearbox shifts quick, and the exhaust system offers up some satisfying auditory feedback as it moves between gears. It's not a crazy loud exhaust note, but there's a definitive baritone rumble as you head towards the redline. I particularly enjoyed the way the transmission lets the engine rev nice and high when the car is in dynamic mode and sport shifting is activated.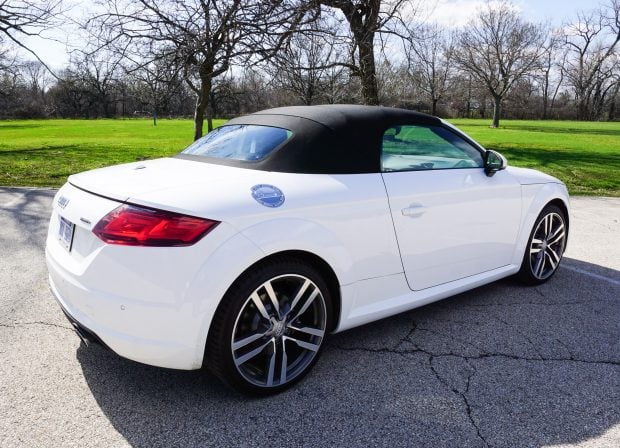 The electronically-controlled roof on the Roadster drops quickly and easily with a single button push, and works at speeds up to 30mph. Road noise is well controlled with the top up, and I found the rear glass to provide better visibility than many convertibles I've driven. Trunk space is also better than I expected, at 9.9 cubic feet whether the top is up or down. The trunk lid also hides a spoiler which automatically deploys at highway speeds, and can also be opened or closed on demand.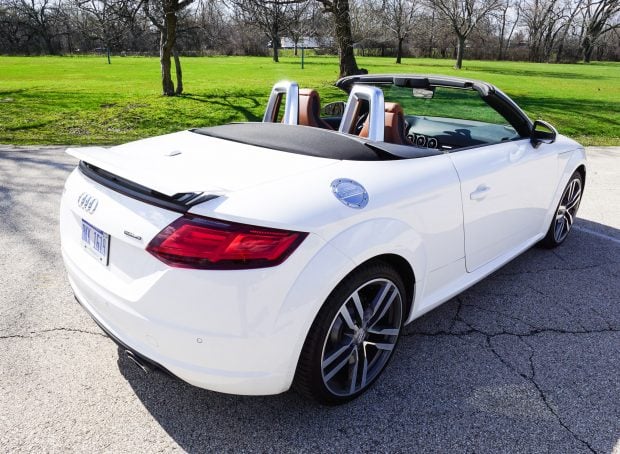 One of the big innovations that made its way into the 2016 TT is Audi's new "virtual cockpit" technology. This smartly designed user interface is a modern marvel, combining everything you'd need on a car's screen into a single dynamic display. The 12.3″ TFT screen replaces the traditional instrument panel, and offers driving gauges, as well as entertainment, phone, and navigation displays. By default, your speedometer and tachometer are large, and the supplemental displays get a small amount of real estate in the middle. But tap the "View" button on the steering wheel, and the driving dials shrink down, allowing the other display to dominate. I found this approach to work especially well for the Google Earth-based navigation system.
I could find only one downside at all with the single screen approach – when using the backup camera, there were times when my hands or parts of the steering wheel partially obstructed the screen if I was turning the wheel while backing up.
Audi is renowned for its cabin designs, from their smart ergonomics to their stylish and luxurious materials. The TT is no exception, with its clean, driver focused cockpit, and comfortable sport seats with excellent bolstering.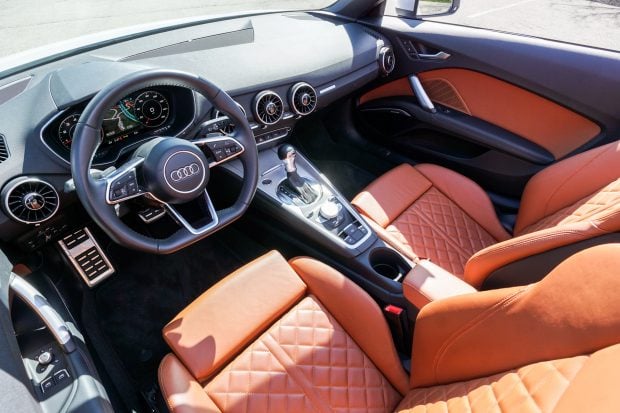 I was especially enamored of the diamond quilting on the premium Nappa leather seats, along with their upgraded heating system that adds neck warmers. This was a welcome addition for the cool Spring mornings here in Chicago, and a feature I haven't experienced in a convertible since that $250,000 Bentley I drove a while back. The textured aluminum on the console is also really spiffy to look at.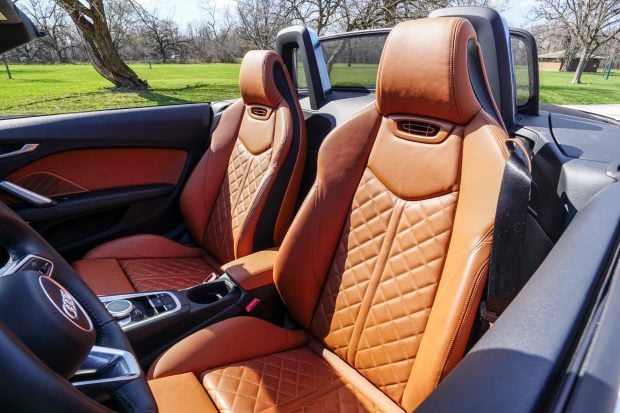 As a happy consequence of the virtual cockpit display, the center console does away with its screen, instead allowing that space to be used for three large aeronautically-inspired vents, with the climate controls intelligently built into their centers. The vents at the outer edges of the dash provide a home for the heated seat controls.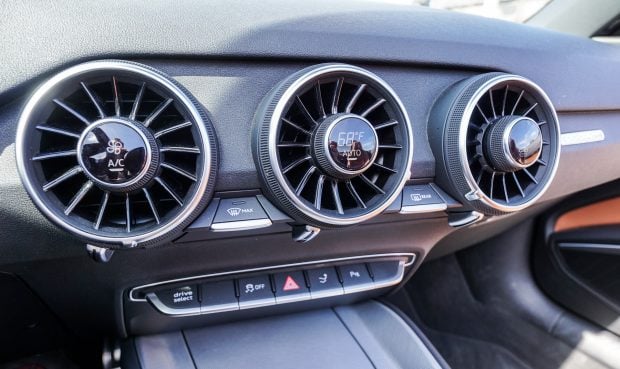 My review car also was equipped with an impressive Bang & Olufsen 12-speaker audio system, which unlike some upgraded stereo systems was truly worth the $950 price of admission. In fact, this was one of the best sounding car stereos I've listened to in a long time. I also appreciate Audi's approach to blind-spot monitoring on their cars, which uses a bright amber indicator in the inner edge of the mirror. This did a much better job getting my attention than the tiny light-up graphic that appears on the mirror glass with most cars.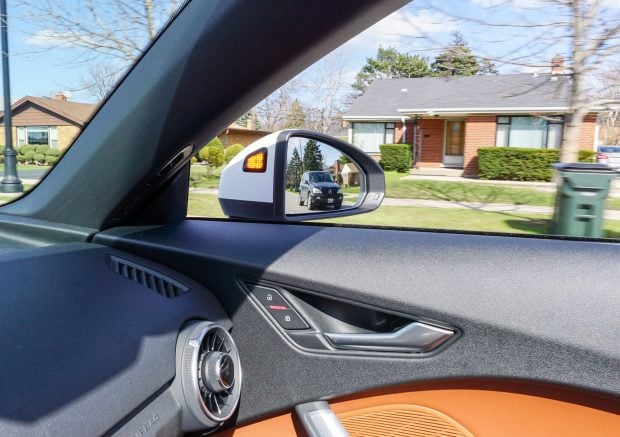 Overall, the Audi TT Roadster is as good as it's ever been, living up to its promise as a truly sporty and fun to drive drop-top. It handles exceptionally well, offers plenty of get up and go, and has a top-notch interior. Plus, Audi's virtual cockpit display is truly innovative – I wouldn't be surprised to see other automakers try and copy this approach. Kudos to Audi for keeping the spirit of the TT intact, while continuing to improve and innovate.