Our Midnight Edition Mission with Chevy and US Army Delta Force
army | chevrolet | chevrolet suburban | chevrolet tahoe | chevy | military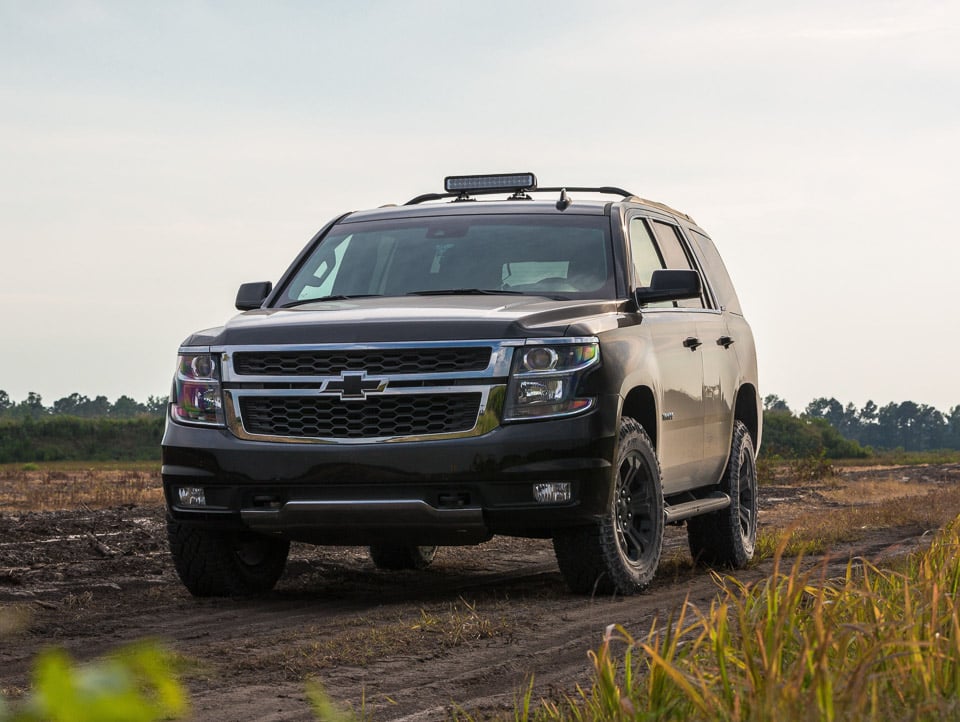 The Chevrolet Tahoe and Suburban are two of the most substantial SUVs you can buy, so it's no wonder that the US Army uses these vehicles to provide transportation for some of its most critical missions. In particular, the US Army's Delta Force team relies heavily on these vehicles to help carry out some of its most dangerous assignments.
I recently had a very special opportunity to meet a group of Delta Force veterans to learn about how these SUVs are a critical part of their everyday operations.
A handful of automotive journalists, myself included, were given the rare opportunity to spend a day at The Range Complex, a veteran-owned operation which provides training facilities frequented by members of the military and law enforcement. The expansive, yet secluded tactical training ground is located about 30 minutes from Fort Bragg, home of Delta Force. As my driving partner and I made our way from Fayetteville to the complex in a Tahoe LT, decked out in imposing black Midnight Edition styling, we were regaled with stories from a veteran Delta Force operator going by the codename "Catfish."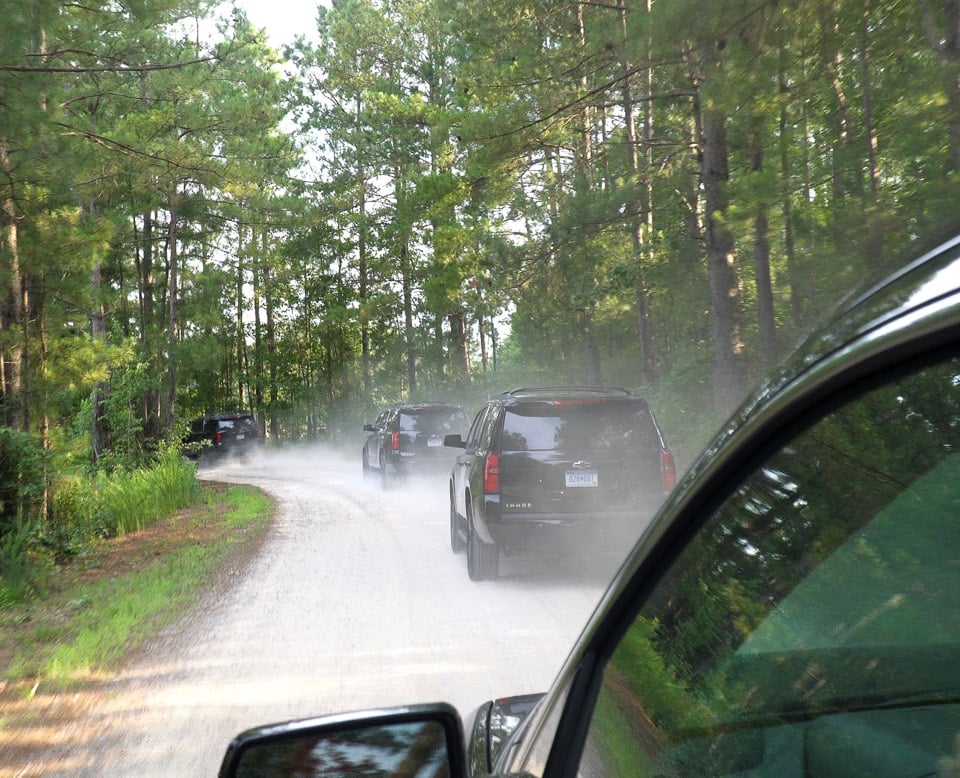 Catfish spoke of the many ways in which Chevy's full-size SUVs are ideal for many of their missions, from their size, to their handling, power, and overall build quality. These vehicles must serve a variety of purposes for the elite special forces team, who carry out missions ranging from counterterrorism to hostage rescue to delivering dignitaries safely through dangerous environments. He even shared a story of how one Chevy's big block V8 stopped bullets in a firefight.
The Suburban and Tahoe offer Delta Force operators a predictable and reliable environment in which to work, which is critical to their safety and success. While the vehicles I drove were factory-stock, they're largely the same as the ones Delta Force uses. Aftermarket customizations such as kevlar, steel plates, or bulletproof glass might be added for some vehicles, but there's a careful balancing act between the addition of weight and speed and maneuverability. After all, these are 5300+ pound high-profile vehicles, and they still need to move fast out of dangerous situations.Veteran Delta Force Commander Jim Reese explained a key operating principle, "Get off the X. Speed is Security" In other words, getting away from the epicenter of danger is job one.
Fortunately, today's Suburban and Tahoe both are driven by a powerful 5.3-liter EcoTec V8 engine which pushes out an impressive 355 hp and 383 lb-ft of torque, which certainly helps them haul ass when the pedal goes down.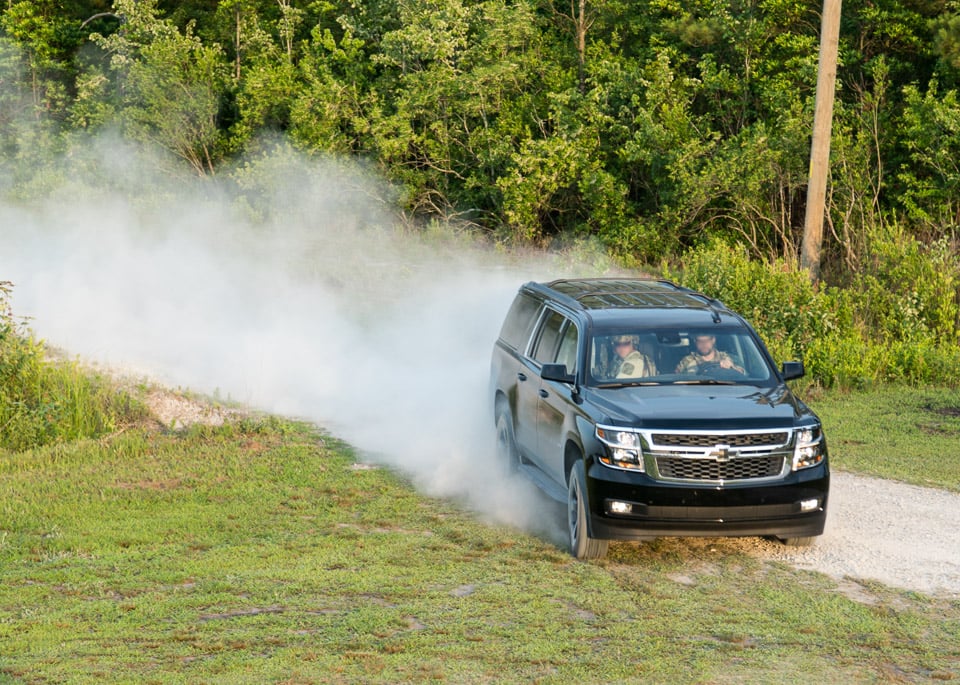 While at The Range Complex we were given the opportunity to learn basic firearms handling from Delta Force vets, and for the first time in my life, I got to fire a sniper rifle. It's a humbling experience to accurately command all of that firepower, and to know that Delta Force operators must accurately aim these weapons while under incredible amounts of stress.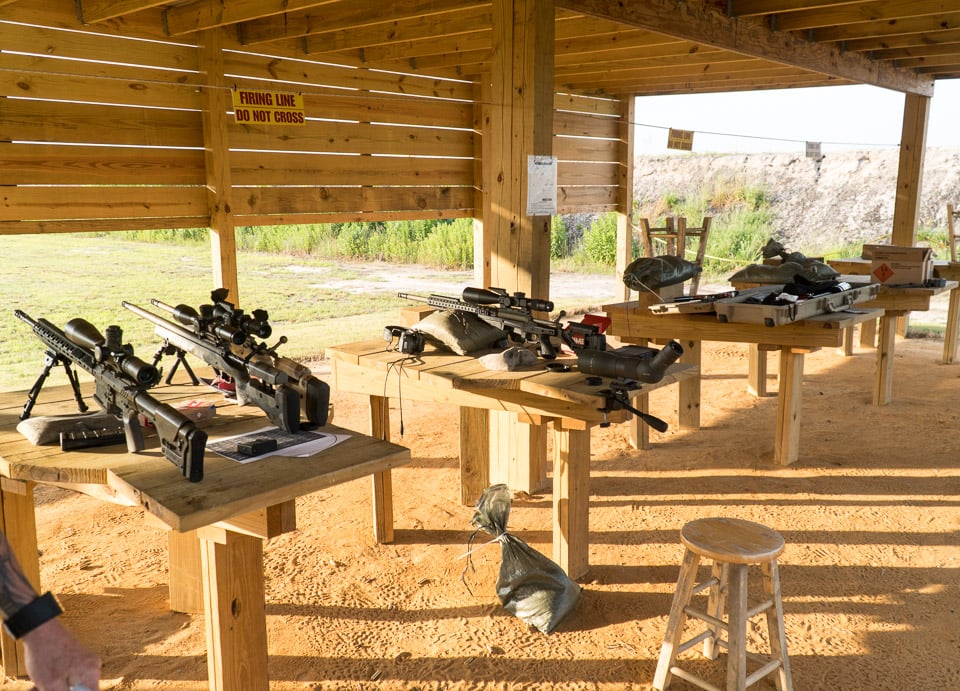 Delta Force candidates are subjected to significant physical and psychological stress as they learn and repeat critical tasks until they achieve perfection. We observed one such training exercise up close and personal, as a team of operators approached a structure at a high speed in their Suburban, quickly loaded out, and then breached the building.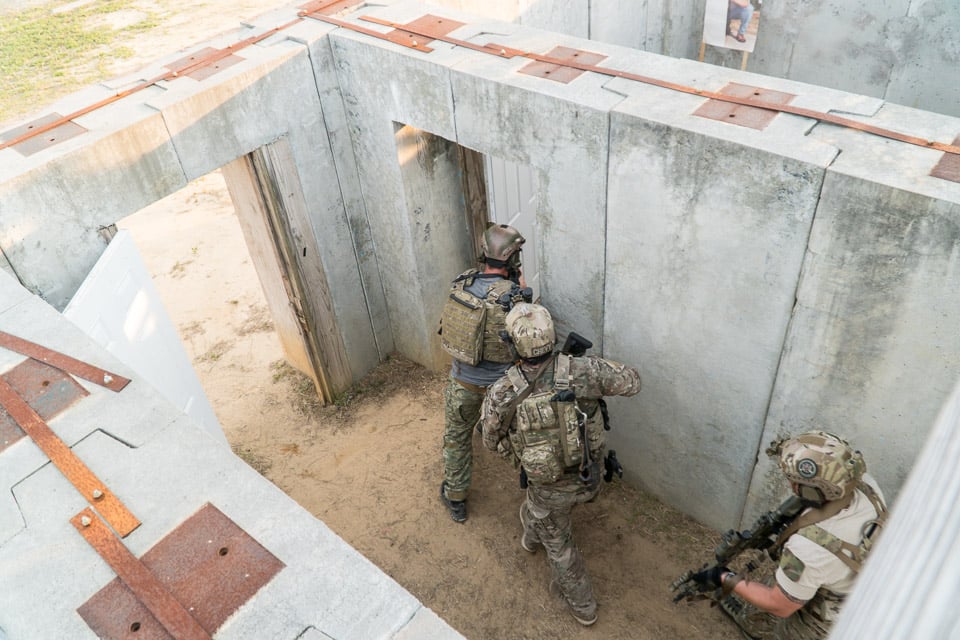 Once inside, they enlisted the help of their trusty canine to bring down an antagonist, and cleared the entire building, all while having to fire on surrogate bad guy posters using live ammo. I didn't get to put a clock on the demonstration, but it felt like it took no more than a minute or two to complete the entire operation, and then hightail it out of there.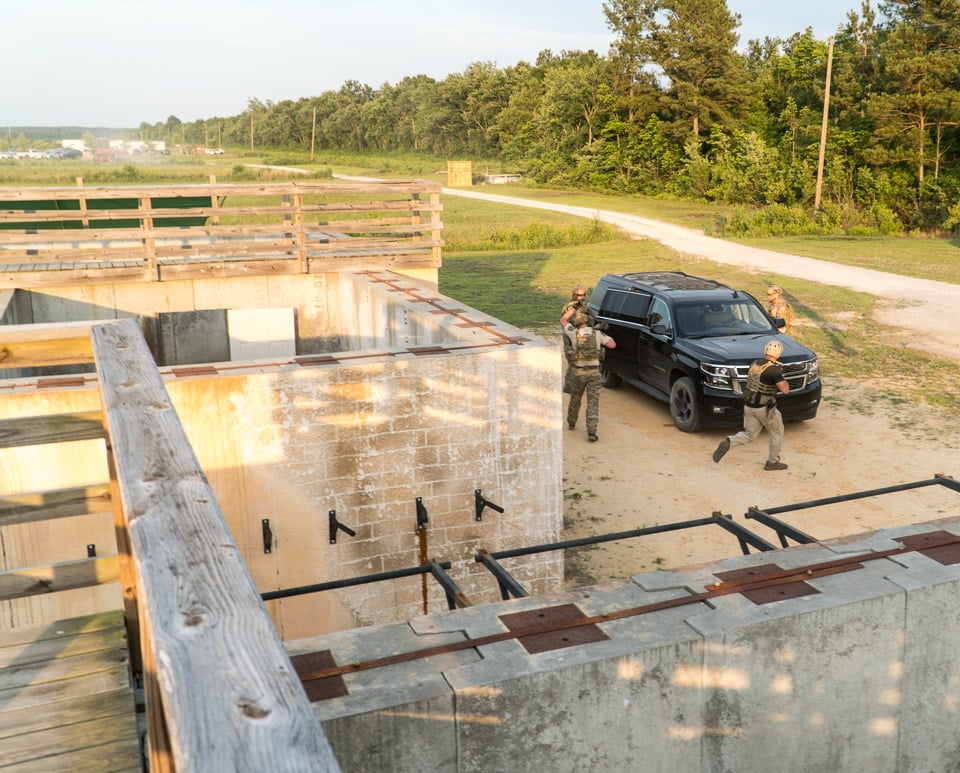 This exercise was conducted in the daylight, but many secret missions must be conducted in darkness to provide the elements of stealth and surprise. I can't even imagine how terrifying it must be to perform such a mission in the real world, but Delta Force operators are made of special stuff, and they don't flinch at the prospects of taking on some of the most dangerous situations.
To demonstrate nighttime ops, we were provided with the unique opportunity to see how skilled Delta Force operators are able to drive in complete darkness, without the aid of headlights. Our vehicles were equipped with infrared LED lighting, and the driver and I donned nightvision goggles to help guide the way. For my first lap in the Tahoe Z71 Midnight Edition, I set off with a Delta Force operator behind the wheel, and we took off at what seemed like race speeds into complete darkness. We zoomed along unpredictable, rocky and dusty roads, around blind corners, and between rows of cornstalks, en route to our destination. My driver quickly spun the SUV into a position where the rear faced the enemy building, a common maneuver to allow fast exit and entry of team members, and to protect the driver from weapon fire.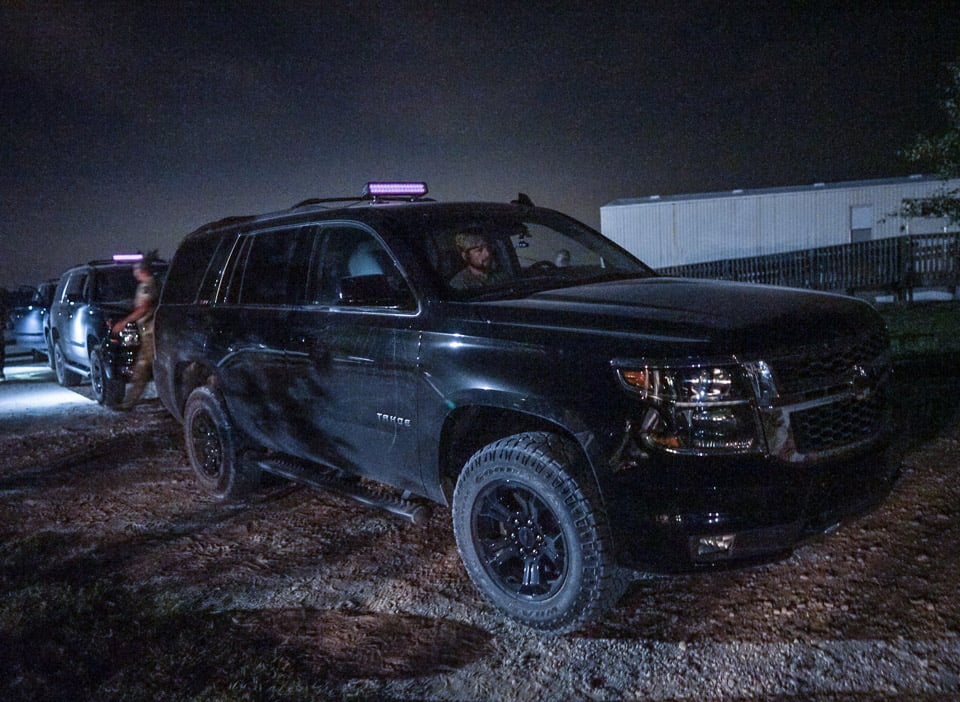 After my orientation lap, I was given a chance to take the controls for myself. Infrared goggles are cumbersome, have a limited field of vision, and greatly reduce depth perception, never mind the fact that they turn everything a weird shade of green. Where the Delta Force operator seemed to be going flat-out, I don't think I broke 25 mph during my night drive. It was incredibly challenging and disorienting, and to think that these guys do it at speed, carrying way more equipment, and with their lives on the line makes me respect what they do even more.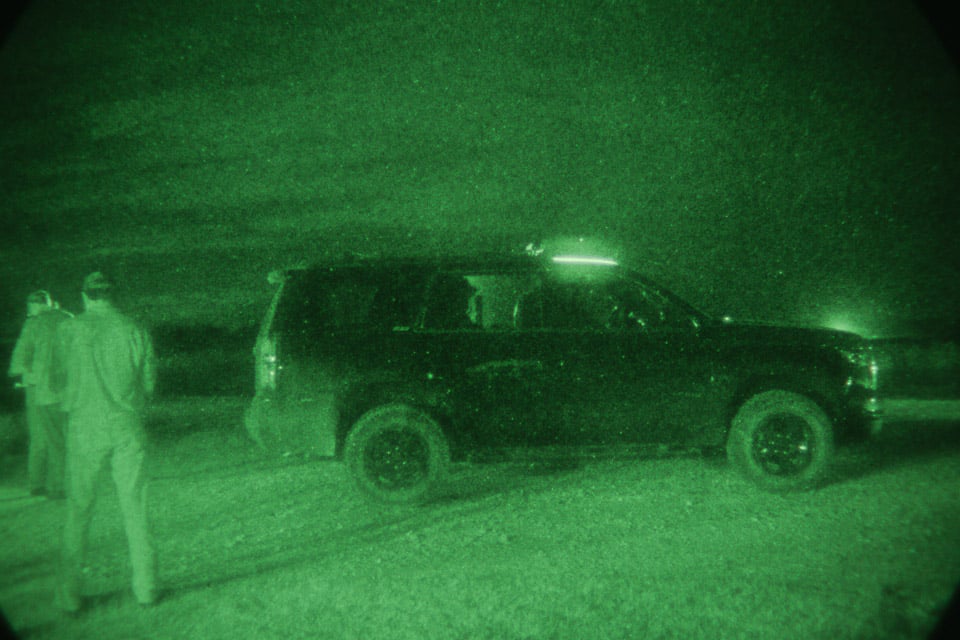 I can definitely see how both the Tahoe and Suburban are so respected by Delta Force. Despite their size, weight, and height, there's something about these Chevys that makes them very natural to drive – like an extension of the self. Whether driving on public roads, or attacking the night darkness, they provide a sense that you could trust them with your life, and they'll deliver. And that's something that our country's most dedicated and selfless individuals deserve.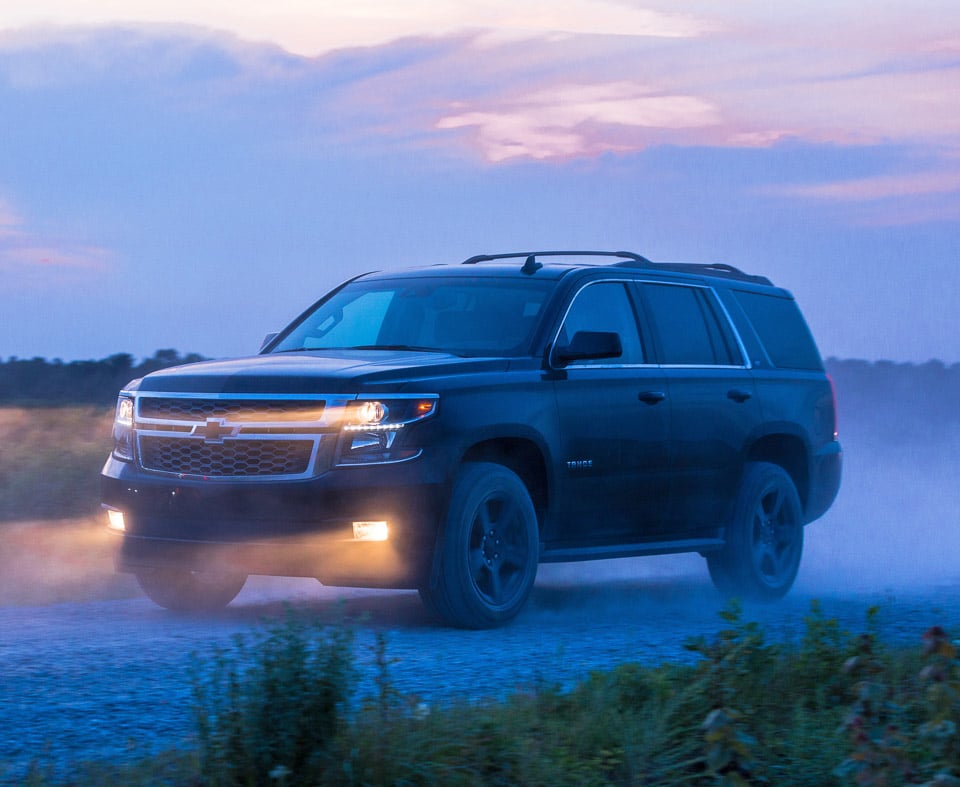 I want to say thank you to Chevrolet and The Range Complex for granting me access to this very special opportunity, but most of all to the past, present, and future members of the US Armed Forces, and especially to Delta Force for their service to our country.