2019 Lexus ES First Drive Review: Calm, Cool, and Collected
2019 | hybrids | lexus | lexus es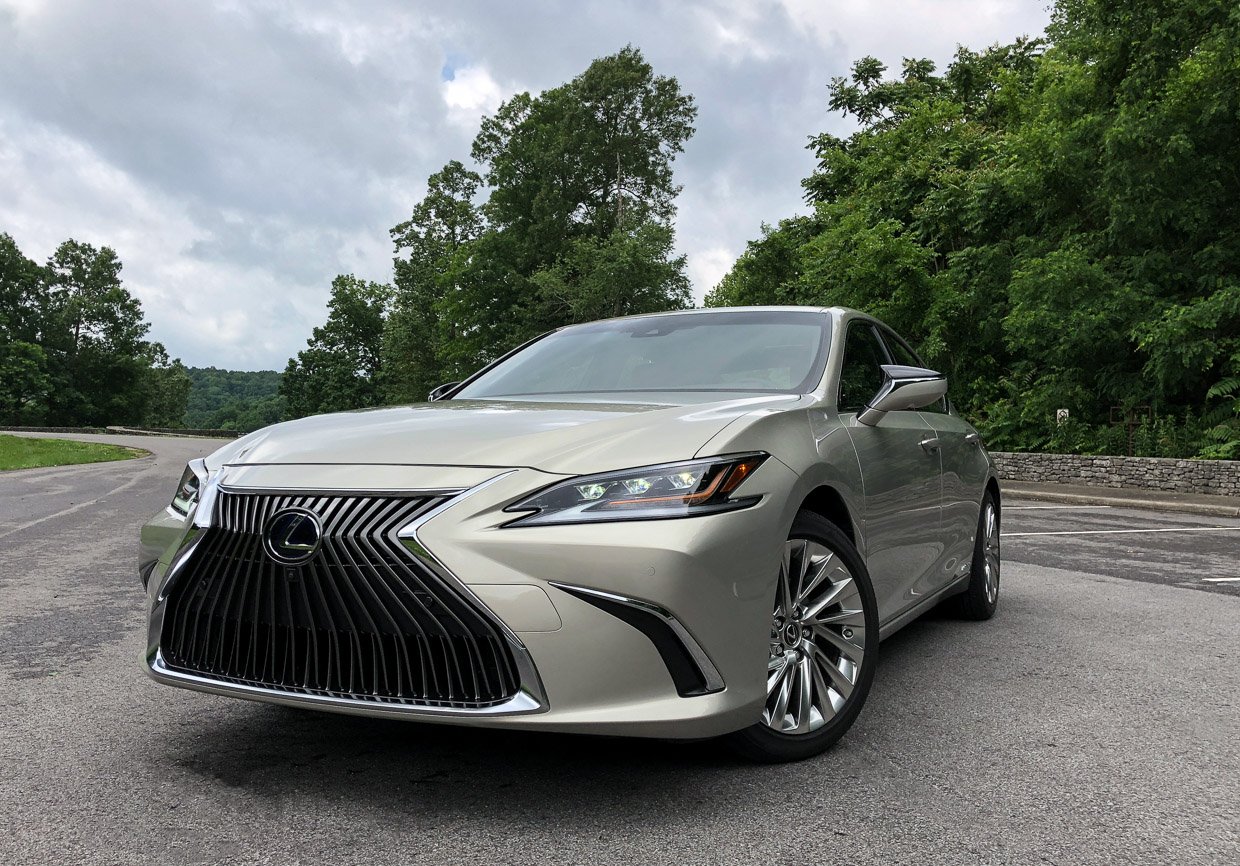 2019 Lexus ES 300h / ES 350

Horsepower: 302 (ES 350) / 215 (ES 300h)
Torque (lb-ft.): 267 (ES 350) / 163 (ES 300h)
Transmission: 8-speed automatic (ES 350) / eCVT (ES 300h)
Drive Configuration: FWD
0-to-60 Time (secs): 6.6 (ES 350) / 8.1 (ES 300h)
Top Speed (mph): 131 (ES 350) / 112 (ES 300 h)
City/Hwy/Combined MPG: 22/33/26 (ES 350) / 22/31/24 (ES 350 F SPORT) / 44/45/44 (ES 300h)
Curb Weight (lb): 3649 (ES 350) / TBD (ES 300h)
Wheelbase (in): 113
Total Length (in): 195.9
Since it first debuted back in 1989, Lexus has sold over 2.18 million of its mid-size ES sedans. The car is not only a critical revenue generator for the brand, but it's been one of their most middle-of-the-road vehicles, which is a direct reflection of its popularity, and vice versa. But in a time where crossovers and SUVs are dominating sedans in North America, Lexus decided it was time to shake things up a bit for the car's 7th generation redesign.
For 2019, the Lexus ES is a completely new car from top to bottom. It rides on the GA-K platform, which is part of Toyota and Lexus' New Global Architecture, a modular system designed to maximize chassis rigidity, reduce vibration, and where possible, reduce weight. Variants of this architecture underpin everything from the new Toyota Camry to the Lexus LS 500 and LC 500, each very different – and exceptional – vehicles in their own right.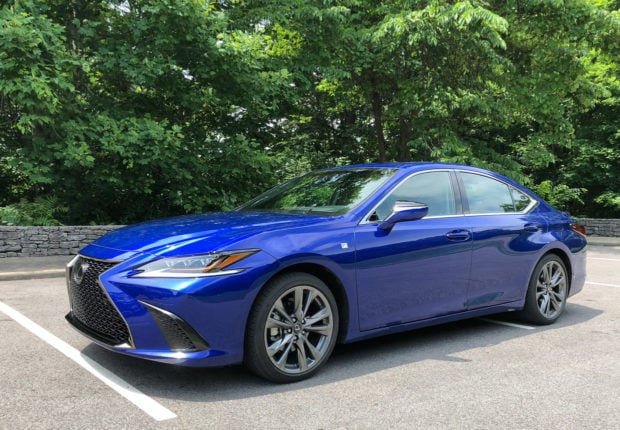 Historically, the Lexus ES has been a quiet, comfortable, and conservative car. For 2019, Lexus didn't stray too far from that paradigm, but that doesn't mean that the new ES is a slouch. There are some aesthetic upgrades, most notably in the use of a more refined variant of Lexus "spindle" grille, more pronounced and curvier body sculpting, and sharp new LED lighting both front and rear, but in general, the new ES is still aiming squarely at the center of the entry-luxury sedan segment.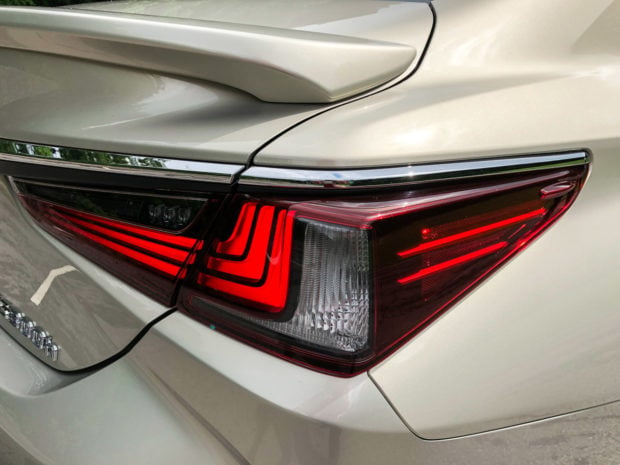 Like other recent vehicles on both the Lexus and Toyota sides of the fence, the brand is addressing its desire to retain existing customers and add new, younger ones by offering two contrasting trim categories – one more restrained and one more sporty. For the most part, I dig this strategy. Though the split personality approach has its limitations. For instance, I much prefer the elegant new horizontal spindle grille found on the standard and luxury package to the "double-L" mesh on the F SPORT, but I prefer the performance and handling of the F SPORT package. And no, I can't have my cake and eat it too.
Lexus calls their new design approach "provocative elegance," and that comes through loud and clear in touches like the dramatic zig-zags built into both its front and rear lighting. Of particular note for 2019 is that the ES is now longer by 2.6″, lower by 0.2″, and wider by 1.8″, giving it a more athletic and planted stance that not only improves its appearance, but its handling. A 2″ extension of the car's wheelbase increases cabin space, most notably in the rear legroom, which is now great for passengers of all heights.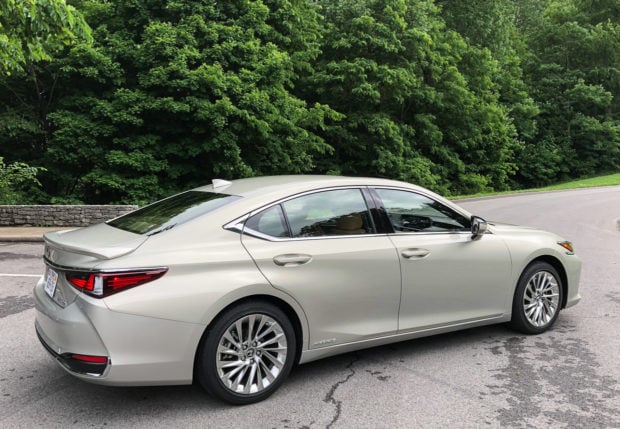 With a lowered hood, and changes to the A-pillar placement, visibility is great, and the lower seating position makes driving the ES just a bit more engaging than before. Now don't get me wrong. It's still a soft and comfort-oriented ride, and isn't exactly designed to thrill, but I definitely felt more alert driving the 2019 than the outgoing ES. Lexus engineers and designers say they worked extensively to make tweaks to the interior layout to reduce driver eye movement, which is considered a leading contributor to driver fatigue.
There are two available drivetrains for the 2019 Lexus ES – a naturally-aspirated 3.5-liter V6 engine that makes 302 horsepower and 267 lb-ft. of torque (improvements of 34 horses and 19 torque over the old V6), and a hybrid which uses a 2.5-liter 4-cylinder Atkinson cycle engine, with an improved electric motor. Unlike some vehicles where the hybrid actually makes more power than the gas engine, the ES gets just 215 hp in the hybrid variant. But in exchange for the power, you get an incredible 44 mpg combined (as estimated by Lexus). In comparison, the V6 gets 26 mpg combined. The V6 gets a buttery smooth 8-speed automatic transmission, while the hybrid has a CVT, of course. Both the V6 and hybrid offered up good acceleration and neither felt underpowered off the line, or when passing. That said, the V6 definitely has more oomph, and can launch the ES from a stop to 60 mph in a respectable 6.6 seconds – 1.5 seconds quicker than the hybird.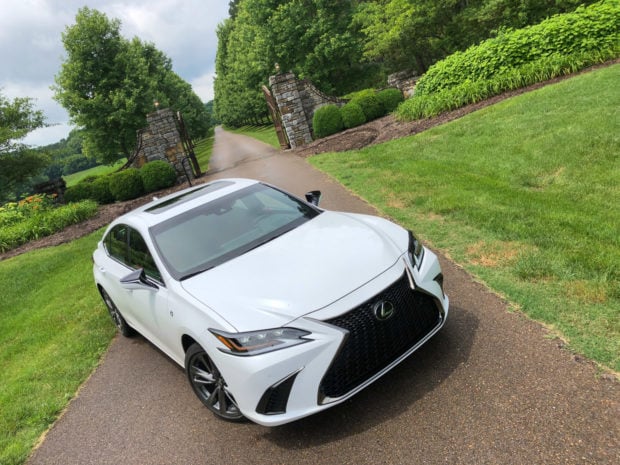 The new ES handles quite well – especially for a front-wheel drive only vehicle with a 61/39 front-to-rear weight balance. It corners predictably, body roll is extremely well-controlled, and the car feels nice and flat in the corners. Its power steering system is excellent overall with a smooth, natural feel that errs on the side of minimizing effort, but without feeling numb or disconnected. It should be noted that all of the cars I drove had upgraded performance dampers, and the F SPORT had an Adaptive Variable Suspension, which allowed the car to change character depending on the situation. It's also whisper quiet inside – but not unnaturally so. In F SPORT trim, Lexus Active Noise Control pumps a little bit of augmented engine noise into the passenger compartment, giving it just a bit more of a sporty attitude when accelerating.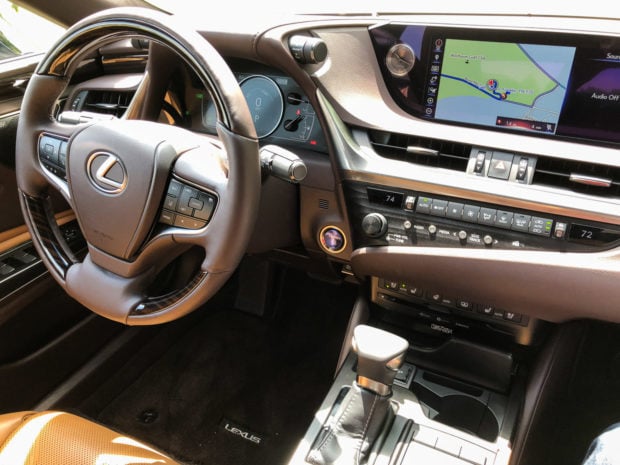 Inside, the ES owes more to the LC 500 than the LS 500 in terms of styling, opting for a more angular and and linear look overall. The dash design definitely isn't as successful or cohesive as either of those cars, but those are also substantially more expensive vehicles. Still, it's a step in the right direction from the prior ES and its rather ordinary cabin. I'm not a huge fan of the Frankenstein's monster neckbolt controls that sit atop the gauge cluster of any of the new Lexus vehicles, but I appreciate the effort to put more controls within the driver's line of sight.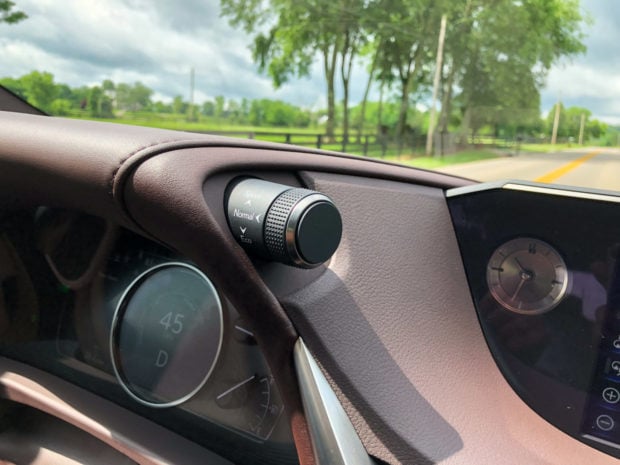 The Standard ES gets NuLuxe seating surfaces, while Luxury packages replaces those with real leather, and the Ultra Luxury has semi-aniline leather seats. Wood trim turns up on the doors, console and instrument panel on the Luxury models as well, but I was particularly smitten with the "Hadori" aluminum trim on the F SPORT, which has a unique sheen reminiscent of a Samurai's sword. Oh, and check out the sweet dark patterned grilles on the upgraded Mark Levinson sound system, which rocks an 1800-watt, 12-channel amp, and 17 individual speakers for immersive, audiophile-grade surround sound.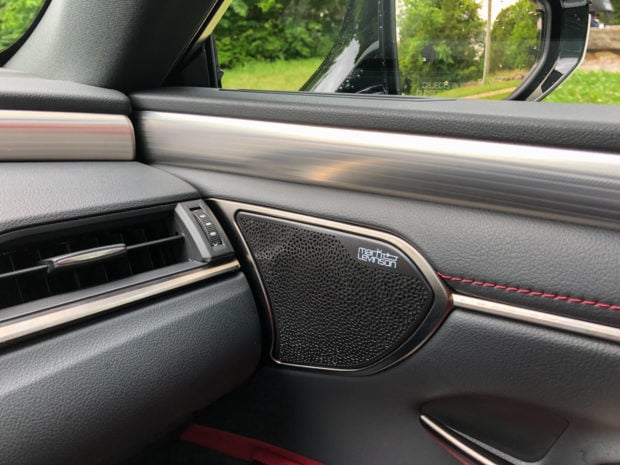 The ES is the first Lexus to get the company's Safety System+ 2.0 package, which adds low-light and daytime bicyclist detection to its pedestrian and vehicle pre-collision tech, as well as road sign recognition, and lane tracing assist, which helps keep your car not only from drifting out of the lane, but centered in it. I found this tech had a tendency to ping-pong between the lines a bit more than similar systems from Volvo and Mercedes, but it's step in the right direction towards partial autonomy. Plus, the full-speed dynamic radar cruise control is excellent.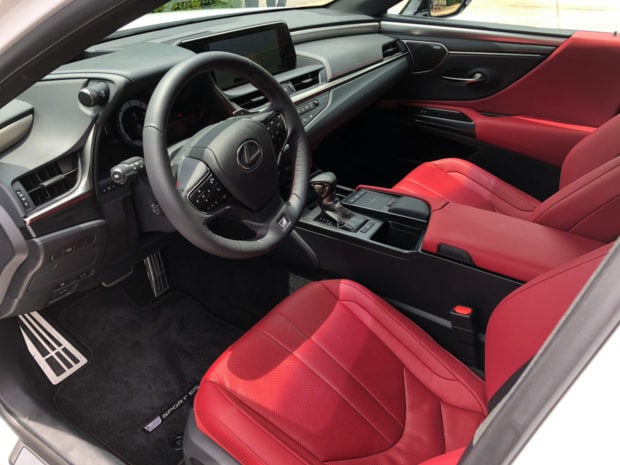 While I love the look and readability of the optional widescreen 12.3″ display, I still wish that the Lexus Entune system would get a complete overhaul. It's difficult to navigate, especially with the trackpad as its only input method, and that one misstep negates much of the work the team did to reduce eye movement and driver distraction. It's time to say goodbye to the trackpad once and for all, Lexus. We're driving a car, not a laptop, folks. That said, I do appreciate the Apple CarPlay and the Alexa in-car integration, which lets you ask Amazon's voice assistant to do everything from play your music, to check the weather, to order groceries, and turn the lights on at home.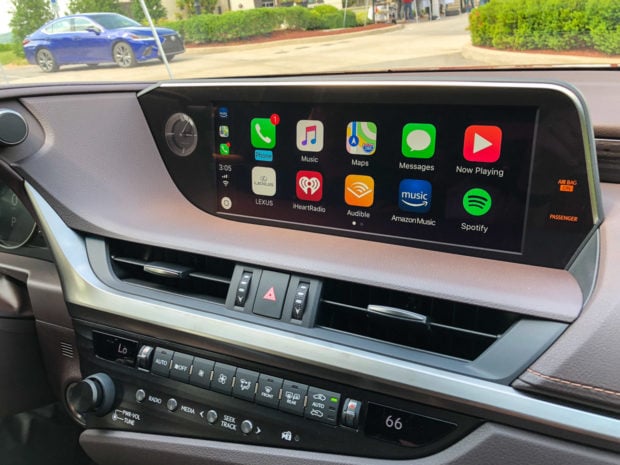 As mentioned previously, there's plenty of room in the cabin, and rear seat passengers get a class-leading 39.2″ of legroom. In addition, trunk space is an ample 16.7 cubic feet – and even hybrid owners won't sacrifice any of that, thanks to Lexus moving the battery pack under the rear seat. It should be noted that Lexus decided to forego a folding rear seat, opting to put extra bracing in the trunk, which improves ride stability, and for most people will be a worthwhile trade-off.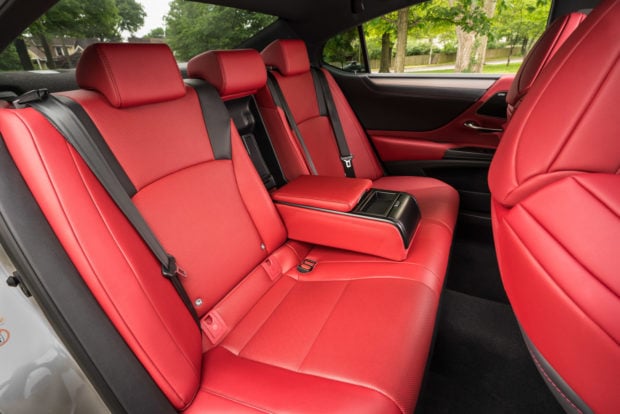 While the new Lexus ES isn't going to turn heads like some of Lexus more aggressively styled vehicles, it is an exemplary car indeed, offering comfort, style, performance, and an overall feeling of quality that Lexus vehicles are known for. Lexus has yet to announce pricing for the 2019 ES, but says that it will be similarly priced to the outgoing model, with a starting price around $39,000. Expect the new ES to land in dealers by September.