How the Future Might Change Motorsports
future | racing | toyota | November 30, 2019
---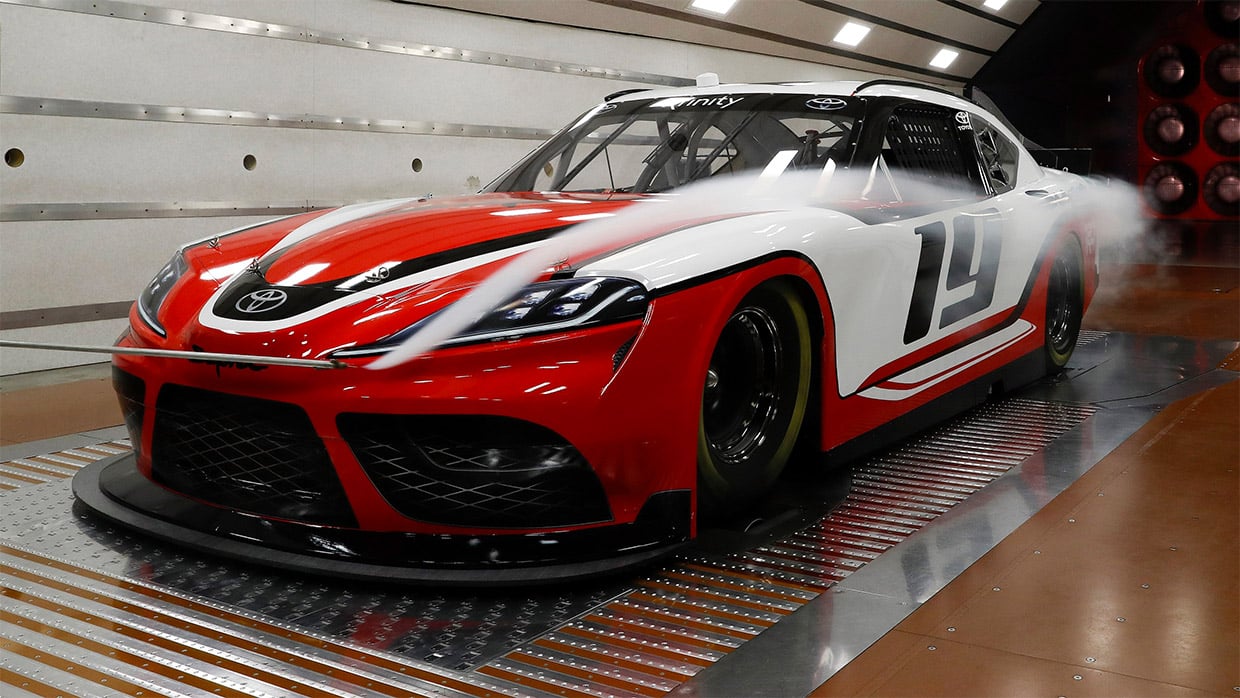 Much of the recent news in the auto industry has been about electrification, autonomy, technology, and the changing face of mobility. That got me wondering what all of this might mean for the future of motorsports.
I recently had a chance to sit down to discuss how things might shake out with Ed Laukes, group vice president of Toyota Division Marketing. Ed heads up their North American marketing, advertising, and merchandising efforts, including their participation in NASCAR, Formula Drift, and other motorsports.
As more and more cars switch to smaller turbocharged engines and/or electric motors in their drivetrains, the big, pushrod V8 engines we see in NASCAR and other racing series aren't necessarily a reflection of what consumers can actually buy. With this in mind, I asked Ed about how this might affect racing programs in the future. Laukes said: "The biggest thing for any racing now is relevancy… so in NASCAR, the 2021 car we're working on will have 18″ wheels, the body will look more like a production vehicle. The next step after that is motor. Manufacturers – we, Ford, and Chevy – are having a lot of discussion about about what does the next -gen engine look like?.. We're talking about hybrids, as an example."
We've also seen a huge shift of what people are buying here in North America from sedans and coupes to SUVs and crossovers, with brands like Ford all but eliminating cars from their US lineup. So how might Toyota maintain its motorsports relevancy if the typical vehicle on the road is a RAV4, and not a Camry? First off, Laukes says that Toyota is committed to cars, and expects the US market to settle somewhere around a 70/30 mix of SUVs to cars, so there still will be a strong interest in the latter. That said, it's quite possible that the sportier and sleeker crossovers we're seeing more of might someday have a place in racing.  Ed told us: "I don't think it's tomorrow. I don't think it's 2021, but I can see it happening… I also think the Detroit guys will bring cars back."
Beyond that, there's a lot of buzz about younger people having less interest in buying cars, and a shift towards other forms of transportation. Will kids growing up these days have an interest in racing like their parents and grandparents? Laukes thinks that's definitely the case, though it's likely to take different forms. It's quite possible that video games and virtual reality will play a larger role. In Laukes opinion: "I think it's going to evolve… One of the things I think will draw people into racing, is virtual (reality)… There's going to be people from all over the planet racing virtually, and the next thing you know, Kyle Busch is in racing with them."
We've already seen a huge rise in the popularity of Esports and video game spectating through channels like Twitch, so it's quite possible younger enthusiasts won't go to a race track, but will sit in their living rooms and spectate or even participate in racing series. We recently saw one vision for this idea in the form of the E-Racer, a virtual reality racing concept that Akio Toyoda showed off during the recent Tokyo Motor Show.
Bottom line, motorsports aren't going anywhere for Toyota and for racing fans, but they will clearly need to evolve and adapt based on the interests of consumers and the available technologies. Electrification will make race cars faster. Technological improvements will put fans closer to the races than ever, and the shape of vehicles we see racing will most certainly change with time. I, for one, would love to see a rally series with some kitted-out RAV4 Primes tearing through the gravel.