The 2024 Toyota Land Cruiser Returns to US with a Hybrid Engine and Lower Base Price
2024 | hybrids | reveals | toyota | toyota land cruiser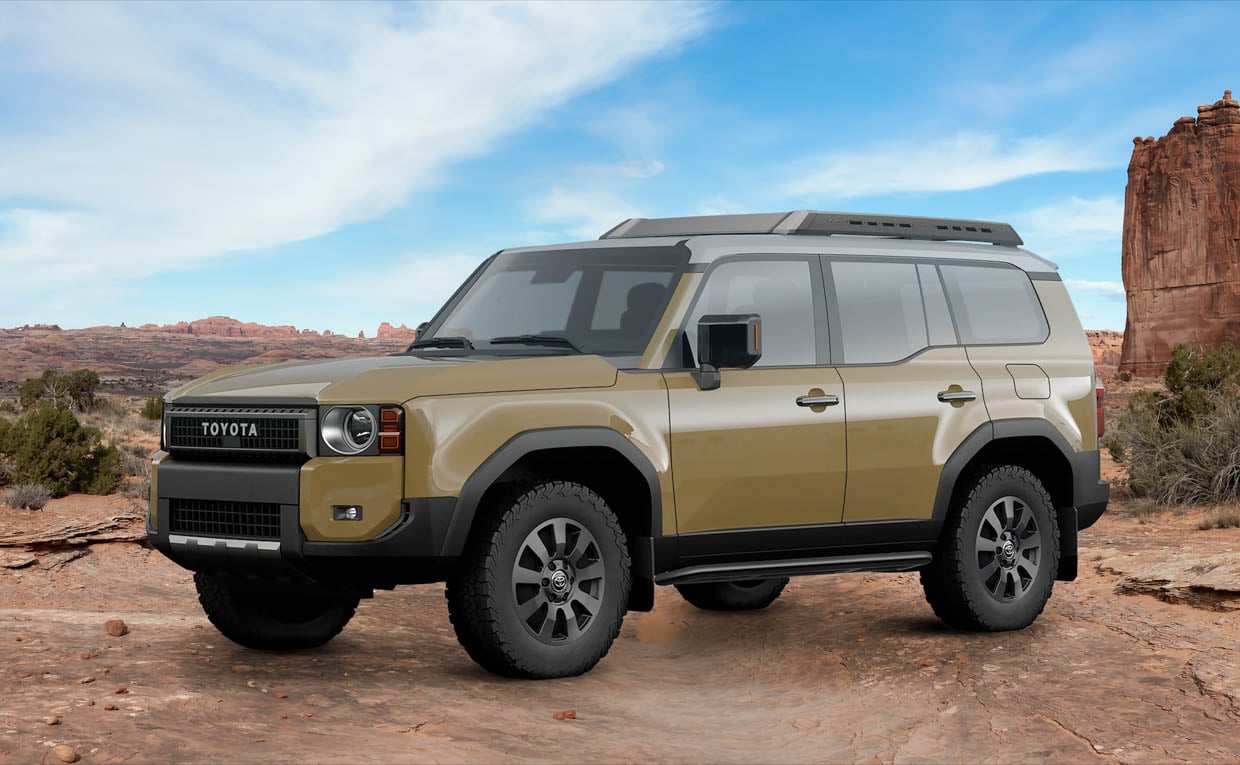 After leaving the US market for three years, the Toyota Land Cruiser is back for the 2024 model year. The redesigned model has a bold, squared-off look that pays homage to classic Land Cruisers while giving the SUV a modern drivetrain and technology. As the prior generation Land Cruiser became more luxury-focused, its base price gradually increased to more than $85,000. The 2024 Land Cruiser will start in the mid $50K range, making it far more accessible to buyers.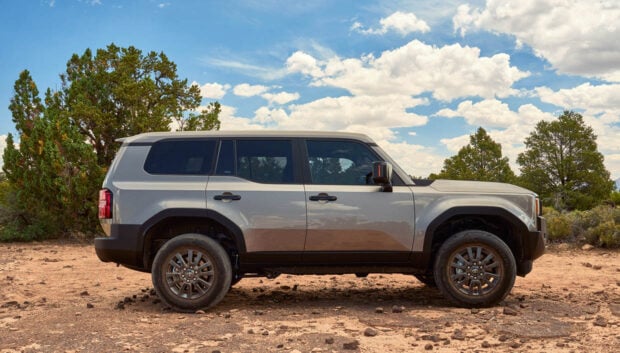 Big engine purists might miss the V6 and V8 engines, as the new US-bound Land Cruiser will come only with a 2.4-liter turbocharged 4-cylinder engine. It's a hybrid drivetrain that incorporates a 48 horsepower electric motor and an 8-speed automatic transmission. It might not have the grunt of the V8, but the new drivetrain's performance numbers are impressive – 326 horsepower and 465 lb-ft. of torque. Towing capacity is rated at 6,000 pounds. Fuel economy numbers have yet to be revealed.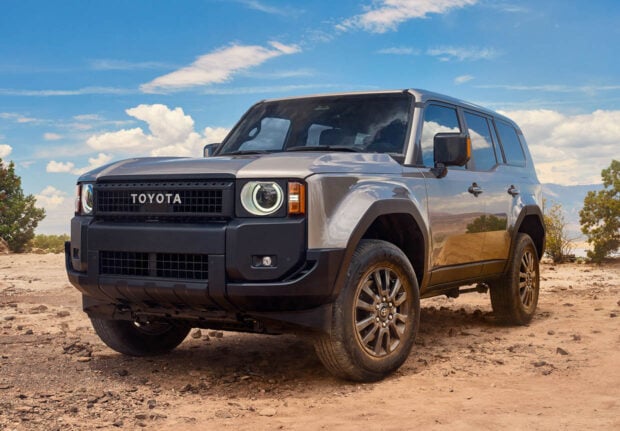 The new Land Cruiser rides on the TNGA-F body-on-frame platform, which is shared with the current Toyota Tundra and Sequoia, and Lexus LX, as well as the new Toyota Tacoma and Lexus GX. The 2024 model measures 193.7″ long, 84.2″ wide (w/mirrors), and 73.2″ high, with a 112.2″ wheelbase. Overall, it's 4.4″ narrower and 1.2″ shorter than the prior model. Toyota also shortened its front overhang and pushed the A-pillars back for improved off-road visibility. Gone is the third-row of seats, instead focusing the back of the SUV on carrying your overlanding gear.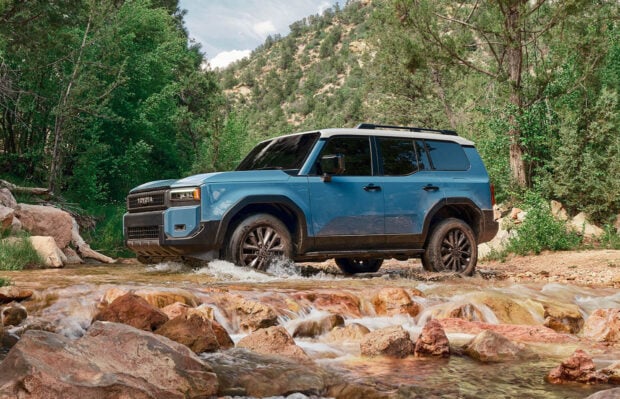 Every 2024 Land Cruiser has full-time four-wheel drive and rolls on 18″ alloy wheels. For those who don't plan to hit the trails, 20″ wheels are available as an option on the Land Cruiser grade. An electronically rear-locking differential and two-speed transfer case come standard. If you get the Land Cruiser or First Edition grade, you'll be able to disconnect the front stabilizer bar with the push of a button.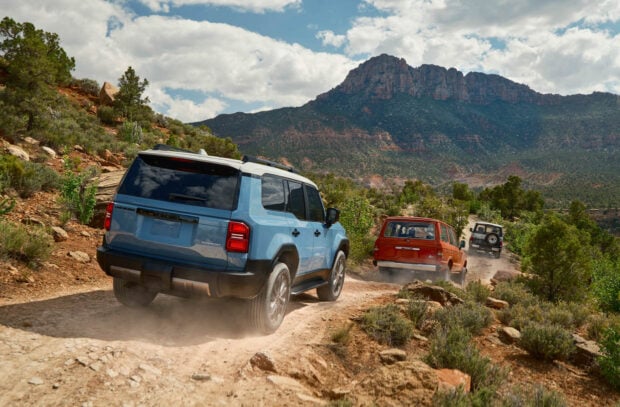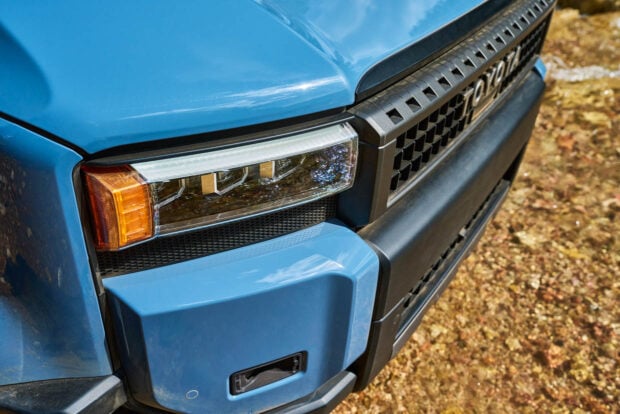 Further proving its off-road chops, the new Land Cruiser has front recovery hooks as standard and can be equipped with skid plates and rock rails. It has a 31º approach angle, a 22º departure angle, and a 25º breakover angle. Its maximum ground clearance is 8.7 inches, which isn't spectacular for off-roading, but better than most everyday SUVs.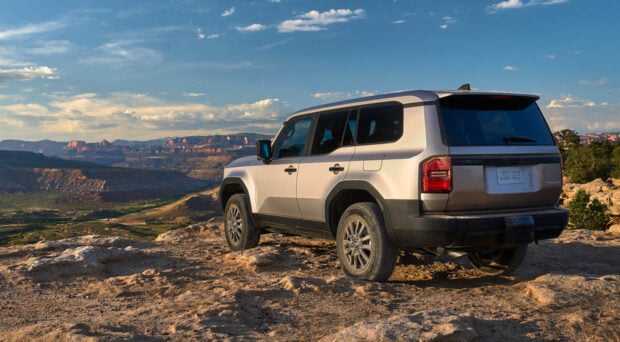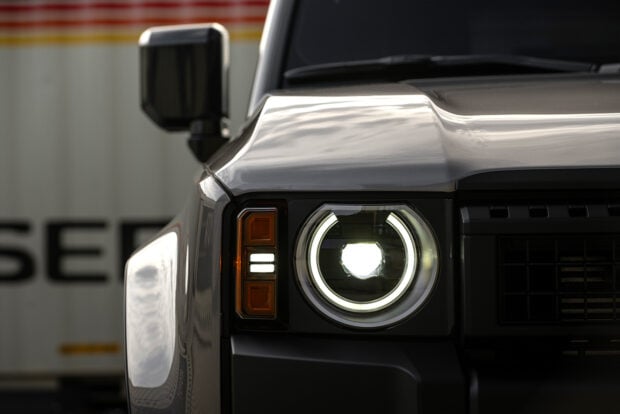 There are just three grades for 2024: the Land Cruiser 1958, the Land Cruiser, and a limited 5000-unit Land Cruiser First Edition. The Land Cruiser 1958 is the base model, with a Toyota heritage grille, round LED headlights, LED fog lights, fabric heated seats, an 8″ multimedia display, and 6-speaker audio. The Land Cruiser model is the mid-grade upgrading to heated/ventilated SofTex seats, rectangular headlights, color-selectable LED fog lights, multi-terrain mode selection, a 12.3″ multimedia display, and 10-speaker audio. The First Edition adds heritage round LED headlamps, a roof rack, a front skid plate, rock rails, and heated/ventilated leather seats. Toyota will also offer a Premium package with a 14-speaker JBL audio system, head-up display, digital rearview mirror, a moonroof, and other upgrades.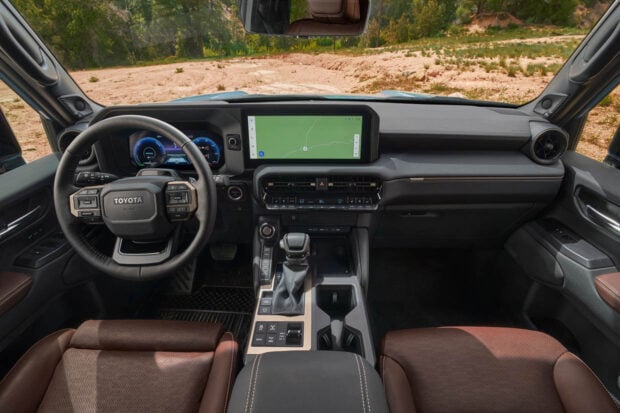 I'm incredibly excited to see the Land Cruiser returning to form as an off-road vehicle rather than a posh, luxury SUV. There are plenty of options on the market for those already. While I'm sure that most people won't be buying the new Land Cruiser at its base price, it's also good to see that come down significantly, so hopefully, we will see many more of these in the wild. Between the 2024 Land Cruiser and Lexus GX, we'll have some great new options for rugged SUVs going into next year. Still, I dream of the day that Toyota will release a 2-door Land Cruiser, but for now, the 4-door model looks incredibly appealing.