Concepts from Future Past: 1956 Buick Centurion
1950s | buick | retro | August 5, 2014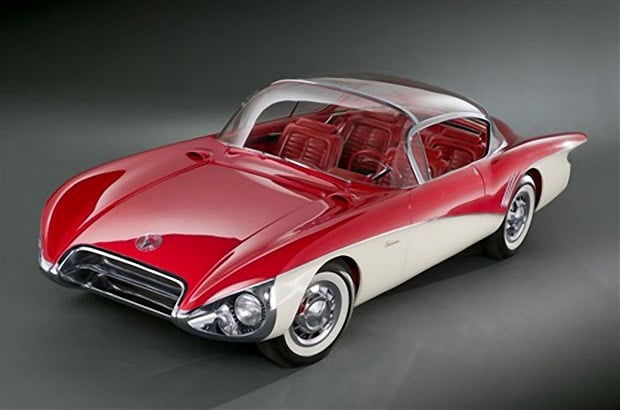 The Buick Centurion concept car was seen at the 1956 General Motors Motorama auto show (alongside the Pontiac Club de Mer). Although the car was never meant to be driven, it had a 325 V8 engine under the hood. It also displays many space-age design ideas we see in a lot of concept cars and production vehicles of that generation.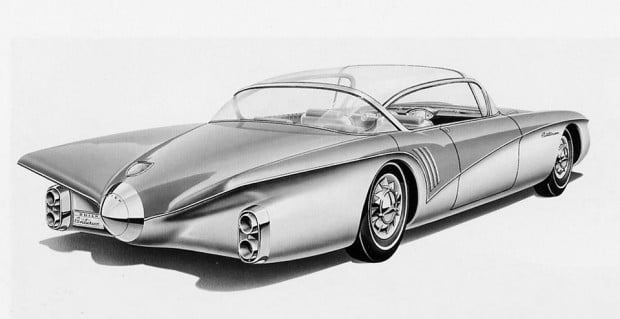 We highlighted the Centurion's futurist dashboard design before, which included a TV screen in lieu of a rearview mirror and a unique, cantilevered steering wheel. But the two-door, four-passenger coupe has many more futuristic highlights beyond its dashboard. The tail has a center "jet port" that houses the rear-view camera. In the front, the car has a manta-ray like front end with edge-mounted headlights and a wide grille opening flanked by protruding twin points. The car is covered with a bubble roof which surely taxed any climate control systems, but allowed for maximum visibility. Fresh air was delivered to the passengers through two hood scoops on either side, which may have helped offset the terrarium feel.
You can see the Centurion on display at the Sloan Museum in Flint, Michigan in the Buick Automotive Gallery.