After The Hype: The 2016 MX-5
mazda | mazda miata | October 31, 2015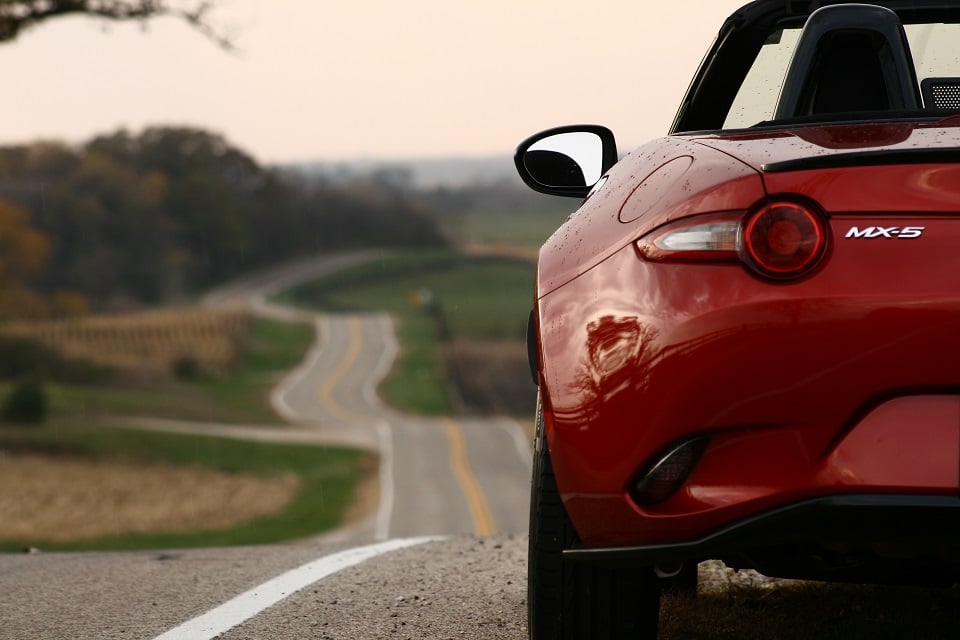 Everyone loves to mention it. 'Body roll.' Apparently the car is so good, that it is judged mainly for the way it pitches into a corner. You know… suspension doesn't have to be rock hard in order for a car to negotiate a curve. I'm also pretty sure the guys at Mazda are smarter than myself when it comes to suspension geometry and setup. So taking it for what it is, yes, the new MX-5 does have a lot of body roll. Not once does it deny access to the car's natural athleticism.
"Not once does it deny access to the car's natural athleticism."
After all of the excitement has died down, driving this car again proves at least one thing to be true; the hype was well earned. It had a lot to live up to after all, with the NC Miata missing the mark ever so much. It was a car that simply lacked the ethos of the NA and NB. If you go back to the original and observe the reasons why it was – and is – so well loved, it comes down to a driving experience that has little to no interruption from electronics. Your hands and feet did all of the work. Honestly, this new one reflects that. Not quite a mirror image, but a very faithful reproduction.
If I'm mindful of my posture, I measure six-foot-two. Even without a shoehorn, I'm able to slip into the car easily and still feel like I have just enough space. Un-latching and folding back the roof (a one handed maneuver) assists in the feeling of open space. There's low wind noise, even lower buffetting and even during a brief run in the rain, you'll stay warm and dry as long as you keep moving. Plus, the car just looks so cool with the top down and during my test run, this was the most common position for the soft top. Unlike the FIAT 500 Abarth that I had last month, which only felt special when you drove it like an over-excited teenager, the MX-5 is a joy to use at any speed. Enjoying nature's fall foliage and crisp air at sane speeds was a dimension that simply isn't present in other inexpensive sports cars like the Abarth.
"Enjoying nature's fall foliage and crisp air at sane speeds was a dimension that simply isn't present in other inexpensive sports cars…"
With the popularity of Spec Miata racing in the US, it would seem rather silly to have this car for a full week, and not take it to the track. So I did. Autobahn Country Club, a pleasant, technical track in the suburbs of Chicago allowed me to test the MX-5 Club in an appropriate environment. Unsurprisingly, it felt light on it's feet, agile, and deceptively fast even with traction control remaining on. Turn in is immediate with grip from the front tires strong and response transferred to the steering wheel. The rear will step out just as much as you'd want, and overall the balance is ideal with understeer barely detectable.
The tight ratio 6-speed manual gearbox is a pure joy to use, and gearing helps keep the 2.0 liter 155 horsepower Skyactiv engine on the boil. All of that momentum is reigned in via fade-free calipers made by Brembo.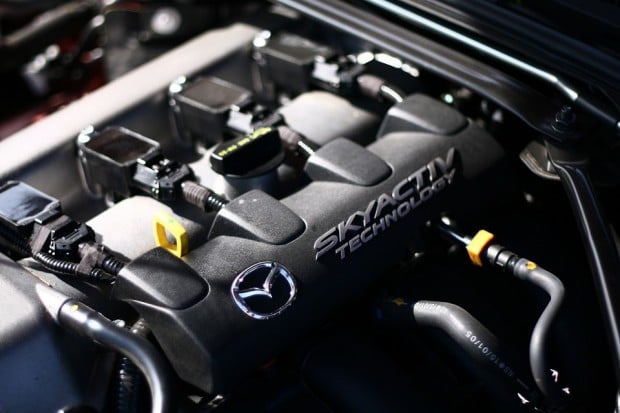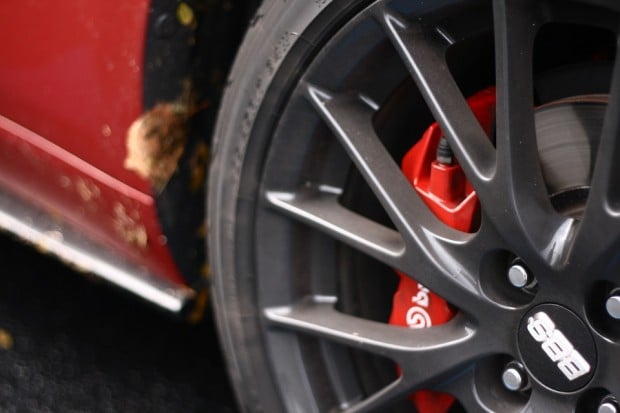 Going back to the FIAT, it did have the upper-hand in terms of practicality. The MX-5's trunk space has room equal to what you're allowed to carry on an airplane, and more often than not, you'll find yourself looking at the passenger seat as a place for things, not people. When it came to putting lots of stuff in the car, I did manage to cram an impressive 300 or so vintage car magazines into all of the spaces I could find. On this same trip, I found myself driving top-down in a sudden rain storm. Driving on main roads meant I was able to maintain a steady 45 mph speed, which kept me impressively dry. This also is an incredibly good way at grabbing the attention of other motorists. They must have either thought I was one brave soul, or a bit of a moron.
Even when not making adventurous drives into a rainstorm, top-down is the way to look at this car. Soul Red (a $300 option I'd need to have) is a fine metallic paint and the black accents of the Club edition really make this a winning color combo. Short overhangs both front and rear from the side profile make the car sit taught and hunkered down to the road. Front end is treated with a slightly less 'smiley' but still cheerful grille and sly looking headlights.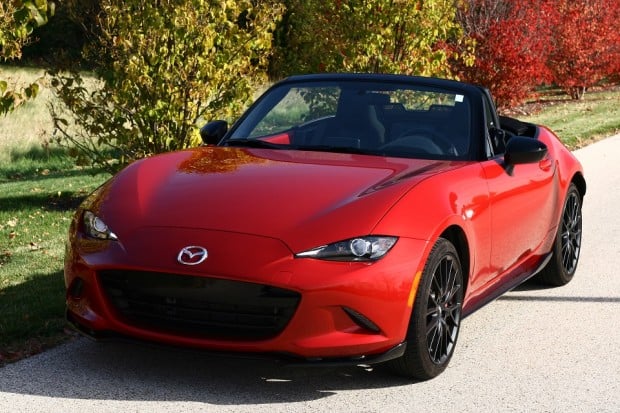 My favorite way to drive the car was with the driving lights on which turned on the lower fog lights, as well as the very inner part of the main headlights. Out back, most people bark out how it looks like a miniature Jaguar F-Type, and while it doesn't look exactly the same, enough visual similarities exist to make that opinion a fairly accurate one (not like that's a bad thing at all).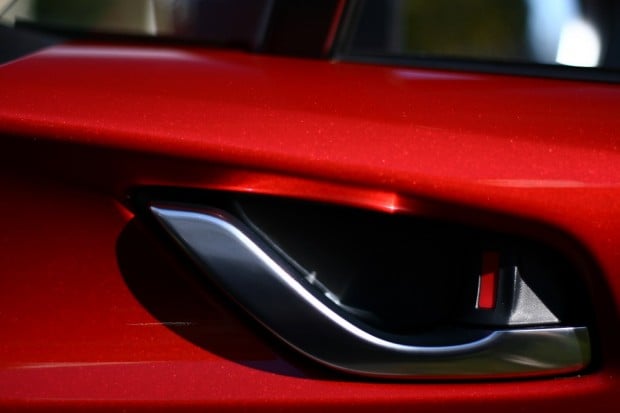 From the back you can peer into the neatly designed cabin, complete with door panels that carry the gorgeous Soul Red paint into the interior of the car. The dashboard – an exercise in simplicity – is lacking any radio or multimedia controls (more on that in a minute) and houses the infotainment display in the center, and a gauge cluster of three pods directly in front of the driver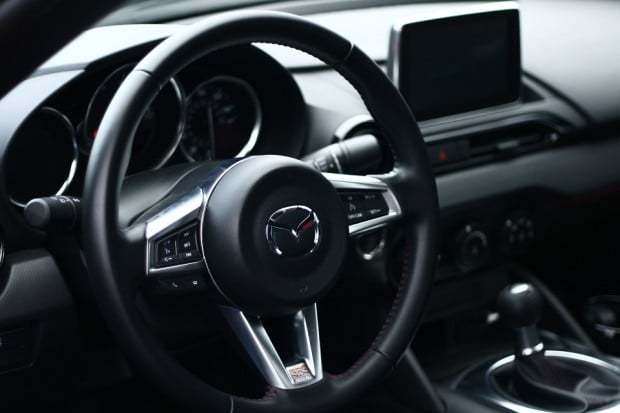 Seats themselves are nearly perfect, with my only complaint emanating from my lower back, asking for a bit more lumbar support. Those multimedia controls mentioned before are right behind the shifter. I found them to be simple and intuitive to use, and mostly out of the way unlike the cupholders that shared a love/hate relationship with my right elbow.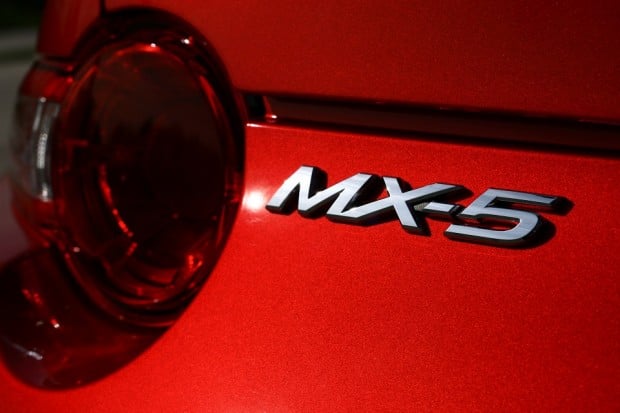 Ok, so it's not perfect. But neither was the NA. I'm glad Mazda decided not to go full-retro with the ND (opening the door with one finger is something I can easily do without), but instead they kept the simplicity. They kept the most important part, that getting the most out of this car requires more from the driver, and I quite like that.