Ford GT and GT40 Review: A LEGO Kit Exclusive
ford | ford gt | ford gt40 | lego | toys | May 18, 2017
Specs at a Glance

Engine: Tiny as hell
Horsepower: -2
Torque (lb-ft.): 4 pound-fingers
Transmission: 1-speed with reverse
Drive Configuration: RWD
0-to-60 Time (secs): 4,000 light years
Top Speed (mph): Speed governed to 1 mph
City/Hwy/Combined MPG: 1 Billion
Curb Weight (lb): 1/4 pound per vehicle
Wheelbase (in): 3.25-inches
Total Length (in): 5-inches (GT40) 6-inches (GT)
Width (in): 1-inch (both vehicles)
Ground Clearance (in): 1 millimeter
Base Price (USD): $29.99
For decades, I have animatedly emphasized that all of the piston-pumping action packed within my skull can been derived directly from playing with LEGO kits. From age four forward, these microscopic Scandinavian slices of engineering genius and late night pediatric agony were an ingrained aspect of my mental development. I had two apple crates full of larger pieces (trees, roadways, pirate ship masts, etc.) and then an official latching LEGO box that was bright red, briefcase-sized, and loaded with little tidbits. In short, long rainy days in Alabama weren't all that bad.
It was not until puberty kicked in and I discovered females that this toy's appeal finally began to wane. Since both LEGO kits and dating remain fairly expensive and potentially disastrous if poorly handled, I opted to focus exclusively on playing with the latter of the two for a change of pace, often with disastrous results.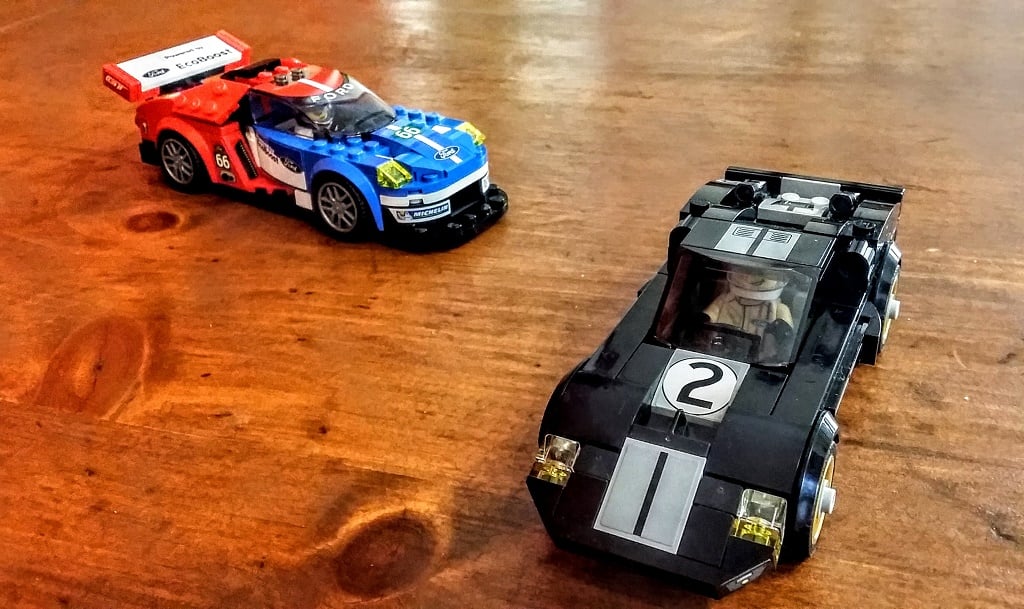 Flash forward twenty years and I now have my own 4 year-old, and the LEGO kit options on my desk are calling. Much like automotive manufacturers, the evolution of The LEGO Group has been riddled with ups and downs over the course of the past two decades, with the Danish brand's lowest point being in the early 2000's when it was teetering on the brink of bankruptcy. Fortunately this did not happen, and with full-length films and exclusive contracts with everyone from Marvel and DC to Disney, the interlocking LEGO success story continues to grow by leaps and bounds.
Take today's eight-wheeled adventure for instance. While it may be no secret that LEGO has collaborated with Ford before, what they have come up with this time around is a pint-sized re-imagining of the sensational 50th anniversary repeat sweep of Le Mans last year. The Ford GT & GT40 Speed Champions combo kit is a set that has been tailor-made to appeal to both Blue Oval enthusiasts and the next generation of LEGO Maniac alike, and comes loaded with a lot of fun touches. Sporting straightforward assembly steps, super small stickers, and an onslaught of swiveling sections, a lot of people will find this homage to to be quite the tempting buy for a multitude of reasons.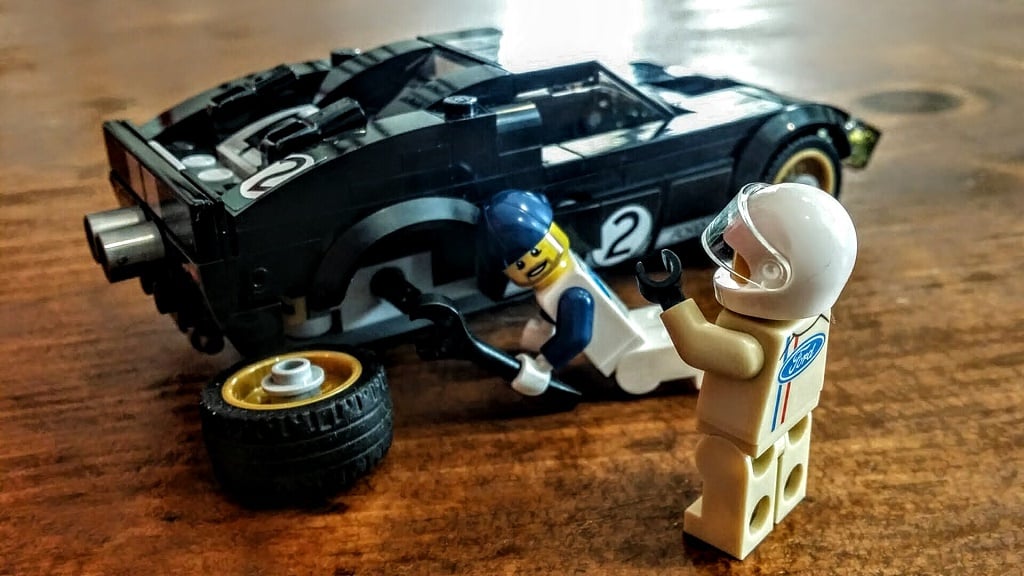 It's a kit that starts off like any other, but quickly takes a sharp automotive twist, as the GT40 begins to get assembled by the unshaven pit foreman/race marshal and his trusty wrench. From the clamshell front end and the swiveling cooling ducts, to the center-mounted exhaust ports and the old school gold wheels, the details on this portion of the kit are both dynamic and delightful. Even the tiny touches like the tilting spoiler and the scooped hood are on point, and once assembled it's impossible to not feel drawn in by those classic lines.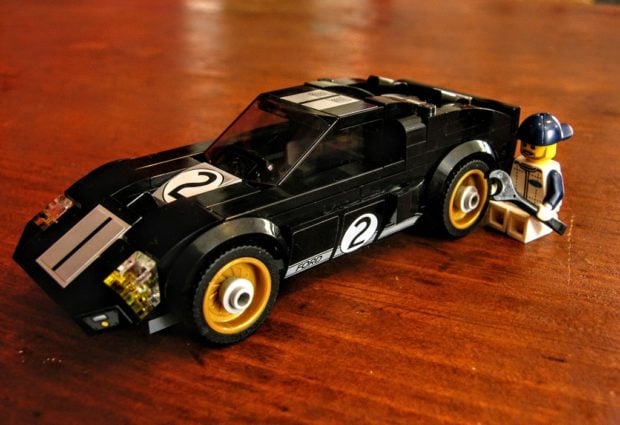 While converting this kit over to the GT's independent axle system would give it the ability to roll faster and further, it's the easily detachable rear decklid and wing that draws disfavor from my side of the desk. The pivoting rear glass will also take a little fiddling in order to fit right, and re-positioning the driver is required if adequate race helmet clearance is going to occur.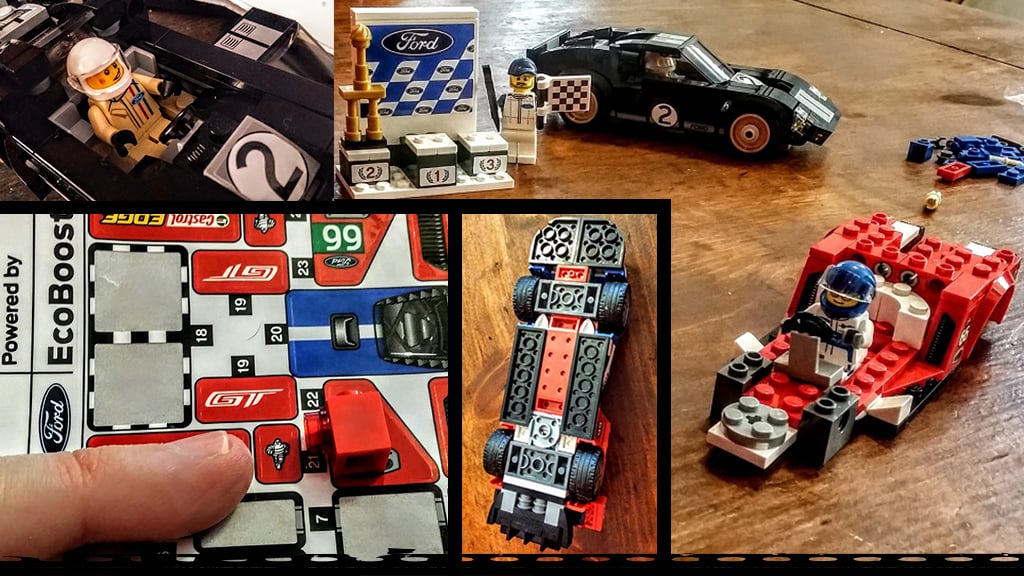 Moving onward toward the patriotically painted GT kit, it immediately becomes obvious that this is where the real fun begins. Bulging fender flares, interchangeable alloys, sleek wing brickettes, slotted rotors, and a smiling driver sporting shades are all memorable touches straight out of the bag. It's a lower-slung, slightly more advanced build than the GT40 that comes packed with detail and slathered with stickers. All told, the GT provides a very enjoyable build experience, as each area of the endurance race car comes together so too does the amount of detail, as you discover that even the underbelly showcases things like miniature barge boards, jack plates, and undertrays.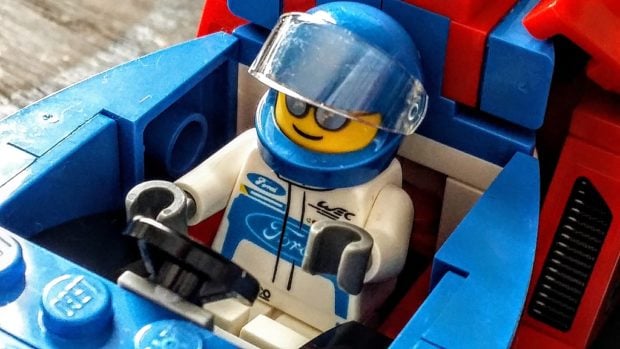 This segment of the kit also features some of the most microscopic stickers imaginable. So keep those tweezers at the ready, because that's really my little finger next to the Michelin Man, with LEGO's smallest button cap taillight resting on the other end. You also have to be a bit careful when adjusting the rear wing on this machine, for it is held on by two brick nodes and little else. Personally, I think it would have been a nice touch if designers had gone the extra mile and attached a transparent window over a 6-8 piece mini-motor instead of just slapping a sticker on the raked rear engine cover and calling it a day.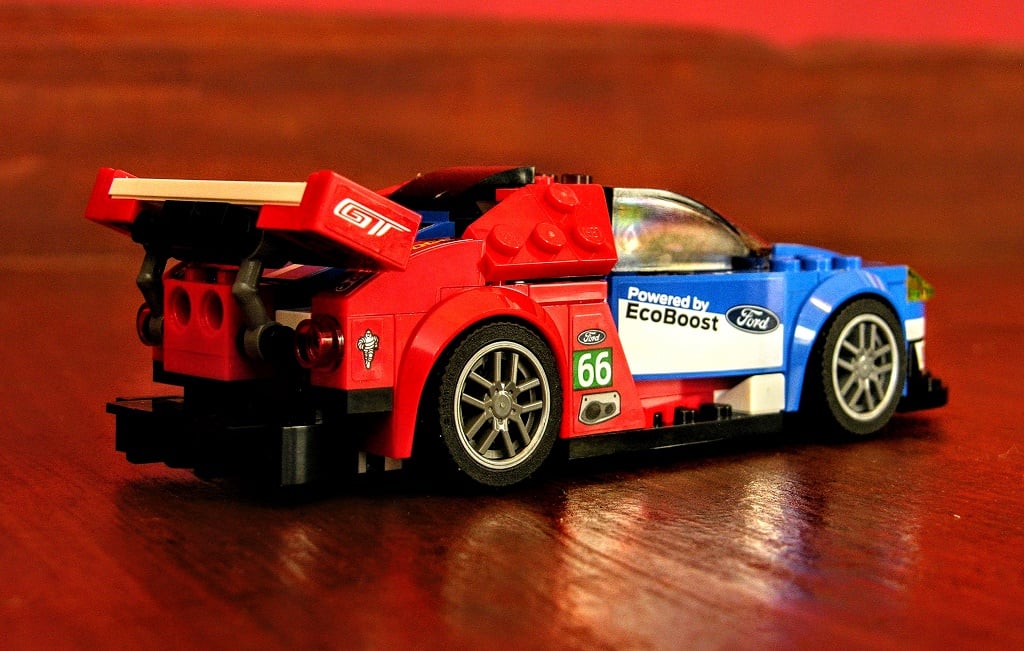 With everything assembled, and both drivers in their cars, the pros and cons of this kit really start to surface. On the downside, the axle rods on the GT40 are truly atrocious and prevent the vehicle from rolling very far if at all, whereas the GT's standalone spindle setup is smooth as silk. There also aren't any hinges on either vehicle's cockpit glass, so uncapping it in order to remove the GT driver often involves snagging bricks in the process. It also would have been a nice touch to see a manual shifter in the corner of the GT40's cabin since there is a spot for one right next to the driver, and despite having the space, both cockpits remain devoid of things like gauge clusters and other interior touches.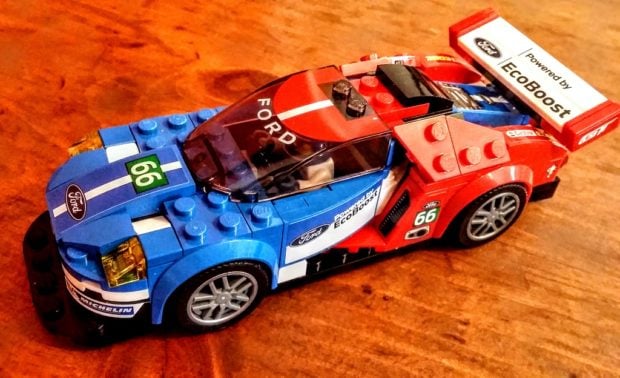 Despite a few design omissions and the GT40 having the rolling resistance of a snow plow, this is a pretty nice little LEGO kit, especially when you factor in its modest $29.99 starting price. That's a lot of building for thirty bucks considering that it's a 366 piece kit, features three figures (all of whom come clad in period correct race attire), and is detailed enough to make even the most diehard Ford fan fawn. So while I will undoubtedly be diving into my spare parts bin in order to make both vehicles even more "anatomically correct" – and faster in a straight line – I get the feeling that the average builder will find this kit to be plenty entertaining right out of the box, regardless of whether they are automotive enthusiasts or not.