LEGO Dragster Kit Review: One Outstanding Unbranded Build
assembly | birthday | lego | presents | toys | July 6, 2017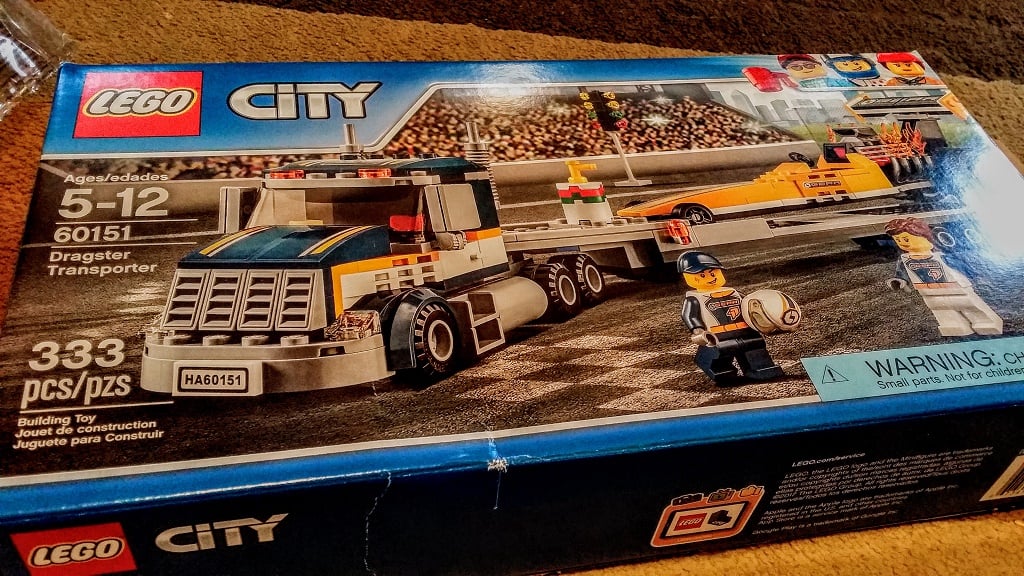 Specs at a Glance

Engine: Supercharged V6 (dragster) Turbo biodiesel (semi)
Horsepower: -1
Torque (lb-ft.): 5 pound-fingers
Drive Configuration: RWD
0-to-60 Time (secs): 3,500 light years
Top Speed (mph): Speed governed two 2 mph
City/Hwy/Combined MPG: ∞
Curb Weight (lb): 3/4 pound (all together)
Total Length (in): 16-inches (with trailer attached)
Width (in): 2.25-inches (semi) 2-inches (trailer) 3-inches (dragster)
Base Price (USD): $44.99
Occasionally, going out on a limb and trying the unbranded version of a particular product pays off in spades. It doesn't happen often, but when it does the feeling you get can often be both of surprise and satisfaction. Don't fancy paying full price for a certain item? Opt for the Costco alternative and you'll probably be pleased with what you find.
It was with this same hopeful mentality that I approached the LEGO Dragster Transporter kit. Launched recently under the "City Series," this miniature serving of drag racing engineering wound-up on my desk after a friend gifted my daughter with the kit for her 4th birthday. Being that the set packs a sizable 333 pieces and is recommended for children aged 5 to 12, I decided to help out one rainy afternoon, unaware that I was about to encounter one of the most enjoyable mid-size LEGO kits on the market today.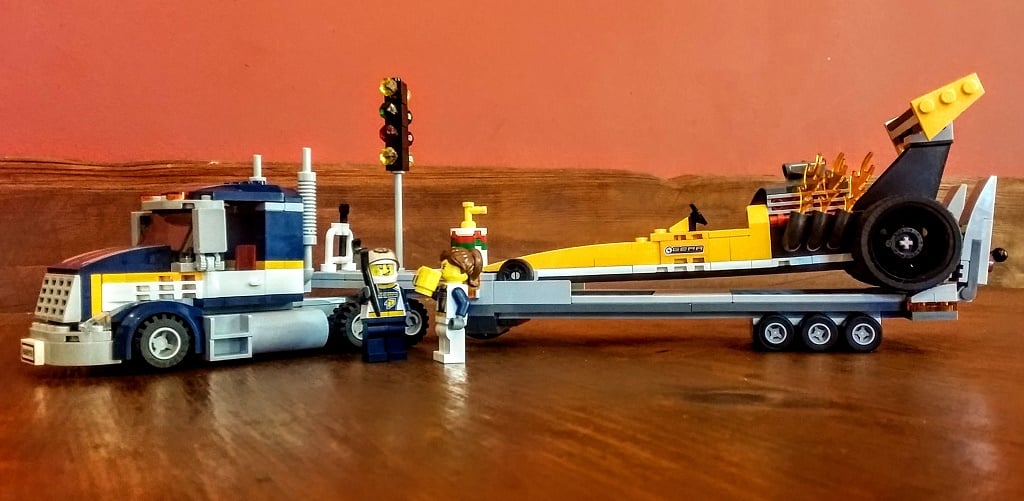 The first thing you will notice when unpacking this set is that it is indeed a "generically branded" LEGO kit. The lettering that goes across the front of the minifigures, atop of the cab roof, and along the wing of the dragster merely say "GEAR Team Racing," with smaller stickers on either side of the race driver mirroring the same. This may not be a deal-breaker for most LEGO Maniacs, but for those of you who are adamant about Holley, JEGS, and COMP Cams decals you're going to need to make your own.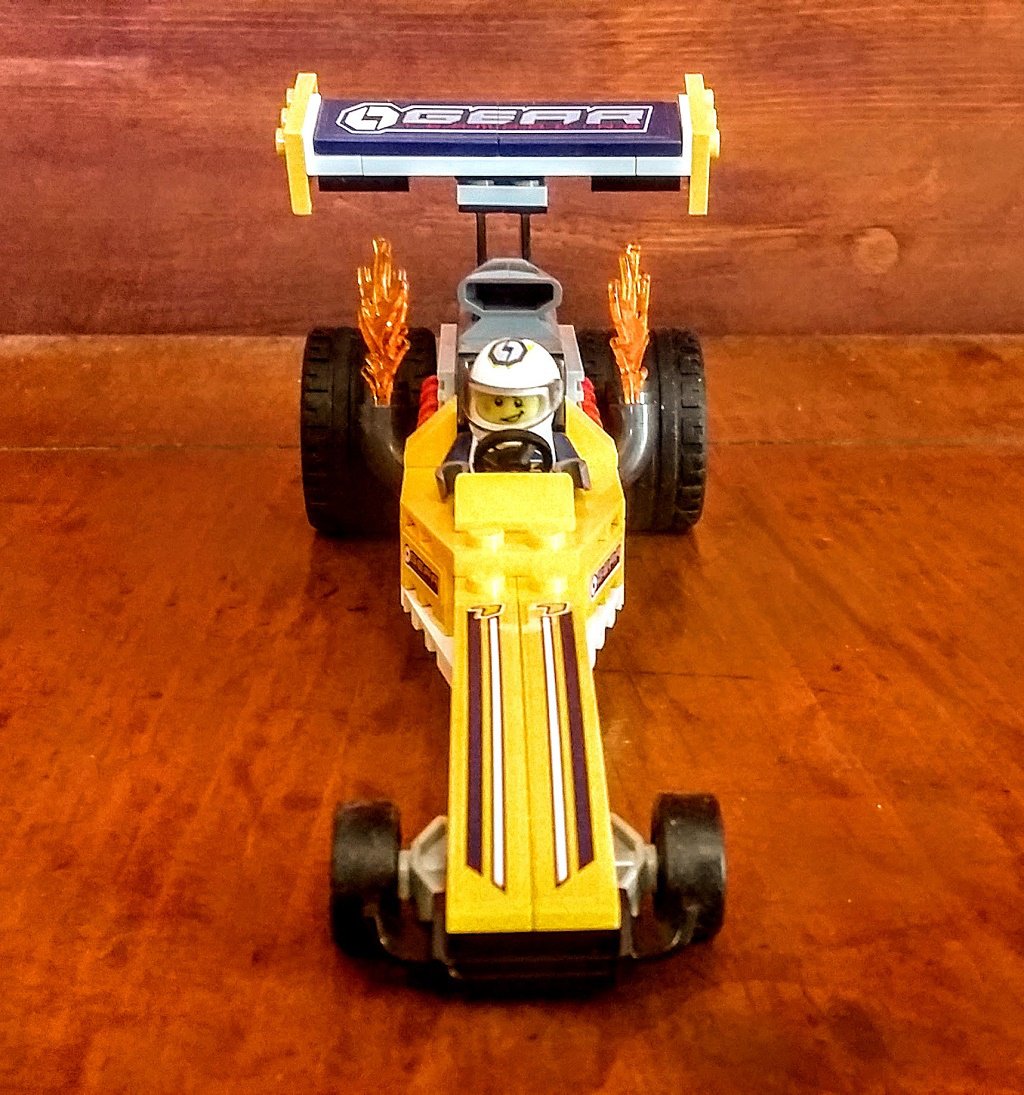 Small sticker stuff aside, once you begin the build, the level of enjoyment skyrockets instantly. The kit is broken down into three key components: Semi truck, trailer, and dragster. The diesel-powered portion of the kit is nicely detailed and comes complete with a lot of touches in order to make it look and behave like a full-size semi truck. Some of these areas include side-mounted fuel tanks with integrated steps, twin smokestacks, a shuttered grille, roof lights, a license plate, large side mirrors, and a cab outfitted with a driver's seat and a coffee mug.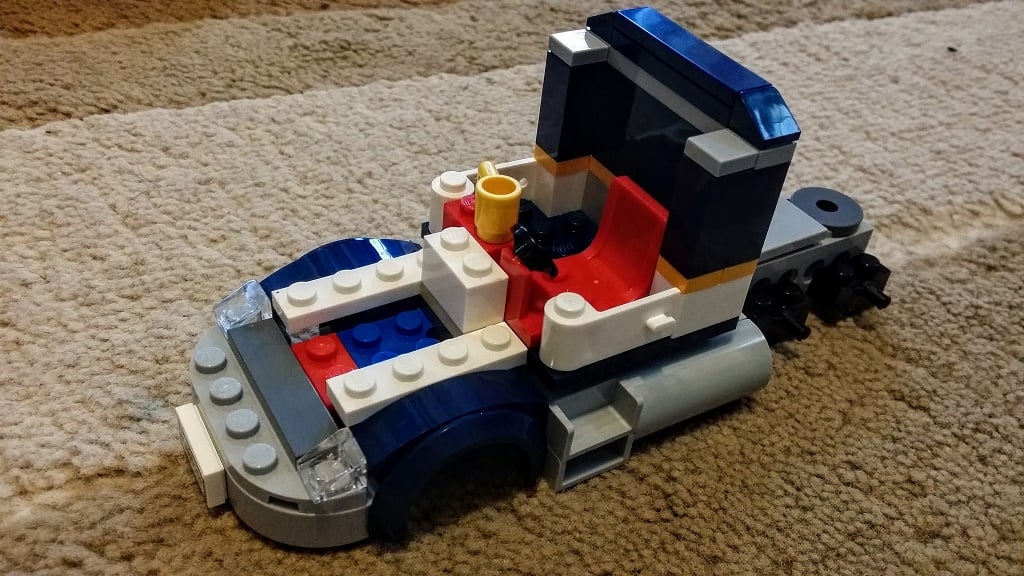 Moving on to the towing portion of the build you'll soon get another nice surprise: A trailer that is not a complete bore to build. Although it would have been nice to see some of the truck's horizontally lined color scheme flow onto the all-gray trailer behind it, the little touches encased within this part of the assembly process make up for the aesthetic oversight. The folding, light-filled load ramps, tool rack, side markers, oil drum, rear corner lenses, and triple-axle hind-quarter all add authentic accents to the gooseneck, while loads of flat-faced bricks up top give a polished finish to the final product.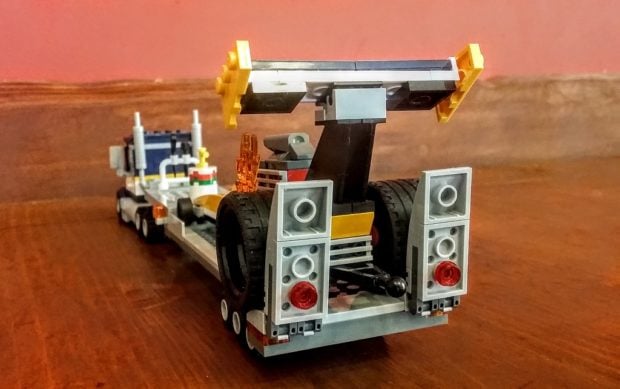 As for the dragster that rests atop the trailer, this little speed demon offers both build and completed play grades that are nothing short of sensational. Measuring 11-inches long, and loaded to the side sills with all manner of race-inspired detail, this straight-line racer is a winner in almost every way. Key features here include staggered wheel configurations, an adjustable wing, a gaping air induction scoop, and fire-breathing side exhaust ports. Much like the previous two portions of this kit, the assembly of the drag car was a blast and came together quite easily, with very little rolling resistance to be felt on flat surfaces once finished.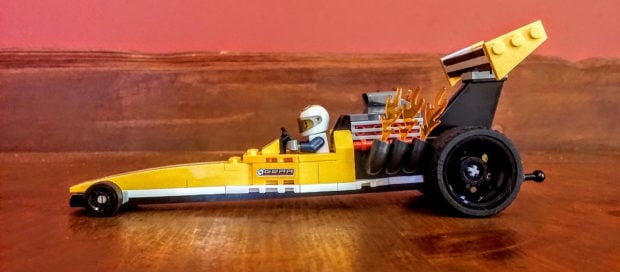 A few favorite aspects of this kit for me include the way in which the dragster fits snugly onto the trailer, all of the small functional touches along the gooseneck, the proportionally accurate aspects of the semi itself, and those gigantic drag wheels. Once loaded, the entire kit rolls and turns well, the trailer remains relatively flat once disconnected from the semi, and pulling the dragster up and down the folding ramps adds a fun and functional finishing touch. Oh, and did I mention that the truck driver is female? My daughter was quick to point this out, so kudos to LEGO for keeping racing and trucker life open to everyone.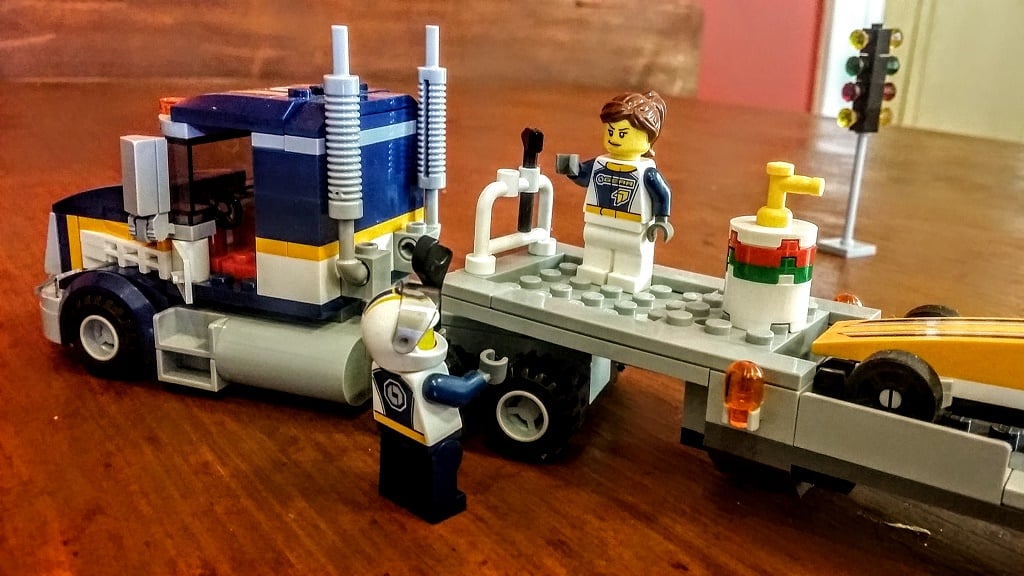 In regard to miscues with this kit, most of them are finishing touch related and have very little to do with overall appeal or functional design. For instance, the cabin of the semi has the space for a gear shifter, a passenger seat, gauges, and so on, yet all you get is a steering wheel, a driver's seat, and a coffee mug. It also has the room for a sleeper cab and an angled roof spoiler but is devoid of either, and with the trailer detached you quickly notice that there aren't any taillights on the back of the rig.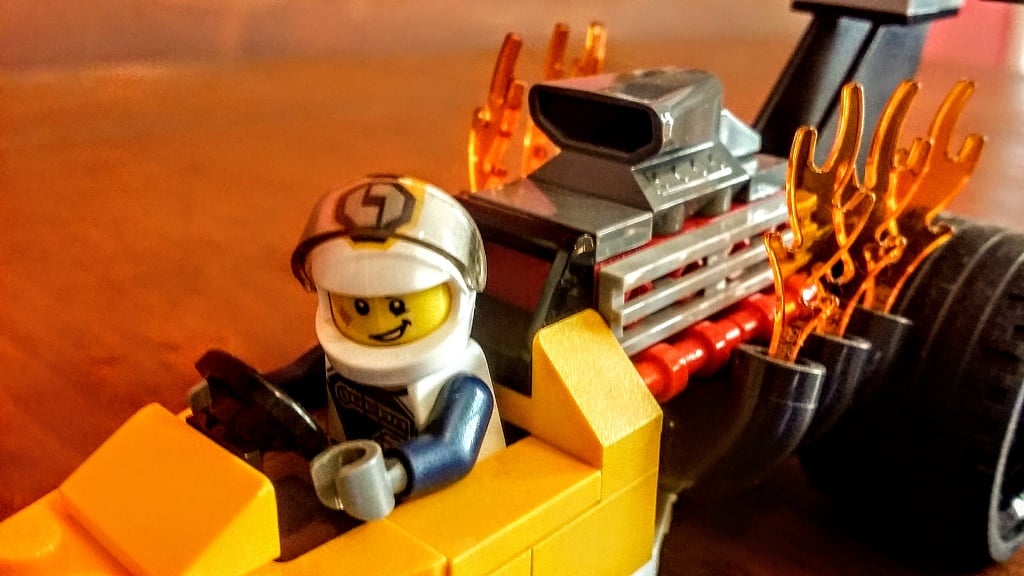 A few other misses that I can see someday getting amended are the dragster's need for a parachute box out back, the absence of a tool chest on the trailer, and the obvious need for LEGO's "Pull-Back" self propulsion system. Also, much like the Ford GT/GT40 kit we reviewed a while back, the roof of the truck's cab is not hinged, so removing it occasionally means ripping off doors and windscreens.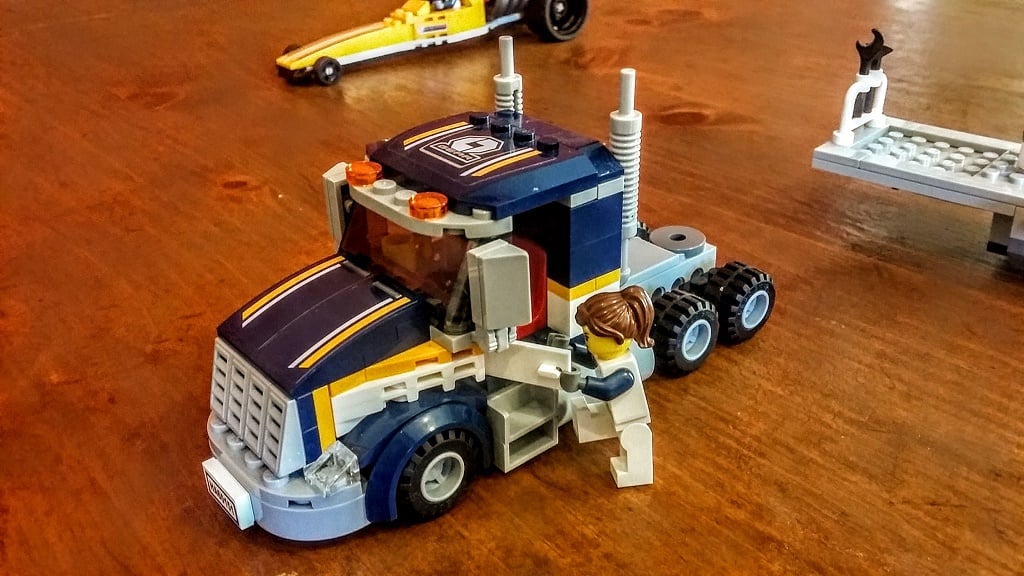 But all told this is still an outstandingly well-designed and detailed LEGO kit. Buyers and their kids get a little bit everything here thanks to a trifecta of realistic rolling components, along with a race light tree, oil tank, and two minifigures. The color scheme utilized is also very cool, and the use of horizontal layers really adds depth and design appeal to the equation. Simply put, this is a 4.5/5 brick kit, thus making it one of the best unbranded race-themed options ever to be offered by LEGO, and I for one look forward to pitting it against future builds.