McLaren 720S LEGO Kit Review: Orange is the New Brick
christmas | lego | mclaren | mclaren 720s | toy | December 13, 2017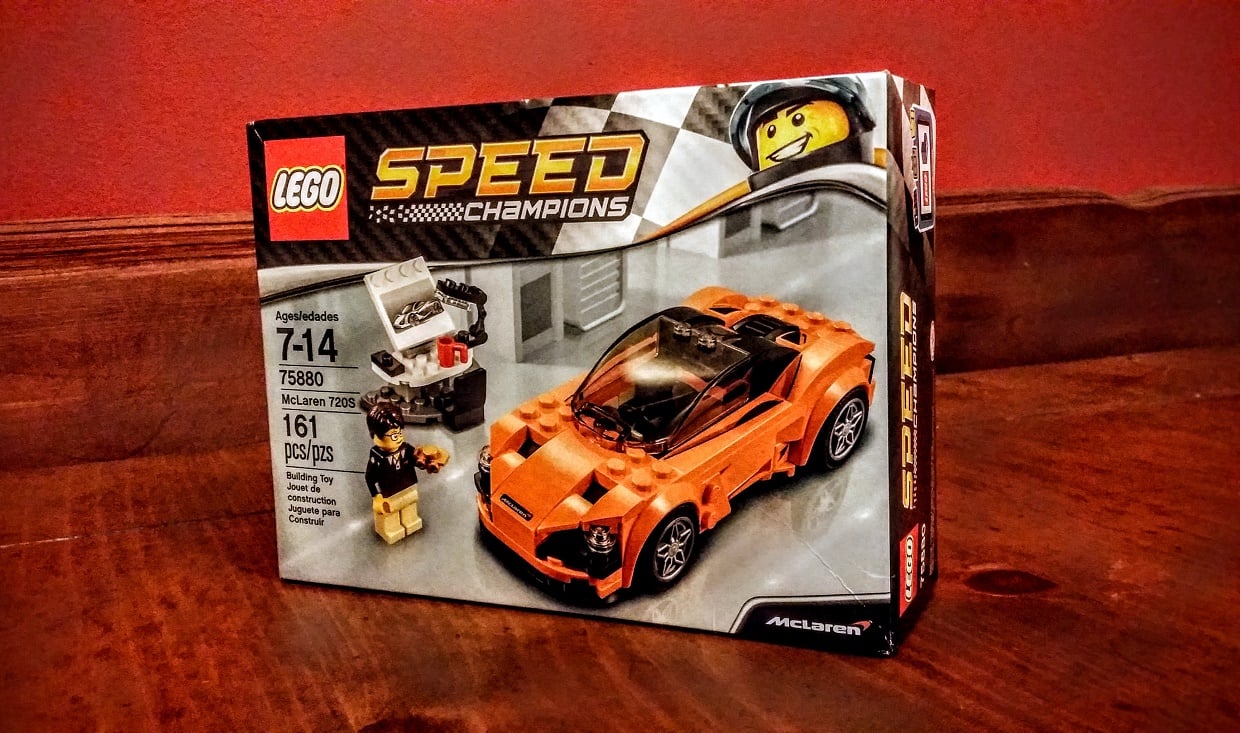 Specs at a Glance

Engine: Microscopic
Horsepower: Yes please
Torque (lb-ft.): We'll take some of that too please
Transmission: Gearing is for overachievers
Drive Configuration: RWD
0-to-60 Time (secs): Whenever
1/4 Mile Time (secs): Sometime next spring
Top Speed (mph): As fast as you can push it
City/Hwy/Combined MPG: Stupendous
Curb Weight (lb): 3.7-ounces
Wheelbase (in): 3 1/8-inches
Total Length (in): 5-inches
Width (in): 2 1/4-inches
Base Price (USD): $14.99
Say what you will about handmade supercars, but McLaren continues to create some of the most amazing extreme machines ever to grace the asphalt. Unfortunately, getting a vehicle of this caliber for a week-long review is easier said than done, and while there is a very good chance that I will be getting ahold of a 720S next spring, the desire to tinker with one today remains insatiably strong.
So with wintry weather tightening its icy grip, I turn to the next best thing: A licensed LEGO replica of the 720S supercar. Clad in the best plastic representation of "McLaren Orange" possible, and featuring a spectacle-sporting engineer with a penchant for Earl Grey, this 161-piece kit appears to be playing the part perfectly, even before unboxing.
Although track time at the McLaren proving ground in Barcelona seems like an eternity away, this kit offers a great small-scale representation of the real deal, starting with the designer's desk. Sporting a swivel lamp that extends, 3D models of the "real deal," and a folding easel housing an original design sketch, the studio aspect of this set adds a unique touch that makes play time all the more engaging.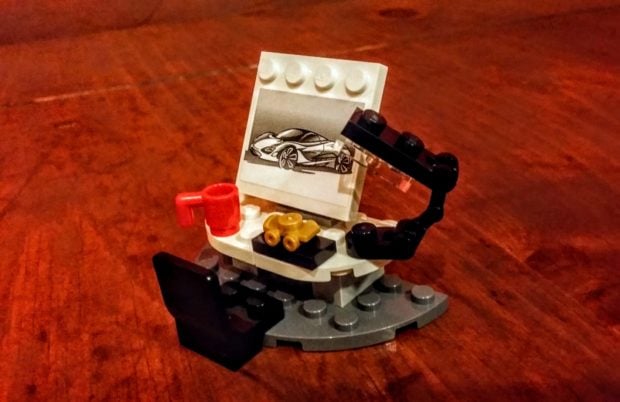 As for the chassis itself, the build starts with a centrally-mounted chassis frame in black, and the build grows outward from there. Interesting build portions include bulging fenders, a multi-tiered front air dam/splitter, and the rear bumper, complete with exhaust finishers and an underbody diffuser. The deeply carved sides of the 720S also make for fun assmebly, with overlapping vent lines and hooked side skirts finishing things off.
Although cockpit touches may leave something to the imagination, the slightly smoked windscreen, raked seatback, and deeply ensconced driver position add a futuristic feel pulled straight from the real thing. Speaking of thinking deep, the duo of hood vents that pocket straight into the air channels on either side of the front headlamps look downright devilish, negative space that is also present in the full-size version.
Various finishing touches include two sets of interchangeable wheels (pictured here with a split 5-spoke design), a "vented" rear engine cover, and a slew of stickers. Although physical LEGO bricks will always remain preferable, these peel-and-stick details do a pretty solid job of serving as minimalistic representations of the real thing, and feed fluidly from one brick unto the next.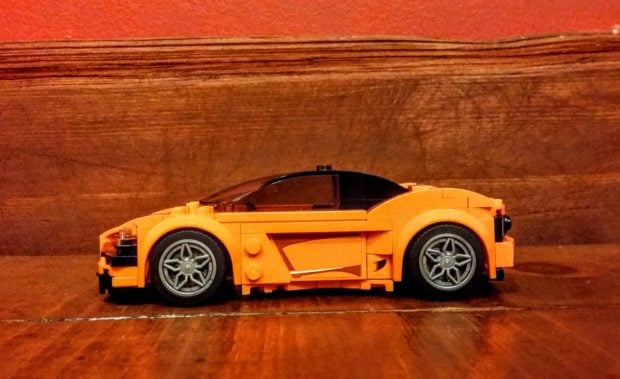 Once assembled, the LEGO version of the 720S rolls with ease due to its independent hub assemblies, and while the two downward-facing nodes on the rear diffuser look like they will drag, the vehicle glides across counter tops without issue. It's a build that can compete side-by-side with the likes of the Ford GT I assembled earlier in the year, and proportionally is right on point when comparing the two.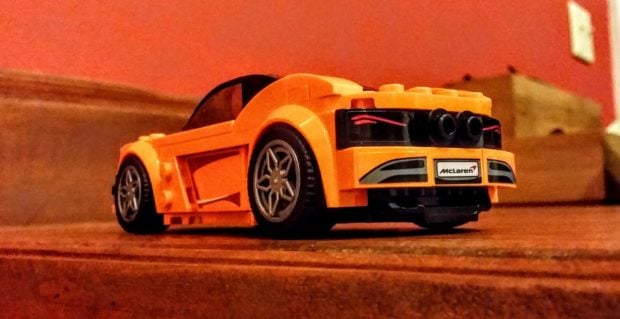 But comparisons also bring with them qualms, and I honestly felt a bit cheated when I realized that so many small stickers were being utilized to replicate key touches like air ducts and tail lights instead of serving as interior accents. Instead you get a cabin devoid of gauge pods, switches, or anything else. Save for a steering wheel, it's an extremely unimaginative interior with few redeeming factors, and unlike the real thing, there are no gull-wing doors, so be prepared to rip-off the roof.
I also was not keen on LEGO's decision to eliminate the 720S's sexy sideview mirrors and wing upgrade. And instead of exposing the mid-engine's inner workings like it should, the pivoting piece beneath the rear cover does little more than wiggle. The 720S could also benefit from the Technic brand's outstanding "Pull-Back" technology, as a smaller design would easily fit in the rear and give even more enjoyment when it comes time to cruise.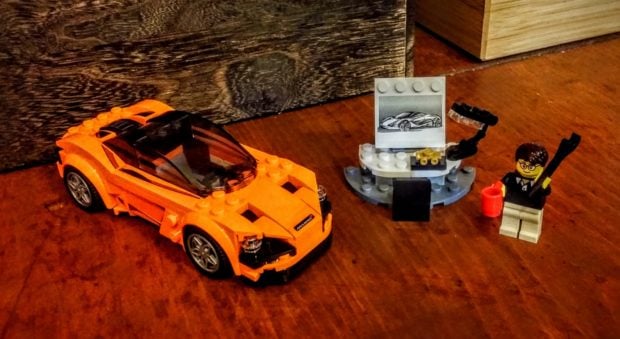 All told at $14.99, this kit is still a steal for entry level builders or for a last minute Christmas buy. It offers a healthy amount of real-life detail, rolls really well, and the design studio aspect is without question a fun touch that encourages additional creativity.
But with so many key aspects receiving "sticker representation" or no representation whatsoever, I feel that the Ford GT/GT40 kit still comes out on top with its more detailed, moving aero components, and dynamic styling. So unless there is a mid-cycle refresh on the books for the LEGO McLaren 720S, it is going home with a 3/5 brick rating today, even though the real thing will likely score much higher.