2019 Hyundai Veloster Revealed: Is it Better in Every Way?
Direct Injection | GDI | hatchback | hyundai | hyundai veloster | naias 2018 | R Spec | turbo | January 15, 2018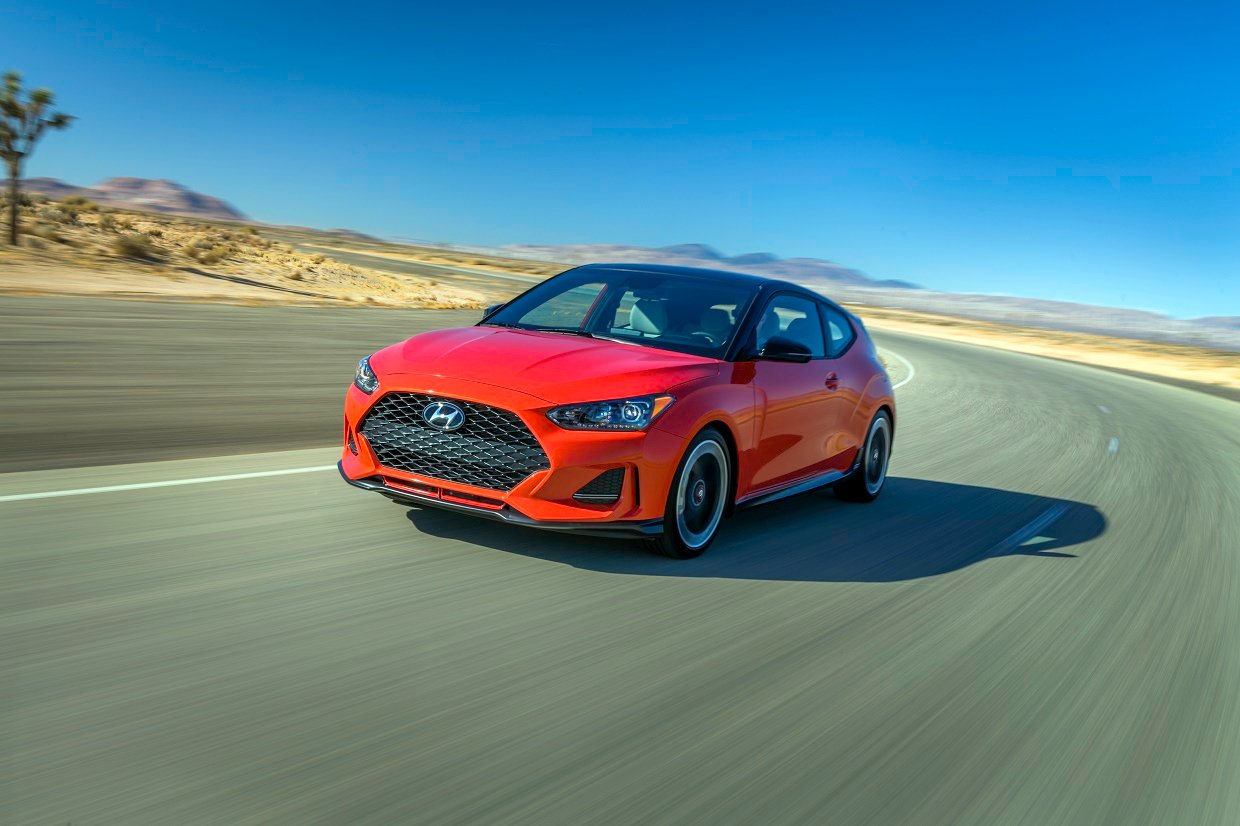 For those of you who yearn for a coupe-style hatchback, yet still value easy access to the back bench, there is one option that stands out from the swarm: The Hyundai Veloster. I was left both intrigued and puzzled by the Rally Edition model, with its wild blue aero and aesthetics setting off both interior and exterior accents. Rolling atop legit RAYS wheels, with a B&M short-shifter and sportier suspension firming things up, this turbocharged 1.6-liter space ship seemed cut straight from a Korean Spaceman Spiff comic strip.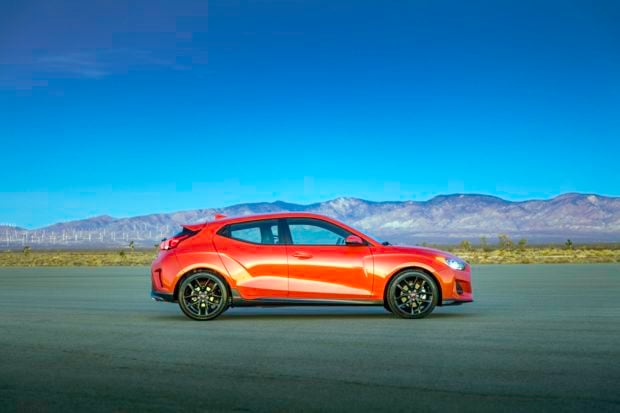 Hyundai looks to change this by unloading an all-new Veloster at the 2018 North American International Auto Show (NAIAS). Tapping designers from both Seoul, South Korea and the U.S. for the task, the new Veloster is revised visually both inside and out, packs a few trick powertrain updates, and takes tech into fresh territory.
Aiming to "attract a progressive new group of enthusiast buyers," Hyundai is taking colors like Sunset Orange and pulling trace amounts inward, with shaded accents striking cloth, cloth/leather combos, and all-leather interiors. At first glance, the interior of the "Turbo Ultimate" strikes the strongest note with its asymmetrical lines, driver-focused cockpit, and sporty finishing touches.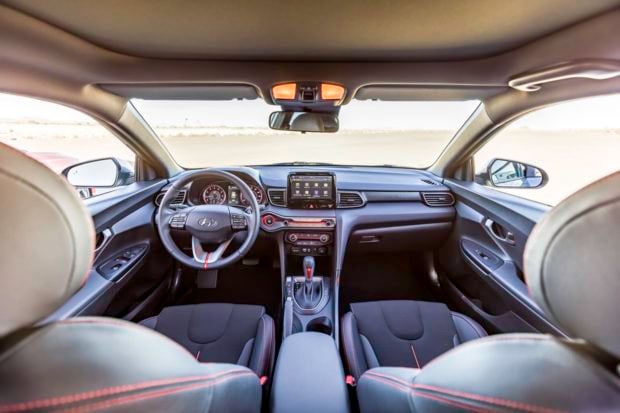 Outside of retaining its nifty, passenger-side third door, the Veloster also comes with optional LED headlights and running lights, completely remolded exterior, and a few functional aerodynamic updates. With available 18-inch alloy wheels, a lower roofline, larger rear diffuser, stacked LED taillights, and a dark two-tone glass roof option, visual appeal is strong this time around.
Being that I have only driven the manual-shifting, turbocharged Rally Edition of the outgoing model, we will hold off on discussing the 2.0-liter naturally aspirated version for now. Although 147 horsepower and 132 pound-feet of twist aren't terrible, and it can be attached to a six-speed manual, it's the affordability and driveability of the Turbo and R-Spec model that pique the most interest around these parts.
The direct-injected and boosted Gamma 1.6-liter engine packs an overboost function for bumping torque to 202 pound-feet under heavy throttle (an increase of 7 pounds), with 201 horsepower covering the rest of the curve. It also runs on regular pump juice, and once coupled to Hyundai's own six-speed manual gearbox and the aforementioned B&M short-throw kit, it should make for a very fun little daily driver. No word yet on whether the R-Spec model will get this setup, but chances are good that it will indeed be present.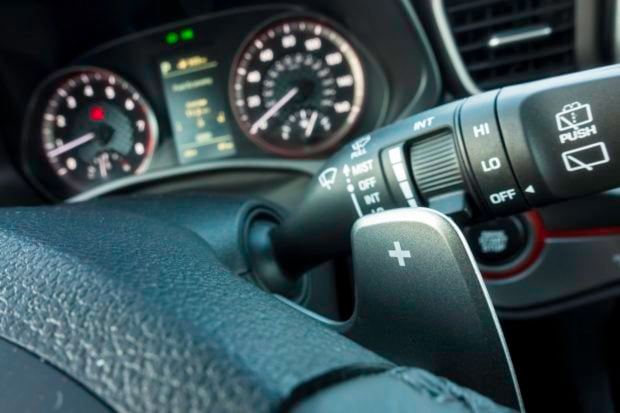 The seven-speed dual clutch transmission (DCT) option has also been developed in-house by Hyundai, and comes with paddle-shifters and SHIFTRONIC transmission controls. Hyundai also admits that Turbo models will feature an "Active Sound Design," or as I like to call it, "speaker amplified sportscar sounds!" These synthetic sounds will likely increase as driving modes get bumped from Normal to Sport, as well as when in Smart mode in automatic equipped versions.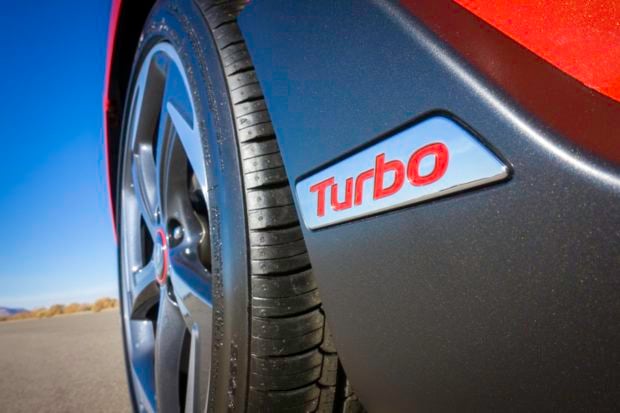 There also is a standard Torque Vectoring Control (TVC) for sharper cornering, along with a tighter ratio steering rack and completely overhauled steering adjustments to match all that improved feedback. This last piece is particularly important, as the old model fell way short when compared to the competition, scoring the vehicle low marks with both critics and consumers alike.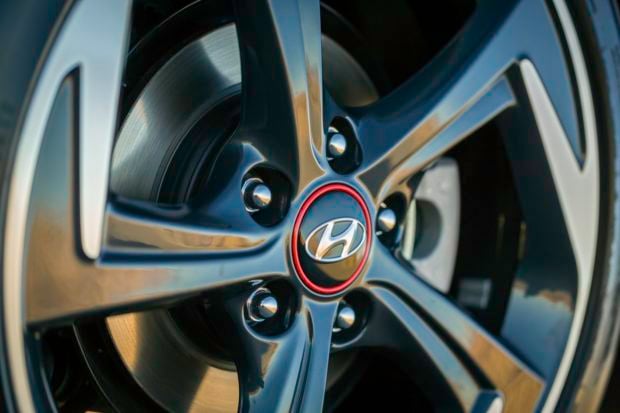 Back on track, Turbo models will also come with McPherson strut front suspension, a 24-mm diameter front stabilizer bar, an independent multi-link rear layout, and a 19-mm sway bar between rear haunches. Six-speed manual buyers will be offered an exclusive 18-inch alloy wheel upgrade, all wrapped in Michelin Pilot Sport 4 summer tires.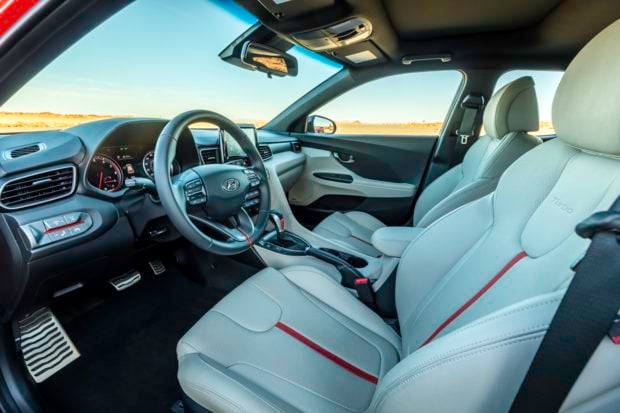 As with all modern Hyundai models, a plethora of advanced safety features come standard on the 2019 Veloster, along with a nice array of optional collision warnings. Everything from lane assist to rear cross-traffic alerts and smart cruise control are a Veloster staple now, so bring on rush hour, because this little guy is ready to run the gauntlet. For added security, it also packs a Vehicle Stability Management (VSM) system, which electronically tweaks stability control and power steering for increased driver confidence on split-friction surfaces, where it is slippery on one side and dry on the other.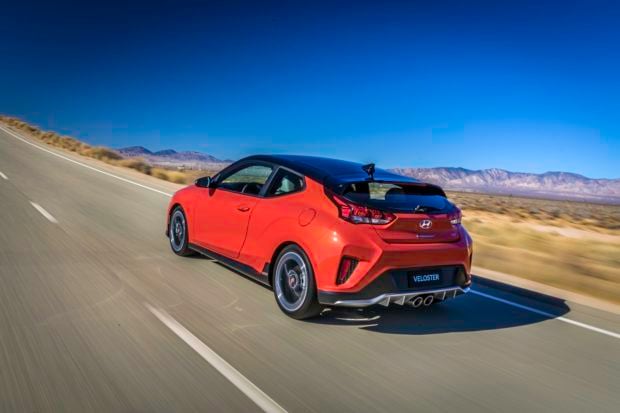 Regarding infotainment, buyers can expect to receive Android Auto and Apple CarPlay with Siri integration, as well as a 7-inch touchscreen, menu swipe functions, enhanced junction-view lane guidance prompts, and a backup monitor. Available options include but are not limited to: Qi wireless-charging, an 8-inch touchscreen display, HD Radio, SiriusXM,  and next-generation Blue Link LTE-powered connectivity. There's also an eight speaker Infinity premium audio upgrade, complete with subwoofer and Clari-Fi music-restoration, as well as smartphone integration, which comes standard in Veloster Turbo models.
Hyundai says that for the first time in Veloster history enthusiasts will get to opt for a heads-up display, complete with pop-up screen, speed warnings, navigation prompts, cruise control notes, lane departure warnings, and audio system info. In automatic models, pushing Sport mode enables RPM, MPH, and transmission gearing stats, and since this nifty tech is button-activated it can be easily recessed into the dashboard when not needed.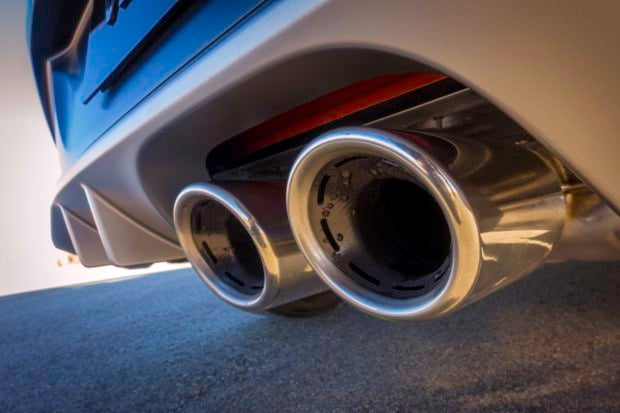 Rolled together, the Veloster Turbo looks to be on track to win far more points than during its first round in the ring. All of the strange spaceship lines (both inside and out) are now gone or have been molded into fresh content, and with a little luck the disconnected steering feel will finally be fixed. Although I can foresee that issues with blind spots may remain a concern to some, all together Hyundai has done a good job of aesthetically overhauling the Veloster, and with the right wheel option it really stands out.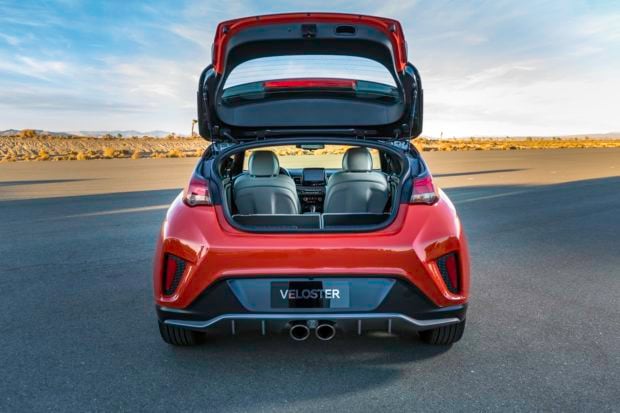 Minty fresh designs and tricked-out pop-up screens set aside, the only thing left is this: Does the Veloster have what it takes to win over Honda Si buyers? While performance details on what the R-Spec is rocking remain a mystery, it will be interesting to see how the three-door Korean compact hatch does in a head-to-head comparison with the Si coupe.
So stay tuned, because Hyundai has the compact hatch segment square in its sights, and with options like the voracious Veloster N preened for pleasing petrolheads like yours truly, the future looks both fun and fast for the Korean brand.