Driving the Nissan 370Zki: A Crash Course in Extreme Snowmobiling
2018 chicago auto show | mods | nissan | nissan 370z | Nissan 370Zki | snowmobile | tracks | v6 | winter driving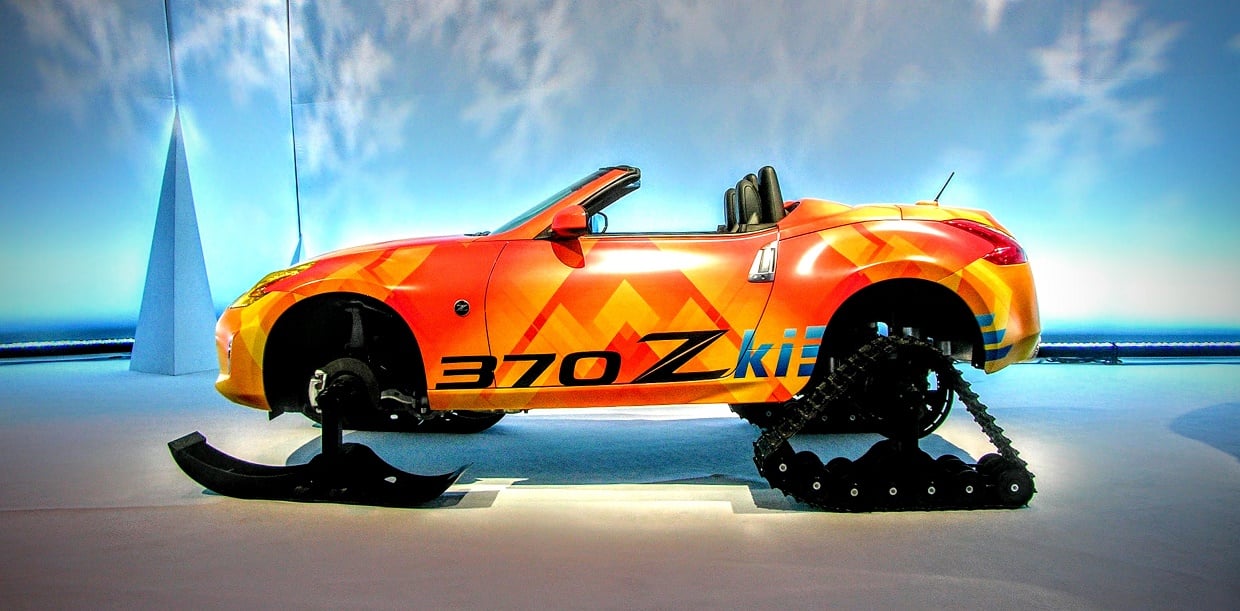 When opportunity comes knocking it is often best to answer. Preferably with a hearty "Hell yeah!" and especially when it involves a Nissan 370Z that's been converted into an over-sized snowmobile on steroids. This is exactly what happened to Nissan's chief Truck and SUV Brand Communications specialist, Kevin Raftery; who upon accepting the offer to take the snow-throwing Fairlady Z out for a spin in the Grand Tetons, found himself assisting in the creation of Nissan's latest video adventure.
Even though the snow pounding the 2018 Chicago Auto Show made for a solid argument as to why we should have taken the Zki out for a spin, the reality of the matter was that this contraption is a lifetime away from being street legal. With my dreams of taking the winter romper out for donuts in an abandoned parking lot smashed to smithereens, my thoughts returned to Kevin and his time with the 370Zki.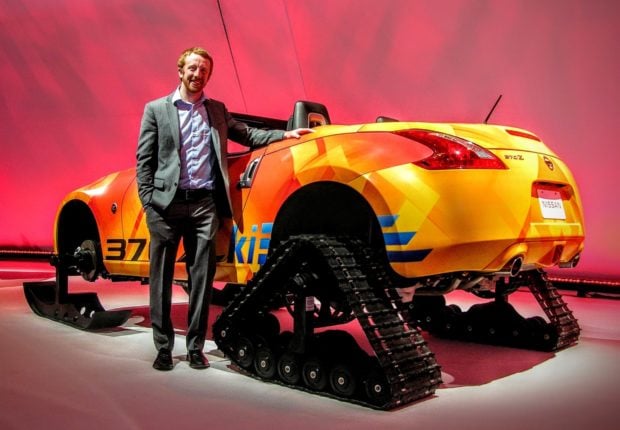 Although he may not have been the driver in the video (Nissan had a specialist tackle that part), Kevin was still fortunate enough to have hooned the Zki when the cameras weren't rolling, and I was dying to know what his take was on this icy escapade. Opportunities of this caliber are typically shared amongst a mere handful of humans, making Mr. Raftery more than just a mild-mannered truck guy with great fortune, but someone with a story to tell as well.
So strap on your snow boots and break out that toboggan, because here's what went into making one of the world's most feral snowmobiles a reality, along with a few notes on what it is like to be one of the fortunate few to have ever driven the Nissan 370Zki.
1. No Build Comes Without Headache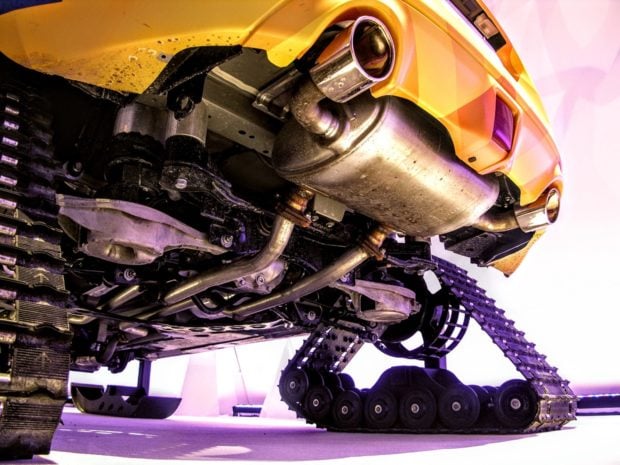 In order to get the vehicle ready for extreme weather romping, Kevin says that the 370Z was sent over to The Westside Group LLC in Franklin, Tennessee for heavy modification. Installing those gnarly 15×48 Dominator Tracks from American Track Truck, Inc. meant dropping the entire drivetrain in order to see what mounting options were available, along with the fabrication of a custom 3-inch lift kit.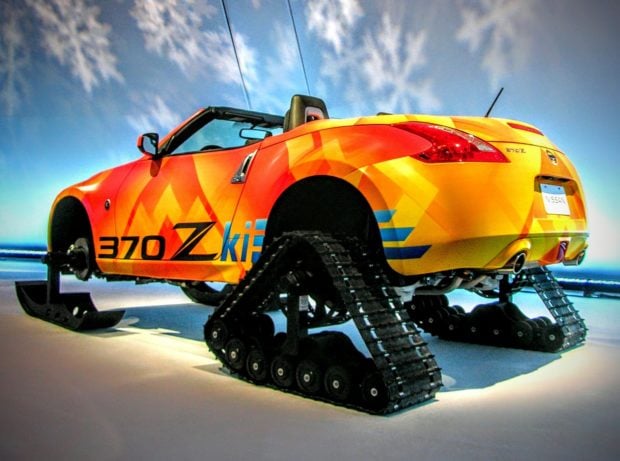 These mods were soon followed by the fabrication of mount points for the rear springs, as well as the creation of two massive custom spacers, which ultimately allowed the snow tracks to snug-up to the hubs. Clearance issues with both back fenders meant that a hot shave was now in order, followed thereafter by stock-spec exhaust piping revisions to facilitate the clearance of the custom rear subframe.
Meanwhile, up front, layout issues meant that both fenders were also demanding their own shave and a massage. Hub spacers also needed to be installed in order to help the one-off suspension and riser adapters to attach safely to the vehicle. With all of that fiddle-faddle out of the way, it was time to reinstall the engine and transmission with custom-mounts and fab-up a front skid plate. From there it was on to testing, the installation of a wrap by Icon Image Graphics, and the sewing of some seriously stellar snow suits.
2. Stock Still Cuts the Mustard
The 370Zki's brakes, steering calibrations, exhaust, and engine are all bone stock. Which means that much like the OEM exhaust, only the factory brake lines required rerouting. No twin titanium mufflers, GT-R calipers, or a turbocharged powerplant to match here guys, just old-fashioned Fairlady fun. Kevin says that save for the previously listed modifications, the team's biggest goal was to never to go overboard, but to merely turn a bone stock 370Z into a bitching snowmobile and then see what it could do.
3. Smoother Than Champagne on Ice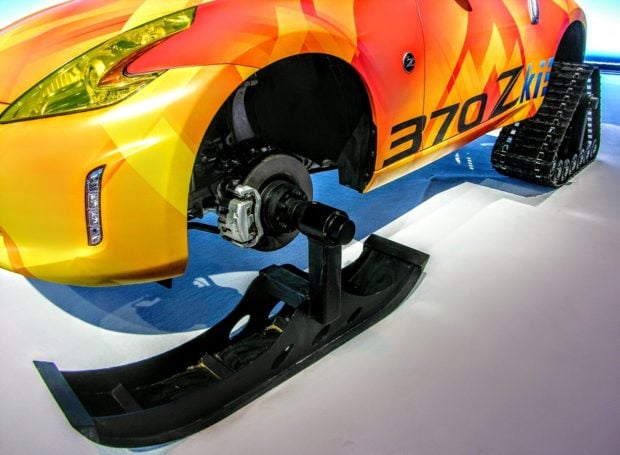 Kevin is quick to point out that familiarity breeds confidence, and that once you get the hang of things, the vehicle drives much like a stock Z. He also admits to being positively shocked by the Zki's unprecedentedly smooth ride characteristics. Zero Gravity seats and suspension tuning that has been tasked with keeping both comfort and control in mind means that when cruising over even terrain the 370Zki rides almost as if it were stock. Granted, the vehicle's increased ride height and revised suspension components do make the chassis behave a bit differently, and all the damn noise out back has to be damn near deafening, but I am also sure that it's all quite worth it.
4. 100% Traction Satisfaction Guaranteed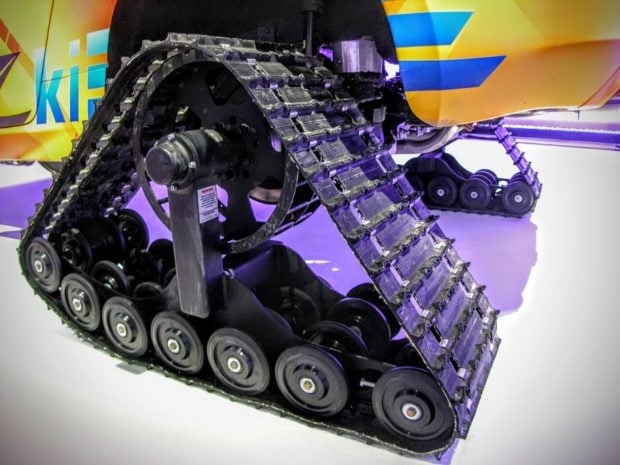 Attaching those treads to the vehicle didn't just give the Nissan 370Zki the ability to glide over the snow and make a badass statement in the process, but they also gave Kevin and his co-driver the ability to jump from a standstill with zero issue. Getting up to speed from a dead-stop, slaloming down a slope, or ascending a steep grade all returned levels of grip that were Titan-grade, something that astonished Kevin the first time he drove the vehicle. Even with its tail-happy rear-wheel-drive layout now spewing snow, the car's stock traction settings and super-grippy treads make winter driving an energetic joy.
5. But Still Be Ready to Brake Early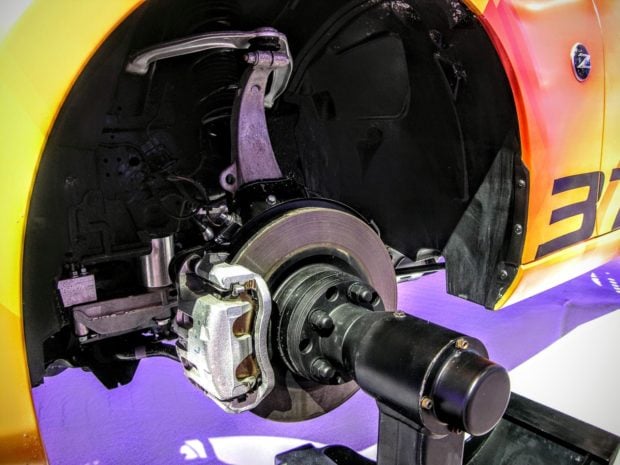 If there were one thing that causes concern, Kevin says, it is mastering the ability to brake properly in the 370Zki. While the treads may have significantly aided in the vehicle's ability to project itself forward from a standstill and around bends, sliding to a snowy stop without wanting to wee oneself surely was a challenge. Just further proof that there is no perfect fix for icy conditions, and that the age-old advice about giving yourself additional car lengths when the weather turns to pot is indeed still accurate.
6. This is Just Part of the Puzzle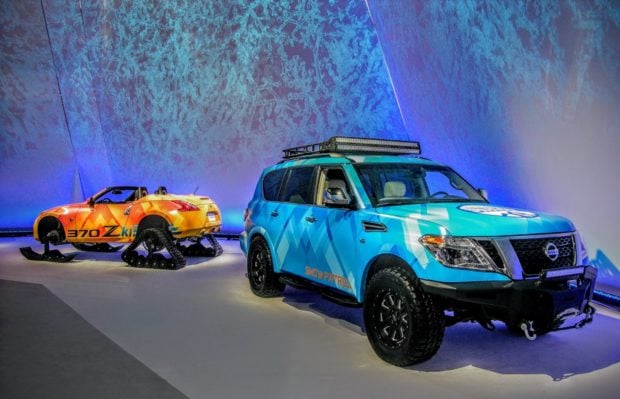 Wrapping up our interview, Kevin made mention of things like the team's custom snow suits, the gorgeous weather during the day of the shoot, and the V8 monster that made the entire experience possible. Being that the 370Zki is far from being street legal, it had to be hauled to the quarter-mile play park up in the Tetons by something massive; a vehicle that Kevin was eager to see built.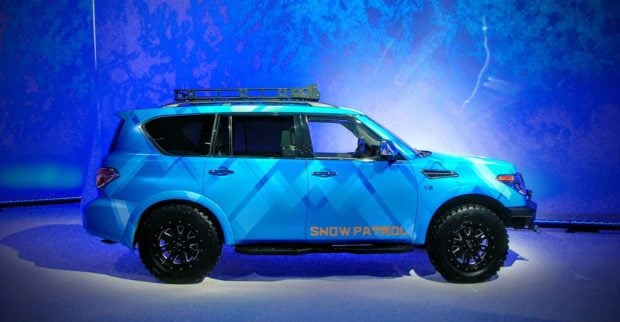 By building a brutish "Snow Patrol" version of the Armada, Kevin explains that the team was able to provide the ultimate Nissan take on what a snowmobile experience should be, slick SUV and all. With a workhorse out front that's just as badass as the build behind it, all of that frenzied frolicking up in Jackson Hole and Idaho must have been a blast. I cannot wait to see if a badass LEGO kit materializes from this caper, complete with a pair of drivers, one of whom rocks red hair and a genuine grin.