2018 Genesis G80 AWD 3.3T Sport Review: Sports and Leisure
2018 | awd | G80 | genesis | hyundai | korea | luxury car | sedan | turbo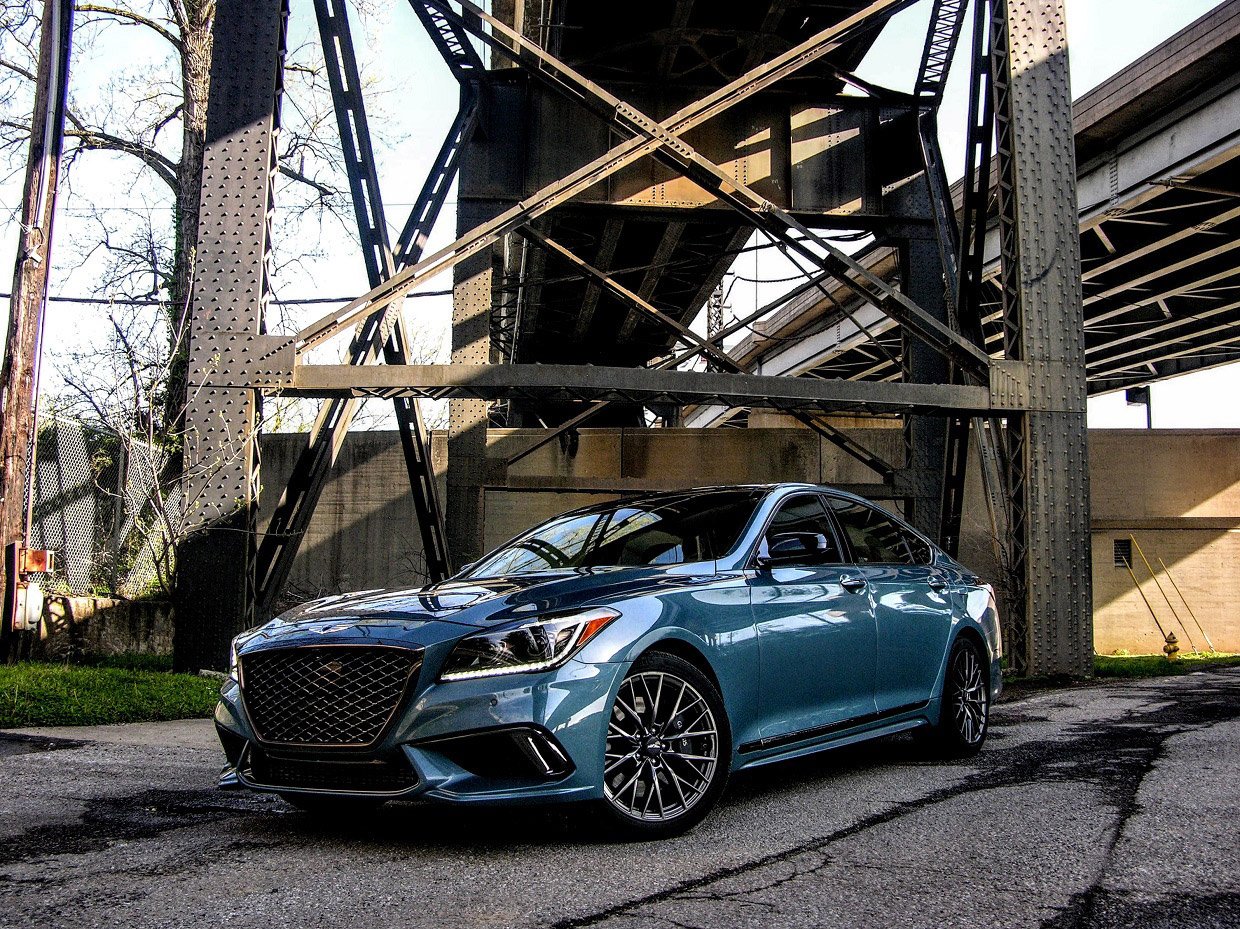 2018 Genesis G80 AWD 3.3T Sport

Engine: 3.3-liter twin-turbocharged V6
Horsepower: 365
Torque (lb-ft.): 375
Transmission: 8-speed SHIFTRONIC automatic
Drive Configuration: AWD
0-to-60 Time (secs): 5.3
1/4 Mile Time (secs): 14.0
Top Speed (mph): 135
City/Hwy/Combined MPG: 17/24/20
Curb Weight (lb): 4,600
Wheelbase (in): 118.5
Total Length (in): 196.5
Width (in): 74.4
Base Price (USD): $57,750
Price as Tested (USD): $58,725
Stomp around in someone else's backyard just to see what happens. Throw the traditionalists for a loop with turbocharged antics and all-wheel drive agility, then back it all up with a jaw-dropping list of standard features for a fraction of the competition's asking price. These are revolutionary notions, and they embody the attitude that Genesis has taken to making sedans like the boosted G80 Sport.
Taking a grand tourer approach to the G80 sedan could have culminated into a lot of things, but in this particular case, it means a twin-turbo V6 instead of a V8, carbon fiber in just the right amounts and places, and looks that allow you to remain well under the radar, even when your chariot prefers to propel you well over the speed limit. Loaded with many of the appropriate performance trimmings, and finished with the reliability and quality buyers have come to expect from the brand, the turbocharged Genesis G80 Sport showcases a massive amount of value and just enough performance to keep the average sport sedan shopper satisfied.
Boosted V6 virility aside, the visual appeal of this 4-door is definitely interesting, for it unabashedly takes a healthy amount influence from other automakers, and instills its own level of unique Korean elements into the mix. Months back I noted quite a few of these notable elements on the regular G80, a stunningly priced left lane cruiser with a soft underbelly and unabashed Hyundai interior touches.
The sport version takes many of these same lines, and outfits them with things like real carbon fiber trim pieces, 19-inch mesh alloy wheels, mildly more aggressive fascia design and ground effects, copper accents, and a signature quad exhaust out back. All together, it's a very nice visual package that doesn't go overboard in any direction, making the G80 Sport a certified sleeper, and a slick looking one at that.
Hyundai… ahem… Genesis has also done a splendid job of turning its 8-speed SHIFTRONIC automatic transmissions into bulletproof pieces of engineering, and while snaps of the paddles definitely deliver precise shifts, you can tell that silken acceleration is favored over plumes of tire smoke with this vehicle. But make no mistake, the force is still very strong with this one, especially from a standstill. The G80 Sport's twin-turbo 3.3-liter features 375 pound-feet of torque starting at 1300 rpm, a massive improvement over the V8 alternative, which features a smidgen more but only at much higher revs.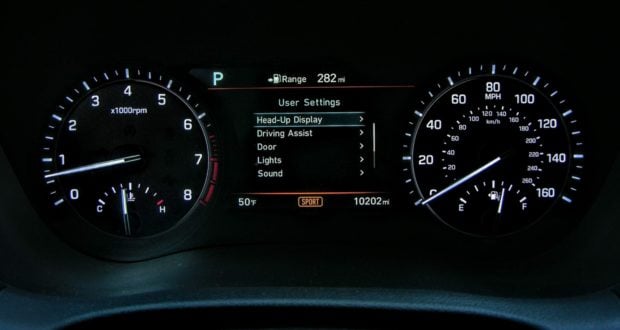 Turbocharged 3.3-liter GDI V6 engine thrusting, the attached HTRAC all-wheel drive system allows the stately sedan to surefootedly send you screeching off the line and onward to the tune of 365 horsepower, and top speeds that feel surprisingly smooth thanks to the luxury-grade continuous damping control (CDC) suspension underneath. It's a confidence-inspiring solution for drivers who value control in summer while keeping things tidy in the snow, a fantastic $2,500 AWD upgrade that I can foresee being a hit with many buyers.
But this same adaptive suspension setup that keeps the car floating comfortably at high speeds also snares the G80 Sport in a spongy net cast by springs that are more cushy comfort than corner conquering. It's not a complete pitch-and-roll party on wheels, but neither is it flatfooted, and between that and the car's insensitive steering calibrations, the G80 Sport feels like a far cry from what one experiences in say something like the Lexus GS F.
Brakes are another area of the car that could use a bit more beefing-up. Although rotor and caliper sizing are generous all around, when compared to other sport sedans in the segment, the pad compounds and blank rotors on the G80 Sport didn't hold up as well as I would have liked after an hour of canyon carving. More than adequate for most daily excursions, but less than reassuring when pushed repeatedly, this area of the vehicle would be the first thing to upgrade with aftermarket additions if I were to buy a G80 Sport.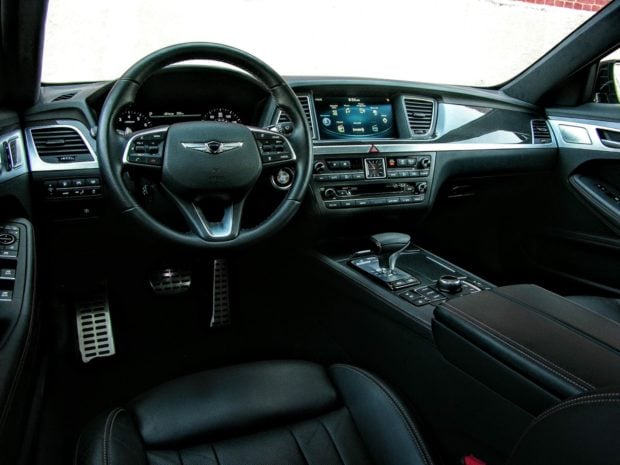 Still, there is way more to this sedan that is right on than wrong, and I commend Genesis for adding things like rich carbon fiber and for keeping the lines on the car both attractive and mildly aggressive. Copper accents, LED lights everywhere, 19-inch alloy wheels, and a signature exhaust are all huge external wins with this sedan. The list of included interior amenities is fantastic too, with everything from a 9.2-inch touchscreen and a 17-speaker Lexicon audio system, to a spaciously designed cabin and every bit of infotainment and tech imaginable playing key roles, the G80 Sport hits many of the right notes for a competitor in the segment and then some.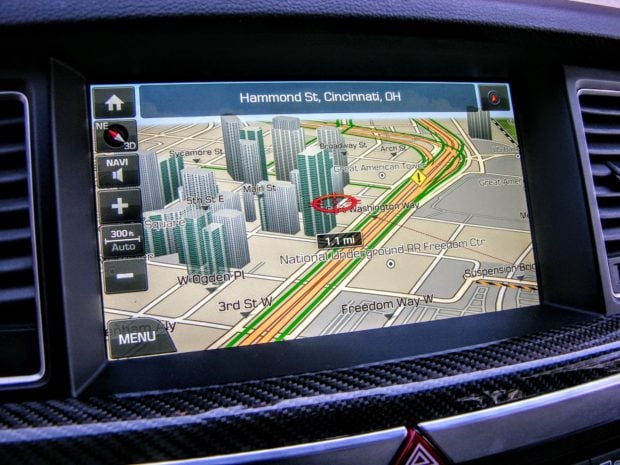 10-year/100,000 mile powertrain warranties and 5-year/60,000 mile new vehicle warranties are another major pull for this vehicle, especially since everything seen here can be had for a modest $58,725 after destination charges. It's all of the Hyundai goodness we have come to expect but in a far more virile platform, loaded with Genesis luxury love and subtle sport stylishness. Compared to other performance sedans in the segment, this version of the G80 may still sit on the "leisure sport" side of things, with performance fine-tuning being its weakest point, but dammit if it isn't also a brilliant first stab at sport sedan satisfaction for the Genesis brand.