2017 Chevrolet Silverado 1500 Z71 Review: Taking it to Redline
2017 | chevrolet | chevrolet silverado | chevy | general motors | pickup | Towing | V8 | October 26, 2017
---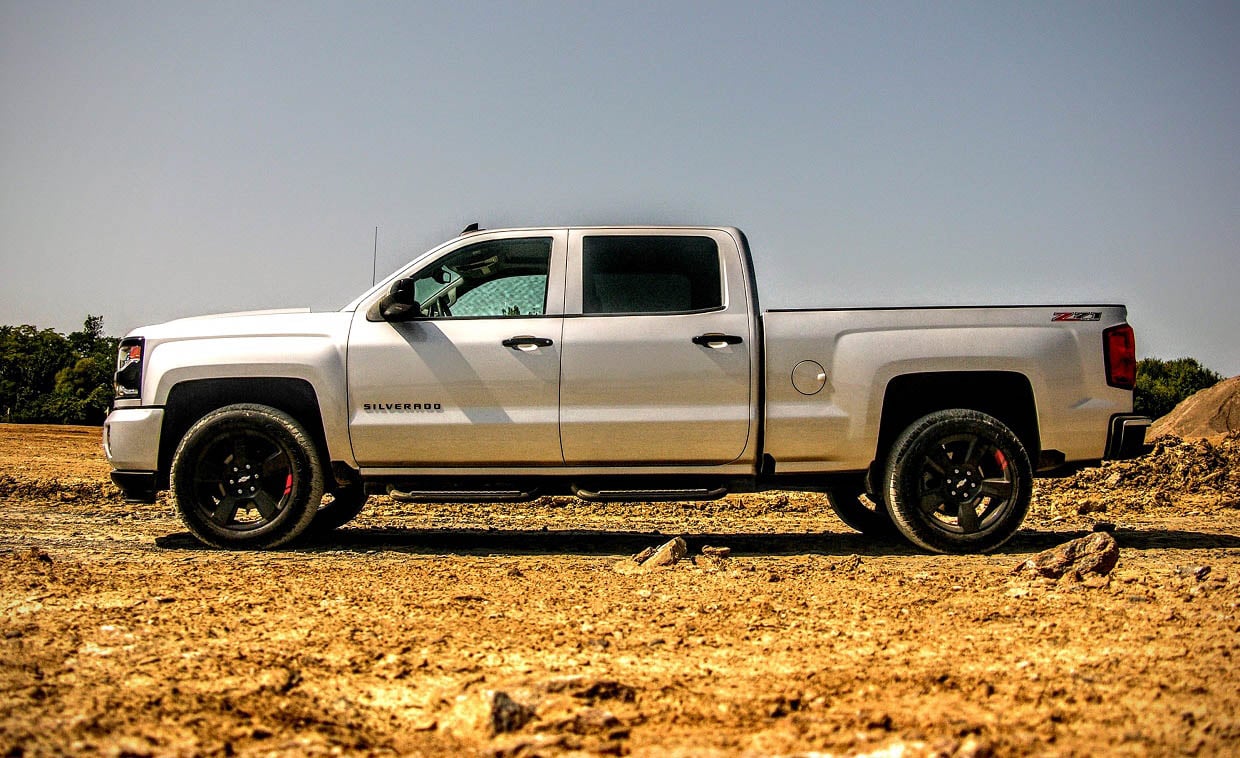 Specs at a Glance

Engine: 6.2-liter V8
Horsepower: 420
Torque (lb-ft.): 460
Transmission: 8-speed automatic
Drive Configuration: 4WD
0-to-60 Time (secs): 5.7
1/4 Mile Time (secs): 14.3
Top Speed (mph): 99
City/Hwy/Combined MPG: 15/20/17
Curb Weight (lb): 5,300
Wheelbase (in): 153
Total Length (in): 230
Width (in): 80
Ground Clearance (in): 8.8
Price as Tested (USD): $59,610
Jumping from the rugged Chevy Colorado ZR2 into the far larger and refined Silverado 1500 Z71 Redline was a wise decision. Although both trucks are quite different from one another in a myriad of ways, a line of GM comparisons and contrasts between the two demands to be drawn.
For performance and specialty parts fanatics, the larger pickup's optional 6.2-liter V8 upgrade, Z71-exclusive off-road monotube suspension, hill descent control, undercarriage skid plates, and locking rear differential are guaranteed to win praise. It may not be nearly as nimble, nor as off-road inclined as the scrappy little ZR2, but the Z71 version of the Silverado still features enough of the right 4×4 goods to mark it as "trail-worthy."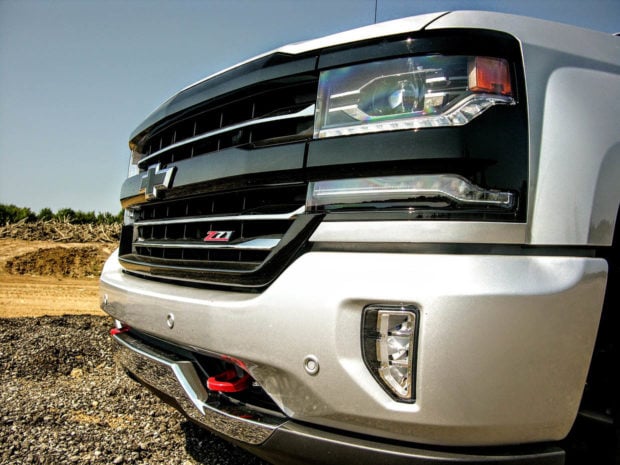 This pickup also comes jam-packed with tech, including a teen driver mode, an intuitive 8-inch touchscreen packed with apps, wireless charging, and one seriously slick digital driver display for monitoring damn near everything. In many ways, a loaded 1500 Z71 is a fantastic alternative to the GMC Sierra Denali, an equally impressive full-size pickup that costs quite a bit more for basically the same amount of add-ons.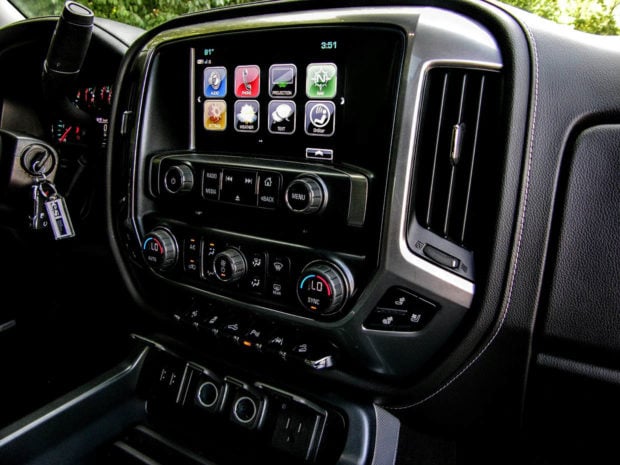 You also get things like 4G LTE WiFi connectivity as well as keyless entry, Bluetooth connectivity, a wireless charging tray, parking assist, low-speed automatic braking, GM's signature vibrating safety alert seats, and five years of OnStar assistance. Once equipped with a banging Bose audio upgrade and a few other choice package options, the Redline Z71's sticker price jumped over $9,000, which breaks down to almost a 20% bump.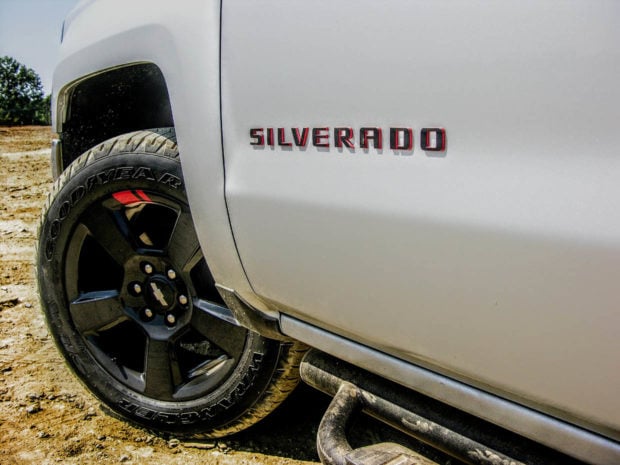 If the $60,000 asking price for a 6.2-liter Z71 Redline intimidates you, don't worry, you are not alone. Overindulgent trucks like these aren't engineered for mass consumption, and while many of the additions to the Silverado seen here are impressive, it is important to remember that at the end of the day it's still a truck.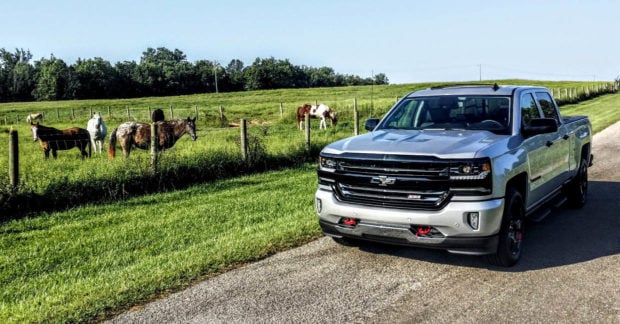 To prove that the Redline Silverado isn't just some fancy city version of a time-honored pickup, I took it on a quick trip 45 minutes south of Cincinnati to the farm where I get all of my free-range eggs and beef. While there I was able to pick up a fat stack of wooden pallets for up-cycling into household projects, and after snagging a few dozen eggs and stowing them safely in the Silverado's ginormous center console, it was time to return home with my bounty.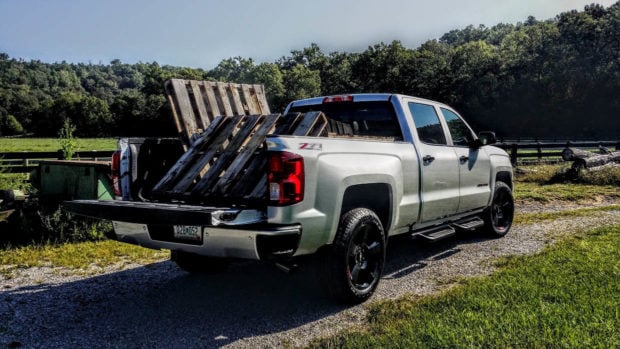 With its "EZ Lift and Lower" tailgate and remote locking mechanism, integrated corner steps, spray-in bedliner, and accessible ride height, I found the working end of this pickup to be about as practical as it gets in regard to hauling large items. Upgrading to the big boy V8 also gets you a 3.23 rear axle and towing capacities that top-out at an impressive 12,500 pounds. While things like the trailering package help keep towing in check, it's the combination of the 8-speed automatic transmission and dual-speed Autotrac transfer case that make it all feel so effortless, regardless of whether its ass or cattle you wish to haul.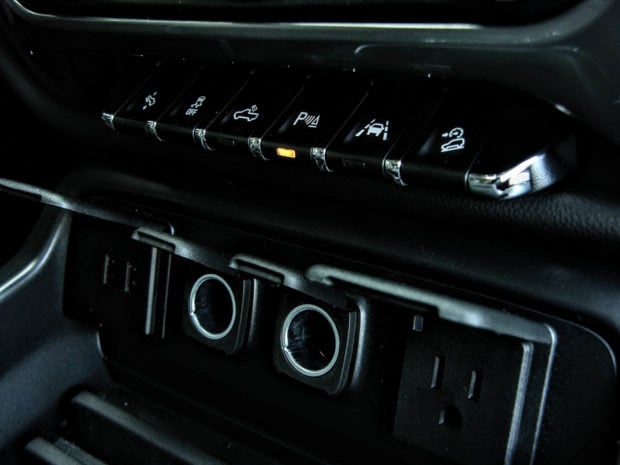 Of course the engine end of the Silverado has a lot to do with this as well, and I can attest that buyers will find themselves loving the liquid ferocity found within the $2,495 6.2-liter V8 upgrade. Featuring EcoTec 3 smarts that deactivate cylinders for improved efficiency on the freeway, this 420 horsepower monster generates 460 pound-feet of torque and takes cruising calmly just as seriously as it does punching it off the line.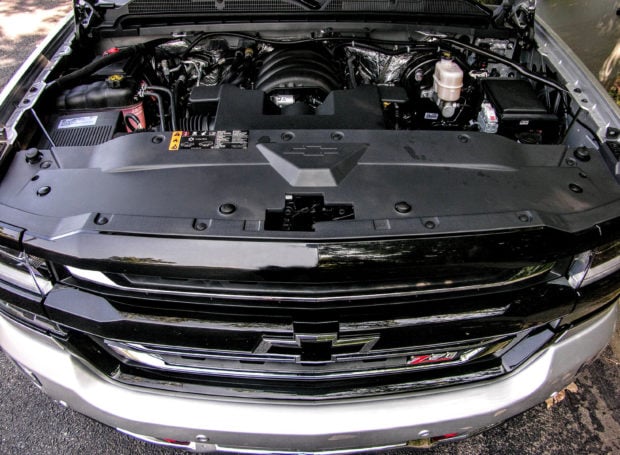 But it's not all towing and thundering V8 velocity here either, because the Silverado becomes a pretty accommodating (dare we say luxurious) truck given the right amount of package options and trim increases. If the Sierra Denali is a Cadillac on stilts, the Silverado Z71 Redline is a brawny Buick with bad boy tendencies. From extending side steps and adjustable pedals, to heated and vented seats and a heated steering wheel, there is a lot of luxury being built into this particular pickup, all of which make for strong selling points.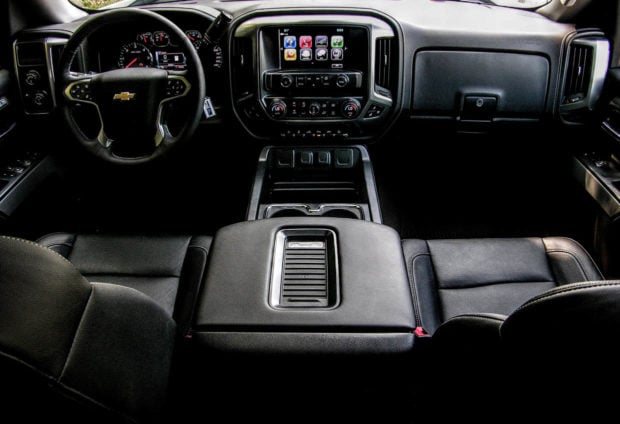 Still, beneath all of that heated leather and automatic assistance lies a work truck, and a damn nice one at that. With its  spacious stow pockets and massive center console, tread-like all-season floor mats, and access to every imaginable plug and outlet on the planet, you feel just as ready to hit the highway as you do the next job site. Add in a split glovebox configuration up front and enough space in the back seat to fit a work crew, and you have a vehicle that is ready to stow tools and transport tradesmen.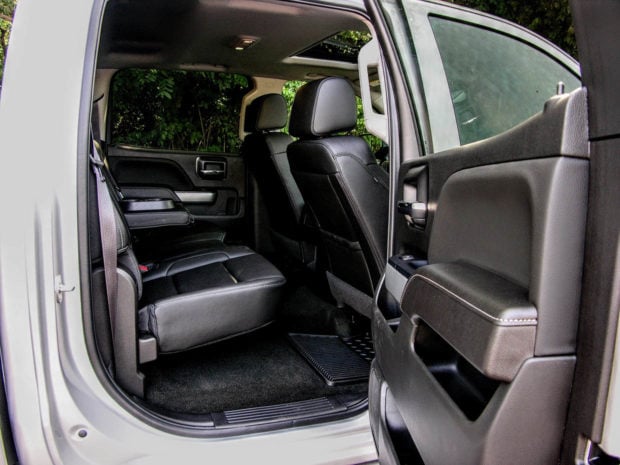 In regard to the "Redline" side of the puzzle, outside of those assist steps is a $2,265 appearance package – one that I find to be extremely appealing. Belt moldings, badges, bedliner, emblems, and 20 inch up-sized alloy wheels all get the murdered-out look, while red outlines embolden portions of the wheels, badging, and recovery hooks. Factor in that the Silverado now sports a far sharper, rectangular set of eyeballs out front, along with a broadly drawn chin and proportions that are equal parts blocky and bold, and you have appeal and masculinity all in one package.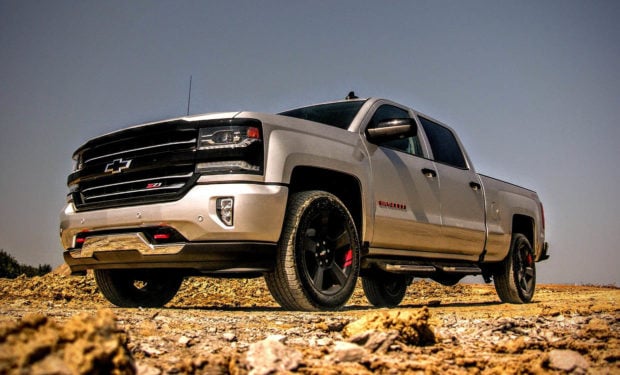 Unfavorable remarks toward this pickup are all tolerable ones, with the lack of adaptive cruise control, absence of a supercharger and/or diesel upgrade, and a bouncy leaf spring rear-end being the most notable flaws. I also was not hip to the fact that GM has yet to offer a performance exhaust upgrade for the Silverado that can compete aesthetically with the RAM 1500 or Ford Raptor, and for as roomy as the rear seat is, it doesn't feature any charging ports.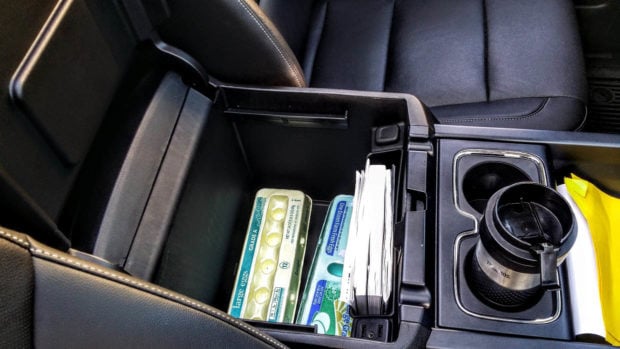 So for nearly $60,000 we have a truck that offers a lot of tech and luxury, ample amounts of off-road prowess, and an engine/drivetrain duo that can both haul ass and bovine-laden trailers. Compared to the Colorado ZR2 Crew Cab from the week prior, the Silverado Z71 Redline offers a far more refined driving experience and nicer array of amenities, but sacrifices off-road inclinations and a smaller road presence for Silverado strength.
Is the 6.2-liter V8 Redline version of the Silverado Z71 my favorite GM pickup option to date? Definitely. Blending brawn with stealthy aesthetic upgrades and practical truck tactics, this bad boy provides an extremely well-rounded approach to almost everything. Just be prepared to cough-up some serious coin for one and don't expect it to do all the things the ZR2 Colorado can, especially off-road, because in order to be balanced in certain areas one must first make sacrifices in others.