2017 Chevy Tahoe Z71 Review: Blackout Badass
4x4 | chevrolet | chevy | Chevy tahoe | general motors | off-road | Z71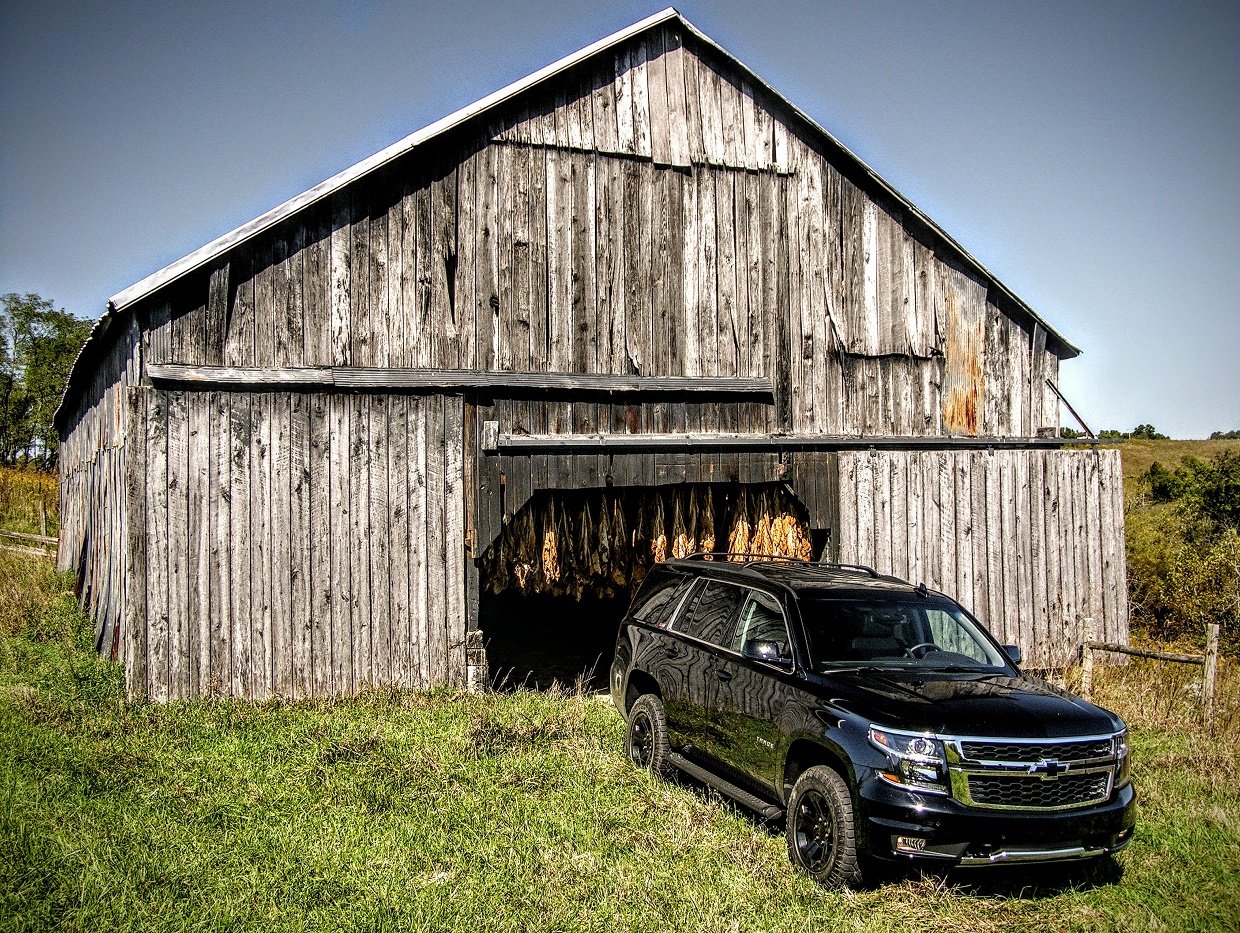 Specs at a Glance

Engine: 5.3-liter V8
Horsepower: 355
Torque (lb-ft.): 383
Transmission: 6-speed automatic
Drive Configuration: 4WD
0-to-60 Time (secs): 7.0
1/4 Mile Time (secs): 15.5
Top Speed (mph): 111
City/Hwy/Combined MPG: 16/22/18
Curb Weight (lb): 5,731
Wheelbase (in): 116.0
Total Length (in): 203.9
Width (in): 80.5
Base Price (USD): $55,455
Price as Tested (USD): $65,085
If you want a new Tahoe with all of the latest Chevy truck updates you are going to have to wait a minute. Despite Chevrolet's reveal of an all-new Silverado at the 2018 Detroit Auto Show, with a slated arrival date of late 2018, Tahoe and Suburban buffs are going to be stuck with what they've got on the lot for the foreseeable future.
That said, the bowtie brand still manages to retain legions of loyal SUV enthusiasts, with the Tahoe playing its part nicely as the mid-sized margin-maker for the brand. Suited with sharp looks and a line of luxurious interior additions, then boosted with a generous amount off-road zeal, the Z71 Midnight Edition of the Tahoe 4WD LT tempts buyers with visions of a comfy, rollicking good time.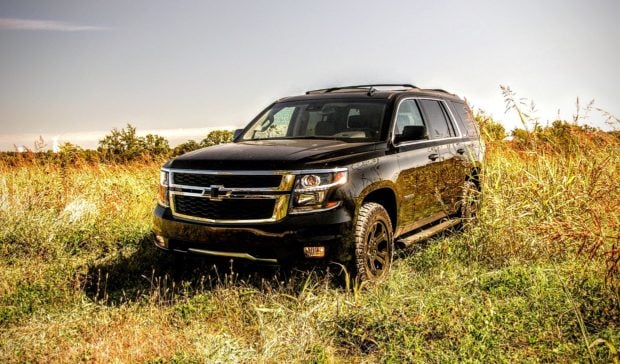 And for the most part, if you are fine with "the old way of doing things," this SUV is sure to check a lot of boxes. Here are a few key selling points that will keep buyers interested in this mid-size SUV all the way up until the new one emerges, as well as a select few drawbacks that are impossible to ignore.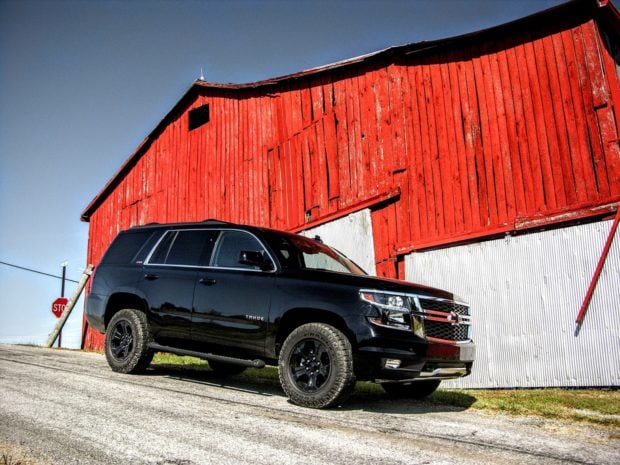 From a cosmetic perspective, this dark version of the Tahoe is almost ideal in regard to proportion and accentuation. It's taken years of tweaking, but Chevy has gotten the Tahoe to the point where it can be classified as damn good looking by many standards, all without it ending up on the soft side of the design dime.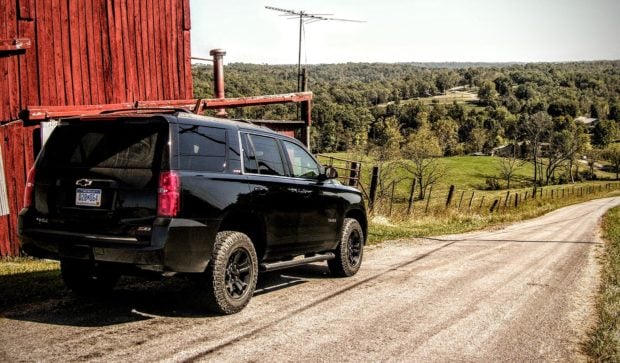 With the Z71 Midnight Edition Package attached, the already attractive 4×4 takes a covert approach to optional add-ons by sliding performance perks in alongside aesthetics. For $2,630, buyers get things like blacked-out badging, unique fog lights, coated wheels, and branded rubber floor mats, as well as the addition of Goodyear DuraTrac tires in a 265/65/R18 layout. Other bolt-ons include a roof rack, recovery hooks, tire tread imprinted tubular assist steps, and a set of recovery hooks, all in black of course.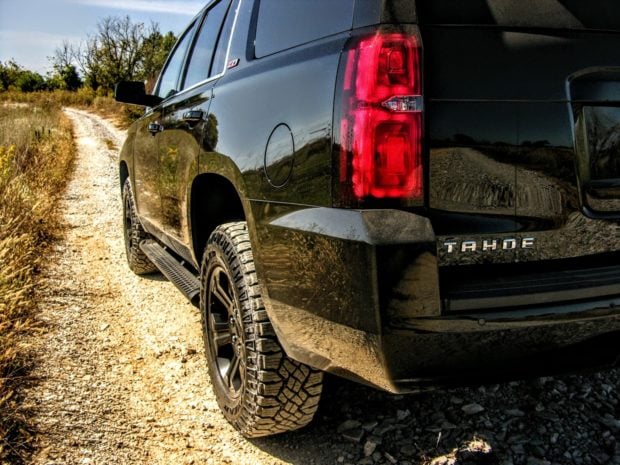 This kit goes on to include mechanical upgrades as well, including an AutoTrac active 2-speed transfer case for increased grip, a 3.42:1 rear axle ratio for a bump in grunt, hill-descent control, front and rear parking assist, and a better flowing air filter. Coupled with the Tahoe's roaring 5.3-liter V8 and surprisingly supple "Premium Ride" suspension, you get a tank of an adventure SUV that doesn't mind behaving in town when it is date night.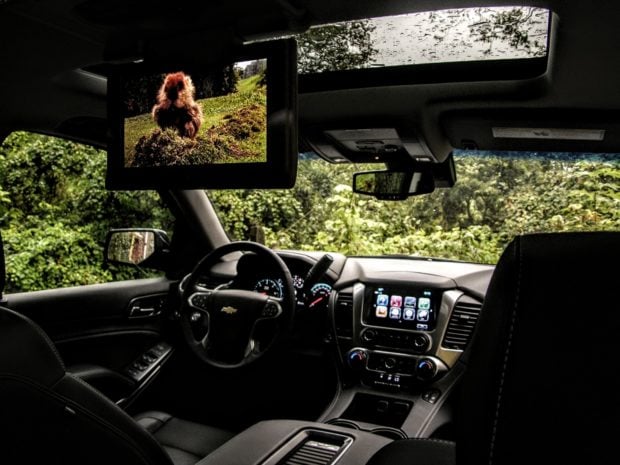 You may think I am joking, but behind all of the off-road rubber and Batman bravado, lies a very comfortable, dare I say luxurious daily driver. All of the proper swanky undertones are in place, with heated front rows and steering wheel, power-adjusting pedals and steering column, button controlled back benches, and easy-to-use entertainment package making the biggest splash. Opting for this version of the Tahoe also guarantees multiple driver memory settings, a power sunroof, an 8-inch touchscreen, passive entry, a hands-free liftgate with height control settings, tri-zone climate control, and all of the leather one could possibly ever want. Buyers also receive 162 cubic feet of passenger space, a capacious amount of cabin volume that comes embellished with sizable storage solutions and easy accessibility.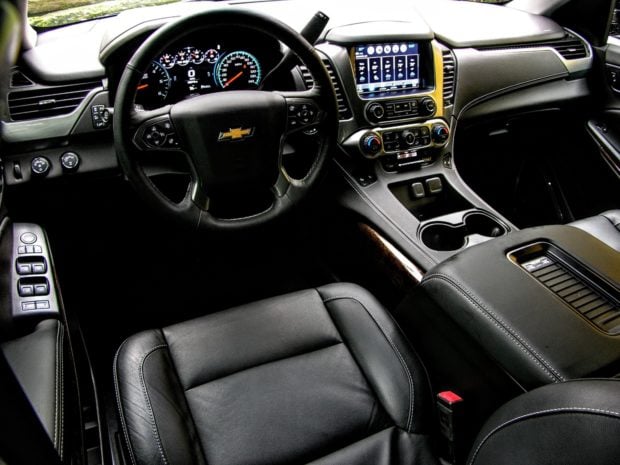 However, any seasoned SUV owner knows that the real test is how something this sizable behaves when unfavorable urban conditions arise. Tight parallel parking spots, sharp turns down one-way streets, and the old parking garage clearance cut-off are all ones to watch out for when piloting something so immense. But thanks to Chevy's suite of sensor-based safety features, the Tahoe passes all of these standardized around-town tests with flying colors. For as large as the Chevy Tahoe may be, I found mundane daily commuter chores to be both easy to complete and the truck comfortable to command at all times, further proof as to why America's affinity for large SUV's refuses to wane.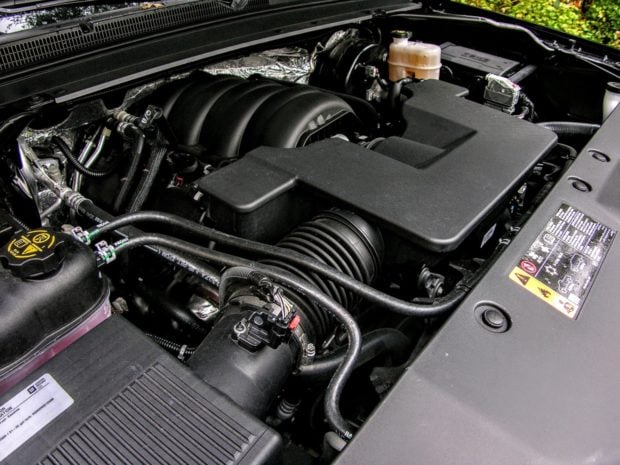 Growing tired of repetitive daily driving activities, I decided to take the Tahoe an hour south of Cincinnati into the rolling tobacco hills of Kentucky for a bit of off-road action in a local state park. On the way I noted how the vehicle and its knobby all-terrain tires behaved at higher speeds along the interstate, an assessment that proved that there was indeed a bit more road noise at any given pace, but that it was not to the point of causing annoyance. As the cylinder-deactivating engine carried me onward at just a hair over 20 miles-per gallon, I was quick to note that this likely due in part to the truck's antiquated 6-speed automatic transmission, a strong, but severely dated design when compared to the forthcoming 10-speed Silverado gearbox.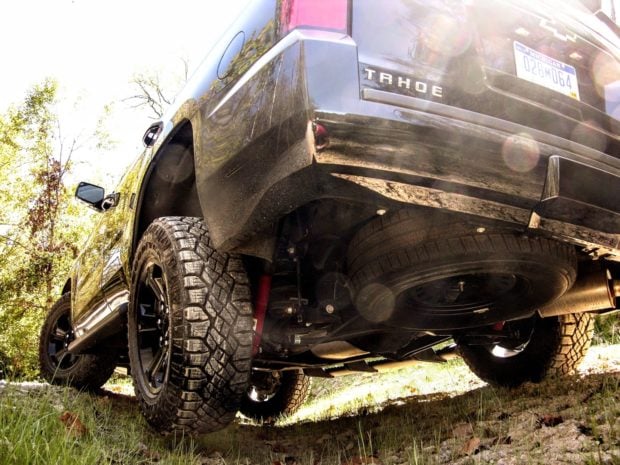 Having arrived at my destination I immediately began testing the vehicle's 4×4 mettle by hitting various grades of rocky inclines, all of which the Tahoe took in stride, as it crawled through gullies and up shale-encrusted back-roads without complaint. It may not pack the locking diff options nor the advanced suspension and breakover angles of the Colorado ZR2, but the Z71 Midnight Edition still gets the job done in diligent fashion, thus leaving the average Tahoe driver quite satisfied. Brawny enough to overpower any obstacle found on course that day, with both off-road mechanical engineering and tire compound traction keeping me on point, there was nary a moment that felt like I needed more grip, wheel travel, or torque to conquer the course.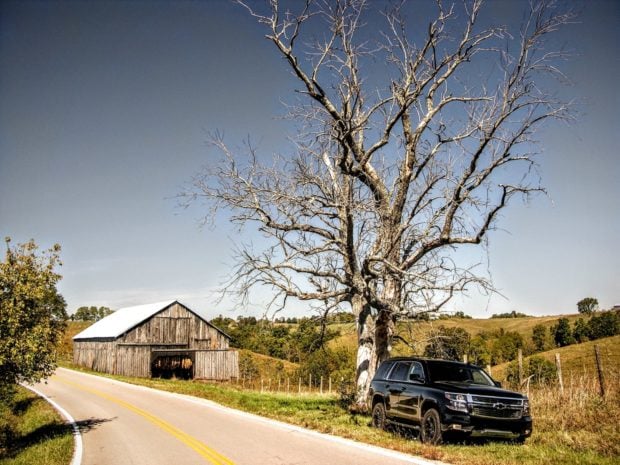 Leaving the rock-strewn state park behind, I toggled the power-folding side mirrors inward to clear a narrow tree line, and headed out to find a tobacco barn for a photo shoot and a final assessment. From a mechanical standpoint, this SUV is just old-fashioned SUV fun, plain and simple. No adjustable air-ride suspension or tricked-out traction settings here folks. Just a big-ass V8, some skid plates, a few choice ground-grabbing add-ons, and a dark demeanor. This grade of Tahoe has "Murica" written all over it in red, white, and blue invisible marker, and I must admit that I came knowing that I enjoyed every minute spent with it.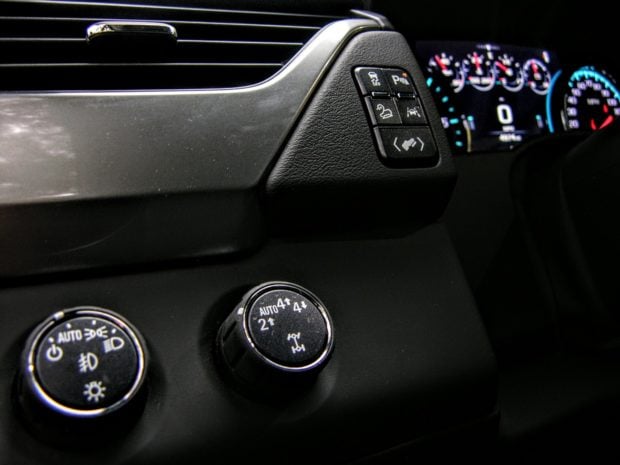 Even so, based upon where GM is going with its truck line, and how brilliant the all-new Ford Expedition is, the "old" portion of the Tahoe's approach to "old-fashioned SUV fun" does cause hesitation. Even with cylinder deactivation smarts, without Chevy's forthcoming 10-speed transmission, revised V8 or 3.0-liter Duramax turbo-diesel, nor the use of smarter steel stamping and aluminum in key places, the current Tahoe has pretty poor fuel economy numbers. It also features a rough idle, even for the 4×4 segment, and the gearbox feels unrefined when not off-roading or mashing the gas pedal to the floorboard.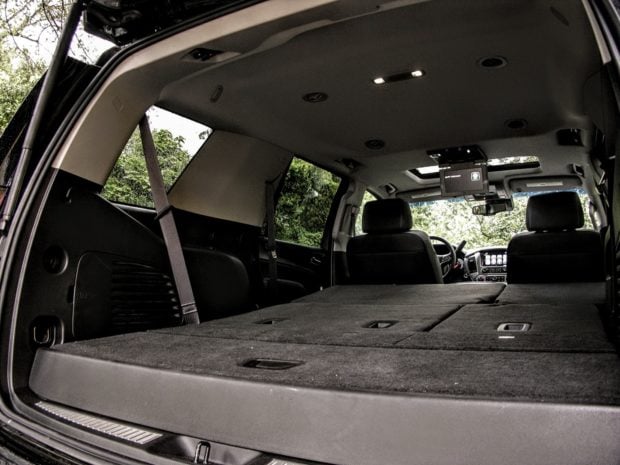 There also isn't a rear panoramic sunroof, the front seats are not ventilated, 360-degree cameras aren't an option, the third row will force your knees into your neck, and the cabin's faux wood touches are far from convincing. Another miss is the lack of a Z71-spec integrated exhaust, something that would provide a more appealing tailpipe presence and a bit more punch under throttle if baffled and piped properly.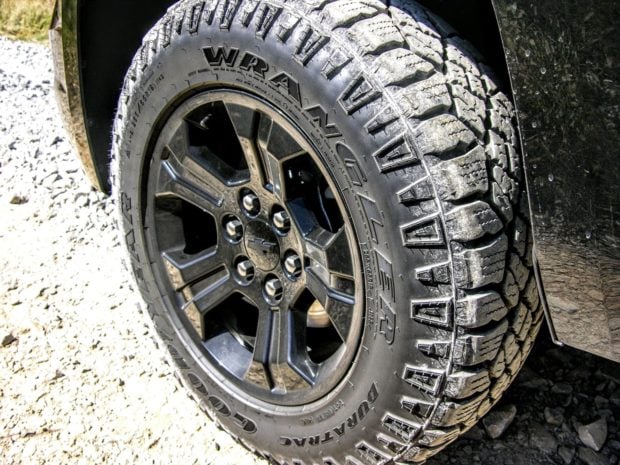 But perhaps the biggest issue with the Midnight Edition of the Z71 Tahoe is its asking price. Tallying-up all of the package options and destination charges, the final bill for my ride of the week came to a hefty $65,085. For that much you can get a loaded Raptor with almost all the options, or an equally well-outfitted Land Rover Discovery, which has a far roomier third bench, a gorgeous interior, and the ability to tow around the same amount of trailer weight.

Still, American car buyers are going to remain interested in the Chevy Tahoe regardless of whether or not it has an array of aging attributes or a steep asking price. This is the kind of big, bold, bring the fistbumps on Super Bowl Sunday kind of engineering foreigners think of when the words "American Truck" come to mind, and I am perfectly fine with that fact. The only question now is, are you?