2020 Toyota GR Supra Review: The True Everyday Sports Car
2020 | toyota | toyota supra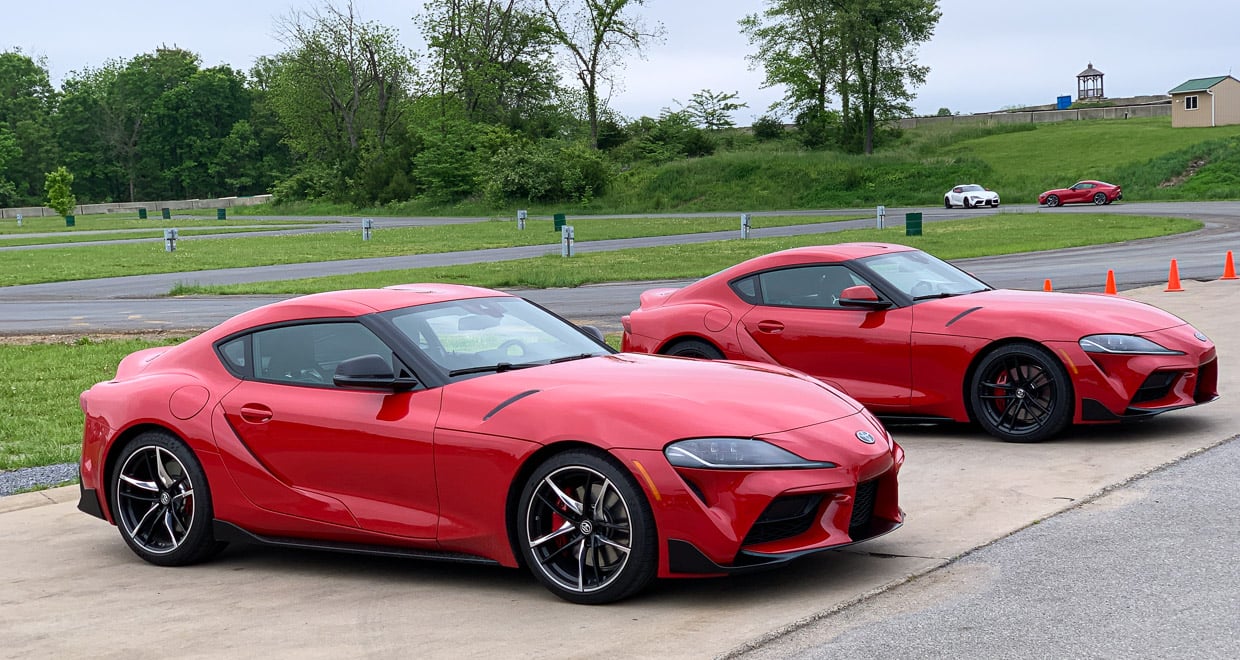 2020 Toyota GR Supra 3.0

Engine: 3.0L twin-scroll turbo Inline-6 Cyl.
Horsepower: 335
Torque (lb-ft.): 365 @ 1600-4500 RPM
Transmission: 8-speed automatic w/paddles
Drive Configuration: RWD
0-to-60 Time (secs): 4.1
Top Speed (mph): 155 (limited)
City/Hwy/Combined MPG: 24/31/26
Curb Weight (lb): 3397
Wheelbase (in): 97.2
Total Length (in): 172.5
Width (in): 73.0
Ground Clearance (in): 4.5
Base Price (USD): $49,990
Price as Tested (USD): $57,375
I'll start off by saying that I never drove an original Supra. So unlike the diehards out there, I don't have something to compare the 2020 Toyota Supra to, except the numerous other sports cars I've driven over recent years. And in that context, the new Supra is a very, very good car indeed. With most people buying trucks and SUVs these days, we live in a world where producing a 2-seat sports car isn't exactly a good business case for most car manufacturers. So it would have been impossible for Toyota to justify making a new version of the Supra without partnering up with another manufacturer. By working in partnership with BMW, they were able to secure a great inline-6 engine – an essential Supra component, as well as the German's famed precision engineering.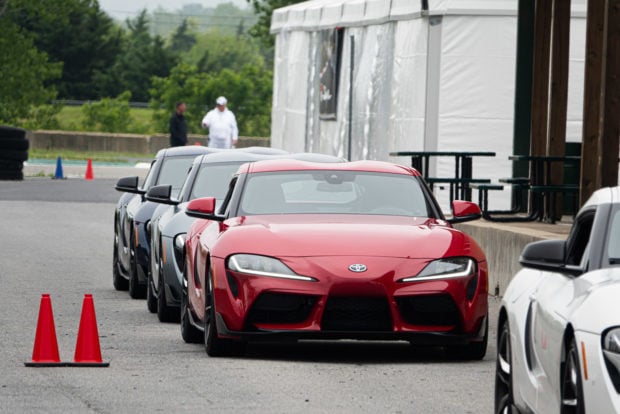 But from day one, BMW's Z4 and Toyota's Supra were never designed to be the same car. The Z4 is a drop-top, grand touring roadster, and the Supra is a loud-mouthed, drift-happy sports car. After agreeing on core elements of the drivetrain and platform, Toyota's and BMW's engineering and design teams worked in relative isolation, and each came up with their own very different approaches.
That said, the Supra is quite the good looking car – one of the best in the Toyota's entire lineup. Sure, its formula car-inspired nose is a little funky when viewed head-on, but I think it's quite attractive from the side, 3/4, or rear angles, and does a good job incorporating some of the sexier elements of the FT-1 concept and 2000GT that served as its muses. The double-bubble roof design not only looks sweet, but provides extra headroom for helmets should you take the Supra onto the track.
Under the hood of the Supra is a twin-scroll turbocharged inline-6 engine that makes a 335 horsepower and an impressive 365 lb-ft. of torque. And that power comes on quick, offering 100% of its torque as low as 1600 RPM. Yes, Virginia, there is ZERO turbo lag here.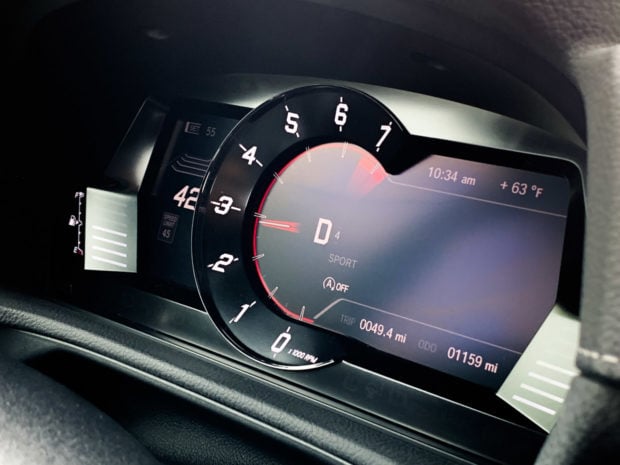 Purists may complain that the Supra isn't getting a manual gearbox – at least not yet – but the ZF 8HP 8-speed transmission is one of the fastest and most capable automatics out there – it's in everything from the Bentley Continental GT to the Dodge Challenger Hellcat, and it does its job quite well, never hunting, and seemingly always in the gear you want at the time you want. That said, paddle shifters are there for control freaks who think they can outshift the computer.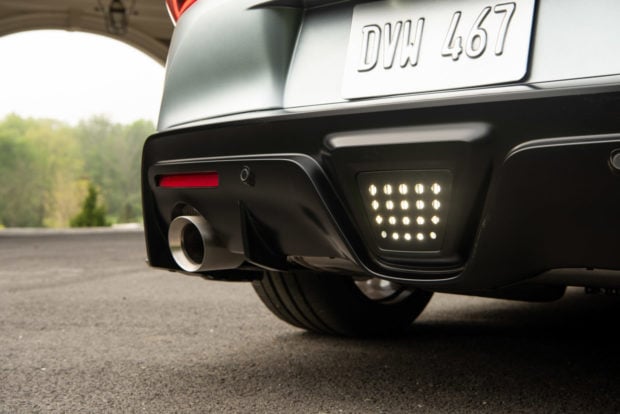 Oh, and did I mention that the Supra's exhaust note sounds fantastic? As you put your foot down, it offers up a wonderful mid-range grunt, followed by a cacophonous array of snaps and crackles, reminiscent of Jaguar's vaunted F-TYPE exhaust.
With an impressive amount of grunt under the hood and agile handling, it was very difficult to resist breaking the speed limit. But once we arrived at the Shenandoah circuit at Summit Point, West Virginia, that's where the Supra really showed its chops. Launching the car is fast, direct, and satisfying, and Toyota included a launch control mode to help make sure you get the most traction you can, given the high-torque, RWD setup here. The fat 9″ and 10″ wide Michelin Pilot Super Sport tires help with grip too. Toyota likes to call the proportions of the new Supra "Condensed Extreme," and they definitely achieved that vision.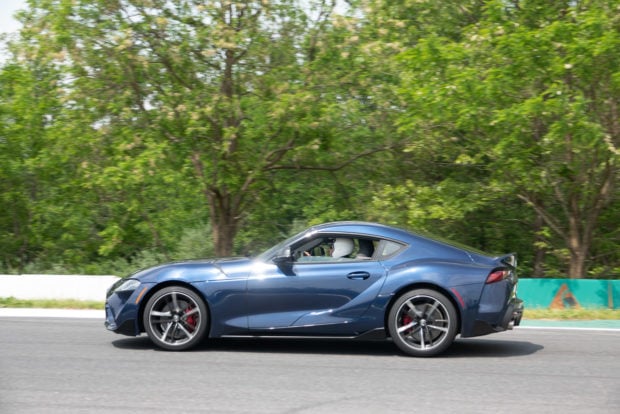 Despite its unexpectedly short 97.2″ wheelbase, the Supra corners and recovers quite brilliantly. Its perfect 50/50 weight balance, wide stance, and ridiculously low center of gravity help, but so does the active rear differential. Going around a bend is a smooth and predictable affair, but not boring or clinical. Apply too much pedal, and the tail will hang out, and oversteer will commence. But that characteristic means drifting is not only quite possible, it's the preferred way to go around the track if you're not being timed. I did a handful of hot laps around the course with Herwig Daenens, the racing pro who helped lead the tuning for the Supra, and combination of driver and car delivered a delicious series of insanely fun and interconnected powerslides as we ripped through the twisty and technical 2.2 mile circuit.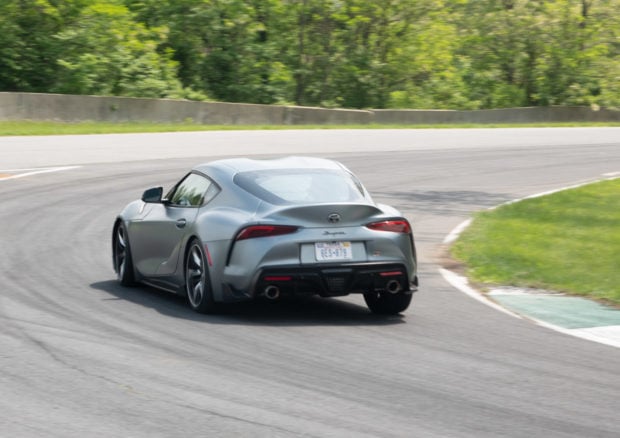 Regardless, the average Supra owner may not spend much time at the track. The good news is that it's a great road car too. Its seats are comfortable for long drives, with adjustable side bolstering to provide extra support while cornering. Wind and road noise are well managed – with the exception of an unusually large amount of buffeting when both windows are down. I suspect wind is channeling behind the seats and into the hatchback area, causing the uncomfortable sound and sensation. So if you like to drive with the windows down, that's an important consideration.
The Supra's interior is modern and relatively streamlined. Controls are well placed and do a good job keeping the driver's eye on the road. The overall fit and finishing of everything is tight and precise, and there's even real carbon fiber on the center console. The all-digital gauge cluster is bright, modern, and easy to read, and there's also a heads-up display.
While I'm not a huge fan of displays that stick out of the dash, it's becoming more and more of a trend in order to keep driver's eyes up. The 8.8″ display that comes with the Supra 3.0 Premium is definitely an improvement over other Toyotas, mostly because it's actually the BMW iDrive system – which is much more modern and capable than Toyota's stock infotainment systems. It's also one of the few cars on the market to support wireless Apple CarPlay, which is a treat when used in combination with the Qi charging dock, which offers a smartly-designed clip to keep you phone from flying around when cornering at high speeds. There's still some question whether the wireless CarPlay service will have a subscription fee like it does on BMWs, but Toyota says owners will get 4 years free at a bare minimum.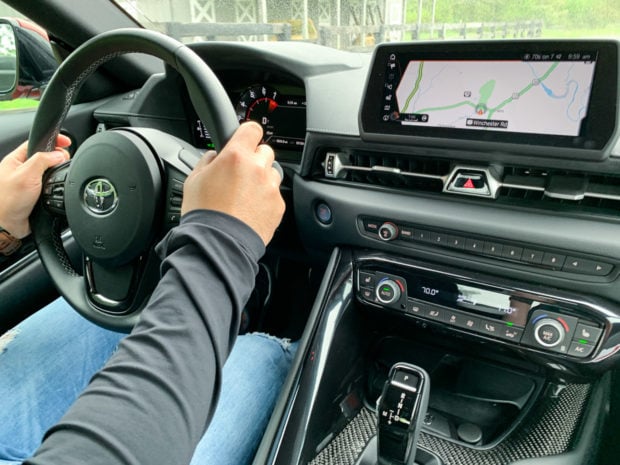 One thing that was a critical part of the Supra DNA is its popularity in the tuning community, and Toyota is committed to supporting them – perhaps more than ever. There are clever touches to help vehicle modifications, from open screw threads under the hood for adding cross-bracing, to removable plastic trim elements which can provide new ventilation opportunities, to reinforcements in the rear to provide strength for mounting a larger rear wing. In addition, Toyota recently invited a group of tuning experts behind the curtain to conduct in-depth Supra measurement sessions, ensuring a good fit for aftermarket parts. The hood is also smartly fitted with dual latches, which makes it much more likely to stay closed on a racetrack.
One other nice thing about the Supra is that it's a proper 2-seater. So rather than waste space or weight with a diminutive rear seat like the older models, it gets a shorter wheelbase, and a nice amount of storage in the back. Pop open the rear liftgate and there's enough space for a couple of backpacks or small suitcases – easily enough for a long weekend road trip for two. And that's a good thing, because you'll want to take lots of road trips in this bad boy.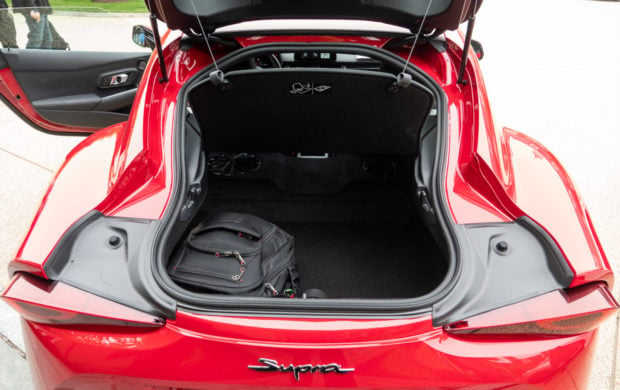 For launch, Toyota is offering the Supra in three trims, all of which have the same drivetrain, suspension, brakes, and performance elements. The $49,990 Supra 3.0 gets Alcantara and leather trimmed seats, a 6.5″ display, and a 10 speaker OEM audio system. The $53,990 Supra 3.0 Premium gets all leather seats, an 8.8″ touchscreen with navigation, wireless CarPlay, a heads-up display, and a 500-watt, 12-speaker JBL audio system. The $55,250 Launch Edition, limited to 1500 vehicles, gets all of that plus red mirror caps, red brake calipers, available red leather, and launch edition badging.
Since every get the same performance, it's possible to get into a base model and have just as much fun as everyone who paid a whole lot more than you.
After years of false starts, hype, and fanboy debate, we finally have a new Supra. Some may squawk that it's not pure Toyota, or that it's too expensive for the brand, but the fact is that it is indeed a very good sports car, and as proper performance cars goes, it's well-priced. The 2020 GR Supra is a complete blast to drive on the road or on the track, and offers a great mix of power and handling dynamics, along with one of the best exhaust notes in recent memory. Major props to Toyota (and BMW) for keeping the dream alive for small and thrilling sports cars for enthusiasts everywhere.